González, Justo L.
Most widely held works about Justo L González
Most widely held works by Justo L González
A history of Christian thought
by
Justo L González
( Book )
65 editions published between
1970
and 2010 in
English
and
German
and held by 1,574 WorldCat member libraries worldwide
A treatment of the evolution of Christian thought from the birth of Christ, to the Apostles, to the early church, to the great flowering of Christianity across the world. Beginning with Augustine, Volume 2 covers the flowering of Christian thought that characterized both the Latin West and the Byzantine East during the Middle Ages
The story of Christianity
by
Justo L González
( Book )
36 editions published between
1984
and 2016 in 4 languages and held by 1,248 WorldCat member libraries worldwide
Volume II: The Reformation to the present day is a revised edition of an accessible narrative history assesses crucial theological developments while offering insight into the social, political, and economic forces that influenced the Church's development, in a volume that includes coverage of such subjects as emerging Protestantism and the origins of modern movements
Christianity in Latin America : a history
by
Ondina E González
( Book )
14 editions published between
2007
and 2008 in
English
and held by 965 WorldCat member libraries worldwide
"From the arrival of the conquistadores in the fifteenth century to the spread of the Pentecostal movement today, Christianity has molded, coerced, refashioned, and enriched Latin America. Likewise, Christianity has been changed, challenged, and renewed as it crossed the Atlantic. These changes now affect its practice and understanding, not only in South and Central America and the Caribbean, but also--through immigration and global communication--around the world. Focusing on this mutually constitutive relationship, Christianity in Latin America presents the important encounters between people, ideas, and events of this large, heterogeneous subject. In doing so, it takes readers on a fascinating journey of explorers, missionaries, farmers, mystics, charlatans, evangelists, dictators, and martyrs. This book offers an accessible and engaging review of the history of Christianity in Latin America with a widely ecumenical focus to foster understanding of the various forces shaping both Christianity and the region."--Page 4 of cover
A concise history of Christian doctrine
by
Justo L González
( )
7 editions published between
2005
and 2014 in
English
and
Spanish
and held by 901 WorldCat member libraries worldwide
This book is an introduction to the core Christian doctrines, the historical context in which they arose, and their ongoing importance to contemporary Christian belief and practice. Justo Gonz̀lez has long been recognized as one of our best teachers and interpreters of the churchs belief and history. In this new volume he lays out the answers to three questions crucial to understanding the Christian tradition: First, what are the core Christian doctrines? What ideas and convictions form the heart of Christian identity?Second, Where did these doctrines come from? What are the historical contexts in which they first rose to prominence? How have they developed across the history of the church?Finally, what do these doctrines mean today? What claims do they continue to place on Christian belief and practice in the twenty-first century?Written with the clarity and insight for which Gonz̀lez is famous, A Short History of Christian Doctrine will serve the needs of students in church history, historical theology, and systematic theology classes in college/university settings, as well as seminaries/theological schools
A brief history of Sunday : from the New Testament to the new creation
by
Justo L González
( )
7 editions published in
2017
in
English
and held by 813 WorldCat member libraries worldwide
In this accessible historical overview of Sunday, noted scholar Justo González tells the story of how and why Christians have worshiped on Sunday from the earliest days of the church to the present. After discussing the views and practices relating to Sunday in the ancient church, González turns to Constantine and how his policies affected Sunday observances. He then recounts the long process, beginning in the Middle Ages and culminating with Puritanism, whereby Christians came to think of and strictly observe Sunday as the Sabbath. Finally, González looks at the current state of things, exploring especially how the explosive growth of the church in the Majority World has affected the observance of Sunday worldwide. Readers of this book will rediscover the joy and excitement of Sunday as early Christians celebrated it and will find fresh, inspiring perspectives on Sunday amid our current culture of indifference and even hostility to Christianity. -- From the publisher
Faith and wealth : a history of early Christian ideas on the origin, significance, and use of money
by
Justo L González
( Book )
19 editions published between
1990
and 2002 in
English
and
Chinese
and held by 692 WorldCat member libraries worldwide
"Examines early Christian ideas, beliefs, and teachings about the use of money, property, communal sharing, and the rights and obligations of rich and poor ... highlights the ideas of ... Cyprian, Ambrose, Augustine, John Chrysostom, and the Desert Fathers."
Revelation
by
Catherine Gunsalus González
( )
2 editions published in
1997
in
English
and held by 653 WorldCat member libraries worldwide
"Few books of the Bible have had a reversal of fortune like that of Revelation. Written to offer comfort, to aid those trying to understand their faith, and to be read aloud in church, Revelation is viewed by many readers today as shrouded in mystery and rife with elusive symbolism. Yet, as Catherine and Justo Gonzalez point out, we are not as far from the situation about which John writes as we might think. Although we may not face daily challenges of life and death, injustice and idolatry are rampant in our society. And Revelation's dire warnings against those who would rather be comfortable or successful than faithful is of great relevance in our lives today."--Jacket
The story Luke tells : Luke's unique witness to the gospel
by
Justo L González
( )
6 editions published in
2015
in
English
and held by 563 WorldCat member libraries worldwide
Among New Testament writers, who is the best historian? Without a doubt, says Justo Gonzalez, it s Luke. Concerned about the particulars of people and events, Luke also gives readers the big picture, positioning the stories of Jesus not just in the history of Israel but in the history of humankind. Luke uniquely tells us the grand story of salvation -- then and now. Gonzalez skillfully highlights key themes in Luke s storytelling, including his strong emphasis on God s great reversals, his keen interest in shared meals and their intimate connection to worship and communion, and his passionate underscoring of both the saving work of Christ and the indwelling power of the Holy Spirit. Writing in a conversational style, Gonzalez draws readers into Luke s story with fresh overviews and rich details, showing how Luke invites us to continue his gospel witness today
Christian thought revisited : three types of theology
by
Justo L González
( Book )
10 editions published between
1989
and 2002 in
English
and held by 540 WorldCat member libraries worldwide
Christian Thought Revisited offers an overview of three basic models of theology in Western Christian history. From the works of Tertullian, Clement of Alexandria and Origen, and Ireanaeus of Lyon come the models of moral theology, metaphysical theology, and pastoral theology. This categorization helps readers understand the validity and application of all three models in the study of theology today. --From publisher's description
The changing shape of church history
by
Justo L González
( Book )
5 editions published between
2002
and 2014 in
English
and held by 517 WorldCat member libraries worldwide
New, different readings of church history are finally reflecting Christianity?s deep roots in every culture worldwide. Gonzlez listens to voices from centers other than the North Atlantic to help us see a different perspective of church history?-a global story that includes those previously marginalized?-as he offers us a hopeful outlook for the future of world Christianity
more
fewer
Audience Level
0

1
Kids
General
Special
Audience level: 0.28 (from 0.10 for A concise ... to 0.78 for Actualidad ...)
Related Identities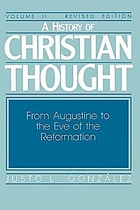 Covers
Alternative Names
Gonzáles, Justo L

González-Gunsalus González, .. 1937-

Gonzalez, Justo

González, Justo 1937-

Gonzalez, Justo L.

González, Justo Luis 1937-

González Meda, Justo

González-Meda, Justo 1937-

Justo González Amerikaans theoloog

Justo González García Cuban-American Methodist historian

Justo L. González

Meda, Justo González

Meda, Justo González 1937-

Гонсалес, Хусто

곤잘레스, J. L

곤잘레스, 유스토 L

곤잘레스, 후스토

곤잘레스, 후스토 L

곤잘레스, 후스토 루이

유스토 L. 곤잘레스

ゴンサレス, J.

ゴンサレス, フスト

フスト・ゴンサレス

Languages