Moravian Church
Most widely held works about Moravian Church
more
fewer
Most widely held works by Moravian Church
more
fewer
Audience Level
0

1
Kids
General
Special
Audience level: 0.38 (from 0.01 for God's fiel ... to 0.65 for An exposit ...)
Related Identities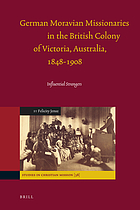 Covers
Alternative Names
Bohemian Brethren
Bad Boll, Herrnhuter Brüdergemeine

Bohemian Brethren

Böhmisch-Mährische Brüder

Böhmische Brüder

Bracia morawscy

Bræðrasöfnuðurinn

Brāļu draudzes

Brethren's Congregation

Brethren's Congregation Great Britain

Britische Brüderunität

British Province of the Moravian Church

Brødremenigheden

Brødremenigheten

Brüder-Gemeine zur Förderung Christlicher Gemeinschaft

Brüder-Unität

Brüdergemeine

Brüderunitat

Church of the Brethren (Moravian)

Church of the United Brethren

Church of the United Brethren Great Britain

Erneuerte Brüder-Unität

Evangelische Broedergemeente

Evangelische Broedergemeente protestants-christelijke stroming

Evangelische Brüder-Gemeinde

Evangelische Brüder-Unität

Evangelische Brüdergemeine

Evangelische Brueder-Unitat

Fratelli moravi

Frații Moravi

Frères Moraves

Gereja Moravia

Hermandad de Moravia

Hernhūtes brāļu draudzes

Hernhūtiešu brāļu draudzes

Hernhūtiešu kustība

Hernhuutlus

Herrnhuter Brüdergemeine

Herrnhuter Brüdergemeine protestantische christliche Glaubensbewegung

Herrnhuterne

Herrnhuti testvérgyülekezet

Herrnhutilaisuus kristillinen herätysliike

Herrnhutischen Brüderversammlungen.

Herrnhutiske Brødremenighed

Herrnhutismen

Herrnhutter Broeders

Igreja Moraviana

Jednota Bratnia Braci Morawskich.

Jednota bratrská

Jednota bratrská (2)

Kanisa la Moravian

Kirche der Böhmischen Brüder

Kontynentalna Jednota Bratnia w Herrnhut.

Maehrische Brueder

Mährische Brüder

Moravian Brethren

Moravian Church

Moravian Church Christian denomination

Moravian Church in the British Province

Moravian Church of the British Province

Moravian Union

moraviani gruppo religioso cristiano

Moravians

Morāvijas baznīca

Morawiese kerk

Obŝestvo Moravskih brat'ev ili Gernguterov.

Ochranowska bratrowska wosada křesćanske nabožinske hibanje ze sydłom w Ochranowje

Renewed Church of the Brethren

Union of Czech Brethren

Unitaas Fratrum

Unitas Fratrum

Unitas Fratrum (3)

United Brethren

United Brethren Great Britain

United Brethren (Moravians)

Unity of Bretheren

Unity of Czech Bretheren

Unity of the Brethren

Unuiĝo de fratoj

Zbór Braci Morawskich.

Морави чиркĕвĕ

Моравска црква

Моравская церковь

الكنيسة المورافية

모라비안

モラヴィア兄弟団

摩拉维亚弟兄会

Languages