Bachman, Jerald G.
Most widely held works by Jerald G Bachman
Monitoring the future : national results on adolescent drug use : overview of key findings, 2000
by
Lloyd Johnston
( Book )
24 editions published between
2000
and 2012 in
English
and held by 861 WorldCat member libraries worldwide
Monitoring the Future (MTF) is a long-term study of American adolescents, college students, and adults through age 50. It has been conducted annually by the University of Michigan?s Institute for Social Research since its inception in 1975 and is supported under a series of investigator-initiated, competing research grants from the National Institute on Drug Abuse. Smoking, drinking, and illicit drug use are leading causes of morbidity and mortality, both during adolescence as well as later in life
Monitoring the Future : a Continuing Study of the Lifestyles and Values of Youth, 1994
by
Lloyd Johnston
( )
195 editions published between
1981
and 2004 in 3 languages and held by 629 WorldCat member libraries worldwide
This is the seventeenth annual survey in this series that explores changes in important values, behaviors, and lifestyle orientations of contemporary American youth. The students are randomly assigned one of six questionnaires, each with a different subset of topical questions but all containing a set of "core" questions on demographics and drug use. There are about 1,300 variables across the questionnaires. Full details on the research design and procedures, sampling methodology, content areas, and questionnaire design, as well as percentage distributions by respondent's sex, race, region, college plans, and drug use, appear in the annual ISR volumes MONITORING THE FUTURE: QUESTIONNAIRE RESPONSES FROM THE NATION'S HIGH SCHOOL SENIORS
The all-volunteer force : a study of ideology in the military
by
Jerald G Bachman
( Book )
8 editions published between
1977
and 1978 in
English
and held by 479 WorldCat member libraries worldwide
Forfatterne er selv fortalere for en frivillig hær og stiller spørgsmålet: Kan den professionelle hær være objektiv, når beslutninger vedrørende militære forhold skal diskuteres?
National trends in drug use and related factors among American high school students and young adults, 1975-1986
by
Lloyd Johnston
( Book )
7 editions published in
1987
in
English
and held by 435 WorldCat member libraries worldwide
This report is the 10th in an annual series reporting the drug use and related attitudes of American high school seniors. Findings reported cover the high school classes of 1975 through 1986 and come from the national project, Monitoring the Future: a Continuing Study of the Lifestyles and Values of Youth. Findings on the prevalence of, and trends in, drug use and related factors are reported separately for high school seniors and for two subsamples of young adults who had participated in the study as high school seniors: young adults post-high school and college students. Trend data are presented for varying time intervals. For high school seniors, drug use by grade level, degree and duration of drug highs, attitudes and beliefs about drugs, and the social milieu are also examined. A section entitled "Other Findings From the Study" explores the use of nonprescription stimulants, daily use of marijuana, medically supervised use of psychotherapeutic drugs, correlates of cigarette smoking, and other data on correlates and trends. Eleven separate classes of drugs are discussed: (1) marijuana (including hashish); (2) inhalants; (3) hallucinogens; (4) cocaine (including crack); (5) heroin; (6) other natural and synthetic opiates; (7) stimulants; (8) sedatives; (9) tranquilizers; (10) alcohol; and (11) cigarettes. Separate statistics are presented for several subclasses of drugs. Estimates adjusted for absentees and dropouts are appended. Forty data tables and 65 figures are included. (Nb)
Youth in transition
by
University of Michigan
( Book )
in
English
and held by 403 WorldCat member libraries worldwide
Drug use among American high school students, college students, and other young adults : national trends through 1985
by
Lloyd Johnston
( Book )
7 editions published in
1986
in
English
and held by 395 WorldCat member libraries worldwide
Drug use and related attitudes of U.S. high school seniors from the graduating classes of 1975-1985 and young adults in their late teens and early- to mid-twenties were studied, as part of an ongoing research project. Eleven classes of drugs were assessed: marijuana (including hashish), inhalants, hallucinogens, cocaine, heroin, other natural and synthetic opiates, stimulants (amphetamines), sedatives, tranquilizers, alcohol, and cigarettes. Several subclasses of drugs were also covered: pcp and lysergic acid diethylamide (lsd), amyl and butyl nitrites, and barbiturates and methaqualone. Attention was focused on drug use at the higher frequency levels rather than whether respondents had ever used various drugs. Of concern were: age of first use; the seniors' own attitudes and beliefs; and the attitudes, beliefs, and behaviors of others in the seniors' social environment, including perceived drug availability. The use of non-prescription stimulants, including diet pills, stay-awake pills, and pseudo-amphetamines were also reported, along with cocaine use among young people. Findings include sex differences in drug use, differences related to college plans, regional differences, and differences related to population density. The implications of findings for prevention efforts were addressed. (Sw)
Adolescence to adulthood : change and stability in the lives of young men
by
Jerald G Bachman
( Book )
8 editions published between
1971
and 1978 in
English
and held by 390 WorldCat member libraries worldwide
This book, the sixth in a series of longitudinal studies initiated by the Youth in Transition Project, examines change and stability and educational and occupational attainments of young men. During the eight year study, nationally representative samples of over 2,000 young men were surveyed and their experiences from 10th grade through five years beyond high school graduation were traced. Objectives were to: (1) explore effects of dropping out of high school by comparing occupational attainments of dropouts with those of graduates, (2) determine the degree to which 10th grade measures can predict educational and occupational attainments, (3) assess the role of educational attainment as compared with the role of family background and intellectual ability, and (4) determine the impacts of post-high school experiences and environments on values, attitudes, and behaviors. The first portion of the book emphasizes factors which precede and/or contribute to educational and occupational attainment. Tenth grade measures of background, ability, educational experiences, occupational outcomes, and job satisfaction are examined. The second portion examines change and stability through a variety of dimensions measured repeatedly from 1966 to 1974. Changes in self-esteem, motives, affective states, values, and views on social issues are analyzed. Results indicate that differences are present before exposure to different environments and experiences; individuals who are initially different tend to seek out different situations. A detailed summary of results and technical information about the research are included
more
fewer
Audience Level
0

1
Kids
General
Special
Audience level: 0.42 (from 0.11 for The declin ... to 0.67 for Monitoring ...)
Related Identities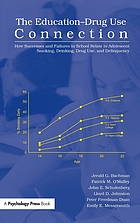 Alternative Names
Bachman, Jerald 1936-

Bachman, Jerald Graybill 1936-

Languages
Covers