Maccoby, Hyam 1924-2004
Most widely held works about Hyam Maccoby
Most widely held works by Hyam Maccoby
Ritual and morality : the ritual purity system and its place in Judaism
by
Hyam Maccoby
( )
24 editions published between
1999
and 2009 in
English
and
Spanish
and held by 2,181 WorldCat member libraries worldwide
This book describes in detail the ritual purity system of the Hebrew Bible, and its development into the system of the rabbis. It is argued that the impurities concerned all derive from the human cycle of generation, birth and death, from which the Sanctuary is to be guarded; not because it needs protection from demonic powers (as in other ancient purity systems), but because of the reverence due to the divine presence
Judaism on trial : Jewish-Christian disputations in the Middle Ages
by
Hyam Maccoby
( )
42 editions published between
1982
and 2018 in
English
and
Hebrew
and held by 1,360 WorldCat member libraries worldwide
This book focuses on the major Jewish-Chrisian disputations of medieval Europe: those of Paris (1240), Barcelona (1263), and Tortosa (1413-14)
The philosophy of the Talmud
by
Hyam Maccoby
( )
2 editions published in
2002
in
English
and held by 1,140 WorldCat member libraries worldwide
"This book expounds the Talmud's contribution to questions central to present-day thought, expecially the scope and limits of moral relativism. The Talmud has a philosophy of revolution stemming from the Exodus. This produces a humanistic standpoint, an emphasis on this-worldly justice, and a utopian orientation to the future; also an emphasis on education and rationality. The resultant egalitarian structure of research is similar to that of the present-day scientific establishment."--Jacket
The mythmaker : Paul and the invention of Christianity
by
Hyam Maccoby
( Book )
34 editions published between
1986
and 2013 in 5 languages and held by 1,005 WorldCat member libraries worldwide
The author presents new arguments which support the view that Paul, not Jesus, was the founder of Christianity. He argues that Jesus and also his immediate disciples James and Peter were life-long adherents of Pharisaic Judaism. Paul, however, was not, as he claimed, a native-born Jew of Pharisee upbringing, but came in fact from a Gentile background. He maintains that it was Paul alone who created a new religion by his vision of Jesus as a Divine Saviour who died to save humanity. This concept, which went far beyond the messianic claims of Jesus, was an amalgamation of ideas derived from Hellenistic religion, especially from Gnosticism and the mystery cults. Paul played a devious and adventurous political game with Jesus' followers of the so-called Jerusalem Church, who eventually disowned him. The conclusions of this historical and psychological study will come as a shock to many readers, but it is nevertheless a book which cannot be ignored by anyone concerned with the foundations of our culture and society. -- Book jacket
Antisemitism and modernity : innovation and continuity
by
Hyam Maccoby
( )
15 editions published between
2005
and 2009 in
English
and held by 671 WorldCat member libraries worldwide
Discusses the origins of antisemitism and especially its development in the modern world. Traces antisemitism to religious origins, to the fact that Christianity and Islam are both derived from Judaism and therefore have an Oedipal relationship to Judaism. Argues that non-religious antisemitism is all the more potent because of its unacknowledged religious roots. The modern world never quite emerged from the medieval world, and one of its unwanted legacies is its burden of antisemitism. Some of the chapters in this book are adaptations of articles published in "Midstream" (February & November 1970, May 1973, and March 1976), the "Times Literary Supplement" (25 June 1999), and "The Critical Survey" 3 (1967). Contents:
The sacred executioner : human sacrifice and the legacy of guilt
by
Hyam Maccoby
( Book )
13 editions published between
1982
and 1999 in
English
and
French
and held by 625 WorldCat member libraries worldwide
A study of myths linked to the ancient ritual practice of human sacrifice, and especially to the position in that ritual of the person who actually performs the sacrifice on behalf of the community. In regard to antisemitism, see ch. 11 (p. 134-146), "The Role of the Jews in the New Testament"; ch. 12 (p. 147-162); and ch. 13 (p. 163-175), "The Sacred Executioner in the Modern World" (this chapter focuses on antisemitic stereotypes of the Jew, including the Jew as usurer, the legend of the Wandering Jew, the Jew as Antichrist)
Early rabbinic writings
by
Hyam Maccoby
( Book )
14 editions published between
1988
and 1990 in
English
and
Undetermined
and held by 594 WorldCat member libraries worldwide
Rabbinic texts are often cited in New Testament and Old Testament studies, but hitherto there has been no easy way for a student to grasp the scope and variety of the relevant rabbinic writings. This book introduces the student to the full range of the early rabbinic writings, with a thorough introduction and notes, so that both a bird's eye view of the literature as well as close aquaintance with typical and important texts can be obtained. This will enable the reader to embark on further study with a clearer orientation. The book also aims to correct many mistaken views about rabbinic Judaism arising from outdated conceptions of the relation between Christianity and Judaism
Judas Iscariot and the myth of Jewish evil
by
Hyam Maccoby
( Book )
16 editions published between
1991
and 2020 in
English
and
German
and held by 475 WorldCat member libraries worldwide
In this speculative study of the early Church, Hyam Maccoby raises the question of whether anti-Semitism has roots in Christian theology. This would not have been a controversial question a few generations ago, yet strangely, no one formally involved in Jewish-Christian dialogue was willing to be quoted, pro or con, for attribution on the subject. This refusal to discuss a legitimate issue that should deeply concern representatives of both religious groups suggests that Maccoby has hit a nerve. And indeed, that is precisely his intention in this closely argued book about the origin, development, and posthumous career of the shadowy Biblical figure called Judas Iscariot. Maccoby begins by asking, who was Judas, and how did he become the preeminent figure of evil in Christian myth? Maccoby shows that Judas was not marked out for any special role in the earliest accounts, rather he emerges in successive versions as the fated betrayer who leads Jesus to his necessary sacrifice. The Judas story, he concludes, is thus a fabrication which has more to do with the internal quarrels of the early Church--above all with the narrative requirements of a sacrificial myth--than with the actions of any supposed historical character. This mythic role of Judas as a "sacred executioner" is central to the understanding of his story and indeed to the subsequent history of the Jews within Christian civilization. For this role was transferred to the whole Jewish people, who have been branded with precisely those vices of envy, greed, and ultimate disloyalty displayed by Judas in the Gospels. Maccoby traces this association through the literature and art of Christian Europe to the present day--but he maintains that symbols of the Christian myth have greater power in the post-theological age than we realize, precisely because our rationalistic prejudice persuades us that we are immune to subrational influence. Thus, paradoxically, Enlightenment--which Jews regarded as the key to their emancipation--may actually have intensified anti-Semitism by driving the idea of evil to the margins of acceptable discourse. And it is just this "primitive" identification of the Jews as the people of evil that the well-meaning liberal exponents of interfaith dialogue refuse to discuss.--Adapted from dust jacket
Paul and Hellenism
by
Hyam Maccoby
( Book )
10 editions published in
1991
in
English
and held by 350 WorldCat member libraries worldwide
Seeks the origins of later Christian anti-Judaism in Gnosticism and Pauline theology. Describes Gnostic anti-Judaism as directed primarily against the Jewish God and his law, rather than against the Jewish people who are their blind servants. Judaism for the Gnostics is more contemptible than dangerous, since its power is only in this world, to which the Gnostics attached no importance. Suggests that their hostility was aroused by Judaism's claim to equate its God with the higher God of Hellenistic thought. Paul took over much of the Gnostic two-power scheme, including the view of the Jews as blind servants of the Law. Argues that his own anti-Judaism did not go beyond that of the Gnostics. But in seeing the Crucifixion as central to salvation, and in singling out the Jews for a special role in salvation history, he added to the Gnostic two-power theology elements that later took shape as the Christian view of the Jews as Christ-killers and instruments of Satan
more
fewer
Audience Level
0

1
Kids
General
Special
Audience level: 0.32 (from 0.04 for The Day Go ... to 0.93 for A pariah p ...)
Associated Subjects
Aggada
Antisemitism
Apologetics
Bible.--Leviticus
Christianity
Christianity and antisemitism
Christianity--Origin
Christology
Civilization, Medieval--Jewish influences
Gnosticism
Guilt--Religious aspects
Hellenism
Historicity of Jesus Christ
Human sacrifice
Interfaith relations
James--I,--King of Aragon,
Jesus Christ
Jewish ethics
Jewish interpretations of Jesus Christ
Jewish interpretations of the Apostle Paul
Jewish legends
Jewishness of Jesus Christ
Jews
Judaism
Judaism (Christian theology)
Judaism--Medieval and early modern period
Judaism--Post-exilic period (Judaism)
Judas Iscariot
Lord's Supper--Early church
Maccoby, Hyam,
Messiah
Middle East--Palestine
Mysteries, Religious
Myth
Mythology
Naḥmanides,
Paul,--the Apostle, Saint
Pharisees
Philosophy
Purity, Ritual--Biblical teaching
Purity, Ritual--Judaism
Purity, Ritual--Judaism--History of doctrines
Rabbinical literature
Raymond,--of Peñafort, Saint,
Religious disputations
Ritual
Sacrifice
Spain
Spain--Barcelona
Talmud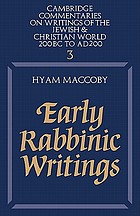 Covers
Alternative Names
Hyam Maccoby britischer Judaist und Schriftsteller

Hyam Maccoby Brits auteur

Hyam Maccoby historiador britànic

Hyam Maccoby historiador británico

Hyam Maccoby historian britanik

Hyam Maccoby historien britannique

Maccoby H.

Maccoby H. 1924-2004

Maccoby, Hyam, 1924-

Maccoby, Hyam 1924-2004

Maccoby, Hyam Z.

Maccoby, Hyam Zoundell 1924-2004

Маккоби Х. 1924-2004

Маккоби, Хаям 1924-

חיים מקובי חוקר , ספרן וסופר בריטי

هيم ماكوبى

هيم ماكوبي

هيم ماكوبي مؤرخ بريطاني

マコービイ, ハイアム

Languages