Jenkins, Brian Michael
Most widely held works by Brian Michael Jenkins
Unconquerable nation : knowing our enemy, strengthening ourselves
by
Brian Michael Jenkins
( )
15 editions published between
2002
and 2006 in
English
and held by 2,479 WorldCat member libraries worldwide
The author presents a clear-sighted and sobering analysis of where we are today in the struggle against terrorism. Jenkins, an internationally renowned authority on terrorism, distills the jihadistsÂ" operational code and outlines a pragmatic but principled approach to defeating the terrorist enterprise. We need to build upon our traditions of determination and self-reliance, he argues, and above all, preserve our commitment to American values
Countering al Qaeda : an appreciation of the situation and suggestions for strategy
by
Brian Michael Jenkins
( )
18 editions published in
2002
in
English
and held by 2,401 WorldCat member libraries worldwide
This monograph reviews events since the terrorist attacks of September 11, 2001, and discusses the current state of al Qaeda and the kinds of actions that can be expected of it in the future. Al Qaeda constitutes the most serious immediate threat to the security of the United States, so the campaign against terrorism must remain focused. The monograph describes the central elements that must be emphasized in the next, more-complex phase of that campaign
Would-be warriors : incidents of jihadist terrorist radicalization in the United States since September 11, 2001
by
Brian Michael Jenkins
( )
10 editions published in
2010
in
English
and held by 2,042 WorldCat member libraries worldwide
Between September 11, 2001, and the end of 2009, 46 publicly reported cases of domestic radicalization and recruitment to jihadist terrorism occurred in the United States; 13 of those cases occurred in 2009. Most of the would-be jihadists were individuals who recruited themselves into the terrorist role. Some provided assistance to foreign terrorist organizations; some went abroad to join various jihad fronts; some plotted terrorist attacks in the United Sates, usually with little success because of intervention by the authorities. The threat of large-scale terrorist violence has pushed law enforcement toward prevention rather than criminal apprehension after an event -- or, as one senior police official put it, "staying to the left of the boom," which means stopping the explosions or attacks before they occur. This shift toward prevention requires both collecting domestic intelligence -- always a delicate mission in a democracy -- and maintaining community trust and cooperation
The long shadow of 9/11 : America's response to terrorism
( )
3 editions published in
2011
in
English
and held by 1,932 WorldCat member libraries worldwide
The essays in this book assess the military, political, fiscal, social, cultural, psychological, and even moral implications of U.S. policymaking since 9/11
Aviation security : after four decades, it's time for a fundamental review
by
Brian Michael Jenkins
( )
10 editions published between
2011
and 2013 in
English
and held by 1,394 WorldCat member libraries worldwide
"Aviation security is costly, controversial, and contentious; no other security measures directly affect such a large portion of the country's population. Because of the nature of the threat, aviation security is the most intrusive form of security, pushing hard on the frontier of civil liberties. And the threat is real: Terrorists remain obsessed with attacking airplanes. At the same time, passenger loads are increasing, while security budgets are likely to decline. Performance suffers. Meanwhile, public tolerance and cooperation are beginning to fray. But the Transportation Security Administration is often blamed for things beyond its control. And post-catastrophe reviews can push us in the wrong direction, usually resulting in new security measures rather than a reexamination of strategy. After 40 years of focus on tactical measures, it is time for a sweeping review of aviation security. Instead of forming the usual federal commission to undertake this task, several non-government research institutions could be selected to independently design an optimal aviation security system, beginning not with the four decades of accumulated security measures currently in place but with a clean slate. The competing models would be reviewed and the best ideas or combination of ideas would be put forward. Even if the results turn out to resemble what is already in place, at least the process offers some comfortthat we are pretty close to getting it right."--"Overview", p. [1]
Al Qaeda in its third decade : irreversible decline or imminent victory?
by
Brian Michael Jenkins
( )
9 editions published in
2012
in
English
and held by 1,373 WorldCat member libraries worldwide
During 2011, the author was asked to testify about the status of al Qaeda before Congress on several occasions and to brief members of Congress, NATO ambassadors and planners, federal judges, and senior intelligence and law enforcement officials. This paper summarizes those briefings. It focuses on the recurring questions of whether America has won the operational battle but lost the ideological contest; whether homegrown terrorism is a growing threat; whether maintaining American troops in Afghanistan is essential; whether the United States should declare on its own an end to the war on al Qaeda
Stray dogs and virtual armies : radicalization and recruitment to jihadist terrorism in the United States since 9/11
by
Brian Michael Jenkins
( )
8 editions published in
2011
in
English
and held by 1,286 WorldCat member libraries worldwide
Since September 11, 2001, so-called "homegrown terrorists," working alone or with others, have planned and in some cases implemented terrorist activities, contributed financial or other material support to others' terrorist activities, or become radicalized in the United States and then traveled to other countries to conduct terrorist activities directed against those countries or against the United States. This paper examines the cases of homegrown terrorism from 9/11 through 2010, highlights lessons learned from those cases that suggest actions for the future, and includes a chronology of numbers and case descriptions of terrorist events in the United States during that period. Most of the individuals involved are Muslim, but the numbers are small. A total of 176 Americans have been indicted, arrested, or otherwise identified as jihadist terrorists or supporters since 9/11. They were involved in 82 cases, a majority of which involve the actions of a single individual. Al Qaeda has increasingly used the Internet to build an army of followers. Many of the terrorists identified in this study began their journey online. However, al Qaeda has not yet managed to inspire its online followers to action. Few of the 32 locally hatched jihadist plots to carry out terrorist attacks in the United States since 9/11 got much beyond the discussion stage. Nevertheless, al Qaeda remains a threat. More terrorist attempts will occur. Traditional law enforcement, in which authorities attempt to identify and apprehend a perpetrator after a crime has been committed, is inadequate to deal with terrorists who are determined to cause many deaths and great destruction and who may not care whether they themselves survive. Public safety demands a preventive approach -- intervention before an attack occurs. In addition to law enforcement, intelligence collection, and community policing, public reaction is an essential component of such preventive defense
The fall of South Vietnam : statements by Vietnamese military and civilian leaders
by
Stephen T Hosmer
( Book )
17 editions published between
1961
and 1980 in
English
and held by 747 WorldCat member libraries worldwide
The Fall of South Vietnam is a unique military history. It contains a wealth of original material gathered from former military and civilian officials. It is a fascinating picture of failure drawn by the participants themselves. The first part of the book is devoted to the setting before the 1975 enemy offensive, and includes discussion of the Paris Agreements of 1973. The second part deals with the course of the collapse, beginning with the loss of Phuoc Long in January 1975. --BOOK JACKET
Will terrorists go nuclear?
by
Brian Michael Jenkins
( Book )
12 editions published between
1900
and 2008 in
English
and
Undetermined
and held by 658 WorldCat member libraries worldwide
Jenkins goes beyond what the experts know about terrorists' efforts to acquire nuclear weapons, nuclear black markets, "suitcase bombs," and mysterious substances like red mercury to examine how terrorists themselves think about such weapons. His informed and seasoned analysis will give all Americans a clear understanding of the real situation and teach us how not to yield to nuclear terror
more
fewer
Audience Level
0

1
Kids
General
Special
Audience level: 0.16 (from 0.04 for Would-be w ... to 0.58 for The Nicara ...)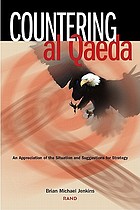 Covers
Alternative Names
Brian Michael Jenkins American writer

Brian Michael Jenkins écrivain américain

Brian Michael Jenkins escritor estadounidense

Jenkins, B.

Jenkins, B. (Brian)

Jenkins, Brian M.

Jenkins, Brian M. 1942-

Jenkins, Brian M. (Brian Michael)

ジェンキンズ, ブライアン・M

ブライアン・ジェンキンス

Languages