Duncan, Greg J.
Most widely held works by Greg J Duncan
Rural dimensions of welfare reform
by
Bruce A Weber
( )
9 editions published in
2002
in
English
and held by 1,964 WorldCat member libraries worldwide
This volume presents the first comprehensive look at how welfare reforms enacted in 1996 are affecting caseloads, employment, earnings, and family well-being in rural areas
For better and for worse : welfare reform and the well-being of children and families
by
Greg J Duncan
( )
14 editions published between
2001
and 2004 in
English
and held by 1,324 WorldCat member libraries worldwide
Although the 1996 welfare reform bill reduced welfare rolls, falling caseloads do not necessarily mean a better standard of living for families. This book examines the evidence and evaluates whether welfare reform has met one of its chief goals--improving the well-being of the nation's poor children. The chapters of the book are as follows: (1) "For Better and for Worse: Welfare Reform and the Well-Being of Children and Families" (Greg J. Duncan and P. Lindsay Chase-Landsdale); (2) "Liberal and Conservative Influences on the Welfare Reform Legislation of 1996" (Ron Haskins); (3) "Welfare Reform, Management Systems, and Policy Theories of Child Well-Being" (Cathy M. Johnson and Thomas L. Gais); (4) "How Do State Policymakers Think about Family Processes and Child Development in Low-Income Families?" (Kristin Anderson Moore); (5) "Program Redesign by States in the Wake of Welfare Reform: Making Sense of the Effects of Devolution" (Alan Weil); (6) "Sanctions and Exits: What States Know about Families That Leave Welfare because of Sanctions and Time Limits" (Jack Tweedie); (7) "How Different Are Welfare and Working Families? And Do These Differences Matter for Children's Achievement?" (Greg J. Duncan, Rachel E. Dunifon, Morgan B. Ward Doran, and W. Jean Yeung); (8) "My Children Come First: Welfare-Reliant Women's Post-TANF Views of Work-Family Trade-Offs and Marriage" (Ellen K. Scott, Kathryn Edin, Andrew S. London, and Joan Maya Mazelis); (9) "Does Maternal Employment Mandated by Welfare Reform Affect Children's Behavior?" (Ariel Kalil, Rachel E. Dunifon, and Sandra K. Danziger); (10) "Lessons from New Hope: The Impact on Children's Well-Being of a Work-Based Antipoverty Program for Parents" (Rashmita S. Mistry, Danielle A. Crosby, Aletha C. Huston, David M. Casey, and Marika N. Ripke); (11) "How Families View and Use Lump-Sum Payments from the Earned Income Tax Credit" (Jennifer L. Romich and Thomas S. Weisner); (12) "Welfare Waivers and Nonmarital Childbearing" (Ann E. Horvath-Rose and H. Elizabeth Peters); (13) "Reducing Child Poverty by Improving the Work-Based Safety Net" (Wendell Primus and Kristina Daugirdas); (14) "Effects of Welfare Reform at Four Years" (Ron Haskins); (15) "Reforming the Social Family Contract: Public Support for Child Rearing in the United States" (Paula England and Nancy Folbre); and (16) "Lessons Learned" (P. Lindsay Chase-Landsdale and Greg J. Duncan). (Each chapter contains references.) (Hth)
Higher ground : New Hope for the working poor and their children
by
Greg J Duncan
( )
8 editions published between
2006
and 2009 in
English
and held by 1,214 WorldCat member libraries worldwide
"As America takes stock of the successes and shortcomings of the Clinton era welfare reforms, the authors convincingly demonstrate why New Hope could be a model for state and national policies to assist the working poor. Evidence based and insightfully written, Higher Ground illuminates how policymakers can make work pay for families struggling to escape poverty."--BOOK JACKET
National Children's Study 2014 : an assessment
by
Panel on the Design of the National Children's Study and Implications for the Generalizability of Results
( )
5 editions published in
2014
in
English
and held by 984 WorldCat member libraries worldwide
"The National Children's Study (NCS) was authorized by the Children's Health Act of 2000 and is being implemented by a dedicated Program Office in the Eunice Kennedy Shriver National Institute of Child Health and Human Development (NICHD). The NCS is planned to be a longitudinal observational birth cohort study to evaluate the effects of chronic and intermittent exposures on child health and development in the U.S. The NCS would be the first study to collect a broad range of environmental exposure measures for a national probability sample of about 100,000 children, followed from birth or before birth to age 21. Detailed plans for the NCS were developed by 2007 and reviewed by a National Research Council / Institute of Medicine panel. At that time, sample recruitment for the NCS Main Study was scheduled to begin in 2009 and to be completed within about 5 years. However, results from the initial seven pilot locations, which recruited sample cases in 2009-2010, indicated that the proposed household-based recruitment approach would be more costly and time consuming than planned. In response, the Program Office implemented a number of pilot tests in 2011 to evaluate alternative recruitment methods and pilot testing continues to date. At the request of Congress, The National Children's Study 2014 reviews the revised study design and proposed methodologies for the NCS Main Study. This report assesses the study's plan to determine whether it is likely to produce scientifically sound results that are generalizable to the United States population and appropriate subpopulations. The report makes recommendations about the overall study framework, sample design, timing, content and need for scientific expertise and oversight. The National Children's Study has the potential to add immeasurably to scientific knowledge about the impact of environmental exposures, broadly defined, on children's health and development in the United States. The recommendations of this report will help the NCS will achieve its intended objective to examine the effects of environmental influences on the health and development of American children"--Publisher's description
Whither opportunity? : rising inequality, schools, and children's life chances
by
Greg J Duncan
( )
12 editions published in
2011
in
English
and held by 962 WorldCat member libraries worldwide
In Whither Opportunity?, a team of economists, sociologists, and experts in social and education policy examines the corrosive effects of unequal family resources, disadvantaged neighborhoods, insecure labor markets, and worsening school conditions on K-12 education. This groundbreaking book illuminates the ways rising inequality is undermining the ability of schools to provide children with an equal chance at academic and economic success. Whither Opportunity? shows that from earliest childhood, parental investments in children s learning affect reading, math, and other attainments later in life. Contributor Meredith Phillip finds that between birth and age six, wealthier children spend significantly more time than poor children on child enrichment activities such as music lessons, travel, and summer camp. Greg Duncan, George Farkas, and Katherine Magnuson demonstrate that a child from a poor family is two to four times as likely as a child from an affluent family to have classmates with low skills and behavior problems. As a result of such disparities, contributor Sean Reardon finds that the gap between rich and poor children s achievement scores is now much larger than it was 50 years ago. Such income-based gaps persist across the school years, as Martha Bailey and Sue Dynarski document in their chapter on the growing income-based gap in college completion. Whither Opportunity? also reveals the profound impact of environmental factors on children s educational progress. Elizabeth Ananat, Anna Gassman-Pines, and Christina Gibson-Davis show that local job losses such as those caused by plant closings can lower the test scores of students with low socioeconomic status, even students whose parents have not lost their jobs. And David Kirk and Robert Sampson show that teacher commitment, parental involvement, and student achievement in schools in high-crime neighborhoods all tend to be low
Consequences of growing up poor
by
Greg J Duncan
( Book )
17 editions published between
1997
and 1999 in
English
and held by 935 WorldCat member libraries worldwide
Based on their findings, the editors and contributors recommend more sharply focused child welfare policies targeted at specific eras and conditions of poor children's lives. They also weigh the relative need for income supplements, child care subsidies, and home interventions
Neighborhood poverty
by
Jeanne Brooks-Gunn
( Book )
16 editions published between
1997
and 2000 in
English
and held by 809 WorldCat member libraries worldwide
"Perhaps the most alarming phenomenon in American cities has been the transformation of many neighborhoods into isolated ghettos where poverty is the norm and violent crime, drug use, out-of-wedlock births, and soaring school dropout rates are rampant. Public concern over these destitute areas has focused on their most vulnerable inhabitants--children and adolescents. How profoundly does neighborhood poverty endanger their well-being and development? Is the influence of neighborhood more powerful than that of the family? 'Neighborhood poverty' approaches these questions with an insightful and wide-ranging investigation into the effect of community poverty on children's physical health, cognitive and verbal abilities, educational attainment, and social adjustment. This two-volume set offers the most current research and analysis from experts in the fields of child development, social psychology, sociology and economics. ... 'Volume II' incorporates empirical data on neighborhood poverty into discussions of policy and program development. The contributors point to promising community initiatives and suggest methods to strengthen neighborhood-based service programs for children. Several essays analyze the conceptual and methodological issues surrounding the measurement of neighborhood characteristics. These essays focus on the need to expand scientific insight into urban poverty by drawing on broader pools of ethnographic, epidemiological, and quantitative data. 'Volume II' explores the possibilities for a richer and more well-rounded understanding of neighborhood and poverty issues. To grasp the human cost of poverty, we must clearly understand how living in distressed neighborhoods impairs children's ability to function at every level. 'Neighborhood poverty' explores the multiple and complex paths between community, family, and childhood development. These two volumes provide and indispensable guide for social policy and demonstrate the power of interdisciplinary social science to probe complex social issues."--JSTOR website (viewed January 24, 2017)
Restoring opportunity : the crisis of inequality and the challenge for American education
by
Greg J Duncan
( Book )
5 editions published in
2014
in
English
and held by 555 WorldCat member libraries worldwide
"In this landmark volume, Greg J. Duncan and Richard J. Murnane lay out a meticulously researched case showing how--in a time of spiraling inequality--strategically targeted interventions and supports can help schools significantly improve the life chances of low-income children. The authors offer a brilliant synthesis of recent research on inequality and its effects on families, children, and schools. They describe the interplay of social and economic factors that has made it increasingly hard for schools to counteract the effects of inequality and that has created a widening wedge between low- and high-income students. Restoring Opportunity provides detailed portraits of proven initiatives that are transforming the lives of low-income children from prekindergarten through high school. All of these programs are research-tested and have demonstrated sustained effectiveness over time and at significant scale. Together, they offer a powerful vision of what good instruction in effective schools can look like. The authors conclude by outlining the elements of a new agenda for education reform." -- Publisher's description
Reforming welfare : what does it mean for rural areas?
by
Leslie A Whitener
( )
2 editions published in
2002
in
English
and held by 256 WorldCat member libraries worldwide
The Personal Responsibility and Work Opportunity Reconciliation Act dramatically altered the social safety net for poor Americans, including the 7 million people living in poverty in nonmetro areas. This issue brief examines evidence from recent research about rural-urban differences in welfare reform impacts on program participation, employment, earnings, and poverty and assesses how well welfare reform is working in rural areas
more
fewer
Audience Level
0

1
Kids
General
Special
Audience level: 0.23 (from 0.05 for Rural dime ... to 0.62 for A validati ...)
Related Identities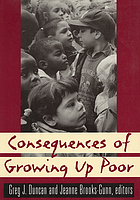 Covers
Alternative Names
Duncan, G. J.

Duncan, G. J. 1948-

Duncan, G. J. (Greg J.)

Duncan, Greg

Duncan, Greg 1948-

Duncan, Greg J.

Duncan, Gregory J.

Duncan, Gregory J. 1948-

Duncan, Gregory John 1948-

Greg Duncan Wirtschaftswissenschaftler

Languages