Kuttner, Robert
Most widely held works about Robert Kuttner
Most widely held works by Robert Kuttner
Everything for sale : the virtues and limits of markets
by
Robert Kuttner
( Book )
25 editions published between
1996
and 2004 in
English
and held by 1,334 WorldCat member libraries worldwide
In Everything for Sale, Kuttner makes a powerful case for the mixed economy, in which government steps in to override markets for a variety of reasons: to stabilize monetary forces, to promote growth, to temper inequalities, to cultivate civic virtues. It is the system that, Kuttner contends, holds the greatest hope for a flourishing twenty-first century. His concrete observations and clear analyses, purged of jargon, address themselves to every layperson, businessperson, policy-maker, and open-minded economist in America
The end of laissez-faire : national purpose and the global economy after the Cold War
by
Robert Kuttner
( Book )
25 editions published between
1991
and 1994 in
English
and held by 1,025 WorldCat member libraries worldwide
An analysis of what American economic policy should be and can be in the 1990s--an interpretation of the relation between domestic economic health and international politics, and of how we should set priorities to maintain our economy and our compettitive vigor in the future
The squandering of America : how the failure of our politics undermines our prosperity
by
Robert Kuttner
( Book )
9 editions published between
2007
and 2008 in
English
and held by 913 WorldCat member libraries worldwide
The incomes of most Americans today are static or declining. Tens of millions of workers are newly vulnerable to layoffs and outsourcing. Health care and retirement burdens are increasingly being shifted from employers to individuals. Two-income families find they are working longer hours for lower wages, with decreased social support. As wealth has become more concentrated, the economy has become more recklessly speculative, jeopardizing not only the prospects of ordinary Americans, but the solvency of the entire system. What links these trends, writes journalist Kuttner, is the consolidation of political and economic power by a narrow elite, who blocks the ability of government to restore broad prosperity to the majority of citizens. Kuttner--one of our most lucid economic critics--explores the roots of these problems and outlines a persuasive, bold alternative, a new model of managed capitalism that can deliver security and opportunity, and rekindle democracy as a check on concentrated wealth.--From publisher description
Debtors' prison : the politics of austerity versus possibility
by
Robert Kuttner
( Book )
9 editions published between
2013
and 2015 in
English
and held by 873 WorldCat member libraries worldwide
"A timely, broadly revisionist, essential book by one of our foremost economic observers takes down one of the most cherished tenets of contemporary financial thinking: that spending less, refusing to forgive debt, and shrinking government--"austerity"--Is a solution to the current economic crisis. Since the collapse of Lehman Brothers in September 2008, too much of our conversation about economic recovery has centered on the question of debt: whether we have too much of it, when to forgive it, and how to cut the deficit. Robert Kuttner makes the most powerful argument to date that these are the wrong questions and that austerity is the wrong solution. Blending economics with historical examples of effective debt relief and punitive debt enforcement, he makes clear that universal belt-tightening, as a prescription for recession, simply defies economic logic. Just as debtor's prisons once prevented individuals from working and thus being able to pay back their debts, austerity measures shackle, rather than restore, economic growth as the weight of past debt crushes the economy's future potential. Above all, Kuttner shows how austerity serves only the interest of creditors--the very bankers and financial elites whose actions precipitated the collapse. Lucid, authoritative, provocative--a book that is certain to be widely read and much debated."
A presidency in peril : the inside story of Obama's promise, Wall Street's power, and the struggle to control our economic future
by
Robert Kuttner
( Book )
1 edition published in
2010
in
English
and held by 533 WorldCat member libraries worldwide
When Barack Obama took office in January 2009, he had an unprecedented chance to do what no other recent president could: seize the nation's financial reins from the corporate elite and return them to the American people. Progressives everywhere held out hope that their new leader would take advantage of the economic crisis he stepped into and enact bold policies that would evoke real financial reforms, putting Main Street in front of Wall Street, at last. But that, writes the author is not the way things turned out. Instead, America's best chance for radical financial reform turned into Wall Street's greatest victory. Obama filled his administration with allies of financial elites who were more interested in business as usual than in transformative change. As a consequence, Main Street remained mired in deep recession. Instead of being the instrument of economic renewal, Obama became the target of economic frustration. In this account, the author shares his insider's view of how the Obama administration not only missed its moment to turn our economy around, but deepened Wall Street's risky grip on America's future. Carefully constructing a one year history of the problem, the players, and the outcome, he gives readers an account of the president's first year. More importantly, though, he shows how we could, with swift, decisive action, still enact real reforms. This is a book for those who want to understand exactly how Wall Street won, and how Main Street can still fight back
Ticking time bombs : the new conservative assaults on democracy
( Book )
4 editions published in
1996
in
English
and held by 345 WorldCat member libraries worldwide
With the Rise of Newt Gingrich and a Republican-controlled Congress, a wide range of political time bombs have been set, threatening the American republic. People's living standards are stagnant and the political process offers no solutions; the rhetoric about a balanced budget by 2002 creates an environment in which public policymakers are more concerned with scrapping programs than with solving problems; and the degradation of the political process itself has led to increasing domination by big money interests, the decay of both parties, and further declines in voter participation. All of these time bombs are linked; if our political process can't sole real problems, democracy itself is discredited. Ticking Time Bombs gathers today's most distinguished authors from America's premier liberal journal, The American Prospect, to explain these problems, examine their long-term consequences, and offer solutions
more
fewer
Audience Level
0

1
Kids
General
Special
Audience level: 0.32 (from 0.20 for A presiden ... to 0.84 for Race and m ...)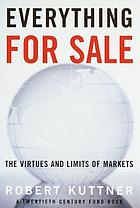 Alternative Names
Kuttner, Robert

Kuttner, Robert E.

Robert Kuttner American journalist

Robert Kuttner Amerikaans journalist

Robert Kuttner periodista estadounidense

カトナー, ロバート

Languages
Covers