Hamermesh, Daniel S.
Most widely held works about Daniel S Hamermesh
Most widely held works by Daniel S Hamermesh
Beauty pays : why attractive people are more successful
by
Daniel S Hamermesh
( Book )
23 editions published between
2010
and 2016 in
English
and
Chinese
and held by 983 WorldCat member libraries worldwide
Most of us know there is a payoff to looking good, and in the quest for beauty we spend countless hours and billions of dollars on personal grooming, cosmetics, and plastic surgery. But how much better off are the better looking? Based on the evidence, quite a lot. The first book to seriously measure the advantages of beauty, this work demonstrates how society favors the beautiful and how better-looking people experience startling but undeniable benefits in all aspects of life. The author, an economist, shows that the attractive are more likely to be employed, work more productively and profitably, receive more substantial pay, obtain loan approvals, negotiate loans with better terms, and have more handsome and highly educated spouses. He explains why this happens and what it means for the beautiful and the not-so-beautiful among us. Exploring whether a universal beauty standard exists, he illustrates how attractive workers make more money, how these amounts differ by gender, and how looks are valued differently based on profession. The author wonders whether extra pay for good-looking people represents discrimination, and, if so, who is discriminating. He investigates the commodification of beauty in dating and how this influences the search for intelligent or high-earning mates, and even considers whether government programs should aid the ugly. Also discussed is whether the economic benefits of beauty will persist into the foreseeable future and what the "looks-challenged" can do to overcome their disadvantage. Reflecting on a sensitive issue that touches everyone, this book proves that beauty's rewards are anything but superficial
Jobless pay and the economy
by
Daniel S Hamermesh
( Book )
11 editions published between
1977
and 1988 in
English
and held by 651 WorldCat member libraries worldwide
Labor demand
by
Daniel S Hamermesh
( Book )
18 editions published between
1993
and 1996 in
English
and held by 647 WorldCat member libraries worldwide
In this broad-ranging book, Daniel Hamermesh provides the first comprehensive picture of the disparate field of labor demand. The author reviews both the static and dynamic theories of labor demand, and provides evaluative summaries of the available empirical research in these two subject areas. Moreover, he uses both theory and evidence to establish a generalized framework for analyzing the impact of policies such as minimum wages, payroll taxes, job-security measures, unemployment insurance, and others. Covering every aspect of labor demand, this book uses material from a wide range of countries. Hamermesh also includes chapters on flows of employment through job creation and destruction in new and existing plants, the implications of labor demand for macroeconomics and the distribution of earnings, and the effects of heterogeneous labor for labor-market behavior in developing countries. For all labor economists, for graduate students specializing in the field of labor economics, for macroeconomists interested in public policy, and for public policy analysts interested in employment and pay, Labor Demand will be essential reading
The economics of work and pay
by
Daniel S Hamermesh
( Book )
29 editions published between
1980
and 1998 in
English
and held by 637 WorldCat member libraries worldwide
Labor in the public and nonprofit sectors
by
Daniel S Hamermesh
( Book )
20 editions published between
1975
and 2016 in
English
and held by 581 WorldCat member libraries worldwide
Originally presented at a Conference on Labor in Nonprofit Industry and Government held at Princeton University, the studies are the first to provide an economic discussion of the public sector labor market. Melvin Reder examines the effect of the absence of the profit motive on employment and wage determination in the public sector. Orley Ashenfelter and Ronald Ehrenberg estimate the elasticities of demand for various types of labor employed by State and local governments. Theoretical ideas about behavior in nonprofit industries are employed by Richard Freeman to study the higher education industry. John Burton and Charles Krider try to predict the incidence of strikes in the public sector, while Donald Frey presents a model of the behavior of school boards in hiring faculty. The magnitude of the extra wage received by unionized public employees is compared by Daniel Hamermesh to that of private unionized workers in the same occupation. (Author)
Economics is everywhere
by
Daniel S Hamermesh
( Book )
18 editions published between
2004
and 2014 in
English
and
Chinese
and held by 311 WorldCat member libraries worldwide
The book includes 400 vignettes were inspired by news stories, television shows, movies, music, family events, and other facets of daily life. Some vignettes were suggested by students or colleagues. The book is organized into three parts to follow the topical arrangement of a typical introductory microeconomic textbook. These vignettes apply what students learn in their introductory microeconomics textbook. They focus on the student's ability to apply formal analysis with myriad of examples that come out of their daily activities. After studying this applications/issues book, students will be able to read a newspaper or magazine and understand their own daily activities in a new, economic way--and as a result, understand the economics at work around them
Workdays, workhours, and work schedules : evidence for the United States and Germany
by
Daniel S Hamermesh
( Book )
11 editions published between
1995
and 1996 in
English
and
Undetermined
and held by 234 WorldCat member libraries worldwide
This book studies work in the United States and Germany from two new viewpoints: (1) the division of work time into hours per day and days per week (as opposed to the standard analysis of weekly hours of work); and (2) the patterns of the particular times of the day and week when people are working, a focus on instantaneous time use. Information was gathered from the U.S. Bureau of Labor Statistics Current Population Surveys for about 20 years and studies from the German Socioeconomic Panel. Following an overview of the research and methods of data collection in the first chapter, the second chapter examines the determinants of days per week and daily hours of work in the two countries, as well as how these differ depending on workers' differing attachment to the work force. The chapter also explores how important work schedules are that differ from the 8-hour day and 5-day week. Chapter 3 studies the instantaneous use of time as it is divided between work and nonwork activities and how family decisions affect the work timing of the spouses. Chapter 4 examines how decisions about days and daily hours and the timing of work respond to changes in individual circumstances. Chapter 5 analyzes how employers combine workers, daily hours, and days per week in production. The final chapter sums up the study findings, such as the following: (1) unusual daily schedules and combinations of days and hours are ubiquitous; (2) a large proportion of the labor forces in both countries work in the evenings; (3) the notion of "shift" is too rigid to be of use; (4) weekly schedules in hours and days vary over the life cycle, with days worked per week varying less than number of hours worked per day; (5) minority groups work more of the undesirable hours in the workweek, but individuals of these groups usually move into more mainstream hours; and (6) the presence of young children reduces mothers' work hours--German mothers are more likely to work fewer hours on more days, whereas U.S. mothers are more likely to work fewer days. (Contains 44 tables, 6 figures, and 74 references.) (Kc)
more
fewer
Audience Level
0

1
Kids
General
Special
Audience level: 0.47 (from 0.02 for Workdays, ... to 0.81 for ACTWU Inte ...)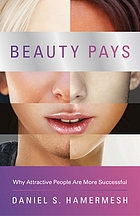 Alternative Names
Daniel S. Hamermesh American economist

Daniel S. Hamermesh Amerikaans econoom

Daniel S. Hamermesh amerikansk ekonom

Daniel S. Hamermesh amerikansk økonom

Daniel S. Hamermesh economista estadounidense

Daniel S. Hamermesh US-amerikanischer Wirtschaftswissenschaftler

Hamermesh, D. S.

Hamermesh, D. S. 1943-

Hamermesh, Daniel 1943-

Hamermesh, Daniel S. 1943-

Hamermesh, Daniel S. (Daniel Selim), 1943-

Hamermesh, Daniel Selim 1943-

Hamermesh, David S. 1943-

해머메시, 대니얼 S

Languages
Covers