Jacobs, James B.
Most widely held works by James B Jacobs
Drunk driving : an American dilemma
by
James B Jacobs
( Book )
12 editions published between
1989
and 2013 in
English
and
Undetermined
and held by 1,337 WorldCat member libraries worldwide
In this ambitious interdisciplinary study, James B. Jacobs provides the first comprehensive review and analysis of America's drunk driving problem and of America's anti-drunk driving policies and jurisprudence. In a clear and accessible style, he considers what has been learned, what is being done, and what constitutional limits exist to the control and enforcement of drunk driving
Hate crimes : criminal law & identity politics
by
James B Jacobs
( Book )
28 editions published between
1998
and 2011 in
English
and
Undetermined
and held by 1,090 WorldCat member libraries worldwide
Discusses the evolution of hate crime laws in the United States, examining the effectiveness of such laws, the interpretation of their legal definitions, and the challenges they pose to law enforcement officials
Can gun control work?
by
James B Jacobs
( Book )
22 editions published between
2002
and 2004 in
English
and held by 903 WorldCat member libraries worldwide
"Jacobs moves beyond easy slogans and broad-brush ideology to examine the on-the-ground practicalities of gun control, from mandatory safety locks to outright prohibition and disarmament. Casting aside ideology and abstractions, he cautions against the belief that there exists some gun control solution which, had we the political will to seize it, would substantially reduce violent crime."--Jacket
Stateville : the penitentiary in mass society
by
James B Jacobs
( Book )
10 editions published in
1977
in
English
and held by 845 WorldCat member libraries worldwide
Stateville penitentiary in Illinois has housed some of Chicago's most infamous criminals and was proclaimed to be ""the world's toughest prison"" by Joseph Ragen, Stateville's powerful warden from 1936 to 1961. It shares with Attica, San Quentin, and Jackson the notoriety of being one of the maximum security prisons that has shaped the public's conception of imprisonment. In Stateville James B. Jacobs, a sociologist and legal scholar, presents the first historical examination of a total prison organization-administrators, guards, prisoners, and special interest groups. Jacobs applies Edward Shi
Busting the Mob : United States v. Cosa Nostra
by
James B Jacobs
( Book )
12 editions published between
1994
and 1996 in
English
and held by 783 WorldCat member libraries worldwide
Since Prohibition, the Mafia has captivated the media and the American imagination. From Al Capone to John Gotti, organized crime bosses have achieved notoriety as anti-heroes in popular culture. In practice, organized crime grew strong and wealthy by supplying illicit goods and services and by obtaining control over labor unions and key industries. Despite, or perhaps because of, its power and high profile, Cosa Nostra faced little opposition from law enforcement. In the last fifteen years, however, the very foundations of the mob have been shaken, its bosses imprisoned, its profits diminished, and its influence badly weakened. In this vivid and dramatic book, James B. Jacobs, with Christopher Panarella and Jay Worthington, document the government's relentless attack on organized crime. The authors present an overview of the forces and events that led in the 1980s to the most successful organized crime control initiatives in American history. Enlisting trial testimony, secretly taped conversations, court documents, and depositions, they document five landmark cases, representing the most important organized crime prosecutions of the modern era - Teamsters Local 560, "The Pizza Connection," "The Commission," the International Teamsters, and the prosecution of John Gotti
Gotham unbound : how New York City was liberated from the grip of organized crime
by
James B Jacobs
( Book )
11 editions published between
1999
and 2001 in
English
and
Undetermined
and held by 625 WorldCat member libraries worldwide
The second half compellingly documents the campaign to purge the mob from unions, industries, and economic sectors, focusing on the unrelenting law enforcement efforts and the central role of Rudolph Giuliani's mayoral administration in devising innovative regulatory strategies to combat the mob."--Jacket
The pursuit of absolute integrity : how corruption control makes government ineffective
by
Frank Anechiarico
( Book )
8 editions published in
1996
in
English
and held by 502 WorldCat member libraries worldwide
Anticorruption reforms provide excellent political cover for public officials, but do they really reduce corruption? And do the benefits outweigh the costs? In this comprehensive and controversial case study of anticorruption efforts, Frank Anechiarico and James B. Jacobs show how the proliferating regulations and oversight mechanisms designed to prevent or root out corruption seriously undermine our ability to govern. Using anticorruption efforts in New York City to illustrate their argument, Anechiarico and Jacobs demonstrate the costly inefficiencies of pursuing absolute integrity. By proliferating dysfunctions, constraining decision makers' discretion, shaping priorities, and causing delays, corruption control - no less than corruption itself - has contributed to the contemporary crisis in public administration. This book begins a new and vital discourse on how to free public administration from burdensome corruption controls without sacrificing government integrity. It will interest scholars in political science, sociology, public administration, policy studies, and criminology
The eternal criminal record
by
James B Jacobs
( Book )
8 editions published in
2015
in
English
and held by 454 WorldCat member libraries worldwide
For over sixty million Americans, possessing a criminal record overshadows everything else about their public identity. A rap sheet, or even a court appearance or background report that reveals a run-in with the law, can have fateful consequences for a person's interactions with just about everyone else. The Eternal Criminal Record makes transparent a pervasive system of police databases and identity screening that has become a routine feature of American life. The United States is unique in making criminal information easy to obtain by employers, landlords, neighbors, even cyberstalkers. Its nationally integrated rap-sheet system is second to none as an effective law enforcement tool, but it has also facilitated the transfer of ever more sensitive information into the public domain. While there are good reasons for a person's criminal past to be public knowledge, records of arrests that fail to result in convictions are of questionable benefit. Simply by placing someone under arrest, a police officer has the power to tag a person with a legal history that effectively incriminates him or her for life. In James Jacobs's view, law-abiding citizens have a right to know when individuals in their community or workplace represent a potential threat. But convicted persons have rights, too. Jacobs closely examines the problems created by erroneous record keeping, critiques the way the records of individuals who go years without a new conviction are expunged, and proposes strategies for eliminating discrimination based on criminal history, such as certifying the records of those who have demonstrated their rehabilitation. -- from dust jacket
more
fewer
Audience Level
0

1
Kids
General
Special
Audience level: 0.26 (from 0.03 for Breaking t ... to 0.72 for Organized ...)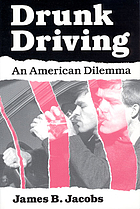 Alternative Names
Jacobs, James B.

Jacobs, James Barrett.

Jacobs, James Barrett 1947-

ジェームス・ジェイコブス

Languages
Covers