Saikal, Amin 1950-
Most widely held works by Amin Saikal
Democratization in the Middle East : experiences, struggles, challenges
by
Amin Saikal
( )
17 editions published between
2002
and 2005 in
English
and held by 2,319 WorldCat member libraries worldwide
This title addresses a numbernb of issues determining the success or failure of sustainable democratization in the region. Drawing on analyses of Iran, Iraq, Jordan, Lebanon, Syria, Algeria, Libya, Morocco and Tunisia, it examines patterns of democratization, and political and economic transition
Modern Afghanistan : a history of struggle and survival
by
Amin Saikal
( )
38 editions published between
2004
and 2012 in
English
and held by 2,143 WorldCat member libraries worldwide
"Modern Afghanistan: A History of Struggle and Survival is the definitive study of Afghanistan and its troubles. It will be vital reading for all those who are interested in the new world emerging in the Middle East and Central Asia"--Publisher description
The rise and fall of the Shah
by
Amin Saikal
( Book )
23 editions published between
1980
and 2009 in
English
and held by 2,041 WorldCat member libraries worldwide
History
Islam and the West : conflict or cooperation?
by
Amin Saikal
( Book )
12 editions published in
2003
in
English
and held by 721 WorldCat member libraries worldwide
Amin Saikal assesses the impact of the continuing Arab-Israeli conflict, the consequences of the Iranian revolution and of the wars in the Gulf and Afghanistan, and charts a course for future co-existence
The Soviet withdrawal from Afghanistan
by
Amin Saikal
( Book )
19 editions published between
1989
and 2009 in
English
and held by 651 WorldCat member libraries worldwide
Nearly ten years of bloodshed and political turmoil have followed the Soviet invasion of Afghanistan in 1979. Soviet occupation not only proved a major trauma for the people of Afghanistan; invasion ended the growth in superpower dentents that had characterised the late 1970s; and in the Soviet Union the effects of escalating military costs and over 13,000 young military casualties have been felt at every level of society. The decision to withdraw combat forces under the provisions of the Geneva Accords of April 1988 is one of the most dramatic developments in the international system since the end of the Second World War. The effects of this decision will be felt not only in Afghanistan, but in the Soviet Union, in Southwest Asia, and in the wider world. The Soviet Withdrawal from Afghanistan has been designed to explore the background to the decision to withdraw and its broader implications. The authors, all established specialists, examine the Geneva Accords; the future for post-withdrawal Afghanistan; and the impact of withdrawal on regional states, Soviet foreign and domestic policies, the Soviet armed forces, Sino-Soviet relations and world politics. They write from diverse disciplinary traditions, while bringing together a shared sensitivity to the issues which complicate the Afghan question
Russia in search of its future
by
Amin Saikal
( Book )
15 editions published between
1994
and 2011 in
English
and held by 526 WorldCat member libraries worldwide
Russia's renewal since the collapse of Communism has proved extraordinarily disturbed, and was marked by escalating conflict between President Yeltsin and the Congress of People's Deputies inherited from the Soviet era. This culminated in insurrection and violence on the streets, and when the main rebels were given amnesty in February 1994, the situation remained as uncertain as ever. The contributors to this book analyse a Russia which is searching for its future amid a maelstrom of complex forces - political, economic, socio-cultural, and international. They examine each of these elements of Russia's situation and investigate the role that each may play in shaping Russia's fortunes into the twenty-first century. Their overall conclusion is that, whatever the exact shape of the future, it will be determined both by elements embedded over many generations, and the influence of seven decades of communist rule
Iran rising : the survival and future of the Islamic Republic
by
Amin Saikal
( Book )
11 editions published in
2019
in
English
and held by 504 WorldCat member libraries worldwide
"When Iranians overthrew their monarchy, rejecting a pro-Western shah in favor of an Islamic regime, many observers predicted that revolutionary turmoil would paralyze the country for decades to come. Yet forty years after the 1978-79 revolution, Iran has emerged as a critical player in the Middle East and the wider world, as demonstrated in part by the 2015 international nuclear agreement. In Iran Rising, Iran specialist Amin Saikal describes how the country has managed to survive despite ongoing domestic struggles, Western sanctions, and countless other serious challenges. Saikal explores Iran's recent history, beginning with the revolution, which set in motion a number of developments, including war with Iraq, precarious relations with Arab neighbors, and hostilities with Israel and the United States. He highlights the regime's agility as it navigated a complex relationship with Afghanistan during the Soviet invasion, survived the Gulf Wars, and handled fallout from the Iraqi and Syrian crises. Such success, Saikal maintains, stems from a distinctive political order, comprising both a supreme Islamic leader and an elected president and national assembly, which can fuse religious and nationalist assertiveness with pragmatic policy actions at home and abroad. But Iran's accomplishments, including its nuclear development and ability to fight ISIS, have cost its people, who are desperately pressuring the ruling clerics for economic and social reforms-- changes that might in turn influence the country's foreign policy"--
Zone of crisis : Afghanistan, Pakistan, Iran and Iraq
by
Amin Saikal
( )
12 editions published between
2013
and 2014 in
English
and held by 447 WorldCat member libraries worldwide
The West Asian states of Afghanistan, Pakistan, Iraq and Iran have over the last few decades represented an arc of crisis. Characterized by fractured and dysfunctional political elites, fraught economic policies, and ideological struggles between the forces of authoritarianism and democratization, neo-fundamentalism and pluralism, they embody a mosaic of ethnicities. Amin Saikal, a distinguished Afghan-born scholar of international affairs, provides a sweeping new understanding of the complex contemporary political and social instability encompassing the region. Critically comparing democratization and counter-insurgency efforts in Afghanistan, Iraq and Pakistan, and examining both recent Western intervention and the history of foreign influence in the region, Saikal looks at how US entanglement has affected Pakistani and Iranian domestic politics and foreign affairs. How has this influenced the success or failure of the occupation in Afghanistan and Iraq? What solutions can be taken to ensure regional security? An informed and balanced overview on a troubled region, this book will fascinate general readers and prove essential reading for specialists
Iran at the crossroads
by
Amin Saikal
( Book )
14 editions published between
2015
and 2016 in
English
and held by 343 WorldCat member libraries worldwide
"Iran stands at a critical juncture in its history. In the era of Presidents Hassan Rouhani and Barack Obama, the Islamic Republic has a unique opportunity to regain its traditional greatness as a cradle of rich civilisation and culture, with a capacity to be a very influential and stabilising regional actor. In this incisive analysis, Amin Saikal, a leading expert on Iranian politics, traces Iran's transition from pro-Western monarchy to Islamic Republic and explores the choices open to Rouhani's moderate reformist government. The Islamic Republic has endured a difficult journey throughout its existence. But since Khomeini assumed power in 1979 it has been characterised by a degree of exceptionalism, which has seen Iran lock horns with the United States and prove itself an effective and shrewdly calculating player on the international stage. Looking to the future, Saikal does not shy away from confronting the difficult choices facing Iran today. Failure to achieve reconciliation with the United States in the coming years, he argues, will not only have serious implications for Iran's internal stability and for the future security of the Middle East, but also for America's position within this volatile and unpredictable region."--Publisher's description
Democracy and reform in the Middle East and Asia : social protest and authoritarian rule after the Arab Spring
by
Amin Saikal
( )
12 editions published between
2013
and 2014 in
English
and
Undetermined
and held by 322 WorldCat member libraries worldwide
The protests that swept across the Middle East and North Africa in late 2010 and 2011 confounded long-time observers of the region, in both the media and academia. After addressing the conditions in the Middle East and North Africa that produced these attempts at revolution, Amin Saikal and Amitav Acharya explore the global impact of the protests, both in terms of their ideological influence on opposition groups and the prospects for democratic transition in a variety of authoritarian and semi-authoritarian governments. Examining states at the heart of the uprisings, such as Egypt, Tunisia and Libya in addition to other Middle Easter states, like Iran, as well the Asian states of China, Malaysia, Singapore and Indonesia, this book concentrates upon 'democratization' as the central theme. Did the protests have a galvanizing effect of democratization processes throughout Asia? And if not, why? Touching on perennial issues in politics - for example, democracy, authoritarian rule and social protest - this book is vital for researchers of politics and international relations
more
fewer
Audience Level
0

1
Kids
General
Special
Audience level: 0.26 (from 0.06 for Democratiz ... to 0.74 for The Afghan ...)
Related Identities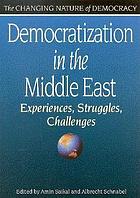 Covers
Alternative Names
Amin Saikal.

Amin Saikal 1950-....

Amin Saikal académico australiano

Amin Saikal escritor australianu

Amin Saikal schrijver uit Australië

Saykal, Amīn 1950-

Ṣayqal, Amīn 1950-

Sīkal, Amīn 1950-

امین سیکل مدیر مرکز مطالعات عرب و اسلامی (خاورمیانه و آسیای مرکزی) و پروفسور علوم سیاسی دانشگاه ملی استرالیا

‏صيقل، امين

Languages