Israel Tseva haganah le-Yiśra'el
Most widely held works about Israel
more
fewer
Most widely held works by Israel
Maḥanayim
( )
in
Hebrew
and held by 33 WorldCat member libraries worldwide
Nashim be-Tsahal
( Book )
2 editions published in
2001
in
Hebrew
and held by 27 WorldCat member libraries worldwide
more
fewer
Audience Level
0

1
Kids
General
Special
Audience level: 0.31 (from 0.03 for When reaso ... to 0.81 for al-Awāmir ...)
Related Identities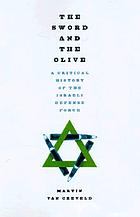 Alternative Names
Haganah (Organization)
‏+‏ ‏+

Angkatan Pertahanan Israel

Armata Israeliană

Armée de défense d'Israël

Bet Eliyahu Golomb (Muze'on ha-haganah)

Bureau Du Porte-Parole des F.D.I.

Các lực lượng Phòng vệ Israel

Cahal

Defendaj Fortoj de Israelo

Defensa armeo di Israel

Forças de Defesa de Israel

Forces de Defensa d'Israel

Forces de Defense D'israel

Fuerzas de Defensa de Israel fuerzas armadas de Israel

Hagana Museum

Haganah Museum

Haganah (Organization). Museum

I.D.F.

IDF

Israel Armed Forces

Israel Army

israel defence

Israel Defence Army

Israel Defence Forces

Israel Defence Forces Museum

Israel Defense Forces

Israel Defense Forces combined military forces of Israel

Israel Ejército

Israel Forces de défense

Israel Hadsereg

Israel Jaysh al-Difāʻ al-Isrā'īlī

Israel Kulturosztaly

Israël, Ministry of defence, Defence forces

Israel Office D'information

Israel Office of Information

Israël, Ṣahal

Israël, Ṣba' haganah le-yisra'el

Israel Ṣĕvâ Hăganā l-Îsrāʾēl

Israël, Tsahal

Israel Tseva haganah

Israël, Tseva haganah le-yisra'el

Israel Tzahal

Israël, Zahal

Israel Ẓeva Haganah le-Israel

Israel Zeva Haganna Le-Yisrael

Israelgo Defentsa Indarrak

Israeli Defense Force

Israeli Defense Forces

Israelin puolustusvoimat

Israëlische defensieleger

Israelische Streitkräfte Militär Israels

Israelische Verteidigungsstreitkräfte

Israels forsvar

Israels försvarsmakt

Ísraelsher

İsrail Savunma Kuvvetleri

İsrail Silahlı Qüvvələri

Izrael hadereje

Izraēlas Aizsardzības armija

Izraelio ginkluotosios pajėgos

Izraelske obrambene snage

Izraelske obrambne sile

Izraelské obranné síly

Llu Amddiffyn Israel

Musée des Forces de défense d'Israël

Museum of the Haganah

Muzeon ha-hagana

Muze'on ha-haganah - Bet Eliyahu Golomb

Pasukan Pertahanan Israel

Porte-Parole de L'armee de Defense D'israel

Ṣahal

Ṣba' haganah le-yisra'el

Siły Obronne Izraela

Tsahal

Tseva haganah le-yisra'el

Tzahal

Tzva Hahagana LeYisra'el

Zahal

Zahal Information Office

Zeva Haganna Le-Yisrael

Δυνάμεις Άμυνας του Ισραήλ

Армия обороны Израиля вооружённые силы Израиля

Армія оборони Ізраїлю

Израелске одбрамбене снаге

Израелски отбранителни сили

Израиль Ҡурғауы Әрмеһе

Իսրայելի պաշտպանության բանակ

בית אליהו - בית ההגנה

ישראל צבא הגנה לישראל

ישראל צבא ההגנה לישראל

מוזאון ההגנה - בית אליהו גולומב

צבא

צבא הגנה לישראל.

צה׳׳ל

اسرائیلی دفاعی افواج

تساحيلى اسرائيلى

جيش الدفاع الإسرائيلى

نیروهای دفاعی اسرائیل

இசுரேலிய பாதுகாப்புப் படைகள்

ცაჰალი

이스라엘 방위군

イスラエル国防軍

以色列国防军

以色列國防軍

Languages
Covers