United States President
Most widely held works about United States
more
fewer
Most widely held works by United States
Economic report of the President transmitted to the Congress
by
United States
( )
in
English
and held by 2,378 WorldCat member libraries worldwide
Represents the annual report of the President's Council of Economic Advisers. Appendix B contains historical tables (from 1959 or earlier) on aspects of income (national, personal, and corporate), production, prices, employment, investment, taxes and transfers, and money and finance
Speeches of the American presidents
by
Janet Podell
( Book )
9 editions published between
1988
and 2001 in
English
and held by 2,232 WorldCat member libraries worldwide
Contains 180 notable speeches by Presidents of the United States, up to and including Ronald Reagan
The State of the Union messages of the Presidents, 1790-1966
by
United States
( Book )
6 editions published between
1966
and 1967 in
English
and held by 1,521 WorldCat member libraries worldwide
Contains all of the annual messages given by the Presidents from George Washington to Lyndon Johnson to the Congress of the United States
U.S. participation in the UN : report by the President to the Congress for the year
by
United States
( )
in
English
and held by 1,352 WorldCat member libraries worldwide
An annual report on the activities and policies of the United States government in the United Nations and of the UN itself, focusing on the accomplishments and evolving trends of the past year in the areas of: Political and security affairs; Reform of the United Nations; Economic and social affairs; Development and humanitarian relief activities; Science, technology and research; Legal developments; Administration and budget; and Specialized agencies and other bodies
United States code congressional and administrative news
by
United States
( )
in
English
and held by 1,312 WorldCat member libraries worldwide
Contains public laws, legislative history, proclamations, executive messages and orders, administrative regulations, lists of committees, indexes & tables, for each session of Congress
A compilation of the messages and papers of the presidents
by
United States
( Book )
38 editions published between
1877
and 1987 in
English
and held by 1,056 WorldCat member libraries worldwide
This is an 11-volume work (10 numbered volumes, plus one supplement) of the messages and papers of the presidents of the US from 1787 through 1902. The main 10 volumes of this edition were published in 1902, and the supplemental volume was published in 1904. (Some later editions include additional volumes for later presidents, and in some cases the volumes were reorganized as well.)
A compilation of the messages and papers of the presidents, 1789-1897 : published by authority of Congress
by
United States
( Book )
73 editions published between
1889
and 1970 in
English
and
French
and held by 1,049 WorldCat member libraries worldwide
This is an 11-volume work (10 numbered volumes, plus one supplement) of the messages and papers of the presidents of the US from 1787 through 1902. The main 10 volumes of this edition were published in 1902, and the supplemental volume was published in 1904. (Some later editions include additional volumes for later presidents, and in some cases the volumes were reorganized as well.)
more
fewer
Audience Level
0

1
Kids
General
Special
Audience level: 0.31 (from 0.09 for Debt of ho ... to 0.59 for The True A ...)
Related Identities
Associated Subjects
Adams, John,
Aeronautics
Americans
Armed Forces (United States)
Astronautics
Auditing
Biological weapons
Budget
Budget deficits
Crisis management in government
Delegated legislation
Dillon, Sean--(Fictitious character)
Diplomatic relations
Economic history
Economic policy
England
England--London
Executive orders
Executive power
Expenditures, Public
Ferguson, Charles (Fictitious character)
Inauguration
Intelligence service
International law
Jefferson, Thomas,
Johnson, Blake (Fictitious character)
Law
Legislative histories
Management
Military law
National security--Law and legislation
Political oratory
Politics and government
Presidents
Presidents--Staff
Proclamations
Roosevelt, Franklin D.--(Franklin Delano),
Ryan, Jack,--Sr. (Fictitious character)
Secret service
Small business
Television series
Terrorism
Truman, Harry S.,
United Nations
United States
United States.--Department of State
United States.--White House Office
Vampires
War and emergency legislation
White House (Washington, D.C.)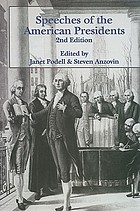 Covers
Alternative Names
Ààrẹ ilẹ̀ Orílẹ̀-èdè Amẹ́ríkà

ABŞ prezidenti Cənab Prezident.Sizi və Amerika xalqını müstəqillik günü münasibəti ilə təbrik edirəm.

Ameerika Ühendriikide president

American Presidents.

Amerika Birleşik Devletleri Başkanı

Ameriketako Estatu Batuetako presidentea Ameriketako Estatu Batuetako gobernuburua

AQSh Prezidenti

Arlywydd Unol Daleithiau America

ASV prezidents Augstākā amatpersona Amerikas Savienotajās Valstīs

az Amerikai Egyesült Államok elnöke

Bí-kok chóng-thóng

Cinn-suidhe nan Stàitean Aonaichte

filohan'i Etazonia

Foresittend þāra Geāndena Rīca

Forseti Bandaríkjanna

Forseti Sambandsríki Amerika

Jungtinių Amerikos Valstijų prezidentas

Kryetari i Shteteve të Bashkuara

Mangulo han Estados Unidos

Mî-koet Chúng-thúng

Pangulo ng Estados Unidos

Präsident der Vereinigten Staaten Staatsoberhaupt und Regierungschef der Vereinigten Staaten

Präsident vun de Verenigten Staten vun Amerika

predsednik Sjedinjenih Američkih Država

Predsednik Združenih držav Amerike

Predsjednici Sjedinjenih Američkih Država

Predsjednik Sjedinjenih Američkih Država

președinte al Statelor Unite ale Americii

Preses o the Unitit States o Americae

Presiden Amerika Serikat

Presiden Amerika Syarikat

President

President dels Estats Units

president dels Estats Units cap d'Estat i de govern dels Estats Units

président des États-Unis chef du pouvoir exécutif des États-Unis

President d'Estatos Unitos

President di Stat Unii

President i USA

President of the United States.

president van de Verenigde Staten staatshoofd van de Verenigde Staten van Amerika

President van die Verenigde State van Amerika

President vun de Vereenegte Staaten Staats- a Regierungschef vun den USA

presidente de Estados Unidos jefe de Estado y de Gobierno de los Estados Unidos

Presidente de los Estaos Xuníos d'América xefe d'estáu y de gobiernu de los EE.XX.

presidente degli Stati Uniti d'America capo di stato degli Stati Uniti d'America

Presidente del Statos Unite de America

Presidente dos Estados Unidos

Presidente dos Estados Unidos Presidentes dos Estados Unidos da América

Presidente iti Estados Unidos daulo ti estado ken gobierno ti Estados Unidos

Presidente kan Estados Unidos

Presidint fan de Feriene Steaten

Prezidanto de Usono

Prezident Spojených štátov

Prezident Spojených států amerických

Prezydent Stanów Zjednoczonych Ameryki Północnej.

Prezydent Stanów Zjednoczonych głowa państwa Stanów Zjednoczonych

Prisidenti dî Stati Uniti d'Amèrica capu dû statu e dû guvernu dî Stati Uniti d'Amèrica

Rais wa Marekani

Serokê Dewletên Yekbûyî yên Amerîkayê

Spojené státy americké. President

Stany Zjednoczone. Prezydent.

Tổng thống Hoa Kỳ

United States. President.

United States. Presidents

USA's præsident statschef i USA

USAs president statschef i Amerikas förenta stater

Yhdysvaltain presidentti Yhdysvaltain valtiopäämies

Πρόεδρος των Ηνωμένων Πολιτειών

АКШ президенты

Америкийн Нэгдсэн Улсын ерөнхийлөгч

АПШ президенчĕ

АЦШ-н президент

АЦШ президент

АҚШ президенті

АҠШ президенты

председник Сједињених Америчких Држава

Президент на Съединените американски щати

Президент США глава виконавчої влади США з функціями глави держави і головнокомандувач Армії і Флоту

президент США глава исполнительной власти США с функциями главы государства и главнокомандующий Армии и Флота

Претседател на САД шеф на државата и владата на Соединетите Американски Држави

Прэзыдэнт ЗША

Прэзідэнт ЗША

ԱՄՆ նախագահ

נשיא ארצות הברית ראש המדינה וראש הרשות המבצעת הנבחר של ארצות הברית

פרעזידענט פון די פאראייניגטע שטאטן

د متحده ایالاتو ولسمشر

رئيس الولايات المتحدة رأس الحكومة الأمريكية

رئیس‌جمهور ایالات متحده آمریکا رئیس دولت در آمریکا

سەرۆک کۆماری ویلایەتە یەکگرتووەکان

صدر ریاستہائے متحدہ امریکا

އެމެރިކާގެ ރައީސްކަން ކުރައްވާފައިވާ ބޭފުޅުން

अमेरिकेचे राष्ट्राध्यक्ष

संयुक्त राज्य अमेरिका का राष्ट्रपति

মার্কিন যুক্তরাষ্ট্রের রাষ্ট্রপতি

ஐக்கிய அமெரிக்க நாட்டுக் குடியரசுத் தலைவர் ஐக்கிய அமெரிக்க நாட்டின் அரசுத் தலைவரும் நாட்டுத் தலைவரும்

ಅಮೇರಿಕ ಸಂಯುಕ್ತ ಸಂಸ್ಥಾನದ ರಾಷ್ಟ್ರಪತಿ

അമേരിക്കൻ ഐക്യനാടുകളുടെ പ്രസിഡണ്ട്

එක්සත් ජනපදයේ ජනාධිපතිවරයා

ประธานาธิบดีสหรัฐอเมริกา

ააშ-იშ პრეზიდენტი

აშშ-ის პრეზიდენტი

미국의 대통령 미국의 국가원수이자 정부수반

የአሜሪካ ፕሬዚዳንት

បញ្ចីរាយនាមប្រធានាធីបតីនៅសហរដ្ឋអាមេរិច

アメリカ合衆国大統領

美國總統

美國總統 美利堅合眾國的國家元首和政府首腦兼三軍總司令

Languages