Letokhov, V. S.
Most widely held works about V. S Letokhov
Most widely held works by V. S Letokhov
Laser control of atoms and molecules
by
V. S Letokhov
( )
27 editions published between
2006
and 2011 in
English
and held by 1,710 WorldCat member libraries worldwide
Rather different problems can be lumped together under the general term 'laser control of atoms and molecules'. They include the laser selection of atomic and molecular velocities for the purpose of Doppler-free spectroscopy, laser control of the position and velocity of atoms (i.e. laser trapping and cooling of atoms), and laser control of atomic and molecular processes (ionization, dissociation) with a view of detecting single atoms and molecules and particularly separating isotopes and nuclear isomers. Over the last decades the principal problems posed have been successfully solved, and many of them have evolved remarkably in the subsequent investigations of the international research community. For example, the solution of the problem of laser cooling and trapping of atoms has given birth to the new field of the physics of ultracold matter, i.e. quantum atomic and molecular gases. The laser non-coherent control of uni-molecular processes has found an interesting extension in the field of laser coherent control of molecules. The concept of laser control of position has been successfully demonstrated with microparticles (optical tweezers), concurrently with investigations into atomic control. The laser photo-ionization of molecules on surfaces has led to the development of novel techniques of laser-assisted mass spectrometry of macromolecules, and so on. The aim of this book is to review these topics from a unified or coherent point of view. It will be useful for many readers in various fields of laser science and its applications
Solid-state random lasers
by
Mikhail A Noginov
( )
5 editions published in
2005
in
English
and held by 518 WorldCat member libraries worldwide
"Random lasers are the simplest sources of stimulated emission without cavity, with the feedback provided by scattering in a gain medium. First proposed in the late 1960s, random lasers have grown into a large research field. This book reviews the history and the state of the art of random lasers, provides an outline of the basic models describing their behavior, and describes the recent advances in the field. The major focus of the book is on solid-state random lasers. However, it also briefly describes random lasers based on liquid dyes with scatterers. The chapters of the book are almost independent of one another. Scientists, engineers, or students interested in any particular aspect of random lasers can read directly the relevant section. Researchers entering the field of random lasers will find in the book an overview of the field of study. Scientists working in the field can use the book as a reference source."--Jacket
Laser photoionization spectroscopy
by
V. S Letokhov
( Book )
13 editions published between
1987
and 2014 in
English
and
Undetermined
and held by 411 WorldCat member libraries worldwide
Laser Photoionization Spectroscopy discusses the features and the development of photoionization technique. This book explores the progress in the application of lasers, which improve the characteristics of spectroscopic methods. Organized into 12 chapters, this book starts with an overview of the fundamentals of the method for atoms and molecules. This text then examines the photoionization spectroscopy, which is based on the laser resonant excitation of particles into high-lying quantum states that are easy to detect by ionization. Other chapters explain the various basic schemes of mult
Nonlinear laser spectroscopy
by
V. S Letokhov
( Book )
18 editions published between
1977
and 2014 in 3 languages and held by 376 WorldCat member libraries worldwide
Laser optoacoustic spectroscopy
by
V. P Zharov
( Book )
11 editions published between
1986
and 2013 in
English
and
Italian
and held by 327 WorldCat member libraries worldwide
The optoacoustic method has by now an almost one-centurY-long history of appl ication in spectroscopy, but it was only with the advent of the laser that it became a convenient and effective method among the vast family of spectroscopy techniques. The great variety of these techniques is capable of tackling most diversified tasks, such as the achievement of a high sensitiv­ ity and a high spectral or temporal resolution. The optoacoustic method is one of the simplest and most versatile ways to attain a high sensitivity for both gaseous and condensed media. It is precisely for this reason that the method has found wide use, and that we have decided to publish a mono­ graph reviewing the information on this method available in the literature and gathered by us at the Institute of Spectroscopy during the past few years. We hope that such a systematic exposition of the material scattered throughout numerous scientific journals will be of use to many potential readers. The reader will undoubtedly notice the absence in our monograph of references to some recent works, but unfortunately, this is inevitable when the translation and publication of a book in a foreign language takes sev­ eral years. Nevertheless, we tried our best to cover the entire field from the material available to us, but unfortunately, some recent publications might be missing due to the time lag for the translation and publication in a language foreign to us
Nonlinear laser chemistry : multiple-photon excitation
by
V. S Letokhov
( Book )
15 editions published between
1983
and 2012 in
English
and held by 325 WorldCat member libraries worldwide
Prefaces are usually written when a manuscript is finished. Having finished this book I can clearly see many shortcomings in it. But if I began to eliminate them I would probably write quite a different book in another two years; indeed, this has already happened once. In 1979, when I finished the first version of this book, it was much broader in scope and was to be titled "Laser Photochemistry." Corrections and additions to that unpublished manuscript gave rise to the present book with its revised title and more specific subject matter. I resolved to have it published in exactly this form, despite the fact that it concerns a dynamically developing field of research and will soon make way for other works. This book contains the basic ideas and results I have been developing with my colleagues, friends and students at the Institute of Spectroscopy, USSR Academy of Sciences, in the town of Troitsk since 1970. It deals with the interaction of light with atoms and molecules via multiple-phonon inter action. Nonlinear processes in the resonant interaction are used to illustrate the physical mechanisms involved and to indicate how these processes have led to modern applications such as isotope separation, detection of single atoms and molecules, and chemical and biochemical synthesis
Astrophysical lasers
by
V. S Letokhov
( Book )
18 editions published between
2008
and 2009 in
English
and held by 284 WorldCat member libraries worldwide
"Progress in modern radio astronomy led to the discovery of space masers in the microwave range, and it became a powerful tool for studies of interstellar star-forming molecular clouds. Progress in observational astronomy, particularly with ground-based huge telescopes and the space-based Hubble Space Telescope, has led to recent discoveries of space lasers in the optical range. These operate in gas condensations in the vicinity of the mysterious star Eta Carinae (one of the most luminous and massive stars of our Galaxy). Both maser and laser effects, first demonstrated under laboratory conditions, have now been discovered to occur under natural conditions in space too. This book describes consistently the elements of laser science, astrophysical plasmas, modern astronomical observation techniques, and the fundamentals and properties of astrophysical lasers. A book with such an interdisciplinary scope has not been available to date. The book will also be useful for a wider audience interested in modern developments of the natural sciences and technology."--Jacket
Laser science and technology
by
A. N Chester
( Book )
12 editions published between
1988
and 1989 in
English
and held by 209 WorldCat member libraries worldwide
The conference "Laser Science and Technology" was held May 11-19, 1987 in Erice, Sicily. This was the 12th conference organized by the Internatio nal School of Quantum Electronics, under the auspices of the "Ettore Majorana" Center for Scientific Culture. This volume contains both the in vited and contributed papers presented at the conference, covering current research work in two areas: new laser sources, and laser applications. The operation of the first laser by Dr. Theodore Maiman in 1960 initia ted a decade of scientific exploration of new laser sources. This was fol lowed by the decade of the 1970s, which was characterized by "technology push" in which the discoveries of the 1960s were seeking practical applica tion. In the 1980s we are instead seeking "applications pull," in which the success and rapid maturing of laser applications provides both inspiration and financial resources to stimulate additional work both on laser sources and applications. The papers presented in these Proceedings attest to the great vitali ty of research in both these areas: New Laser Sources. The papers describe current developments in ultra violet excimer lasers, X-ray lasers, and free electron lasers. These new lasers share several characteristics: each is a potentially important coher ent source; each is at a relatively short wavelength (below 1 micrometer); and each is receiving significant development attention today
more
fewer
Audience Level
0

1
Kids
General
Special
Audience level: 0.49 (from 0.08 for Laser cont ... to 0.88 for Laserspekt ...)
Related Identities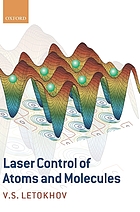 Covers
Alternative Names
Letochov, V. S.

Letochov, Vladilen S

Letochov, Vladilen Stepanovič

Letochov, Vladilen Stepanovič 1939

Letochov, Vladilen Stepanovič. [t]

Letochow, W. S.

Letochow, W. S. 1939-

Letochow, Wladilen Stepanowitsch 1939-

Letohov, V. S.

Letokhov-Chebotayev, .. 1939

Letokhov, V.S.

Letokhov, V. S. 1939-

Letokhov, V. S. (Vladilen Stepanovich), 1939-

Letokhov, Vladilen.

Letokhov, Vladilen 1939-

Letokhov, Vladilen S.

Letokhov, Vladilen S., 1939-2009

Letokhov, Vladilen Stepanovich

Letokhov, Vladilen Stepanovich 1939-

Letokhov, Vladilen Stepanovich 1939-2009

Vladilen Letokhov físico ruso

Vladilen Letokhov Russian physicist

Vladilen S. Letochov rysk fysiker, verksam i Tyskland

Wladilen Stepanowitsch Letochow physicien russe

Wladilen Stepanowitsch Letochow Russian physicist

Wladilen Stepanowitsch Letochow Russisch natuurkundige (1939-2009)

Wladilen Stepanowitsch Letochow russischer Physiker

Βλάντιλεν Λετόχοφ

Летохов, В. С. (Владилен Степанович), 1939-2009

Languages