McKinley, William 1843-1901
Overview
| | |
| --- | --- |
| Works: | 2,281 works in 3,320 publications in 4 languages and 67,377 library holdings |
| Genres: | Biography Documentary films Nonfiction films Short films History Drama Actualities (Motion pictures) Silent films Filmed speeches Filmed parades |
| Roles: | Author, Contributor, Performer, Dedicatee, Inscriber, Correspondent, Editor, Former owner, Signer |
| Classifications: | E711, 973.880924 |
Most widely held works about William McKinley
more
fewer
Most widely held works by William McKinley
Taking President McKinley's body from train at Canton, Ohio
( Visual )
4 editions published in
1901
in
English
and held by 186 WorldCat member libraries worldwide
From a contemporary Edison film company catalog: BODY LEAVING THE TRAIN AT CANTON, OHIO. Ungorgeous. [code for telegraphic orders] Here, as in the other pictures, we secured a most advantageous location, and we present a life-size view of the casket containing the body of President McKinley as it is slowly and carefully taken from the window of the car which bore it from the Capitol to Canton. The casket is placed upon the shoulders of ten stalwart sailors and soldiers and borne to the waiting hearse, followed by President Roosevelt and Cabinet. Class A 60 ft. $9.00
Funeral leaving the President's house and church at Canton, Ohio
( Visual )
3 editions published in
1901
in
English
and held by 185 WorldCat member libraries worldwide
From a contemporary Edison film company catalog: PRESIDENT McKINLEY'S BODY LEAVING THE HOUSE AND CHURCH. In this picture we show a most perfect view of the front entrance of the McKinley home in the background. The hearse which is to bear the President's body to its last resting place drives into view. President Roosevelt's Cabinet forms in line on either side of the walk. The Admirals of the Navy and the Generals of the Army form lines in their rear. President Roosevelt takes his place at the head of the Cabinet and immediately the body emerges from the front door, borne on the shoulders of the soldiers and sailors. As it passes through the lines of Diplomats, Admirals and Generals, all heads are uncovered. The sailors and soldiers descend the steps slowly to the sidewalk and then the body is placed in the hearse. Here we secured another life size view. The hearse starts slowly away and President Roosevelt and his Cabinet walk toward their carriages. Then with the aid of our panoramic device we followed the hearse until it passed slowly out of view down Market Street. This scene dissolves into a picture of the body leaving the church at Canton borne on the shoulders of the sailors and soldiers and placed again in the hearse. From the time the casket appears at the church door it does not pass out of the view of our camera until the doors of the hearse are closed upon it. We follow it constantly with our panoramic device, and the views are perfect and life size. The hearse finally starts away for the cemetery, followed by the famous Black Horse Cavalry, Troop A, of Ohio
President McKinley and escort going to the Capitol
( Visual )
3 editions published in
1901
in
English
and held by 185 WorldCat member libraries worldwide
From a contemporary Edison film company catalog: PRESIDENT McKINLEY AND ESCORT GOING TO THE CAPITOL. This most excellent picture was secured at the junction of Pennsylvania Avenue and Fifteenth Street. The parade is headed by a platoon of mounted police; next comes the Grand Marshal, Major- General Francis V. Green, and staff, as follows: A. Noel Blakeman, Lieut. Col. John S. Johnson, Major-General N.E. Thompson, U.S.A., Brigadier-General U.S.W. Day, U.S.V., Lieut. Winfield S. Overton, U.S.A., all mounted on splendid horses. Next come the famous Troop A, of Cleveland, Ohio, who act as the personal escort of the President. They present a most striking appearance as they go down the incline on Fifteenth Street, Washington. Next comes President McKinley in his carriage drawn by four of his own horses, the pair of blacks in the lead and the favorite bays on the wheel. The President is seated in the right of the carriage with Senator Hanna on the left beside him, and facing them, with their backs to the driver, are seated Representatives Cannon and McRae. Owing to special permits granted us by the United States Government, we were able to have our camera within twenty feet of the President's carriage when it passed, and an absolutely perfect photograph was secured. The President's carriage is followed by Secretaries Hay and Gage. The third carriage contains Secretary Root, Attorney-General Griggs and the President's Private Secretary Cortelyou. The fourth carriage contains Secretaries Long, Wilson, Hitchcock and Postmaster-General Smith. The fifth carriage contains Lieutenant-General Miles and Admiral Dewey. We also present excellent pictures of the Admiral of the Navy and the General commanding the United States Army as they pass. This picture closes up by showing a detachment of Veterans of the Twenty-third Ohio Volunteers, followed closely by the West Point Cadets, who present a remarkable spectacle as they execute left wheel turning from Fifteenth Street into Pennsylvania Avenue
Execution of Czolgosz, with panorama of Auburn Prison
( Visual )
3 editions published in
1901
in
English
and held by 185 WorldCat member libraries worldwide
From a contemporary Edison film company catalog: ELECTROCUTION OF CZOLGOSZ. . A detailed reproduction of the execution of the assassin of President McKinley faithfully carried out from the description of an eye witness. The picture is in three scenes. First: Panoramic view of Auburn Prison taken the morning of the electrocution. The picture then dissolves into the corridor of murderer's row. The keepers are seen taking Czolgosz from his cell to the death chamber, and shows State Electrician, Wardens and Doctors making final test of the chair. Czolgosz is then brought in by the guard and is quickly strapped into the chair. The current is turned on at a signal from the Warden, and the assassin heaves heavily as though the straps would break. He drops prone after the current is turned off. The doctors examine the body and report to the Warden that he is dead, and he in turn officially announces the death to the witness
President McKinley reviewing the troops at the Pan-American Exposition
( Visual )
3 editions published in
1901
in
English
and held by 185 WorldCat member libraries worldwide
From a contemporary Edison film company catalog: PRESIDENT McKINLEY REVIEWING THE TROOPS AT THE PAN-AMERICAN EXPOSITION. The President is seen on the reviewing stand at the Stadium, escorted by President Milburn, of the Pan-American Exposition, Secretary Cortelyou, and other noted persons. He removes his silk hat as the troops march by and politely bows to the great audience as they cheer and encore. President McKinley and party form the left foreground of our picture while the troops march by in the right foreground. From this excellent position we thus secured perfect pictures of both the Executive and his troops
President McKinley taking the oath
( Visual )
3 editions published in
1901
in
English
and held by 185 WorldCat member libraries worldwide
From a contemporary Edison film company catalog: PRESIDENT McKINLEY TAKING THE OATH OF OFFICE. This picture opens by showing the Diplomatic Corps, accompanied by Admiral Dewey and General Nelson A. Miles, coming down the carpeted stone steps of the Capitol and going to their seats in front of the stand where the President speaks. Next come the members of the President's Cabinet, and they are followed closely by President McKinley, preceded by Sergeant-at-Arms Ransdell of the Senate, bare headed and one armed, and also accompanied by the joint committee of Congress, composed of Senator Mark Hanna, of Ohio; Senator Spooner, of Wisconsin; Senator James K. Jones, of Arkansas; Representatives Cannon, of Illinois; Dalzell, of Pennsylvania, and McRae, of Arkansas. The President then steps promptly to the front of the stand amid the cheers of the immense crowd who stand with heads reverently uncovered, filling the entire foreground of our picture. As the tumult ceases, Chief Justice Melville W. Fuller, in the black silk robes of his high office, steps forward and holding in his outstretched hand a small Bible, administers the oath of office. The oath taken, the President presses his lips to the Bible and with manuscript in hand, immediately begins his speech. Again the valuable and exclusive privileges granted us by the United States Government allowed us to place our camera within fifteen feet of the President when he took the oath of office. We regret that we were unable to secure a longer film than listed above, but the rain began falling in torrents with almost the first words of the President's speech, which of course prohibited our taking a greater length of film, but notwithstanding the fact that it began sprinkling before the President took the oath of office, the fifty feet of film which we did secure is good
President McKinley's speech at the Pan-American Exposition
( Visual )
3 editions published in
1901
in
English
and held by 185 WorldCat member libraries worldwide
The film begins by showing the introductory speaker at the Pan-American Exposition in Buffalo. The speaker introduces the incumbent president of the United States, William F. McKinley. The remainder of the film is a straight-on moving photograph of the president during his last public speech
President McKinley's funeral cortege at Washington, D.C.
( Visual )
1 edition published in
1901
in
English
and held by 181 WorldCat member libraries worldwide
The photographer covered the subject, the funeral cortege of President McKinley, from many different positions along the line of march. The people shown are those who preceded the hearse and those who followed after it. First come the walking military (Army, Navy, Marine Corps, National Guard) [end of part 2], and then ranking military dignitaries who immediately precede the hearse. Following the escorted hearse are the two closed carriages, containing the President's immediate family. After the carriages, are more mourners on foot, representing various countries. There is some film taken from one of the wings of the Capitol overlooking the courtyard of that building
more
fewer
Audience Level
0

1
Kids
General
Special
Audience level: 0.21 (from 0.02 for William Mc ... to 0.65 for The tariff ...)
Related Identities
Associated Subjects
Anarchism
Anarchists
Arthur, Chester Alan,
Assassination
Assassins
Bryan, William Jennings,
Business and politics
Cleveland, Grover,
Coolidge, Calvin,
Czolgosz, Leon F.,
Einstein, Albert,
Eisenhower, Dwight D.--(Dwight David),
Garfield, James A.--(James Abram),
Gold mines and mining
Harding, Warren G.--(Warren Gamaliel),
Harrison, Benjamin,
Hearst, William Randolph,
Historic sites
Hoover, Herbert,
James, Henry,
Johnson, Lyndon B.--(Lyndon Baines),
Kennedy, John F.--(John Fitzgerald),
Lincoln, Abraham,
Lodge, Henry Cabot,
McKinley, William,
Mississippi Freedom Project
Newspaper publishing
Political and social views
Politics and government
Presidents
Presidents--Assassination
Presidents--Election
Presidents--Homes and haunts
Press and politics
Progressivism (United States politics)
Reed, Thomas B.--(Thomas Brackett),
Roosevelt, Franklin D.--(Franklin Delano),
Roosevelt, Theodore,
Shays' Rebellion (1786-1787)
Social conditions
Spanish-American War (1898)
Taft, William H.--(William Howard),
Territorial expansion
Travel
Truman, Harry S.,
United States
Vowell, Sarah,
War--Causes
Washington (D.C.)
Wilson, Woodrow,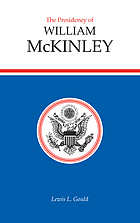 Alternative Names
Gulielmus McKinley

Mac Kinley, William

Mac Kinley William 1843-1901

MacKinley, William

MacKinley William 1843-1901

Mc Kinley, William

Mc Kinley William 1843-1901

McKinley, William

Mckinley, William 1843-1901

McKinley, William 1843-1901 Pres. U.S.

McKinley, William, Pres. U.S., 1843-1901

Uilyam Mak-Kinli

Vėljams Makinlis

Viljams Makinlijs

William McKinley 25º presidente degli Stati Uniti d'America

William McKinley American politician, 25th president of the United States (in office from 1897 to 1901)

William McKinley Amerikaans politicus

William McKinley amerikai politikus, az Amerikai Egyesült Államok 25. elnöke (1897-1901)

William McKinley amerikansk politikar

William McKinley amerikansk politiker

William McKinley, Jr 1843-1901

William McKinley maika-25 a Presidente ti Estados Unidos iti Amerika

William McKinley político americano

William McKinley presidente de los Estados Unidos

William McKinley prezydent USA

William McKinley US-amerikanesche Politiker

William McKinley US-amerikanischer Politiker, 25. Präsident der USA (1897–1901)

Ουίλλιαμ ΜακΚίνλεϊ 25ος πρόεδρος των Ηνωμένων Πολιτειών Αμερικής

Вилијам Макинли претседател на САД

Вільям Мак-Кінлі

Мак-Кинли, Уильям

Уильям Мак-Кинли

Уилям Маккинли

Уільям Мак-Кінлі

Ўільям МакКінлі

וויליאם מעקינלי

ויליאם מקינלי

ولیم میک کنلے

ويليام مكينلى

ويليام مكينلي

ویلیام مک‌کینلی سیاست‌مدار آمریکایی

विल्यम मॅककिन्ली

विलियम मैकिनले

উইলিয়াম ম্যাকিনলি

വില്യം മക്കിൻലി

วิลเลียม แมกคินลีย์

ဝီလျံ မက်ကင်လီ

უილიამ მაკ-კინლი

윌리엄 매킨리

ዊሊያም ማኪንሌይ

ウィリアム・マッキンリー

マッキンレー

威廉·麦金莱

麥金利

Languages
Covers