Lorell, Mark A. 1947-
Most widely held works by Mark A Lorell
The U.S. combat aircraft industry, 1909-2000 : structure, competition, innovation
by
Mark A Lorell
( )
14 editions published in
2003
in
English
and held by 2,041 WorldCat member libraries worldwide
In its FY02 Defense Appropriations Conference Report, Congress expressed concerns about reduced competition resulting in a decline in innovation in the U.S. fixed-wing military aircraft industry. Drawing on primary and secondary sources on the aircraft industry, this report provides a brief survey of industry structure, innovation, and competition in the U.S. fixed-wing combat aircraft industry from its earliest days to the present. It supports a much larger research effort that examines the future of the U.S. military aircraft industrial base in response to the above congressional concerns. The study suggests that it is possible to identify at least five distinct technology eras over the history of fixed-wing, heavier-than-air combat aircraft, each of which began with a period of revolutionary innovation, high rates of technology advancement, and significant improvement in performance. The historical evidence suggests, but does not prove, that an industrial structure that includes numerous prime contractors is conducive to encouraging the onset of periods of higher innovation when demand changes and market conditions are right. Without such an industry structure, new Defense Department initiatives may be necessary to promote high levels of innovation. This is a companion volume to a report on the future viability of the combat aircraft industry: Competition and Innovation in the U.S. Fixed-Wing Military Aircraft Industry (Santa Monica, Calif.: RAND, MR-1656-OSD, 2003) by John Birkler, Anthony G. Brower, Jeffrey A. Drezner, Gordon Lee, Mark Lorell, Giles Smith, Fred Timson, William P.G. Trimble, and Obaid Younossi. It should be of interest to members of Congress, congressional staff members, industry executives, and others in the civilian and uniformed defense policy community interested in the future viability of the U.S. military aircraft industrialbase
Going global? : U.S. government policy and the defense aerospace industry
by
Mark A Lorell
( )
14 editions published between
2002
and 2003 in
English
and held by 1,911 WorldCat member libraries worldwide
Since the end of the Cold War, a dramatic decline in overall defense authorizations has led both the U.S. aerospace industry and that of Europe to undergo extensive consolidation -- a trend that has led in turn to a significant growth in cross-border business relationships. Yet while globalization has the potential to increase competition, foster innovation, encourage fair pricing, and promote interoperability among NATO allies, it also poses potential challenges, particularly with regard to the proliferation of advanced U.S.-developed military technologies. Accordingly, this report examines a
Do joint fighter programs save money?
by
Mark A Lorell
( )
9 editions published in
2013
in
English
and
Undetermined
and held by 1,198 WorldCat member libraries worldwide
In the past 50 years, the U.S. Department of Defense has pursued numerous joint aircraft programs, the largest and most recent of which is the F-35 Joint Strike Fighter (JSF). Joint aircraft programs are thought to reduce Life Cycle Cost (LCC) by eliminating duplicate research, development, test, and evaluation efforts and by realizing economies of scale in procurement, operations, and support. But the need to accommodate different service requirements in a single design or common design family can lead to greater program complexity, increased technical risk, and common functionality or increased weight in excess of that needed for some variants, potentially leading to higher overall cost, despite these efficiencies. To help Air Force leaders (and acquisition decisionmakers in general) select an appropriate acquisition strategy for future combat aircraft, this report analyzes the costs and savings of joint aircraft acquisition programs. The project team examined whether historical joint aircraft programs have saved LCC compared with single-service programs. In addition, the project team assessed whether JSF is on track to achieving the joint savings originally anticipated at the beginning of full-scale development. Also examined were the implications of joint fighter programs for the health of the industrial base and for operational and strategic risk
The cutting edge : a half century of fighter aircraft R & D
by
Mark A Lorell
( )
15 editions published in
1998
in
English
and held by 768 WorldCat member libraries worldwide
The proposition that innovation is critical in the cost-effective design and development of successful military aircraft is still subject to some debate. RAND research indicates that innovation is promoted by intense competition among three or more industry competitors. Given the critical policy importance of this issue in the current environment of drastic consolidation of the aerospace defense industry, the authors here examine the history of the major prime contractors in developing jet fighters since World War II. They make use of an extensive RAND database that includes nearly all jet fighters, fighter-attack aircraft, and bombers developed and flown by U.S. industry since 1945, as well as all related prototypes, modifications, upgrades, etc. The report concludes that (1) experience matters, because of the tendency to specialize and thus to develop system-specific expertise; (2) yet the most dramatic innovations and breakthroughs came from secondary or marginal players trying to compete with the industry leaders; and (3) dedicated military R & D conducted or directly funded by the U.S. government has been critical in the development of new higher-performance fighters and bombers
Understanding why a ground combat vehicle that carries nine dismounts is important to the Army
by
Bruce J Held
( )
4 editions published in
2013
in
English
and held by 521 WorldCat member libraries worldwide
The Army has examined the lessons of half a dozen significant conflicts, starting with World War II, has conducted numerous studies over the last 65 years, and has found time and again that an ability to conduct dismounted fire and maneuver is the fundamental squad-level tactic. It has also consistently determined that squads should be organized around two fire teams and should contain no fewer than nine soldiers, though a larger number has usually been preferred, to accomplish fire and maneuver doctrine, but also for reasons of squad resilience, lethality, and leader span of control. To support fully enabled mechanized infantry squads, the Army has, for the last fifty years, tried to develop and field survivable, lethal infantry fighting vehicles that are also capable of carrying a full nine to eleven man squad that can dismount to fight on foot. The Army has not been able to do this for a variety of reasons, and its current infantry fighting vehicle, the M2 Bradley, cannot carry enough soldiers to enable squad-level fire and maneuver from a single vehicle. As a result, today's mechanized infantry are more at risk when transitioning from mounted to dismounted operations, and squad-level dismounted fire and maneuver is compromised in some situations. The Ground Combat Vehicle (GCV), if developed as planned, will finally provide the infantry with an IFV that can accommodate a full squad. For this reason, the Army considers theprogram to be one of its most important
Troubled partnership : a history of U.S.-Japan collaboration on the FS-X fighter
by
Mark A Lorell
( Book )
17 editions published between
1995
and 1996 in
English
and held by 497 WorldCat member libraries worldwide
The United States has generally tried to discourage its allies from developing their own major weapons systems, to promote equipment standardization with U.S. forces, and tie allied security policies more firmly to U.S. interests. Japan's FS-X fighter is perhaps the most prominent example of this policy. Japan had originally intended to design and build an indigenous fighter; the Pentagon urged Japan to buy an existing U.S. fighter. After difficult negotiations, the two sides eventually agreed to lightly modify the U.S. F-16 jointly to meet Japan's special needs. But as a result of political controversies over technology transfer and trade, the U.S. side focused increasingly on the economic aspects of the program. Under cover of these controversies, the Japanese have been able to move the FS-X design and technology applications ever farther away from the F-16 toward a much more nearly indigenous creation. In the end, the FS-X program has failed to meet many of the original U.S. expectations, and Japan has reaped an unexpected reward--experience in developing a world-class fighter aircraft. This book summarizes and assesses the program
Competition and innovation in the U.S. fixed-wing military aircraft industry
by
J. L Birkler
( )
4 editions published in
2003
in
English
and held by 384 WorldCat member libraries worldwide
Et RAND studie af amerikansk militær flyindustr, hvor der i 1960erne var 11 primære virksomheder som bød på kontrakter, nu kun er tre tilbage. Denne udvikling er bekymrer det amerikanske Department of Defense. Rand studiet analyserer grundlaget for en fremtidig udvikling af den amerikanske militære flyindustri
The wary warriors : future directions in Japanese security policies
by
Norman D Levin
( Book )
5 editions published in
1993
in
English
and held by 203 WorldCat member libraries worldwide
This report assesses how changes in the domestic, regional, and international environments are likely to affect future Japanese security policies and defense cooperation between Japan and the U.S. The expectation that Japan will "inevitably" move toward major rearmament and an independent defense posture appears questionable. The authors conclude that Japan will lack both the will and the capabilities to achieve such a status for at least the rest of the decade. Given recent trends in the former Soviet Union, they conclude that the order of magnitude of Japanese capabilities is appropriate, which suggests that the U.S. should emphasize greater integration, interoperability, and sustainability rather than major quantitative increases in Japan's force structure and military power. In addition, they suggest that both sides would gain from any progress toward achieving two-way technological exchange
Cheaper, faster, better? : commercial approaches to weapons acquisition
by
Mark A Lorell
( Book )
6 editions published between
1999
and 2000 in
English
and held by 198 WorldCat member libraries worldwide
Civil-military integration (CMI) lies at the core of current DoD efforts to reduce the costs of procuring and maintaining modern weapon systems. Based on an analysis of the commercial aerospace industry and on the experiences of various acquisition reform pilot programs, the authors conclude that a commercial-like acquisition approach could benefit major Air force acquisition programs. The Joint Strike Fighter would be an excellent candidate pilot program for application of acquisition reform measures during engineering and manufacturing development. The authors further recommend that future programs be structured to include greater risk-sharing between contractors and the government. The principal benefits of CMI for the acquisition reform pilot programs have come from the structuring and management of these programs to make them more like complex commercial product markets in which buyers and sellers establish and achieve price and performance targets in a cooperative environment. The real promise of CMI is to help insert the incentives for price discipline and high performance prevalent in the commercial marketplace into military R & D production
An overview of acquisition reform cost savings estimates
by
Mark A Lorell
( Book )
8 editions published in
2001
in
English
and held by 187 WorldCat member libraries worldwide
A number of analyses have recently been conducted in efforts to update technical cost models and cost estimating relationships for fixed-wing combat aircraft, particularly in light of the numerous cost-saving measures that have been initiated over the past decade. This report focuses specifically on acquisition reform (AR), or the institution of changes either in government acquisition processes or in the relationship between the government and Department of Defense (DoD) "primes." Its objective is to study relevant literature and conduct interviews with government and industry officials to determine whether estimates made on the efficacy of AR measures are sufficiently robust to be of predictive value. The literature examined covered three types of AR reform measures: reductions in DoD regulation and oversight compliance; pilot programs seeking to emulate commercial efforts; and multiyear procurements. Interviews were conducted with a wide variety of government officials responsible for acquisition policy and operations as well as available industry personnel. The report concludes that there is insufficient evidence in the current literature to support the development of accurate adjustment factors for use in predictive cost models for military combat aircraft. It also suggests, however, that at least in some categories of AR, "rules of thumb" for potential AR cost savings can be developed that may be of some use in limited circumstances
more
fewer
Audience Level
0

1
Kids
General
Special
Audience level: 0.28 (from 0.06 for The U.S. c ... to 0.64 for Multinatio ...)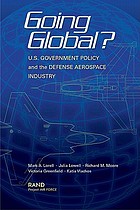 Covers
Alternative Names
Lorell, M. A.

Lorell, Mark 1947-

Lorell, Mark A.

Lorell, Mark Allen

Languages