Siraisi, Nancy G.
Most widely held works about Nancy G Siraisi
Most widely held works by Nancy G Siraisi
Medieval & early Renaissance medicine : an introduction to knowledge and practice
by
Nancy G Siraisi
( Book )
32 editions published between
1990
and 2009 in
English
and held by 1,057 WorldCat member libraries worldwide
Western Europe supported a highly developed and diverse medical community in the late medieval and early Renaissance periods. In her absorbing history of this complex era in medicine, Siraisi explores the inner workings of the medical community and illustrates the connections of medicine to both natural philosophy and technical skills. --
New worlds, ancient texts : the power of tradition and the shock of discovery
by
Anthony Grafton
( Book )
24 editions published between
1992
and 2002 in
English
and held by 1,015 WorldCat member libraries worldwide
On encountering what he called "the Indies," the Jesuit Jose de Acosta wrote, "Having read what poets and philosophers write of the Torrid Zone, I persuaded myself that when I came to the Equator, I would not be able to endure the violent heat, but it turned out otherwise ... What could I do then but laugh at Aristotle's Meteorology and his philosophy?" Acosta's experience echoes that of his fellow travelers to the New World, and it is this experience, with its profound effect on Western culture, that Anthony Grafton charts. Describing an era of exploration that went far beyond geographic bounds, this book shows how the evidence of the New World shook the foundations of the old, upsetting the authority of the ancient texts that had guided Europeans so far afield. The intellectual shift mapped out here, a movement from book learning to empirical knowledge, did not take place easily or quickly, and Grafton presents it in all its drama and complexity. What he recounts is in effect a war of ideas fought, sometimes unwittingly by mariners, scientists, publishers, scholars, and rulers over one hundred fifty years. He shows us explorers from Cortes and Columbus to Scaliger and Munster, laden with ideas gathered from ancient and medieval texts, in their encounters with the world at large. In colorful vignettes, firsthand accounts, published debates, and copious illustrations, we see these men and their contemporaries trying to make sense of their discoveries as they sometimes confirm, sometimes contest, and finally displace traditional images and notions of the world beyond Europe. The fundamental cultural revolution that Grafton documents still reverberates in our time. By taking us into this battle of books versus facts, a conflict that has shaped global views for centuries, Grafton allows us to re-experience and understand the Renaissance as it continues to this day
Avicenna in Renaissance Italy : the Canon and medical teaching in Italian universities after 1500
by
Nancy G Siraisi
( Book )
17 editions published between
1987
and 2016 in
English
and
Multiple languages
and held by 369 WorldCat member libraries worldwide
The Canon of Avicenna, one of the principal texts of Arabic origin to be assimilated into the medical learning of medieval Europe, retained importance in Renaissance and early modern European medicine. After surveying the medieval reception of the book, Nancy Siraisi focuses on the Canon in sixteenth- and early seventeenth-century Italy, and especially on its role in the university teaching of philosophy of medicine and physiological theory
The clock and the mirror : Girolamo Cardano and Renaissance medicine
by
Nancy G Siraisi
( Book )
14 editions published between
1997
and 2015 in
English
and held by 334 WorldCat member libraries worldwide
Cardano's medical advice included the suggestion that "the studious man should always have at hand a clock and a mirror"--A clock to keep track of the passage of time and a mirror to observe the changing condition of his body. The remark, which recalls his astrological and autobiographical interests, is emblematic of the many connections between his medicine and his other pursuits. Cardano's philosophical eclecticism, beliefs about occult forces in nature, theories about dreams, and free transactions between academic and popularizing scientific writing also contributed to his medicine
Natural particulars : nature and the disciplines in Renaissance Europe
( Book )
15 editions published between
1999
and 2000 in
English
and held by 334 WorldCat member libraries worldwide
Annotation This volume examines the transformation in ways of studying nature that took place in Western Europe during the fifteenth and sixteenth centuries. Some of the essays trace particular textual traditions, while others follow the development of scholarly and professional communities. Some concentrate on the internal analysis of primary sources, while others examine the spread of practices to larger groups. Central to all is the search for a context for the increased fascination with nature, and especially with natural particulars--the details of natural forms, plants, and animals--that characterized this period. The essays also discuss how older theories and methods continued to exist; how the renewed study of classical sources introduced new problems and theories into the study of nature; how the structure of disciplines, both old and new, shaped approaches to the natural world; and how the material and practical means of disseminating knowledge helped to shape its content. Recently the history of science in early modern Europe has been both invigorated and obscured by divisions between scholars of different schools. One school tends to claim that rigorous textual analysis provides the key to the development of science, whereas others tend to focus on the social and cultural contexts within which disciplines grew. This volume challenges such divisions, suggesting that multiple historical approaches are both legitimate and mutually complementary. Contributors : Michael J.B. Allen, Ann Blair, Daniela Mugnai Carrara, Brian P. Copenhaver, Chiara Crisciani, Luc Deitz, Paula Findlen, James Hankins, Thomas DaCosta Kaufmann, John Monfasani, William Newman, Vivian Nutton, Katharine Park
History, medicine, and the traditions of Renaissance learning
by
Nancy G Siraisi
( Book )
19 editions published between
2007
and 2010 in
English
and held by 296 WorldCat member libraries worldwide
"A major, pathbreaking work, History, Medicine, and the Traditions of Renaissance Learning is Nancy G. Siraisi's examination into the intersections of medically trained authors and history in the period 1450 to 1650. Rather than studying medicine and history as separate disciplinary traditions, Siraisi calls attention to their mutual interaction in the rapidly changing world of Renaissance erudition. Far from then-contributions being a mere footnote in the historical record, medical writers had extensive involvement in the reading, production, and shaping of historical knowledge during this important period. With remarkably detailed scholarship, Siraisi investigates doctors' efforts to explore the legacies handed down to them from ancient medical and anatomical writings and the difficult reconciliations this required between the authority of the ancient world and the discoveries of the modern. She also studies the ways in which sixteenth -century medical authors wrote history, both in their own medical texts and in more general historical works. In the course of her study, Siraisi finds that what allowed medical writers to become so fully engaged in the writing of history was their general humanistic background, their experience of history through the field of medicine's past, and the tools that the writing of history offered to the development of a rapidly evolving profession."--Jacket
Historia : empiricism and erudition in early modern Europe
by
Gianna Pomata
( Book )
10 editions published between
2005
and 2014 in
English
and held by 284 WorldCat member libraries worldwide
The early modern genre of historia connected the study of nature and the study of culture from the early Renaissance to the eighteenth century. The ubiquity of historia as a descriptive method across a variety of disciplines -- including natural history, medicine, antiquarianism, and philology -- indicates how closely intertwined these scholarly pursuits were in the early modern period. The essays collected in this volume demonstrate that historia can be considered a key epistemic tool of early modern intellectual practices. Focusing on the actual use of historia across disciplines, the essays highlight a distinctive feature of early modern descriptive sciences: the coupling of observational skills with philological learning, empiricism with erudition. Thus the essays bring to light previously unexamined links between the culture of humanism and the scientific revolution. The contributors, from a range of disciplines that echoes the broad scope of early modern historia, examine such topics as the development of a new interest in historical method from the Renaissance artes historicae to the eighteenth-century tension between "history" and "system"; shifts in Aristotelian thought paving the way for revaluation of historia as descriptive knowledge; the rise of the new discipline of natural history; the uses of historia in anatomical and medical investigation and the writing of history by physicians; parallels between the practices of collecting and presenting information in both natural history and antiquarianism; and significant examples of the ease with which early seventeenth-century antiquarian scholars moved from studies of nature to studies of culture
Medicine and the Italian universities, 1250-1600
by
Nancy G Siraisi
( Book )
11 editions published in
2001
in
English
and held by 222 WorldCat member libraries worldwide
Bringing together fifteen essays published in the past 25 years, this voume deals with medicine in the university world of thirteenth to sixteenth century Italy, discussing both the internal academic milieu of teaching and learning and its relation to the lively urban social, economic, and cultural context in which medieval and Renaissance Italian university medicine grew up
more
fewer
Audience Level
0

1
Kids
General
Special
Audience level: 0.41 (from 0.02 for Communitie ... to 0.76 for Medicine a ...)
Associated Subjects
Alderotti, Taddeo,
America
Anatomy
Anatomy, Artistic
Avicenna,
Black Death
Blood-vessels
Bones--Anatomy
Calcar, Jan Stephan van,
Cardano, Girolamo,
Civilization, Medieval
De humani corporis fabrica (Vesalius, Andreas)
Discoveries in geography
Education, Medieval
Europe
Europe, Western
Historians
Human anatomy
Human body
Intellectual life
Italy
Italy--Bologna
Kibre, Pearl,
Learning and scholarship
Life sciences
Ligaments--Anatomy
Manners and customs
Medical colleges
Medical education
Medical historians
Medical illustration
Medicine
Medicine, Medieval
Medicine--Study and teaching
Muscles--Anatomy
Natural history
Nature
Nerves
Philosophy
Physicians
Physiology
Qānūn fī al-ṭibb (Avicenna)
Renaissance
Science
Science, Renaissance
Science--Philosophy
Symmetry
United States
Università di Bologna.--Facoltà di medicina e chirurgia
Università di Padova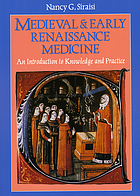 Alternative Names
Nancy Siraisi American medical historian

Nancy Siraisi Amerikaans medisch historica

Nancy Siraisi US-amerikanische Wissenschaftshistorikerin

Siraisi, Nancy.

Siraisi, Nancy 1932-

Siraisi, Nancy G. 1932-

Siraisi, Nancy Gillian 1932-

Languages
Covers