Salamon, Lester M.
Most widely held works about Lester M Salamon
Most widely held works by Lester M Salamon
The state of nonprofit America
by
Lester M Salamon
( )
29 editions published between
2002
and 2012 in
English
and held by 2,539 WorldCat member libraries worldwide
"Examines the private nonprofit sector and the tax-exempt institutions that make up this sector providing important services and benefits to all Americans, with histories behind different institutions and the forces and developments that have buffeted them and what they have done to retain their resilience"--Provided by publisher
Rethinking corporate social engagement : lessons from Latin America
by
Lester M Salamon
( )
14 editions published between
2010
and 2014 in
English
and held by 1,191 WorldCat member libraries worldwide
In 1961, President John F. Kennedy outlined a bold new policy of reform toward Latin America which gave commitments to work with Latin American governments to promote more progressive tax structures, institute meaningful land reform, democratize governments, strengthen civic organizations, and significantly reduce poverty. This 'Alliance for Progress' was disbanded within 12 years however, as political situations in both the US and Latin America shifted. Three decades later, in 1995, NGOs and private businesses began partnering up for a new alliance for progress. Unlike Kennedy's policy, private enterprise rather than government was now seen as a solution to many of the region's problems. Corporate social engagement (CSE) became and remains a buzzword. Salamon, one of the foremost experts on civil society, examines what forms this new movement is taking and how it's implemented, why businesses are choosing to participate, variations between countries in their approach to such partnerships, and whether CSE has made any positive impact. Brief and highly readable, the book offers a constructive critique of CSE and shows how civil society can exert positive and constructive influence on business practices
Leverage for good : an introduction to the new frontiers of philanthropy and social investment
by
Lester M Salamon
( )
13 editions published in
2014
in
English
and held by 826 WorldCat member libraries worldwide
With the resources of both governments and traditional philanthropy barely growing or in decline, yet the problems of poverty, ill-health, and environmental degradation ballooning daily, new models for financing social and environmental objectives are urgently needed. Fortunately, a revolution is underway in the instruments and institutions available to meet this need. Loans, loan guarantees, private equity, barter arrangements, social stock exchanges, bonds, social secondary markets, and investment funds are just some of the actors and tools occupying the new frontiers of philanthropy and social investment. Together they hold the promise of leveraging for social and environmental purposes not just the billions of dollars of charitable grants but the hundreds of billions, indeed trillions, of dollars of private investment capital. While the changes under way are inspiring, they remain largely uncharted. This concise introduction to the topic, and its companion volume, provide the first comprehensive and accessible roadmap to these important advances. In the process, these works will better equip investors, philanthropists, social entrepreneurs, nonprofit leaders, business executives, government officials, and students the world over to capture the opportunities that these developments hold out to them and to our world
America's nonprofit sector : a primer
by
Lester M Salamon
( Book )
21 editions published between
1992
and 2012 in
English
and held by 798 WorldCat member libraries worldwide
Clarifies the basic scope, structure, operation, and role of the nonprofit sector in the US, and places it into context in relation to government and the business sector, showing how the position of the nonprofit sector has changed over time. Separate chapters on various subsectors of health care, education, social services, and arts, as well as advocacy, legal services, international aid, and religion, identify the role of the nonprofit sector in each area, compare it to roles played by government and for-profit firms, and highlight recent trends. Includes margins notes and quotes, graphs and charts, and space for notes. For students, journalists, and government officials
The resilient sector revisited : the new challenge to nonprofit America
by
Lester M Salamon
( )
13 editions published in
2015
in
English
and held by 792 WorldCat member libraries worldwide
Nonprofit America is one of the least understood segments of national life, yet also one of the most crucial. Author Lester Salamon, who pioneered the empirical study of the nonprofit sector in the United States, provides a wealth of new data to paint a compelling picture of a set of institutions being buffeted by a withering set of challenges, yet still finding ways to survive and prosper. These challenges, however, are posing enormous risks to the historic character and role of nonprofits. Operating in an increasingly competitive environment in which traditional sources of government and philanthropic support are difficult to maintain, nonprofits have turned decisively to the market. In the process, however, they may be losing their raison d'être, sacrificing their most crucial missions, and risking loss of public understanding and support. To remedy this situation, Salamon recommends a "renewal strategy" for the nation's nonprofit sector that begins with a wider articulation and application of the sector's "value proposition" the attributes that continue to make it deserving of the special privileges and benefits it enjoys. Salamon's pithy and accessible book is perfect for nonprofit boards, leaders of charitable foundations, government officials, and students of the nonprofit sector and of public policy, as well as anyone looking for guidance on how we go about dealing with public problems in America's increasingly collaborative system of governance.--Amazon.com
The tools of government : a guide to the new governance
by
Lester M Salamon
( Book )
17 editions published between
2001
and 2002 in
English
and held by 770 WorldCat member libraries worldwide
The new tools of public action have come to rely heavily on third parties - private businesses, nonprofit organisations, and other levels of government - for their operation. The Tools of Government is a comprehensive guide to the operation of these tools and to the management, accountability, policy, and theoretical issues they pose
Explaining civil society development : a social origins approach
by
Lester M Salamon
( )
11 editions published in
2017
in
English
and held by 685 WorldCat member libraries worldwide
The civil society sector-made up of millions of nonprofit organizations, associations, charitable institutions, and the volunteers and resources they mobilize-has long been the invisible subcontinent on the landscape of contemporary society. For the past twenty years, however, scholars under the umbrella of the Johns Hopkins Comparative Nonprofit Sector Project have worked with statisticians to assemble the first comprehensive, empirical picture of the size, structure, financing, and role of this increasingly important part of modern life. What accounts for the enormous cross-national variations in the size and contours of the civil society sector around the world? Drawing on the project's data, Lester M. Salamon, S. Wojciech Sokolowski, Megan A. Haddock, and their colleagues raise serious questions about the ability of the field's currently dominant preference and sentiment theories to account for these variations in civil society development. Instead, using statistical and comparative historical materials, the authors posit a novel social origins theory that roots the variations in civil society strength and composition in the relative power of different social groupings and institutions during the transition to modernity. Drawing on the work of Barrington Moore, Dietrich Rueschemeyer, and others, Explaining Civil Society Development provides insight into the nonprofit sector's ability to thrive and perform its distinctive roles. Combining solid data and analytical clarity, this pioneering volume offers a critically needed lens for viewing the evolution of civil society and the nonprofit sector throughout the world. --
Homeless children and youth : a new American dilemma
by
Julee H., Ed Kryder-Coe
( Book )
7 editions published between
1990
and 2004 in
English
and held by 630 WorldCat member libraries worldwide
These 11 reports focus on policy responses to the needs of very young children who are part of a homeless family, and older young people who are homeless but on their own. The following chapters are included: (1) J.M. Molnar's introduction to the relationship between chronic poverty and homelessness; (2) "Beyond the Numbers: Homeless Families with Children" (L. Mihaly); (3) "Homeless Youth: An Overview of Recent Literature" (M.J. Robertson); (4) "Poverty, Homelessness, Health, Nutrition, and Children" (J.D. Wright); (5) "Developmental and Educational Consequences of Homelessness on Children and Youth" (Y. Rafferty); (6) "Macroeconomic Issues in Poverty: Implications for Child and Youth Homelessness" (K.Y. McChesney); (7) "What Is Wrong with the Housing Market" (C. Hartman and B. Zigas); (8) "What Is Wrong with Our Housing Programs" (C. Hartman and B. Zigas); (9) "Remedies for Homelessness: An Analysis of Potential Housing Policy and Program Responses" (M.A. Stegman); (10) "The Welfare System's Response to Homelessness" (L.A. Wolfe); and (11) "Child Welfare Services and Homelessness: Issues in Public Policy, Philosophy, and Programs" (C.W. Williams). Statistical data are presented in 26 tables and nine graphs. Each chapter includes a list of references. (Fmw)
more
fewer
Audience Level
0

1
Kids
General
Special
Audience level: 0.29 (from 0.02 for Rethinking ... to 0.87 for Soviet Rus ...)
Related Identities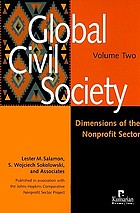 Covers
Alternative Names
Lester M. Salamon

Lester M. Salamon académico estadounidense

Lester Salamon American academic

Salamon, Lester 1943-

Salomon, Lester M. 1943-

Саламон, Лестер

サラモン, L. M.

サラモン, レスター

サラモン, レスター・M.

Languages