Army War College (U.S.). Strategic Studies Institute
Most widely held works about Army War College (U.S.).
more
fewer
Most widely held works by Army War College (U.S.).
The Soviet Union in the Third World : successes and failures
by
Joseph L Nogee
( Book )
4 editions published between
1980
and 1981 in
English
and held by 824 WorldCat member libraries worldwide
This memorandum, based upon the contents of the papers presented at the 1979 Military Policy Symposium on the Soviet Union in the Third World, identifies those conclusions upon which there is a consensus and notes those where significant differences exist concerning the successes and failures of Soviet policy in the Third World. From his analysis of the papers the author concludes that in the long run the United States is in a better position than the Soviet Union to influence the outcome of events in the Third World. (Author)
Do oil exports fuel defense spending?
by Clayton K. S Chun
( )
2 editions published in
2010
in
English
and held by 510 WorldCat member libraries worldwide
Many national security analyst have viewed oil-exporting countries with some trepidation. Although these exporting nations supply a vital energy source to the United States and her allies, it comes at a price. A great wealth transfer occurs in this process from oil importers to exporters. In some cases, oil importers face economic woes if energy prices rise sharply. Additionally, some critics might argue that oil exporters now have the financial wherewithal to acquire a military capability that could threaten neighbors or create intra-regional instability with global implications. This monograph explores the impact that oil revenue had on the national defense spending of five oil exporting countries. Despite periods of falling oil revenues, these countries typically did not lower defense spending
Implications of a changing NATO
by
Phillip R Cuccia
( )
2 editions published in
2010
in
English
and held by 507 WorldCat member libraries worldwide
"NATO officials plan to unveil the new North Atlantic Treaty Organization (NATO) Strategic Concept during the Alliance's summit in Portugal at the end of 2010. This monograph focuses on the impact that the Strategic Concept will have on the Alliance. This analysis describes recent trends within NATO and their implications, and provides senior military and political leaders with a discussion of the changing composition of the NATO nations and the impact of these changes on the nature of the Alliance. The monograph describes four possible scenarios of what NATO could look like in the future so as to give senior leaders thoughts to consider while instituting NATO policy. In terms of NATO relevance, the prevailing thought at the close of the Cold War was that NATO needed to find a suitable common threat to substitute for the former Soviet Union. That role was initially filled by the threat of destabilization with the crisis in the Balkans and then by the NATO response to September 11, 2001 (9/11) and global terrorism. NATO's response was guided by a Strategic Concept written in 1999 which did not directly address global terrorism. The Strategic Concept was supplemented in 2006 with the Comprehensive Political Guidance which provided a framework and political direction for NATO's continuing transformation and set priorities for all Alliance capability issues for the following 10 to 15 years. The NATO Alliance has now reached its 60th birthday and is currently in the middle of updating and rewriting the new Strategic Concept. The Alliance, which has grown to 28 countries, is facing problems with changing demographics, an awkward relationship with Russia, a war in Afghanistan, and threats of global jihad. Muslim immigration into Europe and population aging will have a great impact on European views of the Alliance. NATO must decide how closely it wants to work and coordinate with Russia in future endeavors. The most important issue at hand is how NATO is going to fare coming out of the war in Afghanistan. The desired NATO outcome needs to be defined clearly. It is imperative that the New Strategic Concept address NATO goals in Afghanistan and the ways and means of accomplishing those goals. Defined goals will give member nations objectives while formulating national defense plans. Getting the Strategic Concept right is the first step in maintaining the health of the Alliance. This monograph examines four possible future scenarios for NATO: the U.S. leadership relationship with NATO continues on the same path; the U.S. leadership in NATO increases; the European Union (EU) leadership in NATO increases; and the NATO Alliance breaks apart. The scenarios present a range of short- and long-term challenges for the future. The prominent short-term challenge is consensus on the 2010 Strategic Concept. If well thought out, it will set the conditions for both short- and long-term success. NATO must decide whether to 'go global' or concentrate on the collective defense of Europe. But those options are not mutually exclusive. U.S. policymakers must ensure that NATO policy toward Russia is clear. NATO's relationship with Russia must be based on openness, both when the two sides agree and when they disagree. The new Strategic Concept must identify NATO goals in Afghanistan and indicate how they will be attained. The biggest threat to NATO now is the 'internal threat' caused by the absence of consensus over what the perceived 'external threat' to NATO is."
The effects of multiple deployments on army adolescents
by
Leonard Wong
( )
2 editions published in
2010
in
English
and held by 498 WorldCat member libraries worldwide
Multiple deployments have become a way of life for our Soldiers. In Army families, these frequent deployments increase the burden on children who must face the stress and strain of separation and anxiety. The authors take a much-needed, detailed look at the effects of multiple deployments on Army adolescents. The results of this study reinforce some of what we already know concerning deployments and children, but they also reveal some very interesting, counterintuitive findings that challenge the conventional wisdom concerning Army adolescents. This study goes beyond merely explaining the impact 8 years of war is having on the children of our Soldiers; rather, it explores the specific factors that increase or alleviate stress on Army adolescents. The results reveal that Army adolescents, contrary to what many believed, are much more self-aware and resilient. Furthermore, they are capable of understanding the multiple implications of having a parent serve in the all-volunteer Army during a time of war. Army children may experience the anxiety and stress that often surround a parent's deployment, but results conclude that there are factors that policymakers, leaders, and parents can use to increase a child's ability to cope with a life of repeated deployments. In this era of persistent conflict, we should carefully consider such findings
Talent implications for a U.S. Army Officer Corps strategy
by
Casey Wardynski
( )
2 editions published in
2009
in
English
and held by 466 WorldCat member libraries worldwide
For years, the U.S. Army has given "competency" pride of place in its officer development doctrine. In popular usage, competent means having requisite or adequate ability, and in a labor market context, it is defined as "an enduring combination of characteristics that causes an appropriate level of individual performance." Recent operational experience, however, clearly demonstrates the need for something more than adequate or appropriate individual performance by leaders. In an era of persistent conflict, Army officers must embrace new cultures, serve as ambassadors and diplomats, sow the seeds of economic development and democracy, and in general, rapidly conceptualize solutions to complex and unanticipated problems. These demands require the Army to access, retain, develop, and employ talented officers, not competent ones. This distinction is more than a mere parsing of words. In our view, talent is the intersection of three dimensions -- skills, knowledge, and behaviors -- that create an optimal level of individual performance, provided the individual is employed within his or her talent set. We believe that all people have talent which can be identified and liberated, and that they can dramatically and continuously extend their talent advantage if properly incentivized, developed, and employed. Whether it likes it or not, the Army is competing with the private sector for the best talent America has to offer. The domestic labor market is dynamic, and in the last 25 years it has increasingly demanded employees who can create information, provide service, or add knowledge. We believe that thoughtful, evolutionary changes can produce revolutionary results. The Army can transform its officer management practices from an almost feudal employer-employee relationship to a talent-based model through a series of relatively low-risk efforts
Guide to rebuilding public sector services in stability operations : a role for the military
by
Derick W Brinkerhoff
( )
2 editions published in
2009
in
English
and held by 461 WorldCat member libraries worldwide
This guide examines the role of restoration of public services within the broader context of stability operations. The extent to which public service reconstruction takes place depends on the mission, the level of resources, and the host country context. This paper provides guidance helpful to U.S. peacekeeping personnel in planning and executing stability operations tasks related to restoration of public sector services and infrastructure. It is designed to supplement existing and emerging guidance, and is specifically relevant to addressing the needs of public sector rebuilding in a post-conflict situation by peacekeeping forces. The material presented here draws both from theory and analytic frameworks and from on-the-ground experience of practitioners
YouTube war : fighting in a world of cameras in every cell phone and Photoshop on every computer
by
Cori Elizabeth Dauber
( )
2 editions published in
2009
in
English
and held by 420 WorldCat member libraries worldwide
Terrorist attacks today are often media events in a second sense: information and communication technologies have developed to such a point that these groups can film, edit, and upload their own attacks within minutes of staging them, whether the Western media are present or not. In this radically new information environment, the enemy no longer depends on traditional media. This is the "YouTube War." This monograph methodically lays out the nature of this new environment in terms of its implications for a war against media-savvy insurgents, and then considers possible courses of action for the Army and the U.S. military as they seek to respond to an enemy that has proven enormously adaptive to this new environment and the new type of warfare it enables.--Publisher description
The Chinese armed forces in the 21st century
( Book )
5 editions published between
1999
and 2004 in
English
and held by 419 WorldCat member libraries worldwide
This book is a serious look at the armed forces of China and how they will evolve. The chapters in this volume were developed from papers prepared for the eighth in a series of conferences on the People's Liberation Army (PLA). The people at the conferences were recognized experts on armed forces and security matters in China drawn from academe, government, the military, and policy think tanks. Each chapter author was challenged to envision some aspect of the Chinese armed forces into the next century. The goal was to paint a realistic view of how domestic and international pressures would shape both Beijing's and Taipei's security environment
more
fewer
Audience Level
0

1
Kids
General
Special
Audience level: 0.64 (from 0.00 for Effectiven ... to 0.96 for Directory ...)
Related Identities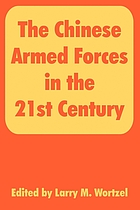 Alternative Names
Amerika Gasshukoku Rikugun Daigaku Senryaku Kenkyujo

Army War College Strategic Studies Institute

Bei Rikugun Daigaku Senryaku Kenkyujo

Ecole militaire (Etats-Unis) Institut d'études stratégiques

Institut für Strategische Studien

Institut für Strategische Studien Carlisle Barracks, Pa

SSI

SSI (Strategic Studies Institute)

Strategic Studies Institute

Strategic Studies Institute (Army War College)

Strategic Studies Institute Carlisle, Pa

U. S. Army War College. Strategic Studies Institute

United States. Army. War College. Strategic Studies Institute.

United States Strategic Studies Institute

US Army War College. Strategic Studies Institute.

War College Carlisle Barracks, Pa Institut für Strategische Studien

War College Carlisle Barracks, Pa Strategic Studies Institute

War College Institut für Strategische Studien

War College Strategic Studies Institute

アメリカ ガッシュウコク リクグン ダイガク センリャク ケンキュウジョ

ベイ リクグン ダイガク センリャク ケンキュウジョ

米陸軍大学戦略研究所

Languages
Covers