Erasmus Universiteit Rotterdam
Overview
| | |
| --- | --- |
| Works: | 1,160 works in 1,272 publications in 4 languages and 4,780 library holdings |
| Genres: | Conference papers and proceedings History Academic theses Case studies Sources Catalogs |
| Roles: | Publisher, isb, Contributor, Degree grantor, Responsible party, Other, Correspondent, his, Client, Researcher, Creator |
| Classifications: | PA8518, 199.492 |
Most widely held works about Erasmus Universiteit Rotterdam
more
fewer
Most widely held works by Erasmus Universiteit Rotterdam
Debated damages
by
Louis Visscher
( )
3 editions published in
2015
in
English
and held by 797 WorldCat member libraries worldwide
In his inaugural lecture, Louis Visscher discusses three forms of 'debated damages' from an economic perspective. First, pain and suffering damages for personal injuries are regarded as too low in the Netherlands, but a framework to assess the 'correct magnitude' is lacking. Visscher argues that the concept of Quality Adjusted Life Years (QALYs) can offer such a framework. Applying QALYs, the author concludes that Dutch damages indeed are too low. Second, a recent draft bill proposes affection damages for relatives of a victim who is seriously injured or killed. Visscher welcomes this, but argues on the basis of economic insights that the envisaged amounts are too low.Third, mass litigation is not allowed to have the object of seeking monetary compensation. A recent draft bill proposes to strike this prohibition. Visscher welcomes this, because mass damages litigation has several potential benefits. Whether the draft bill sketches aneconomically optimal procedure, however, is questionable. Bron: Flaptekst, uitgeversinformatie
The right to health care in several European countries : expert meeting, held in Rotterdam, the Netherlands, April 27-28, 1998
( Book )
1 edition published in
1999
in
English
and held by 121 WorldCat member libraries worldwide
The right to health care is changing over time and its content varies from country to country. Considering the right to health care on a singular plane fails to take account of the many differing applicable health care perspectives and their ramifications. Instead, the right to health care must be considered as a multidimensional concept. An expert meeting hosted by the Department of Health Policy and Management, Erasmus University, convened in Rotterdam, The Netherlands, in April of 1998 to address the meaning and consequences of the right to health care in changing health care systems. Commissioned for this expert meeting, the papers published in The Right to Health Care in Several European Countries address many differing perspectives on the right to health care, including international and national views, the role of various legal principles and the function of courts, and the organizational dimension. Awareness of these multiple perspectives and their ramifications is important in moving forward amidst the changing climate of health care rights. For example, reviewing knowledge and exchanging experiences from other countries helps enhance understanding of the meaning behind health care principles and provides an avenue for shared advice amongst those countries with commonalties in their systems. By offering this diverse range of viewpoints and coverage, The Right to Health Care in Several European Countries provides a unique resource for anyone interested in health care rights
Health care in Europe after 1992
( Book )
3 editions published in
1992
in
English
and held by 100 WorldCat member libraries worldwide
Focuses on the European perspective of a common market for health care, and discusses the legal and ethical implications for managers and professionals in the field. The book addresses questions relating, for example, to health insurance, and proposes answers for post 1992 health services
Strategy and performance of water supply and sanitation providers : effects of two decades of neo-liberalism = Strategieën en prestaties van water bedrijven : effecten van twee decennia neo-liberalisme
by
Marco Schouten
( )
3 editions published in
2009
in
English
and held by 74 WorldCat member libraries worldwide
This thesis concerns governmentally motivated institutional changes in the water supply and sanitation (WSS) sector, and more specifically the changes associated with the adoption of the neo-liberal agenda. The continuous growth in the demand for WSS services has posed decision makers with the challenge to discover new, and to adapt existing, institutions. Institutional change in the WSS sector is a hazardous enterprise for any policy maker in view of the public interest at stake, the externalities associated, and the ambiguous nature of the good. The most prominent institutional change for the WSS sector is neo-liberalism. This change that started at the beginning of the 1990s entailed essentially a call for more competition and more private sector involvement. Neo-liberalism manifests itself in the water sector through three complementary forms: a shift in ownership of the water services supplier (privatisation), enhanced competition (liberalisation), and involvement of private parties through partnership arrangements (private sector involvement)
Echocardiology
by
Charles T Lancée
( Book )
3 editions published in
1979
in
English
and held by 59 WorldCat member libraries worldwide
This Symposium is the third of a series of scientific meetings in the field of echocardiology, held at the Erasmus University Rotterdam. * The series was initiated by Klaas Born, who organized the first two meetings with great success. These followed the procedure of two days of parallel sessions with invited speakers only. This time, we decided to broaden the basis of the meeting and have a three-day program of parallel sessions, combining invited papers, free com munications and posters. We decided, however, to maintain one of the most striking features of the last meeting- having the complete proceedings available at the time of the meeting. We confronted the authors-to-be with a very tight schedule in order to make the book a true reflection of the state of the art in echocardiology. As a 'result, editing time was also very limited and neither terminology nor units have been completely standardized. This book has three main parts. The first, and largest, part consists of contributions on echocardiology in adults, and is divided into four sections. The first section is a general survey of various applications, whereas the remaining three centre round specific applications, i.e. ischemic disease, left ventricular function and cardiac valves, respectively. The second part con tains applications in pediatric cardiology; due to the wide variety of topics covered, no particular subdivision has been made. The last part of the book is devoted to instrumentation, methods and new developments
more
fewer
Audience Level
0

1
Kids
General
Special
Audience level: 0.48 (from 0.06 for Medical ed ... to 1.00 for Medical ed ...)
Associated Subjects
Arts
Authors, German
Authors, German--Biography
Authors, Latin (Medieval and modern)
Authors, Latin (Medieval and modern)--Biography
Ceremonial maces
Cultural relations
Damages
Damages--Economic aspects
Dialectic
Diplomatic relations
Echocardiography
Egypt
Epidemiology
Erasmus, Desiderius,
Erasmus Universiteit Rotterdam
Europe
Euthanasia
Forensic sciences
Great Britain
Heart--Diseases--Diagnosis
Heine, Heinrich,
History
Human beings
Humanists
Humanists--Biography
Intellectual life
Law
Learning and scholarship
Legal research
Manuscripts, Greek (Papyri)
Medical care
Medical policy
Netherlands
Netherlands--Rotterdam
Organized crime--Prevention
Palliative treatment
Philosophical anthropology
Philosophy
Public health
Right to die
Sanitation
Scholars, Medieval
Scholars--Biography
Social medicine
Terminal care
Universities and colleges--Insignia
Water-supply
Water utilities
Water utilities--Government policy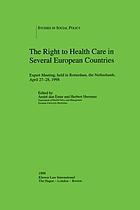 Covers
Alternative Names
Medische Faculteit Rotterdam
Nederlandse Economische Hogeschool
E.U.R. (Erasmus Universiteit Rotterdam)

E.U.R. (i.e. Erasmus Universiteit Rotterdam)

E.U.R. (University)

Erasmo-Universitato de Roterdamo

Erasmus Universitas Roterodamum

Erasmus-Universität

Erasmus-Universität Rotterdam.

Erasmus Universiteit

Erasmus Universiteit Rotterdam

Erasmus Universitet Rotterdam

Erasmus University.

Erasmus University of Rotterdam

Erasmus University Rotterdam.

Erasmuse Rotterdami Ülikool

Erasmusuniversiteit te Rotterdam.

Erasmusuniversitetet i Rotterdam

EUR

EUR (Erasmus Universiteit Rotterdam)

EUR (i.e. Erasmus Universiteit Rotterdam)

EUR (University)

Oilthigh Erasmus Rotterdam

Pamantasang Erasmus Rotterdam

Prifysgol Erasmus, Rotterdam

Rijksuniversiteit te Rotterdam.

Rotterdam Erasmus Universiteit

Rotterdami Erasmus Egyetem

Rotterdamin Erasmus-yliopisto

Universidá Erasmo de Rotterdam

Universidad Erasmo de Róterdam

Universidad Erasmus de Rotterdam

Universidade Erasmo, Haia/Roterdão

Università Erasmus di Rotterdam.

Universitas Erasmus Rotterdam.

Universitat Erasmus de Rotterdam

université Érasme de Rotterdam

Uniwersytet Erazma w Rotterdamie.

Πανεπιστήμιο Εράσμους του Ρότερνταμ

Роттердам Эразмы университеты

Университет Эразма Роттердамского

Універсітэт Эразма Ратэрдамскага

Унівэрсытэт Эразмуса ў Ратэрдаме

Էրազմ Ռոտերդամցու համալսարան

אוניברסיטת ארסמוס ברוטרדם

اراسمس یونیورسٹی روٹرڈیم

اراسموس روتردام بیلیم‌یوردو

جامعة إراسموس روتردام

دانشگاه اراسموس روتردام

มหาวิทยาลัยเอรัสมุสรอตเทอร์ดาม

에라스무스 대학교

ロッテルダム大学

鹿特丹大学

Languages