Thompson, John B. (John Brookshire)
Most widely held works by John B Thompson
Language and symbolic power
by
Pierre Bourdieu
( Book )
42 editions published between
1991
and 2011 in
English
and held by 1,059 WorldCat member libraries worldwide
"This volume brings together Bourdieu's highly original writings on language and on the relations among language, power, and politics. Bourdieu develops a forceful critique of traditional approaches to language, including the linguistic theories of Saussure and Chomsky and the theory of speech-acts elaborated by Austin and others. He argues that language should he viewed not only as a means of communication but also as a medium of power through which individuals pursue their own interests and display their practical competence."
Hermeneutics and the human sciences : essays on language, action, and interpretation
by
Paul Ricœur
( Book )
38 editions published between
1981
and 2016 in
English
and
French
and held by 1,026 WorldCat member libraries worldwide
"This is a collection in translation of essays by Paul Ricoeur which presents a comprehensive view of his philosophical hermeneutics, its relation to the views of his predecessors in the tradition and its consequences for the social sciences. The volume has three parts. The studies in the first part examine the history of hermeneutics, its central themes and the outstanding issues it has to confront. In Part II, Ricoeur's own current, constructive position is developed. A concept of the text is formulated as the implications of the theory are pursued into the domains of sociology, psychoanalysis and history. Many of the essays appear here in English for the first time; the editor's introduction brings out their background in Ricoeur's thought and the continuity of his concerns. The volume will be of great importance for those interested in hermeneutics and Ricoeur's contribution to it, and will demonstrate how much his approach offers to a number of disciplines."--Book cover
The media and modernity : a social theory of the media
by
John B Thompson
( Book )
49 editions published between
1995
and 2013 in 4 languages and held by 836 WorldCat member libraries worldwide
What role have communication media played in the formation of modern societies? How should we understand the social impact of new forms of communication and information diffusion, from the advent of printing in fifteenth-century Europe to the expansion of global communication networks today? In this major new work, Thompson addresses these and other questions by elaborating a distinctive social theory of communication media and their impact. He argues that the development of communication media has transformed the spatial and temporal constitution of social life, creating new forms of action and interaction which are no longer linked to the sharing of a common locale. The consequences of this transformation are far-reaching and impinge on many aspects of our lives, from the most intimate aspects of personal experience and self-formation to the changing nature of power and visibility in the public domain. -- Publisher description
Merchants of culture : the publishing business in the twenty-first century
by
John B Thompson
( Book )
40 editions published between
2010
and 2016 in
English
and
Chinese
and held by 818 WorldCat member libraries worldwide
"These are turbulent times in the world of book publishing. For nearly five centuries the methods and practices of book publishing remained largely unchanged, but at the dawn of the twenty-first century the industry finds itself faced with perhaps the greatest challenges since Gutenberg. A combination of economic pressures and technological change is forcing publishers to alter their practices and think hard about the future of books in the digital age." "In this book £ the first major study of trade publishing for more than thirty years - Thompson situates the current challenges facing the industry in a historical context, analysing the transformation of trade publishing in the United States and Britain since the 1960's. He gives a detailed account of how the world of trade publishing really works, dissecting the roles of publishers, agents and booksellers and showing how their practices are shaped by a field that has a distinctive structure and dynamic. By reconstructing this dynamic he is able to shed fresh light on how bestsellers are made and on why many thousands of books and authors find themselves marooned in an industry increasingly focused on short-term growth and profitability. Against this backcloth Thompson analyses the impact of the digital revolution on book publishing and examines the pressures £ both economic and technological £ that are re-shaping the field of trade publishing today." "The outcome of nearly five years of research, this major new book will establish itself as an exemplary work in the study of contemporary culture and will be essential reading for anyone interested in books and their future."--Jacket
The political forms of modern society : bureaucracy, democracy, totalitarianism
by
Claude Lefort
( Book )
19 editions published between
1986
and 2010 in
English
and held by 812 WorldCat member libraries worldwide
Lefort's analysis of contemporary political events are often related to a consideration of one or more of the major contributions to the history of political thought. For example, his study of the role of symbolism in modern societies is set against a study of Marx's theory of political ideology
Ideology and modern culture : critical social theory in the era of mass communication
by
John B Thompson
( Book )
36 editions published between
1982
and 2013 in 4 languages and held by 805 WorldCat member libraries worldwide
In this major new work, Thompson develops an original account of ideology and relates it to the analysis of culture and mass communication in modern Societies. Thompson offers a concise and critical appraisal of major contributions to the theory of ideology, from Marx and Mannheim, to Horkheimer, Adorno and Habermas. He argues that these thinkers - and social and political theorists more generally - have failed to deal adequately with the nature of mass communication and its role in the modern world. In order to overcome this deficiency, Thompson undertakes a wide-ranging analysis of t
Habermas, critical debates
by
Jürgen Habermas
( Book )
30 editions published between
1982
and 1983 in
English
and
Undetermined
and held by 790 WorldCat member libraries worldwide
Critical hermeneutics : a study in the thought of Paul Ricoeur and Jürgen Habermas
by
John B Thompson
( Book )
27 editions published between
1981
and 2009 in
English
and held by 763 WorldCat member libraries worldwide
This is a study in the philosophy of social science. It takes the form of a comparative critique of three contemporary approaches: ordinary language philosophy, hermeneutics and critical theory, represented here respectively by Ludwig Wittgenstein, Paul Ricoeur and Jürgen Habermas. Part I is devoted to an exposition of these authors' views and of the traditions to which they belong. Its unifying thread is their common concern with language, a concern which nonetheless reveals important differences of approach. For whereas ordinary language philosophers tend to treat linguistic activity as the ultimate object of inquiry, both Ricoeur and Habermas regard it as a medium which betrays more fundamental dimensions of human experience and the social world. Part II complements the exposition with a critical analysis of its central themes: the conceptualisation of action, the methodology of interpretation, and the theory of reference and truth. The author defends many aspects of the work of Ricoeur and Habermas, such as the emphasis on power and ideology, the strategy of depth interpretation, and the link between consensus and truth; but he argues that there are serious deficiencies and obscurities in their work. He proposes solutions to these difficulties and concludes with a sketch of a critical and rationally justified theory for the interpretation of action - a critical hermeneutics
Social theory of modern societies : Anthony Giddens and his critics
by
David Held
( Book )
20 editions published between
1989
and 2009 in
English
and held by 731 WorldCat member libraries worldwide
This book offers a comprehensive appraisal of the work of Anthony Giddens, who is known worldwide as one of the leading figures in social theory and the social sciences. During the last decade Giddens has published a series of substantial volumes which have defined a distinctive and original theoretical approach. The twin focal points of his approach are the 'theory of structuration' and the analysis of 'modernity'. Giddens's writings on these and related themes are widely recognized as among the most important contributions to theoretical debate in the social sciences. Social Theory of Modern Societies is the first volume to provide a systematic and critical assessment of Giddens's contributions. The volume includes eleven critical essays - all of which were specially commissioned for this volume - by authors who are well known in their own fields: Zygmunt Bauman, Richard J. Bernstein, Derek Gregory, Nicky Gregson, David Held, Bob Jessop, Linda Murgatroyd, Peter Saunders, Martin Shaw, John B. Thompson and Erik Olin Wright. In a long concluding chapter, Anthony Giddens responds to the criticisms raised by these and other authors, clarifying and elaborating his current views. The result is a unique and engaging book which gives both a critical evaluation of Giddens's work and a guide to some of the theoretical issues which are at the forefront of the social sciences today. It will be of interest to students and academics in sociology, politics and geography, and to students in the social sciences and humanities generally
Studies in the theory of ideology
by
John B Thompson
( Book )
43 editions published between
1984
and 2013 in
English
and
Chinese
and held by 653 WorldCat member libraries worldwide
Bundel - deels eerder verspreid verschenen - opstellen
more
fewer
Audience Level
0

1
Kids
General
Special
Audience level: 0.50 (from 0.08 for From text ... to 0.96 for Mezzi di c ...)
Related Identities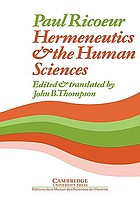 Covers
Alternative Names
John B. Thompson

John Thompson brita sociologo

John Thompson britischer Soziologe

John Thompson Brits socioloog

John Thompson professeur de sociologie à l'Université de Cambridge (20ème siècle)

John Thompson sociólogo británico

John Thompson sociologo britannico

John Thompson Soziologie-Professor an der Universität von Cambridge (20. Jahrhundert)

Thompson, John.

Thompson, John B.

Thompson, John Brookshire.

Thompson, John Brookshire 1950-

Thompson, John (socjolog)

Томпсон, Джон Б.

جان تامپسون

جون تومسون اجتماعي من المملكة المتحدة

톰슨, 존 B

トンプソン, ジョン・B

約翰·湯普森 (社會學者)

Languages