Callinicos, Alex
Most widely held works about Alex Callinicos
Most widely held works by Alex Callinicos
Making history : agency, structure, and change in social theory
by
Alex Callinicos
( )
56 editions published between
1986
and 2015 in 3 languages and held by 2,156 WorldCat member libraries worldwide
"Making History is about the question - central to social theory - of how human agents draw their powers from the social structures they are involved in. Drawing on classical Marxism, analytical philosophy, and a wide range of historical writing, Alex Callinicos seeks to avoid two unacceptable extremes - dissolving the subject into an impersonal flux, as poststructuralists tend to - and treating social structures as the mere effects of individual action (for example, rational-choice theory). Among those discussed are Althusser, Anderson, Benjamin, Brenner, Cohen, Elster, Foucault, Giddens, Habermas, and Mann. Callinicos has written an extended introduction to this new edition that reviews developments since Making History was first published in 1987. This republication gives a new generation of readers access to an important intervention in Marxism and social theory."--Jacket
The revolutionary ideas of Karl Marx
by
Alex Callinicos
( )
41 editions published between
1983
and 2012 in 6 languages and held by 1,210 WorldCat member libraries worldwide
Argues that as much as Karl Marx has been criticised for his ideas, what Marx said holds as much relevance today as in his time
Social theory : a historical introduction
by
Alex Callinicos
( Book )
34 editions published between
1999
and 2016 in
English
and
Chinese
and held by 729 WorldCat member libraries worldwide
The second edition of this remarkably lucid text, provides a wide-ranging historical introduction to social theory. The new edition preserves, and further enhances, the book's striking qualities -- its clarity, reliability, comprehensiveness and scholarship. The theorists treated include Montesquieu, Adam Smith and the Scottish Enlightenment, Hegel, Marx, Tocqueville, Maistre, Gobineau, Darwin, Spencer, Kautsky, Nietzsche, Durkheim, Weber, Simmel, Freud, Lukacs, Gramsci, Heidegger, Keynes, Hayek, Parsons, the Frankfurt School, Levi-Strauss, Althusser, Foucault, Habermas, Bourdieu, Beck, and Giddens. Callinicos examines the ways in which social theory grew out of the eighteenth century Enlightenment, a time when societies emerging in the West ceased to invoke the authority of tradition to validate themselves, instead looking to scientific knowledge to justify their mastery of the world. He traces social theory's connections with central themes in modern philosophy, with the development of political economy, and with the impact of evolutionary biology on social thought. The book has been carefully updated to ensure that it engages with the most current debates in social theory, and concludes with a substantial new chapter. Here Callinicos assesses the significance of contemporary debates about globalization, including the recent re-emergence of critiques of capitalism and imperialism in the work of Michael Hardt, Toni Negri, Luc Boltanski, Eve Chiapello, David Harvey, Robert Brenner, Giovanni Arrighi, and Slavoj Zizek. -- Back cover
Marxism and philosophy
by
Alex Callinicos
( Book )
19 editions published between
1983
and 1996 in
English
and
Korean
and held by 594 WorldCat member libraries worldwide
The revenge of history : Marxism and the East European revolutions
by
Alex Callinicos
( Book )
19 editions published between
1991
and 2004 in
English
and held by 542 WorldCat member libraries worldwide
"The Revenge of History is a frontal assault on the widely accepted idea that the East European revolutions of 1989 mark the death of socialism." "Alex Callinicos seeks to vindicate the classical Marxist tradition by arguing that socialism in this tradition can only come from below, through the self-activity of the working class. Stalinism from this standpoint was a counter-revolution, erecting at the end of the 1920s a state capitalist regime on the ruins of the radically democratic socialism briefly achieved in October 1917. Callinicos argues that the collapse of Stalinism at the end of the 1980s is one aspect of a world-wide transition from nationally organized to globally integrated capitalism. The result is likely to be greater economic and political instability. Against this background socialism -- in Marx's sense -- is all the more necessary. Callinicos contends that Marx's vision of a classless communist society would be both practically feasible and profoundly democratic." "He concludes that the collapse of Stalinism should be less the moment to abandon socialism than to resume unfinished business. Book jacket."--BOOK JACKET
Althusser's Marxism
by
Alex Callinicos
( Book )
24 editions published between
1976
and 1994 in 5 languages and held by 439 WorldCat member libraries worldwide
Theories and narratives : reflections on the philosophy of history
by
Alex Callinicos
( Book )
26 editions published between
1995
and 2007 in 3 languages and held by 432 WorldCat member libraries worldwide
Explores the relationship between social theory and historical writing. Its aim is to establish the contribution that theory can make to understanding the past. Pursuing this objective, Alex Callinicos critically confronts a number of leading attempts to reconceptualize the meaning of history, including Francis Fukuyama's rehabilitation of Hegel's philosophy of history and the postmodernist efforts of Hayden White and others to deny the existence of a past independent of our representations of it. In these cases philosophical arguments are pursued in tandem with discussions of historical interpretations of, respectively, Stalinism and the Holocaust. Leading theories of history - Marx's and Weber's - are then critically compared in the context of the work of recent writers such as Michael Mann, W.G. Runciman, and Robert Brenner. Finally, the politics of historical theory is explored in a discussion of Marxism's claims to be a universal theory of human progress. Swimming against the tide of contemporary fashion, Theories and Narratives seeks to rebut the claim made by many postmodernists that Marxism is inherently Eurocentric in both its conceptual structures and its political practice. Marx's project of human emancipation, it concludes, still defines our political horizons
Is there a future for Marxism?
by
Alex Callinicos
( Book )
16 editions published between
1982
and 1985 in
English
and held by 427 WorldCat member libraries worldwide
Trotskyism
by
Alex Callinicos
( Book )
14 editions published between
1990
and 2015 in 3 languages and held by 393 WorldCat member libraries worldwide
Leon Trotsky was assassinated by an agent of Josef Stalin in August 1940. The fiftieth anniversary of his death takes place in the aftermath of a wave of popular revolutions that overturned the regimes established by Stalin in Eastern Europe. It is therefore an appropriate moment to reconsider the socialist tradition founded, in opposition to STalinism, by Trotsky. Trotsky argued that Stalinism represented a conservative betrayal of the Russian Revolution that Lenin and he had led in October 1917, a revolution based on the idea that socialism could only come from below, through the independent activity of the working class, and depended on the global overthrow of capitalism. He sought to build a movement capable of rescuing the Marxist tradition from the distortions of of Stalinism. Alex Callinicos traces the intellectual history of this movement, first examining its origins in Trotsky's own thought, and then exploring the crisis into which the Trotskyist Fourth International was thrown at the end of the Second World War, when its founder's predictions were apparently refuted by the strength and stability of both Western capitalism and Stalinism. Callinicos distinguishes between three strands in the continuation of Trotskyism, identifying their common ground but also the reasons for their sharp disagreements. At its best the Trotskyist tradition has developed a social analysis of the Eastern bloc that remains faithful to classical Marxism in rejecting the market as well as bureaucratic command economies and in affirming socialism as the self-emancipation of the working class. -- from back cover
more
fewer
Audience Level
0

1
Kids
General
Special
Audience level: 0.43 (from 0.08 for The revolu ... to 0.81 for The unreso ...)
Associated Subjects
Act (Philosophy)
Africa, Southern
Agent (Philosophy)
Althusser, Louis,
Balance of power
Blacks--Politics and government
Bush, George W.--(George Walker),
Capitalism
Capitalism--Political aspects
China
Communism
Communism and philosophy
Communists
Conservatism
Diplomatic relations
Equality
Europe, Eastern
Geopolitics
Global Financial Crisis (2008-2009)
Globalization
Historical materialism
History--Philosophy
Ideology
Imperialism
Influence (Literary, artistic, etc.)
International economic relations
Marx, Karl,
Marx, Karl,
Military policy
National liberation movements
North Atlantic Treaty Organization
Philosophy, Marxist
Political and social views
Political science
Politics and government
Postmodernism
Protest movements
Race relations
Radical economics
Revolutions--Philosophy
Socialism
Social sciences--Philosophy
Social structure
Sociology
South Africa
Soviet Union
Structuralism
Trotsky, Leon,
United States
War on Terrorism (2001-2009)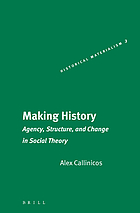 Covers
Alternative Names
Alex Callinicos britischer Hochschullehrer für Europäische Studien

Alex Callinicos Brits filosoof

Alex Callinicos brytyjski trockista, pracownik naukowy i pisarz

Alex Callinicos filòsof britànic

Alex Callinicos filósofo británico

Alex Callinicos philosophe britannique

Alex Callinicos Suurbritannia filosoof

Callinices, A. T. (Alex T.)

Callinicos, A. t

Callinicos, A.T. 1950-

Callinicos, A. t. (Alex T.)

Callinicos, A. T. (Alex T.), 1950-

Callinicos, Alex.

Callinicos, Alex T

Callinicos, Alex T. 1950-

Callinicos, Alexander Theodore.

Callinicos, Alexander Theodore 1950-

Kālīnīkūs, Āliks 1950-

Kallinikos, Aleks.

Kallinikos, Aleks 1950-

Каллиникос, Алекс

أليكس كالينيكوس

أليكس كالينيكوس فيلسوف بريطاني

آلکس کالینیکوس فیلسوف بریتانیایی

앨릭스 캘리니코스

칼리니코스, A 1950-

칼리니코스, 알렉스 1950-

캘리니코스, A 1950-

캘리니코스, 알렉스 1950-

캘리니코스, 앨릭스 1950-

アレックス・カリニコス

カリニコス, アレックス

キャリニコス, アレックス

艾力克斯·柯林尼可斯

Languages