Botkin, Daniel B.
Most widely held works about Daniel B Botkin
Most widely held works by Daniel B Botkin
Environmental science : Earth as a living planet
by
Daniel B Botkin
( Book )
121 editions published between
1995
and 2014 in 3 languages and held by 1,728 WorldCat member libraries worldwide
A guide to environmental science that provides information on various environmental issues, ecosystem management, biological diversity, the atmosphere and climate, air pollution, ozone depletion,waste management, and other related topics
Forest dynamics : an ecological model
by
Daniel B Botkin
( )
19 editions published between
1992
and 1993 in
English
and
Undetermined
and held by 1,218 WorldCat member libraries worldwide
Nature and knowing: theory and ecology., The forest environment., The tree in the forest: the response of populations of trees to the environment., Implications of the model for the dynamics of forest., Testingand comparing the model with the real world., Sensitivity of model to errors in observations and in concepts., Use of the model for global environmental problems., Use the model in natural resource management., General implications of the model
Discordant harmonies : a new ecology for the twenty-first century
by
Daniel B Botkin
( Book )
20 editions published between
1990
and 2000 in
English
and held by 1,156 WorldCat member libraries worldwide
Global warming, acid rain, the depletion of the rainforests, the polluting of our atmosphere and oceans - the threats to our environment are growing at an alarming pace. It's certainly easy to indulge the kinds of desperate, hand-wringing environmentalism that point to problems without suggesting solutions. Thankfully, however, Daniel Botkin is able to pinpoint areas of concern and suggest potential cures. In his groundbreaking study of environmental issues, Discordant Harmonies, Botkin suggests that the real barrier to solving the crisis in the environment is not lack of scientific knowledge but the persistence of mythological and metaphoric ways of perceiving the natural world. A seasoned scientist (and pioneer of the use of computers to predict ecological trends), Botkin draws on some revealing case-studies - of predator/prey relationships; of forests evolving over centuries; of species nearing extinction; of examples of well-intentioned mistakes in conservation - in order to illuminate his argument. Radical, stimulating, and insightful, Discordant Harmonies suggests a manifesto for environmentalism in the coming decade and beyond
Beyond the stony mountains : nature in the American west from Lewis and Clark to today
by
Daniel B Botkin
( Book )
9 editions published in
2004
in
English
and held by 995 WorldCat member libraries worldwide
"America's great epic of exploration - the journey of Lewis and Clark - was also one of the most successful scientific expeditions in history." "In this illustrated volume, which features more than one hundred photographs and maps, most in full color, noted ecologist and writer Daniel Botkin traces the footsteps of the two explorers as they journeyed from St. Louis, through the breathtaking vistas of the tall-grass prairie and Big Sky country, over the arduous Bitterroot Mountains on the ancient Lolo Trail, to arrive finally at the Pacific coast and its rugged, rainy, and darkly wooded landscape."--Jacket
The moon in the nautilus shell : from climate change to species extinction, how life persists in an ever-changing world : discordant harmonies reconsidered
by
Daniel B Botkin
( )
14 editions published in
2012
in
English
and held by 866 WorldCat member libraries worldwide
Why do we keep talking about so many environmental problems and rarely solve any? If these are scientific issues, then why can't scientists solve them or at least agree on what to do? In his new book, The Moon in the Nautilus Shell, ecologist Daniel Botkin explains why. For one thing, although we live in a world of constantly changing environments and talk a lot about climate change, most of our environmental laws, policies, and scientific premises are based on the idea that the environment is constant, never changing, except when people affect it. For another, we have lost contact with nature in personal ways. Disconnected from our surroundings, we lack the deep understanding and feelings about the environment to make meaningful judgments. The environment has become just another one of those special interests that interferes with our lives
No man's garden : Thoreau and a new vision for civilization and nature
by
Daniel B Botkin
( Book )
6 editions published between
2000
and 2001 in
English
and held by 802 WorldCat member libraries worldwide
"In No Man's Garden, Daniel Botkin takes a fresh look at the life and writings of Henry David Thoreau, setting the stage for a new way of viewing our relationship to nature and how we should manage our place on the planet. He offers an insightful reinterpretation of Thoreau as a man who loved wildness, but who found it in the woods and swamps on the outskirts of town as easily as in the remote forests of Maine, and who valued equally the pleasures of human civilization and the natural world." "No Man's Garden presents a vital challenge to the conventional wisdom of both environmentalism and its critics, and will be must reading for anyone interested in developing a deeper understanding of the relationship between people and the natural world."--Jacket
Powering the future : a scientist's guide to energy independence
by
Daniel B Botkin
( Book )
14 editions published between
2010
and 2017 in
English
and held by 718 WorldCat member libraries worldwide
The future of civilization depends upon the continuous availability of sufficient energy. But we're approaching the practical limits of some of the energy sources we depend upon most. What should be done? Few issues are as controversial. In this book, a leading scientist cuts through the controversy, presenting the facts about our energy needs, desires, and supplies and the environmental and human effects of obtaining and using energy. Dr. Daniel B. Botkin objectively assesses the true prospects, limitations, costs, risks, dangers, and tradeoffs associated with every leading and emerging source of energy, including oil, natural gas, coal, hydroelectric, nuclear, wind, solar, ocean power, and biofuels. Next, Botkin addresses the energy distribution system, outlining how it currently works, identifying its inefficiencies, and reviewing options for improving it. Finally, Botkin turns to solutions, offering a realistic, scientifically and economically viable path to a sustainable, energy-independent future: one that can improve the quality of life for Americans and for people around the world. -- Book Jacket
Changing the global environment : perspectives on human involvement
by
Daniel B Botkin
( Book )
17 editions published between
1988
and 2014 in
English
and held by 654 WorldCat member libraries worldwide
Notes; chapter 3. the impact of life on the planet earth: some general considerations; life in a geological perspective; strategies of life; life and the ""abiotic"" cycles; continuity of life; constructionist models; the conceptualistic approach; summary; notes; chapter 4. from planetary atmospheres to microbial communities: a stroll through space and time; introduction; planetary atmospheres; microbial mats; bacteria and banded iron formations; geochemical role of bacteria; need to study the ecology of microbes; notes; chapter 5. sustainable use of the global ocean; introduction
Forces of change : a new view of nature
by D.C.) Smithsonian National Museum of Natural History (Washington
( Book )
8 editions published between
2000
and 2006 in
English
and held by 564 WorldCat member libraries worldwide
Sponsored jointly by the National Geographic Society and the Smithsonian Institution, two of America's most eminent scientific and historical organizations, Forces of Change offers a sweeping vision of our Earth as we enter a new millennium. Stephen Jay Gould, Lynn Margulis, David Quammen, Daniel Botkin, and John McPhee, along with more than a dozen other visionary scientists, scholars, and writers, offer their thought-provoking perspectives on life on Earth in the 21st century and the revolutions in Western thought that have transformed our views of nature and the human place within it. Approaching the planet as a dynamic system, where interrelated forces affect people and environments on a global scale in ever changing and unpredictable ways, contributors explore different facets of Earth's interdependent systems and what the future may hold. Each essay will captivate readers with its engaging visual display and superb design, and the book's highlights include more than 150 dramatic and colorful photographs, informative illustrations, and fascinating sidebars. Forces of Change is a unique collection of our era's premier scientific thinkers and writers that is sure to become the classic introduction to the late 20th century's most authoritative ideas about the fate of life on Earth as we begin our journey into the 21st century
Forest succession : concepts and application
by
D. C West
( Book )
9 editions published in
1981
in
English
and held by 560 WorldCat member libraries worldwide
A broad survey of an important area of ecology, this book discusses plant community dynamics and forest growth over a diverse range of condition and location. Summarizing contemporary research in the field, it includes coverage of: new and classical schools of thought; new empirical observations; simulation and analytical techniques over short- and long-range time scales. In addition, it is an up-to-date appraisal of the theory and practical aspects of forest succession in a wide variety of ecosystems
more
fewer
Audience Level
0

1
Kids
General
Special
Audience level: 0.33 (from 0.14 for Forest dyn ... to 0.68 for A simulati ...)
Related Identities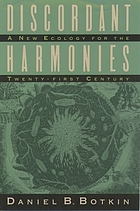 Covers
Alternative Names
Botkin, D. B.

Botkin, D. B. 1937-

Botkin, D. B. (Daniel B.)

Botkin, D. B. (Daniel B.), 1937-

Botkin, Dan 1937-

Botkin, Daniel.

Botkin, Daniel 1937-

Botkin, Daniel B.

Languages