Brooks, Terry
Most widely held works about Terry Brooks
more
fewer
Most widely held works by Terry Brooks
Bloodfire Quest
by
Terry Brooks
( Book )
48 editions published between
2012
and 2013 in
English
and held by 4,189 WorldCat member libraries worldwide
During a tumultuous period in the Four Lands, young Druid Aphenglow stumbles on a dangerous secret about an Elven girl's heartbreak and the vanished Elfstones. Set seven years after the High Druid series
The scions of Shannara
by
Terry Brooks
( Book )
70 editions published between
1989
and 2009 in 5 languages and held by 3,182 WorldCat member libraries worldwide
To prevent the destruction of all life in the Four Lands, Allanon's spirit orders Par Ohmsford, descendant of the fabled Shea, to recover the long-lost Sword of Shannara, Wren to discover the vanished Elves, and Walker Boh to bring back the Druids and their ancient, vanished stronghold of Paranor
The elves of Cintra
by
Terry Brooks
( Book )
41 editions published between
1984
and 2008 in 3 languages and held by 3,133 WorldCat member libraries worldwide
In a devastated world in which only a few imbued with magical gifts stand against the forces of evil, one hero flees Seattle with a group of orphaned street kids, while another leads a group to the Oregon wilderness to meet the long-hidden Elves of Cintra
The Elfstones of Shannara
by
Terry Brooks
( Book )
77 editions published between
1970
and 2015 in 8 languages and held by 3,104 WorldCat member libraries worldwide
The grandson of Shea, Wil Ohmsford, searches for Amberle, the Chosen whose gift of Bloodfire is needed to create the Ellcrys tree that protects against demons
The wishsong of Shannara
by
Terry Brooks
( Book )
69 editions published between
1970
and 2015 in 5 languages and held by 2,961 WorldCat member libraries worldwide
Horror stalked the Four Lands as the Ildatch, ancient source of evil, sent its ghastly Mord Wraiths to destroy Mankind. Only Druid Allanon held the magic power of wishsong that could make plants bloom instantly or turn trees from green to autumn gold. But she, too, was in mortal danger, and Ildatch waited for Brin to fall into his trap
The elf queen of Shannara
by
Terry Brooks
( Book )
41 editions published between
1991
and 2008 in 3 languages and held by 2,906 WorldCat member libraries worldwide
Wren & her friend Garth must survive the perils of the jungle to find the Elves & then persuade them to return to the environmentally endangered Westlands. "Find the Elves and return them to the world of Men!" the shade of the Druid Allanon had ordered Wren. It was clearly an impossible task. The Elves had been gone from the Westland for more than a hundred years. There was not even a trace of their former city of Arborlon left to mark their passing. No one in the Esterland knew of them -- except, finally, the Addershag. The blind old woman had given instructions to find a place on the coast of the Blue Divide, build a fire, and keep it burning for three days. "One will come for you." Tiger Ty, the Wing Rider, had come on his giant Roc to carry Wren and her friend Garth to the only clear landing site on the island of Morrowindl, where, he said, the Elves might still exist, somewhere in the demon-haunted jungle. Now she stood within that jungle, remembering the warning of the Addershag: "Beward, Elf-girl. I see danger ahead for you ... and evil beyond imagining." It had proved all too true. Wren stood with her single weapon of magic, listening as demons evil beyond all imagining gathered for attack. How long could she resist? And if, by some miracle, she reached the Elves and could convince them to return, how could they possibly retrace her perilous path to reach the one safe place on the coast?
The talismans of Shannara
by
Terry Brooks
( Book )
43 editions published between
1993
and 2008 in 4 languages and held by 2,900 WorldCat member libraries worldwide
Although some of the goals to keep Shannara safe had been met, the work of Walker Boh, Wren, and Par was not yet done. For The Shadowmen still swarmed over the Four Lands, poisoning all with their dark magic. Each Shannaran had a special death waiting for him- at the hands of The Shadowmen-unless Par could find a way to free them all with the Sword of Shannara
First king of Shannara
by
Terry Brooks
( Book )
128 editions published between
1987
and 2007 in 7 languages and held by 2,787 WorldCat member libraries worldwide
In the fantasy country of Four Lands, good battles evil amid gnomes, warlocks, trolls, dwarfs and elves. The hero is a Druid magician who must find a magic jewel so the elves can defeat the warlocks
Jarka Ruus : High Druid of Shannara
by
Terry Brooks
( Book )
51 editions published between
1991
and 2012 in 4 languages and held by 2,787 WorldCat member libraries worldwide
Twenty years have passed since the events told in The Voyage Of The Jerle Shannara trilogy. Grianne Ohmsford, rescued from oblivion by her brother Bek, has renounced her former life as the evil Ilse Witch, and now serves as the head of a new Druid Council. Her purpose is to defend the Four Lands from anarchy and warfare. Such was the destiny foretold for her by the Druid, Walker Boh. But there are those who cannot easily forgive her past actions, and are loathe to follow her leadership. When Grianne's enemies cause her to disappear, only a few loyal friends can help her. The dwarf Tagwen; Grianne's nephew, Pen Ohmsford; and the Elf Prince, Ahren Elessedil, begin a desperate journey to find Grianne and return her to the Druids' keep at Paranor. Their quest is urgent, their way uncertain and perilous, for the darkest of magics have been used to spirit Grianne away. Pen Ohmsford is descended from the line of Jerle Shannara, the first of the Elven Kings, but his own magic seems small and inadequate when measured against that of his aunt's enemies, who will stop at nothing to thwart Pen's efforts to rescue his aunt and restore the nascent Druid Council. And there is another danger. An ancient and deadly power has found its way out into the world. If things are not put to rights, the danger to the Four Kingdoms will be immeasurable
The gypsy morph
by
Terry Brooks
( Book )
32 editions published between
2008
and 2012 in
English
and held by 2,747 WorldCat member libraries worldwide
Eighty years into the future, the United States is a no-man's-land: its landscape blighted by chemical warfare, pollution, and plague; its government collapsed; its citizens adrift, desperate, fighting to stay alive. In fortified compounds, survivors hold the line against wandering predators, rogue militias, and hideous mutations spawned from the toxic environment, while against them all stands an enemy neither mortal nor merciful: demons and their minions bent on slaughtering and subjugating the last of humankind. But from around the country, allies of good unite to challenge the rampaging evil. Logan Tom, wielding the magic staff of a Knight of the Word, has a promise to keep -- protecting the world's only hope of salvation -- and a score to settle with the demon that massacred his family. Angel Perez, Logan's fellow Knight, has risked her life to aid the elvish race, whose peaceful, hidden realm is marked for extermination by the forces of the Void. Kirisin Belloruus, a young elf entrusted with an ancient magic, must deliver his entire civilization from a monstrous army. And Hawk, the rootless boy who is nothing less than destiny's instrument, must lead the last of humanity to a latter-day promised land before the final darkness falls.--From publisher description
more
fewer
Audience Level
0

1
Kids
General
Special
Audience level: 0.13 (from 0.10 for Morgawr / ... to 1.00 for The wondro ...)
Related Identities
Associated Subjects
Adventure and adventurers
Adventure stories
Armageddon
Authors, American
Authors, German
Berry, Steve,
Brooks, Terry
Children's literature--Authorship
Children's stories
Druids and Druidism
Elves
English fiction
Fantasy
Fantasy fiction
Fantasy fiction, American
Fantasy fiction--Authorship
Flagg, Fannie
Funke, Cornelia Caroline
Good and evil
Goodkind, Terry
Holiday, Ben (Fictitious character)
Hotel on the corner of bitter and sweet (Ford, Jamie)
Imaginary wars and battles
Knights and knighthood
Longevity
Magic
Magic Kingdom of Landover (Imaginary place)
Marriage
Motion pictures--Awards
Mystery
Novelists, American
Nutrition
Quests (Expeditions)
Refugees
Regression (Civilization)
Science fiction
See, Lisa
Shannara (Imaginary place)
Slaughter, Karin,
Survival
Trigiani, Adriana
Trolls
Twenty-first century
Unicorns
United States
War and civilization
Warlocks
Washington (State)--Seattle
Witches
Wizards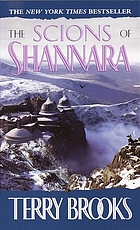 Alternative Names
Brooks, Terence Dean

Brooks, Terence Dean 1944-

Brooks, Terry

Brooks, Terry 1944-

Bruks, T.

Bruks, T. (Terri)

Bruks, Terri

Teri Bruks

Terry Brooks Amerikaans schrijver

Terry Brooks amerikai sci-fi író

Terry Brooks amerikansk författare

Terry Brooks amerikansk skribent

Terry Brooks amerykański pisarz

Terry Brooks écrivain américain

Terry Brooks scrittore statunitense

Terry Brooks US-amerikanischer Schriftsteller

Тери Брукс

Терренс Дин Брукс

ברוקס, טרי

טרי ברוקס

تری بروکس نویسنده آمریکایی

تيري بروكس

テリー・ブルックス

ブルックス, テリー

泰瑞·布魯克斯

Languages
Covers