Fee, Gordon D.
Most widely held works about Gordon D Fee
Most widely held works by Gordon D Fee
How to read the Bible for all its worth : a guide to understanding the Bible
by
Gordon D Fee
( Book )
33 editions published between
1982
and 2016 in 5 languages and held by 1,748 WorldCat member libraries worldwide
This book takes a new approach to helping a person read and study the Bible with greater understanding. In thirteen chapters the authors, both professors at Gordon-Conwell Theological Seminary, teach the reader the rudiments of good interpretation for the various types of literature (genres) that make up the Bible. Different biblical genres require different exegetical questions and skills. Introductory chapters show the need for interpretation and give instruction on how to choose a translation. The rest of the book discusses the Epistles, the Old Testament Narratives, the Book of Acts, the Gospels, the Parables, the Old Testament legal portions, the Psalms, the Prophets, the Wisdom books, and Revelation. In each chapter there is an explanation of the nature of the genre and what makes it different from the others, keys for interpreting that genre, and finally a discussion of the hermeneutical questions it raises for today's Christian. In each section on interpretation the reader is taught what one can learn on his or her own without outside help, and then when and how to seek outside help. Part of each chapter helps the reader wrestle with the questions of application. How does a psalm addressed to God over 2500 years ago function as a word from God for today? How does one distinguish between cultural and transcultural matters in the Epistles? Does a biblical precedent serve as a norm for the church for all times? Guidelines for these and many other hermeneutical questions are given throughout the book. - Back cover
New Testament exegesis : a handbook for students and pastors
by
Gordon D Fee
( Book )
16 editions published between
1983
and 2002 in
English
and
Undetermined
and held by 1,177 WorldCat member libraries worldwide
This guide provides a practical step by step analysis of the exegtical procedures for sermon preparation and resources for further study
The First Epistle to the Corinthians
by
Gordon D Fee
( Book )
33 editions published between
1987
and 2014 in
English
and
Spanish
and held by 1,057 WorldCat member libraries worldwide
This landmark commentary, originally published in 1987, has been lauded as the best study available of Paul's theologically rich first letter to the Corinthians. Writing primarily for pastors, teachers, and students, Gordon Fee offers a readable exposition o 1 Corinthians that clearly describes the meaning of Paul's ideas and their larger theological relevance. Fee's revised edition is based on the improved, updated (2011) edition of the NIV, and it takes into account the considerable scholarship on 1 Corinthians over the past twenty-five years. Fee has also eliminated "chapter and verse" language--totally foreign to Paul's first-century letter--relegating the necessary numbers for "finding things" to parentheses
Revelation : a New covenant commentary
by
Gordon D Fee
( )
10 editions published between
2010
and 2014 in
English
and
Undetermined
and held by 800 WorldCat member libraries worldwide
"Revelation is a book that many Christians find confusing due to the foreign nature of its apocalyptic imagery. It is a book that has prompted endless discussions about the 'end times' with theological divisions forming around epicenters such as the rapture and the millennium. In this book, award winning author Gordon Fee attempts to excavate the layers of symbolic imagery and provide an exposition of Revelation that is clear, easy to follow, convincing, and engaging. Fee shows us how John's message confronts the world with the Revelation of Jesus Christ so that Christians might see themselves as caught up in the drama of God's triumph over sin, evil, and death. Fee draws us into the world of John and invites us to see the world through John's eyes as the morbid realities of this world have the joyous realities of heaven cast over them. In this latest installment in the New Covenant Commentary Series we see one of North America's best evangelical exegetes at his very best"--Publisher description
Paul's Letter to the Philippians
by
Gordon D Fee
( Book )
22 editions published between
1959
and 2009 in
English
and
Spanish
and held by 731 WorldCat member libraries worldwide
This commentary by respected New Testament scholar Gordon D. Fee is a scholarly yet thoroughly readable study of Paul's letter to the suffering community of believers in Philippi
1 and 2 Timothy, Titus
by
Gordon D Fee
( Book )
28 editions published between
1984
and 2016 in 3 languages and held by 664 WorldCat member libraries worldwide
The present edition of this commentary has been totally reset and rewritten to comment on the text of the New International Version (NIV). Nonetheless, it is still substantially the same as the original Good News Commentary, first published in 1984. These three letters (1 and 2 Timothy and Titus), called the Pastoral Epistles (PE) since the eighteenth century, purport to be letters from the Apostle Paul to two of his younger co-workers, whom he has left in charge of the churches in Ephesus and Crete, respectively. Since the early nineteenth century, however, when doubt was first expressed by F. Schleiermacher, a large array of arguments has been forthcoming that have called their authenticity into question, so that at present the large majority of NT (New Testament) scholars worldwide consider them not authored by Paul but by a pseudepigrapher (although a disciple of Paul), around the turn of the first century A.D. The present commentary has been written from the perspective of Pauline authorship, fully aware of the many difficulties that entails but convinced that theories of pseudepigraphy have even greater historical difficulties. - Introduction
The Eerdmans companion to the Bible
by
Gordon D Fee
( Book )
6 editions published in
2011
in
English
and held by 557 WorldCat member libraries worldwide
This top-quality handbook illuminates the Bible's background, contents, and interpretation. Travelers about to visit a foreign country often study a guidebook with information about that country. Especially helpful are clear, easy-to-use maps, background information on the local area, and articles about important sites to visit. Similarly, the Bible confronts many readers today with a kind of "foreign country in writing" whose customs and culture aren't always clear. The Eerdmans Companion to the Bible will greatly help readers navigate unfamiliar biblical terrain and deepen their knowledge of areas already familiar to them. Over two hundred user-friendly maps, charts, graphics, and photos bring ancient places to life. Numerous articles offer significant insights into the Bible's people, places, and main ideas. Travelers who visit specific individual books will find in-depth, illuminating commentary based on up-to-date research. Reflecting a broad evangelical perspective, The Eerdmans Companion to the Bible continues the publisher's proud tradition of providing quality biblical resources for nearly a century. This handy guidebook promises to make the Word of God come alive as never before. - Publisher
Pauline christology : an exegetical-theological study
by
Gordon D Fee
( Book )
18 editions published between
2007
and 2013 in
English
and
Korean
and held by 439 WorldCat member libraries worldwide
This is an exhaustive study of Pauline Christology by noted Pauline scholar, Gordon Fee. The author provides a detailed analysis of the letters of Paul individually, exploring the Christology of each one, and then attempts a synthesis of the exegetical work into a biblical Christology of Paul
Paul, the Spirit, and the people of God
by
Gordon D Fee
( Book )
23 editions published between
1994
and 2011 in 6 languages and held by 438 WorldCat member libraries worldwide
"In Paul, the Spirit, and the People of God, Pentecostal scholar Gordon Fee has redefined the terms of the discussion about the Holy Spirit in a way that transcends today's paradigm of 'charismatic' or 'noncharismatic' orientation. His words are a strong reminder of what God, through his Holy Spirit, intends the church to be. ... His work is an attempt to point us back to the Bible and reinvigorate our own vision of how the Spirit mobilizes the community of believers in the local church."--Wendy Murray, author; former senior writer, Christianity Today"Gordon Fee, one of our tr
more
fewer
Audience Level
0

1
Kids
General
Special
Audience level: 0.34 (from 0.23 for Revelation ... to 0.92 for "St. Paul ...)
Related Identities
Associated Subjects
Baptism in the Holy Spirit
Bible
Bible.--Corinthians, 1st
Bible.--Epistles of Paul
Bible.--John
Bible.--New Testament
Bible.--Pastoral Epistles
Bible.--Philippians
Bible.--Revelation
Bible.--Romans
Bible.--Thessalonians
Bible.--Timothy
Bible.--Timothy, 1st
Bible.--Timothy, 2nd
Bible.--Titus
Bible study
Christian life--Mennonite authors
Church--Biblical teaching
Colwell, Ernest Cadman,
Equality--Biblical teaching
Evangelicalism
Fee, Gordon D
Grudem, Wayne A
Hermeneutics
Hermeneutics--Religious aspects--Christianity
Holy Spirit
Holy Spirit--Biblical teaching
Jesus Christ
Marriage--Biblical teaching
Men--Biblical teaching
Metzger, Bruce M.--(Bruce Manning),
Mitchell, Margaret Mary,
Paul,--the Apostle, Saint
Pentecostalism
Reading
Religion
Royse, James Ronald
Sex role--Biblical teaching
Spiritual life--Biblical teaching
Study skills
Theology
Theology, Doctrinal
Winter, Bruce W
Women--Biblical teaching
Women clergy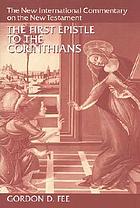 Alternative Names
Fee, Gordon 1934-

Fee Gordon Donald

Fee, Gordon Donald 1934-

Gordon Fee Amerikaans theoloog

Фи Г. Д. 1934-

Фи, Гордон

Фи, Гордон Д.

جوردن في، 1934-

피, 고든 D. 1934-

ゴードン・フィー

フィー, G. D.

フィー, ゴードン・D.

Languages
Covers