Beckett, I. F. W. (Ian Frederick William)
Most widely held works by I. F. W Beckett
1917 : beyond the Western Front
by
I. F. W Beckett
( )
14 editions published between
2008
and 2009 in
English
and held by 1,608 WorldCat member libraries worldwide
"The growing military, political and socio-economic costs for all belligerents as the Great War entered its fourth year were increasingly evident, liberal democracies and authoritarian states alike having to remobilise public opinion for yet greater sacrifices. While the Western Front was facing these challenges, 1917 was also marked by the collapse of Tsarist Russia and by food riots resulting both from the Entente's blockade of Central Europe and the revival of unrestricted submarine warfare by the Central Powers. Ottoman Turkey was feeling the strain of war as well, as British forces advanced in both Palestine and Mesopotamia. For states as yet uncommitted to war, such as the United States and China, 1917 was a year of decision. This volume amply illustrates the significance of this crucial year in the global conflict"--Page 4 of cover
The making of the First World War
by
I. F. W Beckett
( )
18 editions published between
2012
and 2014 in
English
and
Italian
and held by 1,518 WorldCat member libraries worldwide
An original and spellbinding reinterpretation of the most significant events of the Great War
The Oxford illustrated history of the British Army
( Book )
10 editions published between
1994
and 1995 in
English
and
Undetermined
and held by 623 WorldCat member libraries worldwide
From longbow, pike, and musket to Challenger tanks, from the Napoleonic Wars to the Gulf campaign, the Duke of Marlborough to Field Marshal Montgomery, The Oxford Illustrated History of the British Army recounts the history of the British army from its medieval antecedents to the present day. Drawing on the latest scholarship, this survey shows how British fighting forces have evolved over the last five centuries. The continuities revealed are sometimes surprising: narrow recruitment patterns, friction between soldiers and civilians, financial constraints and recurrent political pressure for economies are constant themes. Commanders, campaigns, battles, organization, and weaponry are covered in detail within the wider context of the social, economic, and political environment in which armies exist and fight. The British army has been remarkably successful in fighting terms, losing only one major war (of American Independence 1775-83). As one of the engines of empire it has been active all over the world, as well as shaping the internal destiny of the nation in civil war and revolution. Its history is charted in a sequence of chronological chapters, each containing special feature articles, beginning with the medieval, Elizabethan, and Restoration army and moving on through the eighteenth and nineteenth centuries to the two world wars of the twentieth. The book concludes with accounts of the army of British India, the amateur military tradition, the British way in warfare, and an assessment of what the future may hold in the light of the Options for Change review. Extensively illustrated in black and white and colour, and with a detailed chronology and further reading lists, this is the definitive one-volume history of the British army for specialists and non-specialists alike
The Great War, 1914-1918
by
I. F. W Beckett
( Book )
25 editions published between
2001
and 2015 in
English
and held by 586 WorldCat member libraries worldwide
The Great War is probably the most widely read about and most widely misunderstood conflict of our times. The history of this era is not simply one of military manoeuvres and battle weary soldiers but one with transformatory implications for world politics, economics, human psychology, culture, technology and innovation. In this seminal work, [the author] challenges the clichéd images of the Great War that have come to dominate popular culture. Rather than dismissing the War as an exercise in mindless futility, he argues that on the contrary it was vital to the national interests of its participants, and shows how what originated as a European affair became a global event involving not only the extended colonial empires of European nations but also Japan, China, the Ottoman Empire, Latin America and the United States. For victors and vanquished alike the treacherous course of this conflict set the stage for far-reaching economic, social and political change. In this tumultuous period the creation of new frontiers and new balances of power allowed strong national identities to develop and new varieties of political thought to materialise and ultimately provided the conditions for Fascist and Communist revolution and occupation in the decades that followed.-Back cover
Encyclopedia of guerrilla warfare
by
I. F. W Beckett
( Book )
17 editions published between
1999
and 2001 in
English
and held by 564 WorldCat member libraries worldwide
An encyclopedia of articles examining guerrilla warfare throughout the world, focusing on military tactics utilized by minority groups within a state or indigenous population to oppose the ruling government or foreign occupying forces
A Nation in arms : a social study of the British Army in the First World War
by
I. F. W Beckett
( Book )
23 editions published between
1985
and 2014 in
English
and held by 531 WorldCat member libraries worldwide
The Great War was the first conflict to draw men and women into uniform on a massive scale. From a small regular force of barely 250,000, the British Army rapidly expanded into a national force of over five million. A Nation in Arms brings together original research into the impact of the war on the army as an institution, gives a revealing account of those who served in it and offers fascinating insights into its social history during one of the bloodiest wars
Modern insurgencies and counter-insurgencies : guerrillas and their opponents since 1750
by
I. F. W Beckett
( Book )
25 editions published between
2001
and 2014 in
English
and held by 498 WorldCat member libraries worldwide
Modern Insurgencies and Counter-Insurgencies explores how unconventional warfare tactics have opposed past and present governments all over the world, from eighteenth-century guerrilla warfare to the urban terrorism of today. Insurgency remains one of the most prevalent forms of conflict and presents a crucial challenge to the international community, governments and the military. In addition to examining the tactics of guerrilla leaders such as Lawrence, Mao, Guevara and Marighela, Modern Insurgencies and Counter-Insurgencies also analyses the counter-insurgency theories of Gallieni, Callwell, Thompson and Kitson. It explores such conflicts as: * the American War of Independence * Napoleon's campaign in Spain * the wars of decolonisation * the superpowers in Vietnam and Afghanistan * conflicts in Northern Ireland, Sierra Leone and Colombia
Southeast Asia from 1945
by
I. F. W Beckett
( Book )
4 editions published between
1986
and 1987 in
English
and held by 446 WorldCat member libraries worldwide
Discusses, in text and illustrations, the events in the various countries of Southeast Asia from 1945 to the present including the causes, events, and outcome of the war in Vietnam
Armed forces & modern counter-insurgency
by
I. F. W Beckett
( Book )
13 editions published in
1985
in
English
and
Undetermined
and held by 434 WorldCat member libraries worldwide
Søgeord: Guerilla Warfare; Militære Styrker; Partisanbevægelser; Oprør; Opstande; Revolutioner; Guerillabevægelser; Civil Modstand; Counter Insurgency; Væbnet Modstand; Insurrection; Vietnamkrigen; Franske Hær; Engelske Hær; Portugisiske Kolonier; Engelske Kolonier; Afrika; Cypern; Nordirland; Aden; Malaya; Kenya; Oman; Cambodia; Algier; VC; Viet Kong; NATO; UN; FN; Zimbabwe; ZIPRA; Angola; SWAPO; ARVN; Fremmedlegionen; Tchad; EOKA; Congo; DIA; CIDG; CIA; IIBG; Honduras; Helikoptere; Yemen; PFLOAG; OAU; Nordvietnam; Sydvietnam; US Army; Urban Guerilla Warfare; Thompson, Robert; SAF; Salazar; SADF; SFA; Westmoreland, W.; Zambia; ZANU; Vorster, J
Insurgency in Iraq :
by
I. F. W Beckett
( )
5 editions published in
2005
in
English
and held by 432 WorldCat member libraries worldwide
The continuing proliferation of insurgent organizations suggests that insurgency is still widely perceived as an effective means either of achieving power and influence, or of bringing a cause to the notice of an international or national community. The end of European decolonization and the collapse of the Soviet Union together removed the motivational impulse for much conflict between the late 1940s and the late 1980s. However, new ideological, political, and commercial imperatives are now encouraging intrastate conflict and insurgency amid the breakdown of the international bipolar political system and the emergence of identity politics and of many more nonstate actors. This monograph considers the patterns of insurgency in the past by way of establishing how much the conflict in Iraq conforms to previous experience. In particular, the author compares and contrasts Iraq with previous Middle Eastern insurgencies such as those in Palestine, Aden, the Dhofar province of Oman, Algeria, and Lebanon. He suggests that there is much that can be learned from British, French, and Israeli experience
more
fewer
Audience Level
0

1
Kids
General
Special
Audience level: 0.34 (from 0.02 for 1917 : bey ... to 0.62 for Insurgency ...)
Associated Subjects
American Civil War (1861-1865)
Armed Forces--Historiography
Belgium--Ieper
British colonies
Command of troops
Counterinsurgency
Generals
Germany
Great Britain
Great Britain.--Army
Great Britain.--Army.--British Expeditionary Force
Guerrilla warfare
Haig, Douglas Haig,--Earl,
Haig, George Alexander Eugene Douglas Haig,--Earl,
Historiography
History
Influence (Literary, artistic, etc.)
Insurgency
Iraq
Journalism
Journalists
Military campaigns
Military history, Modern
Militia
Politics and government
Public opinion
Public opinion, British
Rommel, Erwin,
Social aspects
Social conditions
Sociology, Military
Southeast Asia
United States
War correspondents
Western Front (World War (1914-1918))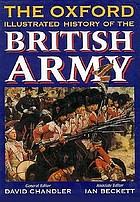 Covers
Alternative Names
Beckett, I.

Beckett, I. 1950-

Beckett I.F. W.

Beckett, I.F.W. 1950-

Beckett, I. F. W. (Ian Frederick William), 1950-

Beckett Ian

Beckett, Ian 1950-

Beckett, Ian F. 1950-

Beckett Ian F.W.

Beckett Ian F. W. 1950-....

Beckett, Ian F. W. (Ian Frederick William)

Beckett, Ian F. W. (Ian Frederick William), 1950-

Beckett, Ian Frederick William

Beckett, Ian Frederick William 1950-

Languages