Fullan, Michael
Most widely held works about Michael Fullan
Most widely held works by Michael Fullan
The new meaning of educational change
by
Michael Fullan
( Book )
87 editions published between
1982
and 2016 in 5 languages and held by 2,073 WorldCat member libraries worldwide
Over the last few decades there have been attempts at planned educational change. The benefits have not equalled the cost. Fullan distils from these experiences lessons about how to cope with, and influence, educational change
Leading in a culture of change
by
Michael Fullan
( Book )
51 editions published between
2001
and 2014 in 5 languages and held by 1,538 WorldCat member libraries worldwide
"Business, nonprofit, and public sector leaders are facing new and daunting challenges - rapid-paced developments in technology, sudden shifts in the marketplace, and crisis and contention in the public arena - if they are to survive in this chaotic environment, leaders must develop the skills they need to lead effectively no matter how fast the world around them is changing." "Leading in a Culture of Change offers new and seasoned leaders' insights into the dynamics of change and presents a unique and imaginative approach for navigating the intricacies of the change process. Author Michael Fullan shows how leaders in all types of organizations can accomplish their goals and become exceptional leaders. He draws on the most current ideas and theories on the topic of effective leadership, incorporates case examples of large scale transformation, and reveals a remarkable convergence of powerful themes or, as he calls them, the five core competencies."--Jacket
What's worth fighting for in the principalship?
by
Michael Fullan
( Book )
23 editions published between
1988
and 2011 in
English
and held by 831 WorldCat member libraries worldwide
This book is designed to help principals (and teacher leaders) fight for fundamentally positive changes that will benefit themselves and their students. Because principals are very often overloaded either with what they are actually doing or with all the things they think they should be doing, their actions, however unintentionally, are frequently shaped by outside events and/or the actions or directions of others. In the heart of this book, "Guidelines for Action," the author helps principals break the cycle of dependency both for themselves and for those with whom they work
The six secrets of change : what the best leaders do to help their organizations survive and thrive
by
Michael Fullan
( Book )
23 editions published between
2008
and 2013 in 3 languages and held by 748 WorldCat member libraries worldwide
In this book Fullan explores essential lessons for business and public sector leaders for surviving and thriving in today's complex environment. He draws on his acclaimed work in bringing about large-scale and substantial change in education reform in both public school systems and universities, as well as engaging in major change initiatives internationally. The Six Secrets of Change is filled with lessons that are insightful, actionable, and concisely communicable. These lessons are "secrets" not because there is a conspiracy to hide them from public view, but because they are often difficult to grasp in their deep meaning, and challenging to appreciate and act on in combination. Fullan makes these so-called secrets accessible and useful and offers illustrative examples from a variety of businesses, health organizations, and public education systems
What's worth fighting for in your school?
by
Michael Fullan
( Book )
41 editions published between
1992
and 2013 in 5 languages and held by 713 WorldCat member libraries worldwide
"Encouraging teachers and principals to think more deeply about school reform, individual responsibility, and collaborative culture, What's Worth Fighting For in Your School? inspires teachers and principals to act as moral change agents in fighting for positive reform." "In addition to its outstanding analysis of "total teachers" and school culture, this book provides action guidelines for teachers and for principals that are filled with insights that will help school educators take responsibility for reform." "In an effort to develop new mind sets, knowledge-bases, and day-to-day dispositions and actions that should characterize the education profession of the future, this book talks about how teachers can work together for positive change, how they can collaborate with others outside the classroom to improve what goes on within it, and how principals and other leaders can support their teachers to make this happen."--Jacket
Change forces : probing the depth of educational reform
by
Michael Fullan
( Book )
27 editions published between
1993
and 2004 in 3 languages and held by 674 WorldCat member libraries worldwide
Knowledge in the process of educational change is said to be a missing ingredient in attempts to bring about educational innovation. This volume analyzes what is known about productive change processes and identifies corresponding action strategies at the individual, school, local and state levels
The moral imperative of school leadership
by
Michael Fullan
( Book )
18 editions published between
2003
and 2010 in 3 languages and held by 650 WorldCat member libraries worldwide
In this text, the author argues that the role of the principal is pivotal to systemic school change. He then goes on to examine the moral purpose of school leadership, and calls for school principals to become agents as well as beneficiaries of the processes of school change
Leadership & sustainability : system thinkers in action
by
Michael Fullan
( Book )
12 editions published between
2004
and 2005 in
English
and held by 559 WorldCat member libraries worldwide
'Leadership & Sustainability' examines how the opportunity for new leadership can be leveraged to focus on sustainability of reform, & will identify barriers & strategies for moving in new directions. Fullan defines the meaning of 'sustainability' & the important part it plays in contemporary reform
Change forces : the sequel
by
Michael Fullan
( Book )
36 editions published between
1994
and 2012 in 3 languages and held by 525 WorldCat member libraries worldwide
Fullan's first book on this subject was an instant and best-selling success. Now, in Change Forces, The Sequel, he extends and expands the use of chaos theory as a lens through which to view and comprehend change, and the forces which govern it. Educators have already widely embraced this approach, and adopted the idea that change is not so straightforward as we might hope. As Fullan worked on his ideas, relating them to school systems, higher education and research, the field of change forces also developed significantly. This volume covers the new aspects of this science of complexity and helps educators obtain insights for delving deeper into moral purpose and expanding into fresh dimensions of changing forces in the environment
Understanding teacher development
by
Andy Hargreaves
( Book )
20 editions published between
1992
and 1996 in 3 languages and held by 507 WorldCat member libraries worldwide
The 12 chapters in this book interpret teacher development in relation to self-development, teacher reflection, teacher biographies, cultures of teaching, teacher careers, teachers' work, gender identity, and classroom practice. The collection begins with an introductory chapter (Andy Hargreaves and Michael G. Fullan) and continues with 11 additional chapters as follows: (2) "You Don't Have To Be a Teacher to Teach This Unit: Teaching, Technology and Control in the Classroom" (Michael W. Apple and Susan Jungck); (3) "Teacher Development and Gender Equity" (Heather-jane Robertson); (4) "Helping Teachers Develop" (Philip W. Jackson); (5) "Teachers as Designers in Self-directed Professional Development" (Christopher M. Clark); (6) "Classroom-based Teacher Development" (Dennis Thiessen); (7) "Sponsoring the Teacher's Voice: Teachers' Lives and Teacher Development (Ivor F. Goodson); (8) "Teacher Development and Instructional Mastery" (Michael Huberman); (9) "Contexts for Teacher Development: Insights from Teachers' Stories" (Danielle Raymond, Richard Butt, and David Townsend); (10) "Facilitating Teacher Self-development: Reflections on Experience" (Antoinette Obert and Susan Underwood); (11) "Understanding Reflection through Collaborative Research" (William Louden); and (12) "Cultures of Teaching: a Focus for Change." (Andy Hargreaves). (Ll)
more
fewer
Audience Level
0

1
Kids
General
Special
Audience level: 0.38 (from 0.01 for Realizatio ... to 0.82 for A case stu ...)
Related Identities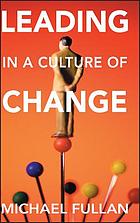 Alternative Names
Fulans, Maikls

Fullan, Michael

Fullan, Michael 1940-

Fullan, Michael G.

Fullan, Michael G. 1940-

Fullan, Michael Gerald 1940-

Le leadership moteur : comprendre les rouages du changement en éducation / Michael Fullan

Le leadership moteur : Michael Fullan

Michael Fullan Educational research

פולן, מייקל

풀란, 마이클

Languages
Covers