Overy, R. J.
Most widely held works by R. J Overy
Why the allies won
by
R. J Overy
( Book )
71 editions published between
1995
and 2012 in 8 languages and held by 2,592 WorldCat member libraries worldwide
"It is 1942. Germany controls almost the entire resources of continental Europe and is poised to move into the Middle East. Japan has wiped out the western colonial presence in East Asia in a couple of months and is threatening northern India and Australia. The Soviet Union has lost the heart of its industry, and the United States is not yet armed. Democracy has had its day."--BOOK JACKET. "The Allied victory in 1945 has since come to seem inevitable. It was not. In Richard Overy's incisive analysis, we see exactly how the Allies regained military superiority and why they were able to do it. Overy offers a brilliant analysis of the decisive campaigns: the war at sea, the crucial battles on the eastern front, the air war, and the vast amphibious assault on Europe. The eastern front was critical. Having lost four million men and tens of thousands of tanks and aircraft in the first six months of fighting, the Soviet Union was able to relocate its industrial base to the east, intensify its industrial production, and defeat the German forces at Stalingrad and Kursk. This was the turning point, the victory of one authoritarian system over another."--BOOK JACKET. "Overy also explores the deeper factors affecting military success and failure: industrial strength, fighting ability, the quality of leadership, and the moral dimensions of the war."--Jacket
The dictators : Hitler's Germany and Stalin's Russia
by
R. J Overy
( Book )
40 editions published between
2004
and 2015 in 3 languages and held by 1,803 WorldCat member libraries worldwide
"In the first full comparative history of Nazi Germany and Stalinist Russia, Overy clearly conveys the workings of these two bloody regimes. His portraits of Hitler and Stalin take in their private and public selves, their ascents to power, and their consolidation of absolute rule. He shows us the use of terror in each system; the ways in which the party dominated politics, culture, and the economy in each; and how each waged total war. He details the creation of the Nazi extermination camps and the vast Soviet Gulag - the two dictatorships in their most inhuman forms."--Jacket
The road to war
by
R. J Overy
( Book )
39 editions published between
1989
and 2012 in
English
and held by 1,621 WorldCat member libraries worldwide
Reconstructs the perspective of each country as it marched down the road to war: Germany, Great Britain, France, Italy, the Soviet Union, Japan, and the United States, each with domestic problems and international ambitions
Russia's war
by
R. J Overy
( Book )
57 editions published between
1997
and 2014 in 6 languages and held by 1,322 WorldCat member libraries worldwide
Using previously unavailable information from the former KGB and presidential archives, provides an overview of Russia's critical role in World War II and Hitler's defeat
The air war, 1939-1945
by
R. J Overy
( Book )
39 editions published between
1980
and 2007 in
English
and
Polish
and held by 1,307 WorldCat member libraries worldwide
The air war was won and lost not only in the skies but also in the factories and the research institutes. finally, the author dispels many popular myths and in particular reveals that although air power in the form of strategic bombing by itself did not determine the war's final outcome, its use dramatically illustrated the complexities of managing modern war."--Jacket
1939 : countdown to war
by
R. J Overy
( Book )
33 editions published between
2009
and 2014 in 5 languages and held by 1,187 WorldCat member libraries worldwide
A leading historian re-creates the final hours of peace in Europe. On August 24, 1939, the world held its collective breath as Hitler and Stalin signed the now infamous nonaggression pact, signaling an imminent invasion of Poland and daring Western Europe to respond
Goering, the "iron man"
by
R. J Overy
( Book )
40 editions published between
1984
and 2012 in 3 languages and held by 1,119 WorldCat member libraries worldwide
"Hermann Wilhelm Göring (or Goering;[a] German pronunciation: [ø??????] ( listen); 12 January 1893 ? 15 October 1946), was a German politician, military leader, and leading member of the Nazi Party (NSDAP). A veteran of World War I as an ace fighter pilot, he was a recipient of the coveted Pour le Mérite, also known as the "Blue Max". He was the last commander of Jagdgeschwader 1, the fighter wing once led by Manfred von Richthofen, the "Red Baron". A member of the NSDAP from its early days, Göring was wounded in 1923 during the failed coup known as the Beer Hall Putsch. He became permanently addicted to morphine after being treated with the drug for his injuries. He founded the Gestapo in 1933. Göring was appointed commander-in-chief of the Luftwaffe (air force) in 1935, a position he held until the final days of World War II. By 1940 he was at the peak of his power and influence; as minister in charge of the Four Year Plan, he was responsible for much of the functioning of the German economy in the build-up to World War II. Adolf Hitler promoted him to the rank of Reichsmarschall, a rank senior to all other Wehrmacht commanders, and in 1941 Hitler designated him as his successor and deputy in all his offices. Göring's standing with Hitler was greatly reduced by 1942, with the Luftwaffe unable to fulfill its commitments and the German war effort stumbling on both fronts. Göring largely withdrew from the military and political scene and focused on the acquisition of property and artwork, much of which was confiscated from Jewish victims of the Holocaust. Informed on 22 April 1945 that Hitler intended to commit suicide, Göring sent a telegram to Hitler asking to assume control of the Reich. Hitler then removed Göring from all his positions, expelled him from the party, and ordered his arrest. After World War II, Göring was convicted of war crimes and crimes against humanity at the Nuremberg Trials. He was sentenced to death by hanging, but committed suicide by ingesting cyanide the night before the sentence was to be carried out."--Wikipedia
Interrogations : the Nazi elite in Allied hands, 1945
by
R. J Overy
( Book )
26 editions published between
2001
and 2002 in
English
and
Spanish
and held by 972 WorldCat member libraries worldwide
Publisher's description: While the trial of Hitler's fallen elite at Nuremberg has been thoroughly documented, the interval between the Nazis' capture in May and June 1945 and the start of the actual trial in late November has until now remained shrouded in shadow. With Interrogations, acclaimed historian Richard Overy opens a new window into the Third Reich, providing an intimate glimpse of the savage dictatorship in its death throes. More than thirty transcripts of the interrogations are reproduced here for the first time, allowing us to hear the voices of the newly captured "Hitler gang"₇including Gr̲ing, Speer, and Hess₇as they squirmed under the Allies' glare. Interrogations is the stark and disturbing history of defeat; it lays bare as never before the human weaknesses that made the Third Reich possible
The origins of the Second World War
by
R. J Overy
( Book )
47 editions published between
1986
and 2017 in 3 languages and held by 907 WorldCat member libraries worldwide
"The Origins of the Second World War explores the reasons why the Second World War broke out in September 1939 and not sooner, and why a European war expanded into world war by 1941. Richard Overy argues that this was not just 'Hitler's War' but one that had its roots and origins in the decline of the old empires of Britain and France and the rise of ambitious new powers in Germany, Italy and Japan. Any explanation of the outbreak of hostilities must be multinational in scope taking into account the basic instability of the international system that had still not recovered from the shocks of the Great War. In this third edition: The role of Italy in the approach to war has been re-evaluated; Overy addresses recent revelations about Soviet policy in the 1930s, particularly exploring Soviet military planning and preparations; Arguments about Chamberlain and his policy of appeasement are rethought and reassessed. This new edition has now been completely overhauled, updated, expanded and reset. With a comprehensive documents section, colour plates, Guide to Who's Who, and a Chronology, The Origins of the Second World War will provide an invaluable introduction to any student of this fascinating period."--Page 4 of cover
The bombers and the bombed : Allied air war over Europe 1940-1945
by
R. J Overy
( Book )
8 editions published between
2013
and 2014 in
English
and held by 850 WorldCat member libraries worldwide
A history of the Allied bombing campaigns of World War II questions the morality of British and American attacks on occupied European cities while offering insight into the course of the civilian front line of the Allied air war as it was shaped by political strategies
more
fewer
Audience Level
0

1
Kids
General
Special
Audience level: 0.35 (from 0.09 for Goering, t ... to 0.70 for The bombin ...)
Associated Subjects
Atrocities
Battles
Bombing, Aerial
Britain, Battle of (Great Britain : 1940)
Civil defense--Social aspects
Communism
Dictators
Diplomatic history
Eastern Front (World War (1939-1945))
Economic history
Economic policy
Economics
Europe
Generals
Germany
Göring, Hermann,
Great Britain
Heads of state
Historical geography
History, Modern
Hitler, Adolf,
Logistics
Manners and customs
Marshals
Military campaigns
Military history
Military history, Modern
Military operations, Aerial
Military operations, Naval
National socialism
Nazis
Nuremberg Trial of Major German War Criminals (Germany : 1945-1946)
Politics and government
Press coverage
Prisoners
Prisoners of war
Public opinion
Questioning
Russia (Federation)
Social conditions
Soviet Union
Stalin, Joseph,
Statesmen
Strategy
Technology
Totalitarianism
United States
War--Causes
War criminals
World War (1939-1945)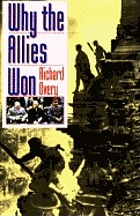 Alternative Names
Overijs, Ričards 1948-

Overy, R. 1948-

Overy, R.J.

Overy, R.J. 1947-

Overy R. J. 1948-....

Overy, R.J. (Richard James)

Overy, R. J. (Richard James), 1947-

Overy, R. (Richard), 1948-

Overy , Richard

Overy, Richard 1947-

Overy Richard 1948-....

Overy , Richard J.

Overy, Richard J. 1947-

Overy , Richard James

Overy, Richard James 1947-

Overy, Richard James 1948-

Overy, Richard (Richard James)

Richard Overy brita historiisto

Richard Overy britischer Militärhistoriker

Richard Overy Brits auteur

Richard Overy historiador británico

Richard Overy historien britannique

Richard Overy storico britannico

Овери, Ричард

Ричард Овъри

Річард Овері британський історик

אוברי, ריצ'רד

ריצ'רד אוברי

ריצ'רד אוברי היסטוריון בריטי

오버리, R. J. 1947-

오버리, 리처드 1947-

오버리, 리처드 J. 1947-

オウヴァリー, リチャード

リチャード・オーバリー

理查德·奥弗利

Languages
Covers