Meyers, Carol L.
Overview
| | |
| --- | --- |
| Works: | 70 works in 295 publications in 3 languages and 14,592 library holdings |
| Genres: | Reference works Commentaries Biography‡vDictionaries History Criticism, interpretation, etc Church history Conference papers and proceedings Catalogs |
| Roles: | Author, Editor, Other, Translator, Commentator, Honoree, Thesis advisor, Author of introduction |
Most widely held works by Carol L Meyers
Discovering Eve : ancient Israelite women in context
by
Carol L Meyers
( )
34 editions published between
1988
and 1991 in
English
and held by 2,598 WorldCat member libraries worldwide
The biblical image of Eve has powerfully influenced ideas about women for the past two millennia. Yet, as Carol Meyers argues in Discovering Eve, the image of the first of women as subservient and dependent does not represent some irreducible historical truth. Rather, it represents the androcentric constructions of a group of urban elite males (including, most notably, the Apostle Paul and Rabbi Yohannan) who had a decisive effect on the founding of Judaeo-Christian traditions. Meyers produces convincing evidence, archaeological, scriptural, and sociological, that ancient Israelite woman fulfilled a role very different from that of the biblical Eve. The real Eve, she demonstrates, was a figure of some social substance, a strong and important figure in the social and familial milieux
Women in scripture : a dictionary of named and unnamed women in the Hebrew Bible, the Apocryphal/Deuterocanonical books, and the New Testament
by
Carol L Meyers
( Book )
21 editions published between
2000
and 2002 in
English
and held by 1,658 WorldCat member libraries worldwide
"The editors have taken on the task of identifying every woman and group of women mentioned in the Bible, whether named or unnamed, well known or heretofore not known at all. The result is more than eight hundred articles that examine the numerous women who have often been obscured by the androcentric nature of the biblical record and by centuries of translation and interpretation that have paid little or no attention to them."--Jacket
Excavations at ancient Nabratein : synagogue and environs
by
Eric M Meyers
( )
8 editions published in
2009
in
English
and held by 1,401 WorldCat member libraries worldwide
"The site of Nabratein is situated on a remote promontory in an extensive pine forest northeast of Safed. This report is the sixth and final volume of the Meiron Excavation Project. The discovery in 1981 of the pediment of a Holy Ark from the Nabratein synagogue coincided with the release of the film Raiders of the Lost Ark. That coincidence brought much unanticipated press coverage to the expedition and its senior staff, even though we insisted that the discovery of perhaps the earliest synagogue ark was not to be identified with the recovery of the biblical Ark of the Covenant. Although the media attention was totally unexpected, we all did our best to respond to the occasion with honesty and a bit of whimsy. Such coverage of the Nabratein excavation resulted in making many more people interested in archaeology, even if it didn t solve a biblical mystery. Now we hope that this full publication of the results of our work at the site will afford it a lasting place in the annals of the archaeology of Israel."--Publisher's description
Celebrate her for the fruit of her hands : essays in honor of Carol L. Meyers
by
Carol L Meyers
( )
6 editions published between
2014
and 2015 in
English
and held by 957 WorldCat member libraries worldwide
Carol Meyers is renowned for her expertise in many field: the use of social-science methodologies to understand the Bible and the world of Iron Age Israel; the archaeology of ancient Israel, especially important sites of the Second Temple period; and the study of women in the Bible and in ancient Israel. In this volume, some of Meyers's foremost scholarly peers honor her by offering essays that build on her work and depend on her expertise. For example, Norman K. Gottwald uses a social-scientific analysis to continue his groundbreaking work on the structure of the early Israelite confederacy; Eric Meyers discusses how certain Second Temple artifacts, such as ossuaries and bathing installations, might be used as markers of Jewish ethnicity; and Ross S. Kraemer, in conjunction with Jennifer Eyl, takes on the issue of how women are represented (or not) in Bible translators' renderings of certain ambiguously gendered terms. Joining this community of Carol Meyers's peers are some of her most noted students, who also have contributed essays that speak to Meyers's many areas of interest and expertise and reflect what they have learned from her about, especially, the study of women in the Bible and in ancient Israel, and the application of social-scientific approaches to biblical studies. Moreover, as Meyers's work spans the millennium-long history of the Iron Age and the Second Temple period, so do the essays of Meyers's students, with offerings that consider some of the earliest texts in the Bible (Judges 5), as well as texts that come from the Second Temple archive of scrolls discovered at Qumran. The result is a collection of essays that are as richly multifaceted as is the work of the extraordinary scholar whose career they honor. (Back cover)
Archaeology, bible, politics, and the media : proceedings of the Duke University conference, April 23-24, 2009
by
Eric M Meyers
( )
6 editions published in
2012
in
English
and held by 956 WorldCat member libraries worldwide
"Archaeological discoveries relating to the Bible are prominent in the public square. Even archaeological controversies normally confined to the pages of obscure journals are considered newsworthy when they touch on biblical themes, people, or places. However, scholars are not always equipped to handle this sort of attention. Thus, the conference published in this book was organized to bring scholars into conversation with representatives of the media and to help them become better prepared to address the general public. Participants included the print media and the visual media as well as academics. The relation between archaeological controversies and Middle East politics emerged as a fraught subject in several essays, with the situation of the City of David in Jerusalem as a case in point. Other essays consider looting in Iraq and in other regions in the Middle East and highlight the legal and moral issues involved—for when legal norms recognized in international law and archaeological standards are violated, chaos reigns. This volume opens a dialogue between scholars and the media, providing both with perspectives that will enable them to become better at communicating what they do to a wide audience. And it offers lay communities who learn about archaeology and the Bible through the popular media information that will make them more sensitive to the way discoveries and issues are presented."--
The pottery from ancient Sepphoris
( )
8 editions published in
2013
in
English
and held by 835 WorldCat member libraries worldwide
"Sepphoris, "the ornament of all Galilee" according to Josephus, was an important Galilean site during the Hellenistic, Roman, and Byzantine periods and into early Islamic times. It served as Herod Antipas's capital of Galilee in the late first century B.C.E. and the early first century C.E., and the Sanhedrin (the supreme Jewish judicial authority) was located there for a time in the third century C.E. Extensive excavations on the western acropolis—probably the location of many of the Jewish occupants of this multicultural city—by the Duke University-Hebrew University project in the mid- to late 1980s and the Duke excavations of the 1990s produced a remarkable assemblage of ceramic wares. This book provides an overview of the history and chronology of the site. It then presents a detailed examination of the pottery. Featuring 55 plates with line-drawings as well as some photos of the various ceramic types, this important publication will be essential for all studies of the archaeology of early Judaism and Christianity in the Holy Land."--
Rediscovering Eve : ancient Israelite women in context
by
Carol L Meyers
( )
11 editions published between
2012
and 2013 in
English
and held by 726 WorldCat member libraries worldwide
Overview: This groundbreaking study looks beyond biblical texts, which have had a powerful influence over our views of women's roles and worth, in order to reconstruct the typical everyday lives of women in ancient Israel. Carol Meyers argues that biblical sources alone do not give a true picture of ancient Israelite women because urban elite males wrote the vast majority of the scriptural texts. Also, the stories of women in the Bible concern exceptional individuals rather than ordinary Israelite women. Drawing on archaeological discoveries and ethnographic information as well as biblical texts, Meyers depicts Israelite women not as submissive chattel in an oppressive patriarchy, but rather as strong and significant actors within their families and in their communities. In so doing, she challenges the very notion of patriarchy as an appropriate designation for Israelite society
Exodus
by
Carol L Meyers
( Book )
15 editions published between
2005
and 2010 in
English
and
Chinese
and held by 590 WorldCat member libraries worldwide
This commentary views Exodus as a cultural document, preserving the collective memories of the Israelites and relating them to the major institutions and beliefs that emerged by the end of the period of the Hebrew Bible. It is intended to help the reader follow the story line of Exodus, understand its socio-cultural context, appreciate its literary features, recognize its major themes and values, and also note its interpretive and moral problems. It explains important concepts and terms as expressed in the Hebrew original so that people who know Hebrew and those who don't will be able to follow the discussion. Frequent 'closer look' sections examine key elements of the Ancient Near East that bear on the text's meaning, while 'Bridging the Horizons' articles connect this world with the cultural, political and religious environments of today
more
fewer
Audience Level
0

1
Kids
General
Special
Audience level: 0.23 (from 0.03 for Excavation ... to 0.71 for The mosaic ...)
Related Identities
Associated Subjects
Antiquities
Archaeology and history
Archaeology and state
Archaeology in mass media
Archaeology--Political aspects
Bible
Bible.--Exodus
Bible.--Haggai
Bible.--Old Testament
Bible.--Zechariah
Bible and feminism
Christianity and politics--Biblical teaching
Cultural property--Protection
Decoration and ornament, Architectural
Excavations (Archaeology)
Feminist criticism
Freedman, David Noel,
History of Biblical events
Households in the Bible
Influence (Literary, artistic, etc.)
Inscriptions, Semitic
Israel
Israel--Gush Ḥalav Site
Israel--Meron
Israel--Nabratein Site
Israel--Sepphoris (Extinct city)
Jewish women
Jewish women--Religious life
Jews--Antiquities
Judaism--Post-exilic period (Judaism)
Manners and customs
Mediterranean Region
Menorah
Meyers, Carol L
Middle East
Middle East--Palestine
Mosaic floors
Mosaics, Ancient
Pottery, Ancient
Sociology, Biblical
Synagogues
Tabernacle
Trees in art
Trees in the Bible
United States
Women
Women in Judaism
Women in the Bible
Women--Legal status, laws, etc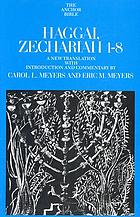 Alternative Names
Carol Meyers American archaeologist

Carol Meyers US-amerikanische Archäologin, Anthropologin und Übersetzerin

Meyers, Carol.

Meyers, Carol 1942-

Meyers, Carol L.

Meyers, Carol L.‏ 1942-

Meyers, Carol Lyons 1942-

마이어스, 캐롤 1942-

마이어스, 캐롤 L 1942-

Languages
Covers