Robbins, Tom 1932-
Most widely held works about Tom Robbins
more
fewer
Most widely held works by Tom Robbins
Skinny legs and all
by
Tom Robbins
( Book )
42 editions published between
1990
and 2015 in 7 languages and held by 2,489 WorldCat member libraries worldwide
When an Arab and a Jew open a restaurant across from the United Nations, New York City is turned on its ear, in a riotous, topical novel by the author of Half Asleep in Frog Pajamas
Half asleep in frog pajamas
by
Tom Robbins
( Book )
42 editions published between
1994
and 2015 in 8 languages and held by 2,061 WorldCat member libraries worldwide
"When the stock market crashes on the Thursday before Easter, you an ambitious, although ineffectual and not entirely ethical young broker are convinced you're facing the Weekend from Hell. Before the market reopens on Monday, you're going to have to scramble and scheme to cover your butt, but there's no way you can anticipate the baffling disappearance of a 300-pound psychic, the fall from grace of a born-again monkey, or the intrusion in your life of a tattooed stranger intent on blowing your mind and most of your fuses. Over these fateful three days, you will be forced to confront everything from mysterious African rituals to legendary amphibians, from tarot-card bombshells to street violence, from your own sexuality to outer space. This is, after all, a Tom Robbins novel and the author has never been in finer form."
Jitterbug perfume
by
Tom Robbins
( Book )
25 editions published between
1984
and 2015 in 5 languages and held by 2,003 WorldCat member libraries worldwide
Jitterbug Perfume is an epic. which is to say, it begins in the forests of ancient Bohemia and doesn't conclude until nine o'clock tonight [Paris time]. It is a saga, as well. A saga must have a hero, and the hero of this one is a janitor with a missing bottle. The bottle is blue, very, very old, and embossed with the image of a goat-horned god. If the liquid in the bottle is actually is the secret essence of the universe, as some folks seem to think, it had better be discovered soon becaused it is leaking and there is only a drop of two left
Fierce invalids home from hot climates
by
Tom Robbins
( Book )
7 editions published between
2000
and 2004 in
English
and
German
and held by 1,789 WorldCat member libraries worldwide
Switters is a contradiction for all seasons: an anarchist who works for the government; a pacifist who carries a gun; a vegetarian who sops up ham gravy; a cyberwhiz who hates computers; a man who, though obsessed with the preservation of innocence, is aching to deflower his high-school-age stepsister (only to become equally enamored of a nun ten years his senior). Yet there is nothing remotely wishy-washy about Switters. He doesn't merely pack a pistol. He is a pistol. And as we dog Switters's strangely elevated heels across four continents, in and out of love and danger, discovering in the process the "true" Third Secret of Fatima, we experience the author, Tom Robbins, that fearless storyteller, spiritual renegade, and verbal break dancer--at the top of his game. On one level this is a fast-paced CIA adventure story with comic overtones; on another it's a serious novel of ideas that brings the Big Picture into unexpected focus; but perhaps more than anything else, Fierce Invalids is a sexy celebration of language and life
Even cowgirls get the blues
by
Tom Robbins
( Book )
21 editions published between
1976
and 2015 in 4 languages and held by 1,762 WorldCat member libraries worldwide
The outrageous bestseller that stars Sissy Hankshaw--flawlessly beautiful, almost. A small-town girl with big-time dreams and a quirk to match--hitchhiking her way into your heart, your hopes, and your sleeping bag. ... Follow Sissy's amazing odyssey from Virginia to Manhattan to the Dakota Badlands, where FBI agents, cowgirls and ecstatic whooping cranes explode in a deliciously drawn-out climax
Villa incognito
by
Tom Robbins
( Book )
8 editions published between
2003
and 2009 in 3 languages and held by 1,690 WorldCat member libraries worldwide
American MIAs choose to remain missing after the end of the Vietnam War, while four generations of women share a unique link to a mysterious figure from Japanese folklore
Still life with Woodpecker
by
Tom Robbins
( Book )
24 editions published between
1980
and 2014 in 5 languages and held by 1,468 WorldCat member libraries worldwide
A sort of love story revealing the purpose of the moon, the difference between criminals and outlaws, and the problem with redheads. Also paints a humorous portrait of contemporary society
Another roadside attraction
by
Tom Robbins
( Book )
69 editions published between
1971
and 2012 in 6 languages and held by 1,451 WorldCat member libraries worldwide
Counter What if the Second Coming didn't quite come off as advertised? What if "the Corpse" on display in that funky roadside zoo is really who they say it is--what does that portent for the future of western civilization? And what if a young clairvoyant named Amanda reestablishes the flea circus as popular entertainment and fertility worship as the principal religious form of our high-tech age? Another Roadside Attraction answers those questions and a lot more. It tells us, for example, what the sixties were truly all about, not by reporting on the psychedelic decade but by recreating it, from the inside out. In the process, this stunningly original seriocomic thriller eating a literary hot dog and eroding the borders of the mind
Wild ducks flying backward : the short writings of Tom Robbins
by
Tom Robbins
( Book )
4 editions published between
2005
and 2006 in
English
and held by 1,177 WorldCat member libraries worldwide
A generous sampling, collected here for the first time and including works as diverse as scholarly art criticism and some decidedly untypical country-music lyrics. Embedded in this primarily journalistic compilation are a couple of short stories, a sheaf of largely unpublished poems, and an off-beat assessment of our divided nation
B is for beer
by
Tom Robbins
( Book )
10 editions published between
2009
and 2014 in 4 languages and held by 979 WorldCat member libraries worldwide
In this story for both children and adults, kindergartner Gracie decides to find out just what beer is and why her father likes it so much. Along the way she discovers more than she probably expected
more
fewer
Audience Level
0

1
Kids
General
Special
Audience level: 0.20 (from 0.02 for Authors cl ... to 0.99 for The Shaman ...)
Related Identities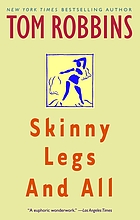 Alternative Names
Robbins, Thomas E.

Robbins, Thomas E. 1932-

Robbins, Thomas E. (Thomas Eugene), 1932-

Robbins, Thomas Eugene 1932-

Robbins, Tom

Robbins, Tom 1936-

Роббинс, Том 1932-

ראבינס, טום

רובינס, טום

רובינס, טום 1932-

Languages
Covers