Rieff, David
Overview
| | |
| --- | --- |
| Works: | 156 works in 478 publications in 9 languages and 14,752 library holdings |
| Genres: | History Personal narratives‡vAmerican Diaries Notebooks, sketchbooks, etc Biography Criticism, interpretation, etc Essays Poetry Pictorial works |
| Roles: | Author, Editor, Author of introduction, Other, Speaker |
| Classifications: | PS3569.O6547, 818.5409 |
Most widely held works about David Rieff
more
fewer
Most widely held works by David Rieff
Crimes of war : what the public should know
by
Roy Gutman
( Book )
21 editions published between
1999
and 2007 in
English
and held by 1,531 WorldCat member libraries worldwide
The nature of war crimes and the international law that defines them is discussed in accounts of major violations of the code of conduct military organizations are supposed to follow in war
A bed for the night : humanitarianism in crisis
by
David Rieff
( Book )
22 editions published between
2002
and 2014 in
English
and held by 1,219 WorldCat member libraries worldwide
Timely and controversial, A Bed for the Night reveals how humanitarian organizations trying to bring relief in an ever more violent and dangerous world are often betrayed and misused, and have increasingly lost sight of their purpose. Humanitarian relief workers, writes David Rieff, are the last of the just. And in the Bosnias, the Rwandas, and the Afghanistans of this world, humanitarianism remains the vocation of helping people when they most desperately need help, when they have lost or stand at risk of losing everything they have, including their lives. Although humanitarianism's accomplishments have been tremendous, including saving countless lives, the lesson of the past ten years of civil wars and ethnic cleansing is that it can do only so much to alleviate suffering. Aid workers have discovered that while trying to do good, their efforts may also cause harm. Drawing on firsthand reporting from hot war zones around the world -- Bosnia, Rwanda, Congo, Kosovo, Sudan, and most recently Afghanistan -- Rieff describes how the International Committee of the Red Cross, Doctors Without Borders, the International Rescue Committee, CARE, Oxfam, and other humanitarian organizations have moved from their founding principle of political neutrality, which gave them access to victims of wars, to encouraging the international community to take action to stop civil wars and ethnic cleansing. This advocacy has come at a high price. By calling for intervention -- whether by the United Nations or by "coalitions of the willing"--Humanitarian organizations risk being seen as taking sides in a conflict and thus jeopardizing their access to victims. And by overreaching, the humanitarian movement has allowed itself to be hijacked by the major powers, at times becoming a fig leaf for actions those powers wish to take for their own interests, or for the major powers' inaction. Rieff concludes that if humanitarian organizations are to do what they do best -- alleviate suffering -- they must reclaim their independence. Except for relief workers themselves, no one has looked at humanitarian action as seriously or as unflinchingly, or has had such unparalleled access to its inner workings, as Rieff, who has traveled and lived with aid workers over many years and four continents. A cogent, hard-hitting report from the front lines, A Bed for the Night shows what international aid organizations must do if they are to continue to care for the victims of humanitarian disasters
Reborn : journals and notebooks, 1947-1963
by
Susan Sontag
( Book )
13 editions published between
2008
and 2013 in
English
and
Turkish
and held by 922 WorldCat member libraries worldwide
Presents excerpts from the early writings of the author, with reflections on her meetings with influential writers and intellectuals, her literary ambitions, and her criticisms of other writers
The reproach of hunger : food, justice, and money in the twenty-first century
by
David Rieff
( Book )
25 editions published between
2015
and 2016 in
English
and
Spanish
and held by 918 WorldCat member libraries worldwide
In a groundbreaking book based on six years of reporting, leading expert on humanitarian aid and development David Rieff offers a review of whether the end of extreme poverty and widespread hunger are within our reach. Some of the most brilliant scientists, world politicians, and development experts agree that the eradication of hunger is an essential task for the new millennium. Yet in the last decade, the prices of wheat, soy and rice have soared. This has condemned the hundreds of millions of the world's population who live on less than one dollar per day to a state of hunger and insecurity. Rieff searches for the causes of this food security crisis, as well as what lies behind the failures to respond to disaster: failures to address climate change, poor governance, and misguided optimism. Rieff cautions against the increased privatization of aid, as well as the interventions of celebrity campaigners, whose business-led solutions rob development of political urgency. He dismisses the idle hope of Bill Gates and Warren Buffett that food scarcity can be solved by technological innovation alone. The path ahead, Rieff reminds us, demands we rethink the fundamental causes of the world's grotesque inequalities and understand that what is at stake is a political challenge we are failing to confront.--Adapted from book jacket
Essays of the 1960s & 70s
by
Susan Sontag
( Book )
3 editions published in
2013
in
English
and held by 753 WorldCat member libraries worldwide
With the publication of her first book, Against Interpretation, in 1966, Susan Sontag placed herself at the forefront of an era of cultural and political transformation. "What is important now," she wrote, "is to recover our senses ... In place of a hermeneutics we need an erotics of art." She would remain a catalyzing presence, whether writing about camp sensibility, the films of Jean-Luc Godard and Alain Resnais, her experiences as a traveler to Hanoi at the height of the Vietnam War, the aesthetics of science-fiction and pornography, or a range of modern thinkers from Simone Weil to E.M. Cioran. She opened dazzling new perspectives on any subject she addressed, whether the nature of photography or cultural attitudes toward illness. This volume, edited by Sontag's son David Rieff, presents the full texts of four essential books: Against Interpretation, Styles of Radical Will (1969), On Photography (1977), and Illness as Metaphor (1978). Also here as a special feature are six previously uncollected essays including studies of William S. Burroughs and the painter Francis Bacon and a series of reflections on beauty, aging, and the emerging feminist movement
Los Angeles : capital of the Third World
by
David Rieff
( Book )
22 editions published between
1991
and 2014 in
English
and held by 741 WorldCat member libraries worldwide
In this book, the author looks at L.A., that incarnation of the American dream, and finds the place and the fantasy radically transformed by the new immigrants from Asia and Latin America, who have been arriving in the millions, both legally and illegally, over the past twenty years. What is happening right now in Los Angeles is nothing less than the most visible manifestation of the greatests story of the late twentieth century, the author notes, the movement of the colored peoples of the world into the white world, and in the U.S., the transformation of the country from an anthology of Europe to an anthology of the peoples of the entire planet
As consciousness is harnessed to flesh : journals and notebooks, 1964-1980
by
Susan Sontag
( Book )
8 editions published between
2012
and 2013 in
English
and
Undetermined
and held by 641 WorldCat member libraries worldwide
A second volume of journals shares intimate reflections on the writer's artistic and political development during a trip to Hanoi at the peak of the Vietnam War and throughout her film-making years in Sweden before the dawn of the Reagan era
At the point of a gun : democratic dreams and armed intervention
by
David Rieff
( Book )
11 editions published between
2005
and 2013 in
English
and held by 612 WorldCat member libraries worldwide
Writing from the front lines of the hot wars of the post-Cold War world -- the Balkans, Africa, the Middle East, and most recently Afghanistan and Iraq for The New York Times Magazine -- Rieff witnessed firsthand most of the armed interventions waged in the name of human rights and democratization. His report is anything but reassuring. In this collection of articles, Rieff, one of our leading experts on the subject, reassesses some of his own judgments about the use of military might to solve the world's most pressing humanitarian problems and curb the world's cruelest human rights abusers. Rieff's essays draw a searing portrait of what happens when the grandiose schemes of policymakers and the grandiose ethical ambitions of human rights activists go horribly wrong in the field. Again and again, they ask the question: Do these moral ambitions of ours to protect people from massacre and want match either our means or our wisdom?
In praise of forgetting : historical memory and its ironies
by
David Rieff
( Book )
16 editions published between
2016
and 2017 in
English
and
Spanish
and held by 488 WorldCat member libraries worldwide
"The conventional wisdom about historical memory is summed up in George Santayana's celebrated phrase, "Those who cannot remember the past are condemned to repeat it." Today, the consensus that it is moral to remember, immoral to forget, is nearly absolute. And yet is this right? David Rieff, an independent writer who has reported on bloody conflicts in Africa, the Balkans, and Central Asia, insists that things are not so simple. He poses hard questions about whether remembrance ever truly has, or indeed ever could, "inoculate" the present against repeating the crimes of the past. He argues that rubbing raw historical wounds—whether self-inflicted or imposed by outside forces—neither remedies injustice nor confers reconciliation. If he is right, then historical memory is not a moral imperative but rather a moral option—sometimes called for, sometimes not. Collective remembrance can be toxic. Sometimes, Rieff concludes, it may be more moral to forget. Ranging widely across some of the defining conflicts of modern times—the Irish Troubles and the Easter Uprising of 1916, the white settlement of Australia, the American Civil War, the Balkan wars, the Holocaust, and 9/11—Rieff presents a pellucid examination of the uses and abuses of historical memory. His contentious, brilliant, and elegant essay is an indispensable work of moral philosophy." -- Publisher
more
fewer
Audience Level
0

1
Kids
General
Special
Audience level: 0.33 (from 0.19 for Ŏmŏni ŭ ... to 1.00 for Records of ...)
Related Identities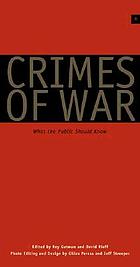 Alternative Names
David Rieff American political writer

David Rieff Amerikaans politicoloog

David Rieff escritor político estadounidense

David Rieff US-amerikanischer Polemiker und Kritiker

Dawei Ruifu 1952-

Reiff, David

Rieff, David

Rieff, David S. 1952-

Rieff, David Sontag.

Rieff, David Sontag 1952-

Rif, Dejvid

Ruifu, Dawei 1952-

Рифф, Дэвид

دافيد ريف، 1952-

리프, 데이비드

リーフ, デイヴィッド

大衛瑞夫 1952-

瑞夫, 大衛 1952-

Languages
Covers