Institute for Civil Justice (U.S.)
Most widely held works about Institute for Civil Justice (U.S.)
more
fewer
Most widely held works by Institute for Civil Justice (U.S.)
The economic burden of providing health insurance : how much worse off are small firms?
by
Christine Eibner
( )
6 editions published in
2008
in
English
and held by 2,071 WorldCat member libraries worldwide
More than 60 percent of nonelderly Americans receive health-insurance (HI) coverage through employers. However, rising health-care costs may threaten the long-term viability of the employer-based insurance system. This report explores trends in the economic burden associated with HI provision for small and large businesses, as well as the quality of plans that small and large firms offer
Insurance class actions in the United States
by
Nicholas M Pace
( )
9 editions published in
2007
in
English
and held by 1,954 WorldCat member libraries worldwide
Class actions, which are civil cases in which parties initiate a lawsuit on behalf of other plaintiffs not specifically named in the complaint, often make headlines and arouse policy debates. However, policymakers and the public know little about most class actions. This book presents the results of surveys of insurers and of state departments of insurance to learn more about class litigation against insurance companies
How will the Patient Protection and Affordable Care Act affect liability insurance costs?
by
David I Auerbach
( )
4 editions published in
2014
in
English
and held by 1,137 WorldCat member libraries worldwide
Background on the Patient Protection and Affordable Care Act and liability insurance lines -- Mechanisms of impact from the Patient Protection and Affordable Care Act -- Aggregate impacts across state and lines -- Potential longer-run impacts
Consumer attitudes toward data breach notifications and loss of personal information
by
Lillian Ablon
( )
7 editions published in
2016
in
English
and held by 935 WorldCat member libraries worldwide
Although spending on cybersecurity continues to grow, companies, government agencies, and nonprofit organizations are still being breached, and sensitive personal, financial, and health information is still being compromised. This report sets out the results of a study of consumer attitudes toward data breaches, notifications that a breach has occurred, and company responses to such events
Class action dilemmas : pursuing public goals for private gain
( Book )
8 editions published between
1999
and 2000 in
English
and held by 700 WorldCat member libraries worldwide
Class action lawsuits-allowing one or a few plaintiffs to represent many who seek redress-have long been controversial. The current controversy, centered on lawsuits for money damages, is characterized by sharp disagreement among stakeholders about the kinds of suits being filed, whether plaintiffs' claims are meritorious, and whether resolutions to class actions are fair or socially desirable. Ultimately, these concerns lead many to wonder, "Are class actions worth their costs to society and to business? Do they do more harm than good?" To describe the landscape of current damage class action litigation, elucidate problems, and identify solutions, the RAND Institute for Civil Justice conducted a study using qualitative and quantitative research methods. The researchers concluded that the controversy over damage class actions has proven intractable because it implicates deeply held but sharply contested ideological views among stakeholders. Nevertheless, many of the political antagonists agree that class action practices merit improvement. The authors argue that both practices and outcomes could be substantially improved if more judges would supervise class action litigation more actively and scrutinize proposed settlements and fee awards more carefully. Educating and empowering judges to take more responsibility for case outcomes-and ensuring that they have the resources to do so-can help the civil justice system achieve a better balance between the public goals of class actions and the private interests that drive them
Compensation for accidental injuries in the United States
by
Deborah R Hensler
( Book )
11 editions published in
1991
in
English
and held by 567 WorldCat member libraries worldwide
To support its research on the design and performance of accidental injury compensation systems, the Institute for Civil Justice (ICJ) undertook a national survey of accident victims that sought to determine who these victims are, how severely they are injured, how much their injuries cost, how the victims seek compensation, who files liability claims and why, and what results victims obtain. This Note describes the overall design and research procedures of the injury compensation study, whose results are fully documented in R-3999-HHS/ICJ. It presents a brief introduction to the study, and discusses the authors' research strategy, highlighting key analytic decisions; presents a detailed description of the sample design, survey completion rates, and weighting procedures; compares estimates of key parameters with estimates from other studies of accidents and injuries; and discusses survey data collection and compares the design of this survey with other major national surveys
Zero Days, Thousands of Nights : the Life and Times of Zero-Day Vulnerabilities and Their Exploits
by
Lillian Ablon
( )
3 editions published in
2017
in
English
and held by 530 WorldCat member libraries worldwide
Zero-day vulnerabilities--software vulnerabilities for which no patch or fix has been publicly released-- and their exploits are useful in cyber operations--whether by criminals, militaries, or governments--as well as in defensive and academic settings. This report provides findings from real-world zero-day vulnerability and exploit data that could augment conventional proxy examples and expert opinion, complement current efforts to create a framework for deciding whether to disclose or retain a cache of zero-day vulnerabilities and exploits, inform ongoing policy debates regarding stockpiling and vulnerability disclosure, and add extra context for those examining the implications and resulting liability of attacks and data breaches for U.S. consumers, companies, insurers, and for the civil justice system broadly. The authors provide insights about the zero-day vulnerability research and exploit development industry; give information on what proportion of zero-day vulnerabilities are alive (undisclosed), dead (known), or somewhere in between; and establish some baseline metrics regarding the average lifespan of zero-day vulnerabilities, the likelihood of another party discovering a vulnerability within a given time period, and the time and costs involved in developing an exploit for a zero-day vulnerability"--Publisher's description
Where the money goes : understanding litigant expenditures for producing electronic discovery
by
Nicholas M Pace
( )
3 editions published in
2012
in
English
and held by 521 WorldCat member libraries worldwide
Pretrial discovery procedures are designed to encourage an exchange of information that will help narrow the issues being litigated, eliminate surprise at trial, and achieve substantial justice. But, in recent years, some have claimed that the societal shift from paper documents to electronically stored information (ESI) has led to sharper increases in discovery costs than in the overall cost of litigation. The authors employed a case-study method to gather cost data for 57 large-volume e-discovery productions, including those in traditional lawsuits and regulatory investigations; collected information from extensive interviews with key legal personnel from the responding companies; and reviewed the legal and technical literature on e-discovery, with emphasis on the intersection of information-retrieval science and the law. Although the results cannot be generalized to all litigants or even large corporations in particular, the monograph provides a richly detailed account of the resources required by a diverse set of very large companies operating in different industries to comply with what they described as typical e-discovery requests. The monograph also suggests ways to reduce those costs as well as address concerns over duties to preserve data in anticipation of litigation
California's ozone-reduction strategy for light-duty vehicles : direct costs, direct emission effects and market responses
by
Lloyd S Dixon
( Book )
7 editions published in
1996
in
English
and held by 398 WorldCat member libraries worldwide
Economic costs and environmental effects are analyzed for California's multi-pronged strategy for reducing emissions from passenger cars and light-duty trucks, vehicles that are believed to account for a substantial fraction of ozone-producing emissions across the state. The study analyzes costs, emissions effects, effects on vehicle markets, and the distribution of costs for regulations. These regulations include those concerning new gasoline-powered vehicles only, others affecting both new and existing gasoline-powered vehicles, and also the extremely controversial zero-emission vehicle mandate. The study considers policy choice in the face of extreme uncertainty about the effects of several policy elements, particularly the scrappage program, enhanced vehicle inspection and maintenance, on-board emission diagnostic systems, and the zero-emission vehicle mandate. The zero-emission vehicle mandate poses major economic and environmental risks but there are also major risks to repealing the mandate altogether. The study concludes by suggesting principles for making zero-emission vehicle policy in the face a extreme uncertainty about the development of technology for battery-powered electric vehicles and the future effectiveness of policies to control emissions from gasoline vehicles
Just, speedy, and inexpensive? : an evaluation of judicial case management under the Civil Justice Reform Act
by
James S Kakalik
( Book )
4 editions published between
1996
and 2000 in
English
and held by 394 WorldCat member libraries worldwide
The Civil Justice Reform Act of 1990 (CJRA) required each federal district court to develop a case management plan to reduce costs and delay. The legislation also created a pilot program to test six principles of case management, and required an independent evaluation to assess their effects. This executive summary provides an overview of the purpose of the CJRA, the basic design of the evaluation, the key findings, and their policy implications. Detailed results appear in three other reports: MR-801-ICJ, which traces the stages in the implementation of the CJRA in the study districts; MR-802-ICJ, which presents the main descriptive and statistical evaluation of how the CJRA case management principles implemented in the study districts affected cost, time to disposition, and participants' satisfaction and views of fairness; and MR-803-ICJ, which describes the results of an evaluation of mediation and neutral evaluation designed to supplement the alternative dispute resolution assessment contained in the main CJRA evaluation
more
fewer
Audience Level
0

1
Kids
General
Special
Audience level: 0.32 (from 0.06 for The econom ... to 0.77 for A report o ...)
Related Identities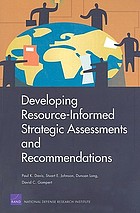 Covers
Alternative Names
I.C.J.

I.C.J. (Institute for Civil Justice (U.S.))

ICJ

ICJ (Institute for Civil Justice (U.S.))

Institute for Civil Justice

Kokusai Hōritsuka Iinkai (Spojené státy americké)

Kokusai Hōritsuka Iinkai (U.S.)

Rand Corporation Institute for Civil Justice

Rand Corporation Rand Institute for Civil Justice

Rand Corporation (Santa Monica) Institute for Civil Justice

Rand Institute for Civil Justice

RAND Institute of Civil Justice

Rand Law, Busines, and Regulation. Institute for Civil Justice

Languages