Hughes, Nathaniel Cheairs Jr 1930-2012
Most widely held works about Nathaniel Cheairs Hughes
Most widely held works by Nathaniel Cheairs Hughes
Bentonville : the final battle of Sherman and Johnston
by
Nathaniel Cheairs Hughes
( Book )
6 editions published between
1996
and 2006 in
English
and held by 657 WorldCat member libraries worldwide
Based on letters, diaries, and official documents, the book explores the experience of this final battle for the soldiers and officers fighting it. Hughes also assesses the performances of Union and Confederate commanders and includes biographical vignettes of several of them, including Braxton Bragg, William J. Hardee, D.H. Hill, Oliver O. Howard, and Henry W. Slocum
General William J. Hardee: Old Reliable
by
Nathaniel Cheairs Hughes
( Book )
8 editions published between
1965
and 1992 in
English
and
Undetermined
and held by 570 WorldCat member libraries worldwide
Narrative biography of Confederate Infantry commander of the Army of Tennessee
The Battle of Belmont : Grant strikes South
by
Nathaniel Cheairs Hughes
( Book )
4 editions published in
1991
in
English
and held by 491 WorldCat member libraries worldwide
Covers the Mississippi County, Missouri, battle, the first Civil War battlefield test of Ulysses S. Grant. It occurred just across the river from Cairo, Illinois, from which the union troops came. The Confederates crossed from Columbus, Kentucky. This book is a comprehensive study of the battle
The life and wars of Gideon J. Pillow
by
Nathaniel Cheairs Hughes
( Book )
12 editions published between
1993
and 2011 in
English
and
Undetermined
and held by 405 WorldCat member libraries worldwide
Commonly portrayed in Civil War literature as a bungling general who disgraced himself at Fort Donelson, Gideon Johnson Pillow (1806-78) is one of the most controversial military figures of nineteenth-century America. In this first full-length biography, Nat Hughes and Roy Stonesifer take a fresh look at Pillow, calling attention to his prominent role in many of the major conflicts of his day. Pillow was one of Tennessee's wealthiest planters and lawyers as well as an influential broker in national politics. His friendship with fellow Tennessean James K. Polk broght Pillow a generalship in the Mexican War, where he served under Winfield Scott and Zachary Taylor and antagonized the military establishment with his recklessness and self-promotion. Following the war, Pillow attempted to capitalize on his notoriety as the "hero of Chapultepec" by reentering Democratic party politics. Despite his efforts on behalf of Franklin Pierce, he was unsuccessful in his bid for the vice presidency and the Senate. With the outbreak of the Civil War, Pillow again sought the public stage. His organization of what would become the Army of Tennessee placed him at the forefront of the Confederate war effort. But he was bested by Ulysses S. Grant at Belmont and then suffered disaster at Fort Donelson. Following these defeats, he spent the remainder of the war directing Confederate conscription in the West and leading Confederate cavalry forces. As a result of his role at Fort Donelson, Pillow has been dismissed as a political general with destructive military ambitions. Hughes and Stonesifer argue that such a judgment fails to consider the many contributions made by the dynamic planter-lawyer. They point out Pillow's organizational abilities (evidenced before and after Donelson), his standing with distinguished peers such as Joseph Johnston and Braxton Bragg, and his continuing service as an infantry and cavalry leader. Unbounded, restless energy brought Pillow his few triumphs and, despite his failures, made him an attractive and important figure. The Life and Wars of Gideon J. Pillow reveals a colorful, enigmatic man who moved just outside the world of greatness he yearned to enter. - Jacket flap
Jefferson Davis in blue : the life of Sherman's relentless warrior
by
Nathaniel Cheairs Hughes
( Book )
4 editions published in
2002
in
English
and held by 325 WorldCat member libraries worldwide
"Besides his illustrious name, Jefferson Columbus Davis, who fought for the Union, is best known for two appalling actions: the September 1862 murder of General William "Bull" Nelson - his former commanding officer - and the abandonment of hundreds of African American refugees to the mercy of Confederate cavalry at Ebenezer Creek during Sherman's march through Georgia in 1864. Historians have generally dismissed Davis (1828-1879) as a reckless assassin, a racist, a journeyman soldier at best, and an embarrassment to the Lincoln war effort. But as Nathaniel Cheairs Hughes, Jr., and Gordon D. Whitney demonstrate in the first biography of the unredeemed general, such smoke of notoriety obscures the real story of a complex military leader."
The pride of the Confederate artillery : the Washington Artillery in the Army of Tennessee
by
Nathaniel Cheairs Hughes
( Book )
9 editions published in
1997
in
English
and
Undetermined
and held by 288 WorldCat member libraries worldwide
While the wartime experiences of the other four companies of the Washington Artillery -- those that served in the Army of Northern Virginia -- have been thoroughly documented, the exploits of the Fifth Company have been curiously neglected. In The Pride of the Confederate Artillery, Nathaniel Cheairs Hughes, Jr., illustrates the significance of the unit and, for the first time, positions this pivotal group in its rightful place in history. The Fifth Company, Washington Artillery of New Orleans, fought with the Army of Tennessee from Shiloh to Chickamauga, from Perryville to Mobile, and from Atlanta to Jackson, Mississippi. Slocomb's Battery, as it was also known, won repeated praise from every commander of that army. Although it sustained high losses, the company was recognized for its bold, tenacious fighting and was considered the Army of Tennessee's finest close-combat battery. The Fifth Company was composed of educated, propertied men (they were sometimes referred to as a "silk stocking" unit) who had known one another prior to the war and who would band together as a benevolent association at its end. The Confederacy possessed no finer soldiers than those of the Fifth Company. Their popular and capable leader, Cuthbert H. Slocomb, repeatedly refused promotion so that he might remain with the battery. P.G.T. Beauregard specifically asked the Fifth Company to remain in the west with the Army of Tennessee to fight beside the Louisiana Brigade until Missionary Ridge. The unit was also associated with William B. Bate's division, which contained the famed Orphan Brigade. The Pride of the Confederate Artillery is the compelling story of four hundred men -- brave yet infinitely human -- their organization and service, their victories and defeats in over forty battles. "Try us!" the enthusiastic artillerymen would shout. And they would be tried, again and again. - Jacket flap
Sir Henry Morton Stanley, confederate
by
Henry M Stanley
( Book )
2 editions published in
2000
in
English
and held by 275 WorldCat member libraries worldwide
Hughes interprets and clarifies Stanley's writing as needed, explaining edits imposed by his widow and verifying its authenticity of detail."--Jacket
A fighter from way back : the Mexican War diary of Lt. Daniel Harvey Hill, 4th Artillery, USA
by
D. H Hill
( Book )
4 editions published in
2002
in
English
and
Spanish
and held by 225 WorldCat member libraries worldwide
Born in July 1821, Daniel Harvey Hill grew up in genteel poverty on a large plantation in York District, South Carolina. He entered West Point and graduated in the middle of the renowned Class of 1842. Following garrison duty as a junior lieutenant with the First and Third Artilleries, Hill joined the Fourth Artillery at Fortress Monroe in January 1846. Six months later he was en route to Mexico. Published here for the first time, Hill's diary recounts the Mexican War experiences of this proud young officer. He was observant and opinionated, recording details about soldiers, officers, logistics, unites, the health of the army, and the progress of the campaign. Hill, who later took up the Confederate cause and earned the sobriquet Lee's Maverick General, emerged from the Mexican conflict an authentic hero, winning brevet promotions to captain and major for gallant conduct at Contreras (Padierna) and Chapultepec. Young lieutenant Hill came of age in Mexico, and there he encountered firsthand a different culture and witnessed in horror helpless civilians and their treasures washed away in the boiling stream of violence that was war. Hill's fascinating diary recounts these and other experiences in trenchant detail. The efforts of editors Hughes and Johnson have resulted in a valuable addition to the sources available to researchers and scholars of the U.S.-Mexican War
The Civil War memoir of Philip Daingerfield Stephenson, D.D. : Private, Company K, 13th Arkansas Volunteer Infantry, and Loader, Piece No. 4, 5th Company, Washington Artillery, Army of Tennessee, CSA
by
Philip Daingerfield Stephenson
( Book )
5 editions published between
1995
and 1998 in
English
and held by 205 WorldCat member libraries worldwide
Phil tells the story of the Army of Tennessee as known by a sixteen-year-old private who survives to become a veteran infantryman and artilleryman. Fighting with the 13th Arkansas and the 5th Company, Washington Artillery, Phil Stephenson saw the war in the west from Belmont to Peachtree Creek to Spanish Fort. He knew the crack of Pat Cleburne's voice and sat squirming in a parlor under the penetrating eyes of Gen. Hardee. He saw Leonidas Polk killed, shared a blanket with a sleeping Gen
more
fewer
Audience Level
0

1
Kids
General
Special
Audience level: 0.29 (from 0.03 for Notes of t ... to 0.73 for Cheairs an ...)
Associated Subjects
American Civil War (1861-1865)
Arkansas
Armed Forces--Artillery
Bell, Tyree Harris,
Belmont, Battle of (Missouri : 1861)
Bentonville, Battle of (North Carolina : 1865)
Carlin, William Passmore,
Confederate States of America.--Army
Confederate States of America.--Army.--Arkansas Infantry Regiment, 13th.--Company K
Confederate States of America.--Army.--Washington Artillery Battalion (New Orleans, La.).--Company, 5th
Confederate States of America.--Army of Tennessee
Davis, Jefferson Columbus,
Forrest, Nathan Bedford,
Friendship
Generals
Hardee, William Joseph,
Hill, D. H.--(Daniel Harvey),
Illinois
Illinois--Camp Douglas
Intellectual life
Irish Americans
Liddell, St. John Richardson
Louisiana--New Orleans
Mexican War (1846-1848)
Military campaigns
Military operations, Cavalry
Military operations, Naval
Missouri--Belmont
North Carolina--Bentonville
O'Hara, Theodore,
Oswandel, J. Jacob
Pillow, Gideon Johnson,
Poets, American
Poets, American--Homes and haunts
Prisoners of war
Regimental histories
Sailors
Shiloh, Battle of (Tennessee :
Soldiers
Southern States
Stanley, Henry M.--(Henry Morton),
Stephenson, Philip Daingerfield,
Tennessee
United States
United States.--Army
United States.--Army.--Artillery Regiment, 4th
United States.--Army.--Pennsylvania Infantry Regiment, 1st (1846-1848)
United States--Confederate States of America
United States--Southwest, Old
Yale University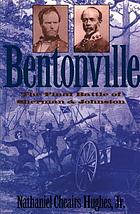 Alternative Names
Hughes, N. C. 1930-2012 Jr

Hughes, N. C., Jr. (Nathaniel Cheairs), 1930-2012

Hughes, Nat C.

Hughes, Nat C. 1930-2012 Jr

Hughes, Nat C., Jr., 1930-2012

Hughes, Nathaniel

Hughes, Nathaniel C. Jr

Hughes, Nathaniel Cheairs

Hughes, Nathaniel Cheairs Jr

Languages
Covers