Weatherford, J. McIver
Most widely held works about J. McIver Weatherford
Most widely held works by J. McIver Weatherford
Indian givers : how the Indians of the Americas transformed the world
by
J. McIver Weatherford
( Book )
67 editions published between
1988
and 2014 in 7 languages and held by 3,000 WorldCat member libraries worldwide
American Indian impact on Western civilization, including economic conditions, agriculture, diet, political thought, medicine, drug use, architecture, and urban planning
Genghis Khan and the making of the modern world
by
J. McIver Weatherford
( Book )
50 editions published between
2003
and 2014 in 10 languages and held by 2,270 WorldCat member libraries worldwide
Nearly every aspect of our world -- borders, political philosophies, technology, warfare, commerce, clothing, art, literature, language, and music -- bears the indelible mark of Genghis Khan and his Mongol Empire. Here is a startling true history of how one extraordinary man from a remote corner of the world created an empire that led the world into the modern age. The name Genghis Khan often conjures the image of a relentless, bloodthirsty barbarian on horseback leading a ruthless band of nomadic warriors in the looting of the civilized world. But the surprising truth is that Genghis Khan was a visionary leader whose conquests joined backward Europe with the flourishing cultures of Asia to trigger a global awakening, an unprecedented explosion of technologies, trade, and ideas. In Genghis Khan and the Making of the Modern World, Jack Weatherford, the only Western scholar ever to be allowed into the Mongols' "Great Taboo"--Genghis Khan's homeland and forbidden burial site -- tracks the astonishing story of Genghis Khan and his descendants, and their conquest and transformation of the world. - Jacket flap
Native roots : how the Indians enriched America
by
J. McIver Weatherford
( Book )
6 editions published between
1991
and 1992 in
English
and held by 1,482 WorldCat member libraries worldwide
A study of the Indians of North America and their essential role in the making of the United States
The history of money : from sandstone to cyberspace
by
J. McIver Weatherford
( Book )
34 editions published between
1997
and 2009 in 6 languages and held by 1,039 WorldCat member libraries worldwide
To give a comprehensive, engaging look at the history of the world in terms of our dealings with money and barter, wealth and power. From the markets of Timbuktu to the New York Stock Exchange, from the tribal man's hut to the modern corporate boardroom, The History of Money explores how money and the myriad forms of exchange have affected humanity. All aspects of our lives - economic, political, and personal - are influenced by money. And while we have progressed into
Savages and civilization : who will survive?
by
J. McIver Weatherford
( Book )
12 editions published between
1994
and 2013 in
English
and held by 794 WorldCat member libraries worldwide
Should civilization falter, Weatherford argues, those tribal peoples whom civilization once attempted to envelop may be the only ones capable of salvaging it. If we continue to destroy their culture, we may lose the knowledge that helped us survive the millions of years before agriculture and cities, before civilization. Those connections to the past must be preserved - and this may be the last chance to do so. As a result, Savages and Civilization will not only change how history and society are viewed, it will be sure to alter your own self-perception as well
Genghis Khan and the quest for God : how the world's greatest conqueror gave us religious freedom
by
J. McIver Weatherford
( Book )
6 editions published between
2016
and 2017 in
English
and held by 765 WorldCat member libraries worldwide
"Throughout history the world's greatest conquerors have made their mark not just on the battlefield, but in the societies they have transformed. Genghis Khan conquered by arms and bravery, but he ruled by commerce and religion. He created the world's greatest trading network and drastically lowered taxes for merchants, but he knew that if his empire was going to last, he would need something stronger and more binding than trade. He needed religion. And so, unlike the Christian, Taoist and Muslim conquerors who came before him, he gave his subjects freedom of religion. Genghis lived in the 13th century, but he struggled with many of the same problems we face today: How should one balance religious freedom with the need to reign in fanatics? Can one compel rival religions--driven by deep seated hatred--to live together in peace? A celebrated anthropologist whose bestselling Genghis Khan and the Making of the Modern World radically transformed our understanding of the Mongols and their legacy, Jack Weatherford has spent eighteen years exploring areas of Mongolia closed until the fall of the Soviet Union and researching The Secret History of the Mongols, an astonishing document written in code that was only recently discovered. He pored through archives and found groundbreaking evidence of Genghis's influence on the founding fathers and his essential impact on Thomas Jefferson. As hard as it is to believe, we owe our doctine of religious freedom in part to a distant nomad who forged the world's greatest empire in a trail of blood."--Jacket
Tribes on the Hill
by
J. McIver Weatherford
( Book )
22 editions published between
1981
and 1985 in
English
and held by 744 WorldCat member libraries worldwide
"A revealing, witty, and altogether fascinating story of the tribal customs and rituals that help shape our nation's lives." The Washingtonian
Porn row
by
J. McIver Weatherford
( Book )
4 editions published between
1986
and 1989 in 3 languages and held by 279 WorldCat member libraries worldwide
The history of money : from sandstone to cyberspace
by
J. McIver Weatherford
( Book )
2 editions published in
1997
in
English
and held by 261 WorldCat member libraries worldwide
Traces the historical evolution of humankind's relationship with money, from ancient times to the present-day revolutionary transformation in the meaning and use of money as represented by the electronic cash card, and discusses the implications of such changes
more
fewer
Audience Level
0

1
Kids
General
Special
Audience level: 0.23 (from 0.18 for Native roo ... to 0.96 for Gengis Kha ...)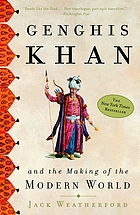 Alternative Names
Jack Weatherford Amerikaans antropoloog

Mac Iver Weatherford Jack

MacIver Weatherford Jack

Mc Iver Weatherford Jack

McIver Weatherford Jack

Vederford, Jek

Vederford, Zhek

Weatherford, J. Mclver

Weatherford, Jack.

Weatherford, Jack MacIver.

Weatherford, Jack McIver.

Везерфорд, Джек

Джак Уедърфорд

Уэзерфорд, Джек

ג'ק ודרפורד

웨더포드, J. 맥버

웨더포드, 잭

웨더포드, 잭 맥버

ウェザーフィード

ウェザーフォード, ジャック

ウエザーフォード, ジャック・マッキーバー

ジャック・ウェザーフォード

Languages
Covers