Binnendijk, Hans
Most widely held works by Hans Binnendijk
Seeing the elephant : the U.S. role in global security
by
Hans Binnendijk
( )
10 editions published in
2006
in
English
and held by 1,284 WorldCat member libraries worldwide
What is the current state of the global security system, and where is it headed? What challenges and opportunities do we face, and what dangers are emerging? How will various regions of the world be affected? How can the United States best act to help shape the future while protecting its security, interests, and values? How can the United States deal with the threats of terrorism and weapons of mass destruction? An intellectual history of U.S. national security thinking since the end of the fall of the Soviet Union, Seeing the Elephant is an attempt to see the evolving international security system and America's role in it through the eyes of more than fifty perceptive authors who have analyzed key aspects of the unfolding post-Cold War drama. Its premise is that, like the blind men in the Buddhist fable who each feels a different part of an elephant, these authors and their assessments, taken together, can give us a better view of where the world is headed
Friends, foes, and future directions : U.S. partnerships in a turbulent world
by
Hans Binnendijk
( )
11 editions published between
2015
and 2016 in
English
and held by 1,194 WorldCat member libraries worldwide
" ... RAND experts explore the elements of a national strategy for the conduct of U.S. foreign and security policy in this administration and the next. The report evaluates three broad strategies for dealing with U.S. partners and adversaries in Europe, Asia, and the Middle East in a time of diminishing defense budgets and an American public preference for a domestic focus. The three strategies are to be more assertive, to be more collaborative, or to retrench from international commitments. All three of these alternative approaches are constrained and a balance will need to be struck among them -- that balance may differ from region to region."
Blinders, blunders, and wars : what America and China can learn
by
David C Gompert
( )
9 editions published in
2014
in
English
and held by 1,166 WorldCat member libraries worldwide
The history of wars caused by misjudgments, from Napoleon's invasion of Russia to America's invasion of Iraq, reveals that leaders relied on cognitive models, or simplified representations of their worlds, that were seriously at odds with objective reality. Blinders, Blunders, and Wars analyzes eight historical examples of strategic blunders regarding war and peace and four examples of decisions that turned out well, and then applies those lessons to the current Sino-American case. Leaders' egos, intuitions, unwarranted self-confidence, and aversion to information that contradicted their views prevented them from correcting their models. Yet advisors and bureaucracies can be inadequate safeguards and can, out of fawning or fear, reinforce leaders' flawed thinking. War between China and the United States is more likely to occur by blunder than from rational premeditation. Yet flawed Chinese and American cognitive models of one another are creating strategic distrust, which could increase the danger of misjudgment by either or both, the likelihood of crises, and the possibility of war. Although these American and Chinese leaders have unprecedented access to information, there is no guarantee they will use it well when faced with choices concerning war and peace. They can learn from Blinders, Blunders, and Wars. As a general remedy, the authors recommend the establishment of a government body providing independent analysis and advice on war-and-peace decisions by critiquing information use, assumptions, assessments, reasoning, options, and plans. For the Sino-U.S. case, they offer a set of measures to bring the models each has of the other into line with objective reality
The power to coerce : countering adversaries without going to war
by
David C Gompert
( )
5 editions published in
2016
in
English
and held by 552 WorldCat member libraries worldwide
Preface -- Figure and Tables -- Summary -- The Power to Coerce: Countering Adversaries Without Going to War: Declining Utility of Military Force and Increasing Importance of Nonmilitary Power -- The Power to Coerce -- Forms and Uses of American Coercive Power -- Economic Sanctions -- Arms and Technology Embargoes -- Exploitation of Energy Supplies -- Maritime Intercept -- Support for Adversaries' Opponents -- Offensive Cyber Operations -- Assessment of Options -- Communications -- Findings and Recommendations -- Abbreviations -- References
Authoritarian regimes in transition
by
Center for the Study of Foreign Affairs (U.S.)
( Book )
12 editions published in
1987
in
English
and
Undetermined
and held by 499 WorldCat member libraries worldwide
Transforming America's military
( Book )
12 editions published in
2002
in
English
and held by 428 WorldCat member libraries worldwide
Military transformation is the act of creating and harnessing a revolution in military affairs. It requires developing new technologies, operational concepts, and organizational structures to conduct war in dramatically new ways. The United States is undertaking such a transformation to tackle its 21st century missions. A properly transformed military can develop significant advantages over a potential enemy. But the process also introduces risks that, if not properly managed, could dangerously undermine military capability. This book, therefore, sets out the arguments for a purposeful and measured transformation that relies on sound experimentation as the basis for change, rather than the riskier strategy, proposed by some, of skipping a generation of technology. We argue that change must tie all of the services together in joint transformation efforts. Similarly, we must not neglect our coalition partners. A successful transformation will be one that has been conceived broadly to include homeland defense, space, cyberspace, and, though they may seem mundane, crucial reforms in weapons procurement and logistics. Part I of this book explores the foundations of today's military transformation: new missions, new technologies, and new operational concepts. Part II assesses the progress that is being made in this effort by each of America's military services. Part III analyzes the coordination and integration of these separate service efforts, while noting the capabilities gap being created with our allies. Part IV reviews broader aspects of military transformation, particularly those arising after the September 11 attacks
Transforming for stabilization and reconstruction operations
( )
12 editions published between
2003
and 2004 in
English
and held by 397 WorldCat member libraries worldwide
Recent military operations in Afghanistan and Iraq were characterized by the rapid defeat of enemy military forces, by relatively small deployments of American forces, and by a very limited destruction of the critical civilian infrastructure. This success can be credited in large part to the ongoing transformation of the U.S. military evident in its effective use of information superiority, precision strike, and rapid maneuver on the battlefield. The Armed Forces were not nearly as well prepared to respond promptly to the lawlessness, destruction of the civilian infrastructure, and attacks on coalition forces that followed hard on the defeat of the Iraqi military. This has set back plans to restore essential services and to pass the reins to a representative Iraqi government. Moreover, the failure to establish security concurrently with the defeat of the Iraqi military may well have emboldened those who oppose the United States, United Kingdom, and even United Nations presence. It is precisely the success of the U.S. military in transforming its forces to execute rapid decisive operations that makes it imperative to transform how it prepares for and executes stabilization and reconstruction (S AND R) operations. The very rapid defeat of the enemy military means the United States must be ready to field the resources needed to secure stability and begin the reconstruction process promptly-ideally concurrently-with the end of major combat. This can only be done if planning for the stabilization and reconstruction operations is integrated into planning for the conflict from the beginning and if the right skills are in theater to begin operations concurrently with the surrender or collapse of the enemy military
Strategic defense in the 21st century
by
Center for the Study of Foreign Affairs (U.S.)
( Book )
7 editions published in
1986
in
English
and held by 396 WorldCat member libraries worldwide
Information assurance : trends in vulnerabilities, threats, and technologies
( )
6 editions published between
2004
and 2005 in
English
and held by 393 WorldCat member libraries worldwide
One of the missions of the Center for Technology and National Security Policy at National Defense University is to study the transformation of America's military and to explore the consequences of the information revolution. To further this mission, National Defense University, in collaboration with The Center for Public Policy and Private Enterprise of the University of Maryland's School of Public Affairs, brought together leaders in the fields of military and commercial technology. The purpose of the meeting was to gain insight into the risks and vulnerabilities inherent in the use of information technology on the battlefield and in military systems. This volume presents the results of that workshop. This volume examines threats and vulnerabilities in the following four areas: (1) physical attacks on critical information nodes; (2) electromagnetic attacks against ground, airborne, or space-based information assets; (3) cyber attacks against information systems; and (4) attacks and system failures made possible by the increased level of complexity inherent in the multiplicity of advanced systems. Chapters are as follows: "Trends in Vulnerabilities, Threats, and Technologies," by Jacques S. Gansler and William Lucyshyn; "Physical Vulnerabilities of Critical Information Systems," by Robert H. Anderson; "Physical Vulnerabilities Exposed at the National Training Center," by Colonel John D. Rosenberger; "Dealing with Physical Vulnerabilities," by Bruce W. MacDonald; "Vulnerabilities to Electromagnetic Attack of Defense Information Systems," by John M. Borky; "Vulnerabilities to Electromagnetic Attack of the Civil Infrastructure," by Donald C. Latham; "Trends in Cyber Vulnerabilities, Threats, and Countermeasures," by Michael A. Vatis; "Enhancing Cyber Security for the Warfighter," by Sean R. Finnegan; "Complexity of Network Centric Warfare," by Stanley B. Alterman; and "Difficulties with Network Centric Warfare," by Charles Perrow
more
fewer
Audience Level
0

1
Kids
General
Special
Audience level: 0.31 (from 0.02 for Seeing the ... to 0.48 for Strategic ...)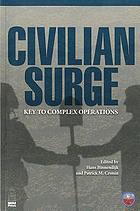 Covers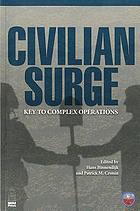 Alternative Names
Binnadike, Hansi.

Binnadike, Hansi 1946-

Binnendijk, Hans

Binnendijk, Hans A.

빈네데이크, 한스 1946-

Languages