Eichengreen, Barry J.
Most widely held works by Barry J Eichengreen
The Gold standard in theory and history
by
Barry J Eichengreen
( )
38 editions published between
1935
and 1997 in
English
and held by 2,094 WorldCat member libraries worldwide
The gold standard in theory; The gold standard in history; The interwar gold exchange standard; Bretton woods and
Capital flows and crises
by
Barry J Eichengreen
( )
4 editions published in
2003
in
English
and held by 2,024 WorldCat member libraries worldwide
The implications of capital mobility for growth and stability are some of the most contentious and least understood contemporary issues in economics. In this book, Barry Eichengreen discusses historical, theoretical, empirical, and policy aspects of the effects, both positive and negative, of capital flows. He focuses on the connections between capital flows and crises as well as on those between capital flows and growth.Eichengreen argues that international financial liberalization, like other forms of economic liberalization, can positively affect the efficiency of resource allocation and the rate of economic growth. But analyses of both recent and historical experience also show an undeniable association between capital mobility and crises, especially when domestic institutions are weak and the harmonization of capital account liberalization and other policy reforms is inadequate. In his conclusion, Eichengreen makes suggestions for policy design to maximize the benefits of international financial liberalization while minimizing the risks of financial instability
Global imbalances and the lessons of Bretton Woods
by
Barry J Eichengreen
( )
37 editions published between
2004
and 2010 in
English
and
Japanese
and held by 1,922 WorldCat member libraries worldwide
"In Global Imbalances and the Lessons of Bretton Woods, Barry Eichengreen takes issue with the argument that today's international financial system is largely analogous to the Bretton Woods system of the period 1958 to 1973. Then, as now, it has been argued, the United States ran balance of payment deficits, provided international reserves to other countries, and acted as export market of last resort for the rest of the world. Then, as now, the story continues, other countries were reluctant to revalue their currencies for fear of seeing their export-led growth slow and suffering capital losses on their foreign reserves. Eichengreen argues in response that the power of historical analogy lies not just in finding parallels but in highlighting differences, and indeed he finds important differences in the structure of the world economy today."--BOOK JACKET
Other people's money : debt denomination and financial instability in emerging market economies
by
Barry J Eichengreen
( )
16 editions published between
2005
and 2010 in
English
and held by 1,837 WorldCat member libraries worldwide
"Recent crises in emerging markets have been heavily driven by balance-sheet or net-worth effects. Episodes in countries as far-flung as Indonesia and Argentina have shown that exchange rate adjustments that would normally help to restore balance can be destabilizing, even catastrophic, for countries whose debts are denominated in foreign currencies. Many economists instinctually assume that developing countries allow their foreign debts to be denominated in dollars, yen, or euros because they simply don't know better." "Presenting evidence that even emerging markets with strong policies and institutions experience this problem, Other People's Money recognizes that the situation must be attributed to more than ignorance. Instead, the contributors suggest that the problem is linked to the operation of international financial markets that prevent countries from borrowing in their own currencies. A comprehensive analysis of the sources of this problem and its consequences, Other People's Money takes the study one step further by proposing a solution that would involve having the World Bank and regional development banks themselves borrow and lend in emerging market currencies." "Painstakingly researched, this volume combines case studies, mathematical analysis, historical analysis, and public policy to provide students, economists, policymakers, and others with a state-of-the-art overview of the debt denomination problem and its potential solutions."--Jacket
Globalizing Capital : a history of the international monetary system
by
Barry J Eichengreen
( Book )
48 editions published between
1996
and 2009 in
English
and held by 1,819 WorldCat member libraries worldwide
Barry Eichengreen presents a brief, lucid book that tells the story of the international financial system over the past 150 years, Globalizing Capital is intended not only for economists but also for a general audience of historians, political scientists, professionals in government and business, and anyone with a broad interest in international relations
Forging an integrated Europe
by
Barry J Eichengreen
( )
21 editions published between
1997
and 2010 in
English
and held by 1,803 WorldCat member libraries worldwide
As European Integration has deepened and become more invasive the tension between the authority of the European Union and the autonomy of member states has increased. How fast and how far European integration will proceed are critical issues for scholars and policymakers in Europe and the United States. Barry Eichengreen and Jeffry Frieden have assembled a group of prominent economists and political scientists to discuss the most important - and most difficult - political and economic issues involved in European integration. The book focuses on three major issues: economic and monetary union, the reform and development of responsive political institutions for the Union, and the enlargement of the Union to include states to the east
Exorbitant privilege : the rise and fall of the dollar and the future of the international monetary system
by
Barry J Eichengreen
( Book )
46 editions published between
2010
and 2013 in
English
and held by 1,792 WorldCat member libraries worldwide
In Exorbitant Privilege, economic historian, Barry Eichengreen, traces the rise of the dollar to international prominence over the course of the 20th century. He shows that the greenback dominated internationally in the second half of the century for the same reasons and in the same way that the United States dominated the global economy. But now, America no longer towers over the global economy. It follows, Eichengreen argues, that the dollar will not be a dominant. Challenging the presumption that there is room for only one true global currency, either the dollar or something else, Eichengreen shows that several currencies have shared this international role over long periods.--[book jacket]
European monetary unification : theory, practice, and analysis
by
Barry J Eichengreen
( )
22 editions published between
1997
and 2017 in
English
and held by 1,762 WorldCat member libraries worldwide
"At the beginning of 1998 the member states of the European Union will decide whether or not to go ahead with their monetary union and determine which countries qualify as members. There is a high likelihood that Stage III of the Maastricht process - monetary union itself - will commence on January 1, 1999, and that a single currency, to be known as the Euro, will replace the national currencies of the founding member states at the beginning of 2002"--BOOK JACKET. "Whether EMU is feasible and desirable is contested among economists and politicians alike. This book sheds light on the controversy by considering seven major aspects: (1) what the theory of optimum currency areas reveals about the EMU project, (2) how Europe compares with existing monetary unions such as the United States, (3) the crisis in the European monetary system and the feasibility of stabilizing exchange rates in the absence of monetary unification, (4) fiscal policy and EMU, (5) labor markets and EMU, (6) the connections between monetary and political union, and (7) EMU and the rest of the world."--BOOK JACKET. "The author views EMU as neither a grand achievement nor a terrible blunder, but as a process. He argues that the effects of monetary unification will depend on how it is structured and governed, and how quickly Europe's markets adapt to a single currency."--Jacket
Currency convertibility : the gold standard and beyond
by
Barry J Eichengreen
( )
19 editions published between
1996
and 2011 in
English
and held by 1,668 WorldCat member libraries worldwide
In this text a team of leading international economists and economic historians look at parallel situations in the history of the international monetary system, focusing in particular on the gold standard
Fostering monetary & financial cooperation in East Asia
( )
12 editions published in
2009
in
English
and held by 1,449 WorldCat member libraries worldwide
Since the Asian financial crisis of 1997-1998, there has been a deep and abiding desire on the part of Asian policy makers and opinion makers to enhance the region's economic, monetary and financial self-sufficiency -- or at least to ring-fence the region against financial instability and give it a louder voice in global financial affairs. There has been progress in these directions, notably in the form of the Chiang Mai Initiative of financial supports and the Asian Bond Market Initiative to build a single Asian financial market. But progress is hindered by disagreements among the principal na
more
fewer
Audience Level
0

1
Kids
General
Special
Audience level: 0.17 (from 0.02 for Fostering ... to 0.50 for The Europe ...)
Related Identities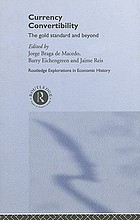 Covers
Alternative Names
Barry Eichengreen Amerikaans econoom

Barry Eichengreen amerikansk ekonom

Barry Eichengreen amerikansk økonom

Barry Eichengreen US-amerikanischer Ökonom

Eichengreen Barry

Eichengreen, Barry 1952-

Eichengreen, Barry J.

Eichengreen, Barry J. 1952-

Eichengreen, Barry Julian 1952-

Ėjchengrin, Barri 1952-

Эйхенгрин, Барри

Эйхенгрин, Барри, 1952-

아이켄그린, 배리 1952-

애긍격림, 파리 1952-

파리·애긍격림 1952-

アイケングリーン, バリー

アイケングリーン, ベリー

バリー・アイケングリーン

巴里·艾肯格林

Languages