Tymieniecka, Anna-Teresa
Overview
| | |
| --- | --- |
| Works: | 506 works in 2,659 publications in 7 languages and 37,326 library holdings |
| Genres: | Conference papers and proceedings History Bibliography Criticism, interpretation, etc |
| Roles: | Author, Editor, Other, Redactor, Honoree, Creator, ed |
| Classifications: | B3279.H94, 142.7 S |
Most widely held works about Anna-Teresa Tymieniecka
more
fewer
Most widely held works by Anna-Teresa Tymieniecka
The acting person
by
John Paul
( Book )
41 editions published between
1979
and 2007 in 6 languages and held by 988 WorldCat member libraries worldwide
Originally entitled Osoba i Czyn and published in Poland in 1969, The Acting Person is the official English translation and has been thoroughly edited and revised with the collaboration of the author. The book stresses that man must ceaselessly unravel his mysteries and strive for a new and more mature expression of his nature. The author sees this expression as an emphasis on the significance of the individual living in community and on the person in the process of performing an action. The author states in his preface that he has tried to face the major issues concerning life, nature, and the existence of man directly as they present themselves to man in his struggles to survive while maintaining the dignity of a human being, but who is torn apart between his all too limited condition and his highest aspirations to set himself free. --From publisher's description
Leibniz' cosmological synthesis
by
Anna-Teresa Tymieniecka
( Book )
16 editions published in
1964
in 4 languages and held by 458 WorldCat member libraries worldwide
Memory in the ontopoesis of life
by
Anna-Teresa Tymieniecka
( Book )
30 editions published in
2009
in
English
and
Undetermined
and held by 151 WorldCat member libraries worldwide
"In the temporal becoming of individualizing life the actual present passes into past and comes to be reflected and recaptured in memory. While the vital logos of beingness recollects for its constitutive use (employment) fragments from memory's magazine, ensuring constructive continuity in accordance with its genetic patterns, the creative logos of the human mind also is indebted in contrast to the work of memory in creative imagination for the essential role it plays in the selective transformation, invention, projection that informs the felt and intelligible logos of human selfhood, personality, meaning, fullness, destiny... within the human community and the world of life." "As fragmentary and seemingly disjointed as it is in relation to concrete subjective experience, memory as it surges from the past into the actual present, even though subject to transformation, maintains an essential link to constituting reality, yes, but more importantly outlines the future. The creative imagination of the logos of human mind projects horizons for the vertiginous past. An encircling continuity of sense then embraces the earliest evolution of humankind, on the one extreme, and the fulgurations of the sacral logos, on the other. Hence we may consider memory as sustaining the sensing the logos of the human orbit with its horizons. In its innumerably differentiated role we may find its unifying stream only upon the primogenital - ontopoietic - platform of the logos of life."--BOOK JACKET
Human creation between reality and illusion
by
Fine Arts, and Aesthetics International Society for Phenomenology
( Book )
20 editions published in
2005
in
English
and held by 143 WorldCat member libraries worldwide
Identifying illusion with deception, we tend to oppose it to the reality of life. This collection of essay's looks at questions such as: Does not illusion open the seeming confines of factual reality into horizons of imagination which transform it? and, Does it not, like art, belong essentially to the makeup of human reality? Identifying quickly illusion with deception, we tend to oppose it to the reality of life. However, investigating in this collection of essays illusion's functions in the Arts, which thrives upon illusion and yet maintains its existential roots and meaningfullness in the real, we might wonder about the nature of reality itself. Does not illusion open the seeming confines of factual reality into horizons of imagination which transform it? Does it not, like art, belong essentially to the makeup of human reality? This work features papers by: Lanfranco Aceti, John Baldacchino, Maria Avelina Cecilia Lafuente, Jo Ann Circosta, Madalina Diaconu, Jennifer Anna Gosetti-Ferencei, Brian Grassom, Marguerite Harris, Andrew E. Hershberger, James Carlton Hughes, Lawrence Kimmel, Jung In Kwon, Ruth Ronen, Scott A. Sherer, Joanne Snow-Smith, Max Statkiewicz, Patricia Trutty-Coohill, Daniel Unger, and, James Werner
Phenomenology of life : meeting the challenges of the present-day world
by
Anna-Teresa Tymieniecka
( Book )
27 editions published between
2004
and 2005 in
English
and
Multiple languages
and held by 142 WorldCat member libraries worldwide
Philosophy has been always received or bypassed for its resonance or aloofness with the spirit of the time. Should not philosophy/phenomenology of life be expected to do more to ascertain its validity? Should it not pass the pragmatic test, that is to respond directly to the life-concerns of its time? What is the role of the philosopher and philosophy today? Due to the ever-advancing scientific, technological, social and cultural changes that are shaping human life and the life-world-in-transformation, we are desperately seeking a measure to estimate life's unfolding, a compass to stir the course between Scylla and Charibda to maintain human-hood and creative insight for laying the cornerstones for the unforeseeable unfolding of life dynamisms. It is this challenge which philosophy/phenomenology of life meets with underlying ontopoietic unraveling of the hidden logoic concatenations of beingness-in-becoming. The present collection of essays offers contributions to answer this challenge by focusing upon measure, sharing-in-life, intersubjectivity and communication, societal equilibrium, education, and more. It will be of great interest to those working in the fields of Phenomenology, Philosophy, History of Philosophy, and Contemporary Philosophy
The enigma of good and evil : the moral sentiment in literature
by
Anna-Teresa Tymieniecka
( Book )
19 editions published in
2005
in
English
and held by 140 WorldCat member libraries worldwide
Striking toward peace and harmony the human being is ceasely torn apart in personal, social, national life by wars, feuds, inequities and intimate personal conflicts for which there seems to be no respite. Does the human condition in interaction with others imply a constant adversity? Or, is this conflict owing to an interior or external factor of evil governing our attitudes and conduct toward the other person? To what criteria should I refer for appreciation, judgment, direction concerning my attitudes and my actions as they bear on the well-being of others? At the roots of these questions lies human experience which ought to be appropriately clarified before entering into speculative abstractions of the ethical theories and precepts. Literature, which in its very gist, dwells upon disentangling in multiple perspective the peripeteia of our life-experience offers us a unique field of source-material for moral and ethical investigations. Literature brings preeminently to light the Moral Sentiment which pervades our life with others -- our existence tout court. Being modulated through the course of our experiences the Moral Sentiment sustains the very sense of literature and of personal human life (Tymieniecka)
Imaginatio creatrix : the pivotal force of the genesis/ontopoiesis of human life and reality
by
Anna-Teresa Tymieniecka
( Book )
18 editions published between
2004
and 2011 in
English
and held by 134 WorldCat member libraries worldwide
The fulgurating power of creative imagination - Imaginatio Creatrix - setting in motion the Human Condition within the-unity-of-everything there-is-alive is the key to the rebirth of philosophy. From as early as 1971 (see the third volume of the Analecta Husserliana series, The Phenomenological Realism of the Possible Worlds, Anna-Teresa Tymieniecka, ed.), Imaginatio Creatrix has been the leitmotif for the research work of the World Phenomenology Institute (now published in eighty-three Analecta Husserliana volumes), one that is eliciting echoes from all around. Husserl's diagnosis of a crisis in Western science and culture, the inspiration of much of postmodern phenomenology, has yielded place to a wave of scientific discovery, technological invention, and change in societal life, individual lifestyles, the arts, etc. These throw a glaring light on human creative genius and the crucial role of the imagination that gives it expression. This present collection is an instance of that expression and the response it evokes. It manifests the role of imagination in forming and interpreting our world -in-transformation in a new way and opens our eyes to marvel at the new world on the way. Papers by: Semiha Akinci, John Baldacchino, Angela Ales Bello, Elif Cirakman, Tracy Colony, Carmen Cozma, Charles de Brantes, Mamuka G. Dolidze, Edward Domagala, Shannon Driscoll, Nader E1-Bizri, Ignacy Fiut, William Franke, Elga Freiberga, Beata Furgalska, Nicoletta Ghigi, Jennifer Anna Gosetti-Ferencei, David Grünberg, Oliver W. Holmes, Milan Jaros, Rolf Kühn, Maija Kule, Rimma Kurenkova, Matthew Landrus, Nancy Mardas, David Martinez, William D. Melaney, Mieczyslaw, Pawel Migon, Martin Nkafu Nkemnkia, Leszek Pyra, W. Kim Rogers, Bruce Ross, Osvaldo Rossi, Julio E. Rubio, Diane G. Scillia, Mina Sehdev, Dennis E. Skocz, Mariola Sulkowska, Robert D. Sweeney, Jan Szmyd, Piero Trupia, Anna-Teresa Tymieniecka, Richard T. Webster
more
fewer
Audience Level
0

1
Kids
General
Special
Audience level: 0.50 (from 0.19 for Imaginatio ... to 0.90 for Lucian Bla ...)
Associated Subjects
Act (Philosophy)
Aesthetics
Aesthetics, Modern
Art
Bochenski, Joseph M.,
Catholic Church
Cosmology
Cosmology--Philosophy
Creation (Literary, artistic, etc.)
Creation (Literary, artistic, etc.)--Psychological aspects
Creative thinking
Education--Philosophy
Emotions in literature
Ethics in literature
Existentialism
Fate and fatalism in literature
Good and evil in literature
History--Philosophy
Human beings
Husserl, Edmund,
Influence (Literary, artistic, etc.)
Ingarden, Roman,
Islamic philosophy
John Paul--II,--Pope,
Leibniz, Gottfried Wilhelm,--Freiherr von,
Life
Life in literature
Literature
Literature and morals
Literature--Philosophy
Logic
Memory
Methodology
Personality
Phenomenological anthropology
Phenomenological psychology
Phenomenology
Phenomenology and literature
Phenomenology in literature
Philosophical anthropology
Philosophy
Philosophy in literature
Poland
Reality
Time in literature
Transcendentalism
Transcendentalism (New England)
Tymieniecka, Anna-Teresa
Virtue epistemology
Virtues in literature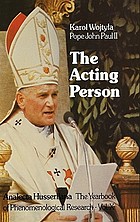 Alternative Names
Anna-Teresa Tymieniecka Amerikaans filosofe (1923-2014)

Anna-Teresa Tymieniecka filósofa estadounidense

Anna-Teresa Tymieniecka filòsofa estatunidenca

Anna-Tereza Timineçka

Houthakker, Anna-Teresa Tymieniecka

Houthakker Anna-Teresa Tymieniecka 1923-2014

Timienecka, Anna-Tereza

Timieniecka, Anna-Tereza.

Tymieniecka, A.-T.

Tymieniecka, A.-T., 1923-2014

Tymieniecka, A.-T. 1925-

Tymieniecka, A.-T. 1925-2014

Tymieniecka, A. T. (Anna-Teresa)

Tymieniecka, A.-T. (Anna-Teresa), 1925-

Tymieniecka, A. T. (Anna-Teresa), 1925-2014

Tymieniecka, Anna-Teresa

Tymieniecka, Anna Teresa 1925-2014

Tymieniecka, Anna-Theresa

Tymieniecka-Zaremba, Anna Teresa

Zaremba, Anna Teresa Tymieniecka-

Тыменецка, Анна-Тереза

アンナ=テレサ・ティミエニエツカ

ティミエニエツカ, A

ティミエニエツカ, アンナ=テレサ

ティミエニエツカ, アンナーテレサ

Languages
Covers