Hand, D. J. (David J.) 1950-
Most widely held works by D. J Hand
Statistics : a very short introduction
by
D. J Hand
( )
24 editions published between
1987
and 2015 in 4 languages and held by 2,330 WorldCat member libraries worldwide
From the Publisher: Statistical ideas and methods underlie just about every aspect of modern life. From randomized clinical trials in medical research, to statistical models of risk in banking and hedge fund industries, to the statistical tools used to probe vast astronomical databases, the field of statistics has become centrally important to how we understand our world. But the discipline underlying all these is not the dull statistics of the popular imagination. Long gone are the days of manual arithmetic manipulation. Nowadays statistics is a dynamic discipline, revolutionized by the computer, which uses advanced software tools to probe numerical data, seeking structures, patterns, and relationships. This Very Short Introduction sets the study of statistics in context, describing its history and giving examples of its impact, summarizes methods of gathering and evaluating data, and explains the role played by the science of chance, of probability, in statistical methods. The book also explores deep philosophical issues of induction-how we use statistics to discern the true nature of reality from the limited observations we necessarily must make
The improbability principle : why coincidences, miracles, and rare events happen every day
by
D. J Hand
( Book )
34 editions published between
2014
and 2017 in 7 languages and held by 1,568 WorldCat member libraries worldwide
"An eye-opening and engrossing look at rare moments, why they occur, and how they shape our world In The Improbability Principle, the renowned statistician David J. Hand unveils his groundbreaking argument that extraordinarily rare events are in fact commonplace. Weaving together fascinating new ways to think about chance, Hand highlights his "law of near enough," the "look elsewhere effect," and more, doing for probability what Newton's laws of motion did for mechanics. Through humorous and engaging tales of two-time lottery winners, gambling gone wrong, and bizarre coincidences that we can't quite fathom, Hand argues that extremely unlikely events must happen, and no mystical or supernatural explanation is necessary to understand why. Hand's investigation, grounded in statistics and brought to life with fascinating anecdotes, finally explains "unexplainable" events such as unexpectedly bumping into a friend in a foreign country and coming across an unfamiliar word twice in one day. Along the way, we learn what the Bible and Shakespeare have in common, just how to win the lottery, why financial crashes are par for the course, and why lightning does strike the same place (and the same person) more than once. As Hand makes clear, we can rest assured that we'll experience a "miracle" roughly once per month. An irresistible adventure into the laws behind chance moments, The Improbability Principle transforms how we think about business decisions, everyday encounters, serendipity, and luck"--
Principles of data mining
by
D. J Hand
( Book )
24 editions published between
2001
and 2012 in
English
and
Spanish
and held by 1,067 WorldCat member libraries worldwide
"The growing interest in data mining is motivated by a common problem across disciplines: how does one store, access, model, and ultimately describe and understand very large data sets? Historically, different aspects of data mining have been addressed independently by different disciplines. This is the first truly interdisciplinary text on data mining, blending the contributions of information science, computer science, and statistics."
Construction and assessment of classification rules
by
D. J Hand
( )
14 editions published between
1997
and 2003 in
English
and held by 870 WorldCat member libraries worldwide
Construction and Assessment of Classification Rules is an accessible book presenting the central issues and placing particular emphasis on comparison, performance assessment and how to match method to application. Some unusual allocation problems are outlined and a detailed discussion of performance assessment is included. The methods used for different application domains, such as parametric method, smoothing methods and recursive partitioning are described. The author reviews different approaches and guides researchers and users to suitable classes of techniques
Intelligent data analysis : an introduction
by
M Berthold
( Book )
43 editions published between
1999
and 2011 in
English
and held by 757 WorldCat member libraries worldwide
"This monograph is a detailed introductory presentation of the key classes of intelligent data analysis methods. The twelve coherently written chapters by leading experts provide complete coverage of the core issues. The first half of the book is devoted to the discussion of classical statistical issues, ranging from the basic concepts of probability, through general notions of inference, to advanced multivariate and time series methods, as well as a detailed discussion of the increasingly important Bayesian approaches and Support Vector Machines. The following chapters then concentrate on the area of machine learning and artificial intelligence and provide introductions into the topics of rule induction methods, neural networks, fuzzy logic, and stochastic search methods. The book concludes with a chapter on Visualization and a higher-level overview of the IDA processes, which illustrates the breadth of application of the presented ideas"--Back cover
The wellbeing of nations : meaning, motive and measurement
by
Paul Allin
( )
15 editions published in
2014
in
English
and held by 683 WorldCat member libraries worldwide
"What is national wellbeing and what is progress? Why measure these definitions? Why are measures beyond economic performance needed and how will they be used? How do we measure national wellbeing & turn the definitions into observable quantities? Where are we now and where to next? These questions are asked and answered in this much needed, timely book. The Wellbeing of Nations provides an accessible and comprehensive overview of the measurement of national well-being, examining whether national wellbeing is more than the sum of the wellbeing of everyone in the country, and identifying and reviewing requirements for new measures. It begins with definitions, describes how to operationalize those definitions, and takes a critical look at the uses to which such measures are to be put. The authors examine initiatives from around the world, using the UK 'measuring national wellbeing programme' as a case study throughout the book, along with case studies drawn from other countries, as well as discussion of the position in some countries not yet drawn into the national wellbeing scene"--
Discrimination and classification
by
D. J Hand
( Book )
24 editions published between
1981
and 1995 in
English
and
Undetermined
and held by 537 WorldCat member libraries worldwide
Distribution-free methods; Parameterized distributions; Linear discriminant functions; Discrete variables; Variable selection; Cluster analysis; Miscellaneous topics
Finite mixture distributions
by
Brian Everitt
( Book )
14 editions published in
1981
in
English
and
Undetermined
and held by 531 WorldCat member libraries worldwide
Finite mixture distributions arise in a variety of applications ranging from the length distribution of fish to the content of DNA in the nuclei of liver cells. The literature surrounding them is large and goes back to the end of the last century when Karl Pearson published his well-known paper on estimating the five parameters in a mixture of two normal distributions. In this text we attempt to review this literature and in addition indicate the practical details of fitting such distributions to sample data. Our hope is that the monograph will be useful to statisticians interested in mixture distributions and to re search workers in other areas applying such distributions to their data. We would like to express our gratitude to Mrs Bertha Lakey for typing the manuscript. Institute oj Psychiatry B.S. Everitt University of London D. l Hand 1980 CHAPTER I General introduction 1. 1 Introduction This monograph is concerned with statistical distributions which can be expressed as superpositions of (usually simpler) component distributions. Such superpositions are termed mixture distributions or compound distributions. For example, the distribution of height in a population of children might be expressed as follows: h(height) = fg(height: age)f(age)d age (1. 1) where g(height: age) is the conditional distribution of height on age, and/(age) is the age distribution of the children in the population
Analysis of repeated measures
by
M. J Crowder
( Book )
26 editions published between
1990
and 1999 in
English
and held by 506 WorldCat member libraries worldwide
more
fewer
Audience Level
0

1
Kids
General
Special
Audience level: 0.41 (from 0.04 for Methods an ... to 0.71 for Biplots / ...)
Related Identities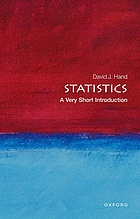 Covers
Alternative Names
Hand, D.

Hand D.J.

Hand D. J. 1950-....

Hand, David

Hand David 1950-....

Hand, David J.

Hand, David J. 1950-...

Hand, David matematičar

Дэвид Хэнд

핸드, 데이비드 1950-

핸드, 데이비드 J. 1950-

ハンド, デイビッド・J

Languages