Watson, Peter 1943-
Most widely held works about Peter Watson
Most widely held works by Peter Watson
The modern mind : an intellectual history of the 20th century
by
Peter Watson
( Book )
16 editions published between
2000
and 2014 in
English
and held by 1,270 WorldCat member libraries worldwide
The author of "War on the Mind" presents a major narrative history of the thoughts, ideas, individuals, scientific discoveries, literature, and art of the 20th century. This major narrative history of the people and ideas that shaped the modern world is a brilliantly reasoned examination of the thought and individuals that made twentieth-century culture. From Freud to Babbitt, from Relativity to Susan Sontag, from Proust to Henri Bergson to Saul Bellow, the books range is encyclopedic, covering the major writers, artists, scientists, and philosophers who produced the ideas by which we live. Beginning with four seminal ideas that were introduced in 1900 -- the unconscious, the gene, the quantum, and Picasso's first paintings in Paris-Peter Watson has produced a fluent and engaging narrative of the intellectual tradition of the past century. The book is divided into four parts -- Freud to Wittgenstein; Spengler to Animal Farm; Sartre to the Sea of Tranquillity; the counterculture to Kosovo -- and there are forty-two chapters. Watson emphasizes that "the century may be understood as a period during which the scientific method colonized all modes of thought and changed the way thinking is done." He sees the first half of the century as a period of discovery and the last half as a period of analysis, synthesis, and understanding, and he explores the role of the United States in setting the century's agenda in many areas. Unlike more conventional histories, in which the focus is on political events and personalities, The Modern Mind is an illuminating blueprint of twentieth-century thought and culture and the men and women who created it
Twins : an uncanny relationship?
by
Peter Watson
( Book )
6 editions published between
1981
and 1983 in
English
and held by 1,014 WorldCat member libraries worldwide
"Identical twins provide a unique opportunity for human genetic research: two individuals who are genetically the same, and who differences must be due to their environment. The ultimate experiment for such research is the study of identical twins who were separated at birth and reared in completely different homes, but while identical twins are scarce, those adopted into different families are rarer still. Now scientists at the University of Minnesota have discovered sixteen such pairs of siblings, and the results of their inquiries have stirred worldwide interest. For the lives of these twins reveal startling coincidences: twins who bought the same make of diary the same (and only) year and filled in entries for the same dates; twins who drove identical cars across the country each year to vacation at the same small beach in Florida; twins who arrived at the study center in Minneapolis and found each other wearing exactly the same clothes -- or the same jewelry. Telepathy? A 'spooky' bond between twins? Or just plain coincidence? Peter Watson relates the findings of the Minnesota study and explores the mathematical probability of the twins' similarities to see just how unusual they actually are. He also examines other twin reseach being conducted throughout the world, all of which raises a vital question: Are we subject to a genetic determinism that is stronger than any external influence? The answer is as yet unknown, but it appears that the role of genetics is far greater that had been thought. Twins is a provocative investigation of research that has implications for us all." -- Book jacket
Psychology and race
by
Peter Watson
( Book )
26 editions published between
1973
and 2017 in
English
and held by 929 WorldCat member libraries worldwide
"Since the problems of race relations are worldwide, the international origins and perspectives of this excellent and timely book are especially advantageous. More research has been done in the United States than elsewhere on the psychology of race relations, so it is appropriate that a plurality of the chapters of this book are by American authors--a stellar group that includes leading contributors to our contemporary knowledge of the topic. Contributors from the English-speaking Commonwealth countries are next in number, followed by authors from the United Kingdom, where race-related issues have only recently become a salient concern of politics and social ethics. The editor has assigned topics to his carefully chosen author-experts not by country or region, but by matching the expertise of each author against a need for coherent analysis of the important aspects of aepsychology and race.'Psychology and Race is divided into two major parts. The first half of the book looks at the interracial situation itself. The first section concentrates on the majority or dominant group, and describes the development and measurement of racial awareness and prejudice and techniques for reducing prejudice; the second section focuses on the reactions of subordinate or minority groups; and the third deals with specific aspects of interpersonal interaction-attitudes, behavior, and performance--when the people concerned are of different races. The book also looks at those areas of life where race is relevant and where psychology can help in an understanding of the situation. The scope of this volume, the distinction of its authors, and the hardheaded sense of reality it brings to the discussion of these extremely complex issues will make it an invaluable resource not only for teachers and students but also for everyone concerned in any way with this most pressing issue of our times."--Provided by publisher
The death of Hitler : the full story with new evidence from secret Russian archives
by
Ada Petrova
( Book )
17 editions published between
1995
and 2007 in
English
and held by 866 WorldCat member libraries worldwide
In this groundbreaking book, which reads like a riveting detective story, Ada Petrova and Peter Watson provide the answers to these two questions. Given access to the Russians' hitherto unseen Hitler Archive - File I-G-23, the so-called Operation Myth File - they reveal not only the truth of what went on in Berlin in May 1945 after the Russians captured the bunker in which Hitler, Eva Braun, and their entourage spent their last days, but also why the Soviet regime felt the details of the Fuhrer's death had to be kept secret for so long. Further, they explain how and why his body and those of Braun, Josef and Magda Goebbels, and the Goebbels' six children were secretly buried in Magdeburg, East Germany, and finally disinterred and cremated in 1970 by order of the then KGB chief Yuri Andropov
From Manet to Manhattan : the rise of the modern art market
by
Peter Watson
( Book )
19 editions published between
1992
and 1993 in
English
and held by 866 WorldCat member libraries worldwide
This remarkable book begins with all the dramatic immediacy of a blockbuster novel. Peter Watson takes us behind the scenes at the Christie's auction where van Gogh's Portrait of Dr. Gachet was sold for a world record price of $82.5 million. It was the first time such access had ever been granted a writer. The author then turns back the clock to trace the rise of the art market from three key events that took place in Paris, New York and London in 1882, through three
Sotheby's : the inside story
by
Peter Watson
( Book )
21 editions published between
1997
and 1998 in
English
and
Chinese
and held by 814 WorldCat member libraries worldwide
Met reg. The author tells the story of his five-year investigation into Sotheby's and of his discovery of practices that include: the facilitation of smuggling; the sale of antiquities known to have been stolen from tombs; the rigging of auctions by chandelier bidding; secret and dubious arrangements with a Japanese department store and with members of Iran's ruling elite; and the rigging of the Art market index
Ideas : a history of thought and invention, from fire to Freud
by
Peter Watson
( Book )
11 editions published between
2005
and 2015 in
English
and
Turkish
and held by 750 WorldCat member libraries worldwide
In this hugely ambitious and stimulating book, Peter Watson describes the history of ideas, from deep antiquity to the present day, leading to a new way of understanding our world and ourselves. The narrative begins nearly two million years ago with the invention of hand-axes and explores how some of our most cherished notions might have originated before humans had language. Then, in a broad sweep, the book moves forward to consider not the battles and treaties of kings and prime ministers, emperors and generals, but the most important ideas we have evolved, by which we live and which separate us from other animals. Watson explores the first languages and the first words, the birth of the gods, the origins of art, the profound intellectual consequences of money. He describes the invention of writing, early ideas about law, why sacrifice and the soul have proved so enduring in religion. He explains how ideas about time evolved, how numbers were conceived, how science, medicine, sociology, economics, and capitalism came into being. He shows how the discovery of the New World changed forever the way that we think, and why Chinese creativity faded after the Middle Ages. In the course of this commanding narrative, Watson reveals the linkages down the ages in the ideas of many apparently disparate philosophers, astronomers, religious leaders, biologists, inventors, poets, jurists, and scores of others. Aristotle jostles with Aquinas, Ptolemy with Photius, Kalidasa with Zhu Xi, Beethoven with Strindberg, Jefferson with Freud. Ideas is a seminal work
more
fewer
Audience Level
0

1
Kids
General
Special
Audience level: 0.33 (from 0.19 for Twins : an ... to 0.76 for Ideas : a ...)
Related Identities
Associated Subjects
African Americans--Psychology
Archaeological thefts
Art, Modern--Marketing
Art as an investment
Art auctions
Art--Collectors and collecting
Art dealers
Art thefts
Art thefts--Investigation
Atheism
Austria
Ballet dancers
Berlin, Battle of (Germany : 1945)
Civilization
Civilization, Modern
Civilization--German influences
Coincidence
Confiscations
Death of God
Eastern Hemisphere
England
Enlightenment
Germany
Germany--Berlin
Hitler, Adolf,
Intellectual life
Interdisciplinary approach to knowledge
Knowledge, Theory of
Life
Meaning (Philosophy)
Minorities--Psychology
Nature and nurture
Nureyev, Rudolf,
Painting--Private collections
Philosophy, Modern
Prejudices
Psychological warfare
Psychology, Military
Race awareness
Russia (Federation)
Science
Smuggling
Sotheby's (Firm)
Soviet Union
Suspense fiction
Twins--Psychology
Western Hemisphere
Wisdom and strength (Veronese)
World history
World War (1939-1945)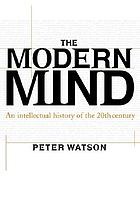 Alternative Names
Ford, Mackenzie
Peter Watson britischer Kunsthistoriker und Krimiautor

Peter Watson Brits kunsthistoricus

Watoson, Pītā 1943-

Watson, P.

Watson, Peter F. 1943-

Watson, Peter Frank 1943-

Питер Уотсон

ווטסון, פיטר

پیتر واتسون

왓슨, 피터 1943-

ワトスン, ピーター

ワトソン, ピーター

彼得·華生 (歷史學者)

Languages
Covers