Collins, H. M. (Harry M.) 1943-
Most widely held works about H. M Collins
more
fewer
Most widely held works by H. M Collins
The golem at large : what you should know about technology
by
H. M Collins
( )
45 editions published between
1998
and 2014 in
English
and held by 3,937 WorldCat member libraries worldwide
Through a series of case studies, the authors demonstrate that the imperfections in technology are related to the uncertainties in science
The golem : what everyone should know about science
by
H. M Collins
( )
65 editions published between
1993
and 2014 in
English
and held by 3,180 WorldCat member libraries worldwide
"What is the Golem? In Jewish mythology the Golem is an effigy or image brought to life. While not evil, it is a strong, clumsy, and incomplete servant. Through a series of case studies, ranging from relativity and cold fusion to memory in worms and the sex lives of lizards, Harry Collins and Trevor Pinch debunk the traditional view that science is the straightforward result of competent theorisation, observation and experimentation and show that scientific certainty is the interpretation of ambiguous results."
The shape of actions : what humans and machines can do
by
H. M Collins
( )
21 editions published between
1998
and 2015 in
English
and held by 2,079 WorldCat member libraries worldwide
What can humans do? What can machines do? How do humans delegate actions to machines? In this book, Harry Collins and Martin Kusch combine insights from sociology and philosophy to provide a novel answer to these increasingly important questions. The authors begin by distinguishing between two basic types of intentional behavior, which they call polimorphic actions and mimeomorphic actions. Polimorphic actions (such as writing a love letter) are ones that community members expect to vary with social context. Mimeomorphic actions (such a swinging a golf club) do not vary. Although machines cannot act, they can mimic mimeomorphic actions. Mimeomorphic actions are thus the crucial link between what humans can do and what machines can do. -- Publisher description
Dr. Golem : how to think about medicine
by
H. M Collins
( )
16 editions published between
2005
and 2007 in
English
and held by 1,938 WorldCat member libraries worldwide
The authors explore some mysteries of medicine while untangling the conundrums of scientific research and highlighting its vagaries. Driven by the question of what to do in the face of the fallibility of medicine, the book encourages a more inquisitive attitude toward the accounts offered by medical science
Rethinking expertise
by
H. M Collins
( )
24 editions published between
2007
and 2010 in
English
and
Undetermined
and held by 1,866 WorldCat member libraries worldwide
"Rethinking Expertise will be of interest to scientists and scholars in science studies but will also have implications for decision makers and experts across many fields - in technology, education, sociology, legal studies, psychology, philosophy, computer engineering, and business."--Jacket
Gravity's shadow : the search for gravitational waves
by
H. M Collins
( )
15 editions published in
2004
in
English
and held by 1,743 WorldCat member libraries worldwide
According to the theory of relativity, we are constantly bathed in gravitational radiation. When stars explode or collide, a portion of their mass becomes energy that disturbs the very fabric of the space-time continuum like ripples in a pond. But proving the existence of these waves has been difficult; the cosmic shudders are so weak that only the most sensitive instruments can be expected to observe them directly. Fifteen times during the last thirty years scientists have claimed to have detected gravitational waves, but so far none of those claims have survived the scrutiny of the scientifi
The one culture? : a conversation about science
by
Jay A Labinger
( )
17 editions published between
2001
and 2010 in
English
and held by 1,716 WorldCat member libraries worldwide
So far the ""Science Wars"" have generated far more heat than light. Combatants from one or the other of what C.P. Snow famously called ""the two cultures"" (science versus the arts and humanities) have launched bitter attacks but have seldom engaged in constructive dialogue about the central issues. In The One Culture?, Jay A. Labinger and Harry Collins have gathered together some of the world's foremost scientists and sociologists of science to exchange opinions and ideas rather than insults. The contributors find surprising areas of broad agreement in a genuine conversation abo
Gravity's ghost : scientific discovery in the twenty-first century
by
H. M Collins
( )
25 editions published between
2010
and 2014 in
English
and held by 1,277 WorldCat member libraries worldwide
Here, Collins reveals that scientific discovery and nondiscovery turn on scientific traditions and rivalries. that secure statistical analysis rests on impossible procedures and unattainable knowledge, and that fact in one place is baseless assumption in another. He also argues that sciences like gravitational wave detection, in exemplifying how the intractable is to be handled, can offer scientific leadership a moral beacon for the twenty-first century. In the end, Gravity's Ghost is a dramatic scientific mystery with a completely unexpected conclusion. --Book Jacket
Tacit and explicit knowledge
by
H. M Collins
( )
18 editions published between
2010
and 2013 in
English
and held by 1,096 WorldCat member libraries worldwide
"Much of what humans know we cannot say. And much of what we do we cannot describe. For example, how do we know how to ride a bike when we can't explain how we do it? Abilities like this were called 'tacit knowledge' by physical chemist and philosopher Michael Polanyi, but here Harry Collins analyzes the term, and the behavior, in much greater detail, often departing from Polanyi's treatment. In Tacit and Explicit Knowledge, Collins develops a common conceptual language to bridge the concept's disparate domains by explaining explicit knowledge and classifying tacit knowledge. Collins then teases apart the three very different meanings, which, until now, all fell under the umbrella of Polanyi's term: relational tacit knowledge (things we could describe in principle if someone put effort into describing them), somatic tacit knowledge (things our bodies can do but we cannot describe how, like balancing on a bike), and collective tacit knowledge (knowledge we draw that is the property of society, such as the rules for language). Thus, bicycle riding consists of some somatic tacit knowledge and some collective tacit knowledge, such as the knowledge that allows us to navigate in traffic. The intermixing of the three kinds of tacit knowledge has led to confusion in the past; Collins's book will at last unravel the complexities of the idea. Tacit knowledge drives everything from language, science, education, and management to sport, bicycle riding, art, and our interaction with technology. In Collins's able hands, it also functions at last as a framework for understanding human behavior in a range of disciplines."--Provided by publisher
Artificial experts : social knowledge and intelligent machines
by
H. M Collins
( Book )
25 editions published between
1990
and 1994 in
English
and
Italian
and held by 840 WorldCat member libraries worldwide
In Artificial Experts, Collins explains what computers can't do, but he also studies the ordinary and extraordinary things that they can do. He argues that the machines we create are limited because we cannot reproduce in symbols what every community knows, yet we give our machines abilities by the way we embed them in our society. He unfolds a compelling account of the difference between human action and machine intelligence, the core of which is a witty and learned explanation of knowledge itself, of what communities know and the ways in which they know it. H. M. Collins is Professor of Sociology, Head of the School of Social Sciences, and Director of the Science Studies Centre at the University of Bath
more
fewer
Audience Level
0

1
Kids
General
Special
Audience level: 0.16 (from 0.04 for The golem ... to 0.99 for Collins, H ...)
Related Identities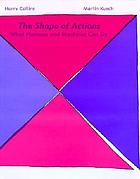 Covers
Alternative Names
Collins, H. M.

Collins, H.M. 1943-

Collins, Harry.

Collins, Harry 1943-

Collins, Harry M.

Collins, Harry M. 1943-

Harry Collins Brits socioloog

Harry Collins sociologue des sciences britannique

Хари Колинс

هری کالینز

콜린스, 해리 1943-

コリンズ, H.

コリンズ, ハリー

哈里·科林斯

Languages