Breggin, Peter Roger 1936-
Most widely held works about Peter Roger Breggin
Most widely held works by Peter Roger Breggin
Reclaiming our children : a healing solution for a nation in crisis
by
Peter Roger Breggin
( Book )
9 editions published between
1999
and 2000 in
English
and held by 1,048 WorldCat member libraries worldwide
"From recasting our attitudes as parents and getting more involved in schools as volunteers, to restructuring class sizes, limiting homework, and fostering honest dialog about the pressures in our society, Reclaiming Our Children shows us the way to lasting peace with and among our children. Beginning with a dramatic shift in adult priorities that places children at the center of our lives, Peter Breggin demonstrates how we can create loving, disciplined, and engaging relationships with all of our children if only we make the time."--Jacket
Psychiatric drug withdrawal : a guide for prescribers, therapists, patients, and their families
by
Peter Roger Breggin
( )
10 editions published between
2012
and 2013 in
English
and held by 807 WorldCat member libraries worldwide
Nothing in the field of mental health will do more good and reduce more harm than encouraging withdrawal from psychiatric drugs. The time is past when the focus in mental health was on what drugs to take for what disorders. Now we need to focus on how to stop taking psychiatric drugs and to replace them with more person-centered, empathic approaches. The goal is no longer drug maintenance and stagnation; the goal is recovery and achieving well-being. My new book, Psychiatric Drug Withdrawal: A Guide for Prescribers, Therapists, Patients and Families, responds to a citizen rebellion that demands, "Help us get off these drugs!" It also encourages a professional revolution among concerned therapists who want to reject the idea of enforcing "patient compliance." It's time for therapists, psychologists, nurses, social workers, family therapists, and counselors to stop pushing their clients and patients to take psychiatric drugs that cause brain damage, harm the body, and shorten their patients' lives. In Psychiatric Drug Withdrawal, therapists will learn about psychiatric drugs to actively participate with patients and families in the medication decision-making process. - Author
Your drug may be your problem : how and why to stop taking psychiatric drugs
by
Lijin Bu
( Book )
31 editions published between
1999
and 2008 in
English
and
Chinese
and held by 799 WorldCat member libraries worldwide
Exposing the shortcomings of psychiatric medicines, the authors offer a guide to withdrawing from a variety of powerful drugs, including sleeping pills, tranquilizers, antipsychotics, stimulants, and mood stabilizers
Toxic psychiatry : why therapy, empathy, and love must replace the drugs, electroshock, and biochemical theories of the "new psychiatry"
by
Peter Roger Breggin
( Book )
15 editions published between
1991
and 1994 in
English
and held by 731 WorldCat member libraries worldwide
Prozac, Xanax, Halcion, Haldol, Lithium. These psychiatric drugs--and dozens of other short-term "solutions"--Are being prescribed by doctors across the country as a quick antidote to depression, panic disorder, obsessive-compulsive disorder, and other psychiatric problems. But at what cost? In this searing, myth-shattering exposé, psychiatrist Peter R. Breggin, M.D., breaks through the hype and false promises surrounding the "New Psychiatry" and shows how dangerous, even potentially brain-damaging, many of its drugs and treatments are. He asserts that: psychiatric drugs are spreading an epidemic of long-term brain damage; mental "illnesses" like schizophrenia, depression, and anxiety disorder have never been proven to be genetic or even physical in origin, but are under the jurisdiction of medical doctors; millions of schoolchildren, housewives, elderly people, and others are labeled with medical diagnoses and treated with authoritarian interventions, rather than being patiently listened to, understood, and helped. Toxic Psychiatry sounds a passionate, much-needed wake-up call for everyone who plays a part, active or passive, in America's ever-increasing dependence on harmful psychiatric drugs
Talking back to prozac : what doctors won't tell you about today's most controversial drug
by
Peter Roger Breggin
( Book )
13 editions published between
1994
and 2014 in
English
and held by 645 WorldCat member libraries worldwide
And they take a hard look at the real story behind today's most controversial drug: the fact that Prozac was tested in trials of four to six weeks in length before receiving FDA approval; the difficulty Prozac's manufacturer had in proving its effectiveness during these tests; the information on side effects that the FDA failed to include in its final labeling requirements; how Prozac acts as a stimulant not unlike the addictive drugs cocaine and amphetamine; the dangers of possible Prozac addiction and abuse; the seriousness and frequency of Prozac's side effects, including agitation, insomnia, nausea, diarrhea, loss of libido, and difficulty reaching orgasm; the growing evidence that Prozac can cause violence and suicide; and the social and workplace implications of using the drug not to cure depression but to change personality and enhance performance
Guilt, shame, and anxiety : understanding and overcoming negative emotions
by
Peter Roger Breggin
( Book )
4 editions published between
2014
and 2015 in
English
and held by 500 WorldCat member libraries worldwide
With the first unified theory of guilt, shame, and anxiety, this pioneering psychiatrist and critic of psychiatric diagnoses and drugs examines the causes and effects of psychological and emotional suffering from the perspective of biological evolution, child development, and mature adult decision-making. Drawing on evolution, neuroscience, and decades of clinical experience, Dr. Breggin analyzes what he calls our negative legacy emotions - the painful emotional heritage that encumbers all human beings. The author marshals evidence that we evolved as the most violent and yet most empathic creatures on Earth. Evolution dealt with this species-threatening conflict between our violence and our close-knit social life by building guilt, shame, and anxiety into our genes. These inhibiting emotions were needed prehistorically to control our self-assertiveness and aggression within intimate family and clan relationships. Dr. Breggin shows how guilt, shame, and anxiety eventually became self-defeating and demoralizing legacies from our primitive past that no longer play any useful or positive role in mature adult life. He then guides the reader through the Three Steps to Emotional Freedom, starting with how to identify negative legacy emotions and then how to reject their control over us. Finally, he describes how to triumph over and transcend guilt, shame, and anxiety on the way to greater emotional freedom and a more rational, loving, and productive life
Medication madness : a psychiatrist exposes the dangers of mood-altering medications
by
Peter Roger Breggin
( Book )
3 editions published in
2008
in
English
and held by 486 WorldCat member libraries worldwide
Medications for everything from depression and anxiety to ADHD and insomnia are being prescribed in alarming numbers across the country, but the "cure" is often worse than the original problem. The weight of scientific evidence and years of clinical experience eventually convinced psychiatrist Dr. Breggin that psychiatric drugs frequently cause individuals to lose their judgment and their ability to control their emotions and actions. Here he examines the issues surrounding personal responsibility when behavior seems driven by drug-induced adverse reactions and intoxication. This book is a frightening, dramatic look at the role that psychiatric medications have played in fifty cases of suicide, murder, and other violent, criminal, and bizarre behaviors. It serves as a cautionary tale about our reliance on potentially dangerous psychoactive chemicals to relieve our emotional problems and provides a positive approach to taking personal charge of our lives.--From publisher description
more
fewer
Audience Level
0

1
Kids
General
Special
Audience level: 0.23 (from 0.02 for Talking ba ... to 0.76 for Lobotomy : ...)
Related Identities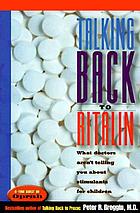 Covers
Alternative Names
Breggin, P. R. 1936-

Breggin, P. R. (Peter Roger), 1936-

Breggin, Peter.

Breggin, Peter 1936-

Breggin, Peter R.

Breggin, Peter R. 1936-

Breggin, Peter R. (Peter Roger), 1936-

Breggin, Peter Roger

Breggin, Peter Roger 1936-

Peter Breggin

Peter Breggin American psychiatrist

Peter Breggin Amerikaans psychiater

Питер Роджер Бреггин

پیتر برققین

ピーター・ブレギン

Languages