Manin, I︠U︡. I.
Overview
| | |
| --- | --- |
| Works: | 203 works in 747 publications in 4 languages and 10,538 library holdings |
| Genres: | Conference papers and proceedings History |
| Roles: | Author, Editor, Honoree, Author of introduction, Translator, Other, Collector, Adapter, Commentator, Dedicatee, Interviewee |
Most widely held works about I︠U︡. I Manin
Most widely held works by I︠U︡. I Manin
Introduction to modern number theory : fundamental problems, ideas and theories
by
I︠U︡. I Manin
( )
36 editions published between
2005
and 2010 in
English
and held by 980 WorldCat member libraries worldwide
"Introduction to Modern Number Theory surveys from a unified point of view both the modern state and the trends of continuing development of various branches of number theory. Motivated by elementary problems, the central ideas of modern theories are exposed. Some topics covered include non-Abelian generalizations of class field theory, recursive computability and Diophantine equations, zeta- and L-functions."--Jacket
Cubic forms; algebra, geometry, arithmetic
by
I︠U︡. I Manin
( Book )
44 editions published between
1972
and 1986 in 4 languages and held by 811 WorldCat member libraries worldwide
Since this book was first published in English, there has been important progress in a number of related topics. The class of algebraic varieties close to the rational ones has crystallized as a natural domain for the methods developed and expounded in this volume. For this revised edition, the original text has been left intact (except for a few corrections) and has been brought up to date by the addition of an Appendix and recent references. The Appendix sketches some of the most essential new results, constructions and ideas, including the solutions of the Luroth and Zariski problems, the th
Gauge field theory and complex geometry
by
I︠U︡. I Manin
( Book )
28 editions published between
1988
and 2011 in
English
and
German
and held by 712 WorldCat member libraries worldwide
From the reviews: " ... focused mainly on complex differential geometry and holomorphic bundle theory. This is a powerful book, written by a very distinguished contributor to the field" (Contemporary Physics)"the book provides a large amount of background for current research across a spectrum of field. ... requires effort to read but it is worthwhile and rewarding" (New Zealand Math. Soc. Newsletter) " The contents are highly technical and the pace of the exposition is quite fast. Manin is an outstanding mathematician, and writer as well, perfectly at ease in the most abstract and complex situation. With such a guide the reader will be generously rewarded!" (Physicalia) This new edition includes an Appendix on developments of the last 10 years, by S. Merkulov
Methods of homological algebra
by
S. I Gelʹfand
( Book )
31 editions published between
1996
and 2011 in
English
and
German
and held by 682 WorldCat member libraries worldwide
Homological algebra first arose as a language for describing topological prospects of geometrical objects. As with every successful language it quickly expanded its coverage and semantics, and its contemporary applications are many and diverse. This modern approach to homological algebra, by two leading writers in the field, is based on the systematic use of the language and ideas of derived categories and derived functors. Relations with standard cohomology theory (sheaf cohomology, spectral sequences, etc.) are described. In most cases complete proofs are given. Basic concepts and results of homotopical algebra are also presented. The book addresses people who want to learn a modern approach to homological algebra and to use it in their work. For the second edition the authors have made numerous corrections
Topics in noncommutative geometry
by
I︠U︡. I Manin
( Book )
15 editions published between
1991
and 2016 in
English
and
Undetermined
and held by 670 WorldCat member libraries worldwide
There is a well-known correspondence between the objects of algebra and geometry: a space gives rise to a function algebra; a vector bundle over the space corresponds to a projective module over this algebra; cohomology can be read off the de Rham complex; and so on. In this book Yuri Manin addresses a variety of instances in which the application of commutative algebra cannot be used to describe geometric objects, emphasizing the recent upsurge of activity in studying noncommutative rings as if they were function rings on "noncommutative spaces." Manin begins by summarizing and giving examples of some of the ideas that led to the new concepts of noncommutative geometry, such as Connes' noncommutative de Rham complex, supergeometry, and quantum groups. He then discusses supersymmetric algebraic curves that arose in connection with superstring theory; examines superhomogeneous spaces, their Schubert cells, and superanalogues of Weyl groups; and provides an introduction to quantum groups. This book is intended for mathematicians and physicists with some background in Lie groups and complex geometry. Originally published in 1991. The Princeton Legacy Library uses the latest print-on-demand technology to again make available previously out-of-print books from the distinguished backlist of Princeton University Press. These paperback editions preserve the original texts of these important books while presenting them in durable paperback editions. The goal of the Princeton Legacy Library is to vastly increase access to the rich scholarly heritage found in the thousands of books published by Princeton University Press since its founding in 1905
Mathematics and physics
by
I︠U︡. I Manin
( Book )
25 editions published between
1979
and 1983 in 3 languages and held by 622 WorldCat member libraries worldwide
A course in mathematical logic
by
I︠U︡. I Manin
( Book )
21 editions published between
1977
and 1991 in
English
and
Undetermined
and held by 604 WorldCat member libraries worldwide
This book is a text of mathematical logic on a sophisticated level, presenting the reader with several of the most significant discoveries of the last 10 to 15 years, including the independence of the continuum hypothesis, the Diophantine nature of enumerable sets and the impossibility of finding an algorithmic solution for certain problems. The book contains the first textbook presentation of Matijasevic's result. The central notions are provability and computability; the emphasis of the presentation is on aspects of the theory which are of interest to the working mathematician. Many of the approaches and topics covered are not standard parts of logic courses; they include a discussion of the logic of quantum mechanics, Goedel's constructible sets as a sub-class of von Neumann's universe, the Kolmogorov theory of complexity. Feferman's theorem on Goedel formulas as axioms and Highman's theorem on groups defined by enumerable sets of generators and relations. A number of informal digressions concerned with psychology, linguistics, and common sense logic should interest students of the philosophy of science or the humanities
A course in mathematical logic for mathematicians
by
I︠U︡. I Manin
( )
20 editions published between
2010
and 2012 in
English
and held by 591 WorldCat member libraries worldwide
A Course in Mathematical Logic for Mathematicians, Second Edition offers a straightforward introduction to modern mathematical logic that will appeal to the intuition of working mathematicians. The book begins with an elementary introduction to formal languages and proceeds to a discussion of proof theory. It then presents several highlights of 20th century mathematical logic, including theorems of Gödel and Tarski, and Cohen's theorem on the independence of the continuum hypothesis. A unique feature of the text is a discussion of quantum logic. The exposition then moves to a discussion of computability theory that is based on the notion of recursive functions and stresses number-theoretic connections. The text present a complete proof of the theorem of Davis-Putnam-Robinson-Matiyasevich as well as a proof of Higman's theorem on recursive groups. Kolmogorov complexity is also treated. Part III establishes the essential equivalence of proof theory and computation theory and gives applications such as Gödel's theorem on the length of proofs. A new Chapter IX, written by Yuri Manin, treats, among other things, a categorical approach to the theory of computation, quantum computation, and the P/NP problem. A new Chapter X, written by Boris Zilber, contains basic results of model theory and its applications to mainstream mathematics. This theory has found deep applications in algebraic and diophantine geometry. Yuri Ivanovich Manin is Professor Emeritus at Max-Planck-Institute for Mathematics in Bonn, Germany, Board of Trustees Professor at the Northwestern University, Evanston, IL, USA, and Principal Researcher at the Steklov Institute of Mathematics, Moscow, Russia. Boris Zilber, Professor of Mathematical Logic at the University of Oxford, has contributed the Model Theory Chapter for the second edition
K-theory, arithmetic and geometry : seminar, Moscow University, 1984-1986
by
I︠U︡. I Manin
( Book )
23 editions published in
1987
in
English
and held by 588 WorldCat member libraries worldwide
This volume of research papers is an outgrowth of the Manin Seminar at Moscow University, devoted to K-theory, homological algebra and algebraic geometry. The main topics discussed include additive K-theory, cyclic cohomology, mixed Hodge structures, theory of Virasoro and Neveu-Schwarz algebras
Algebra, arithmetic, and geometry : in honor of Yu. I. Manin
by
Yuri Tschinkel
( )
23 editions published between
2009
and 2011 in
English
and held by 556 WorldCat member libraries worldwide
The two volumes of "Algebra, Arithmetic, and Geometry: In Honor of Y.I. Manin" are composed of invited expository articles and extensions detailing Manin's contributions to the subjects, and are in celebration of his 70th birthday. The well-respected and distinguished contributors include: Behrend, Berkovich, Bost, Bressler, Calaque, Carlson, Chambert-Loir, Colombo, Connes, Consani, Dabrowski, Deninger, Dolgachev, Donaldson, Ekedahl, Elsenhans, Enriques, Etingof, Fock, Friedlander, Geemen, Getzler, Goncharov, Harris, Iskovskikh, Jahnel, Kaledin, Kapranov, Katz, Kaufmann, Kollar, Kont
more
fewer
Audience Level
0

1
Kids
General
Special
Audience level: 0.60 (from 0.37 for Introducti ... to 0.83 for Late style ...)
Related Identities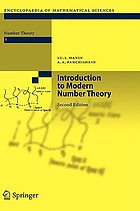 Covers
Alternative Names
Jurij Ivanovics Manyin

Jurij Manin matematico russo

Manin, I︠U︡ I

Manin, I︠U︡. I. 1937-

Manin, I︠U︡riĭ Ivanovich

Manin, I͡Uriĭ Ivanovich 1937-

Manin, J. 1937-

Manin, J. I.

Manin, J.I. 1937-

Manin, Ju. I.

Manin, Ju.I. 1937-

Manin , Jurii Ivanovic

Manin, Jurij I.

Manin, Jurij I. 1937-

Manin, Jurij Ivanovič

Manin, Jurij Ivanovič 1937-

Manin, Jurij Ivanovič. [t]

Manin, Jurij Iwanowitsch 1937-

Manin, Û. I.

Manin, Y.

Manin, Y. 1937-

Manin, Y. I. 1937-

Manin , Yu. I.

Manin, Yu.I. 1937-

Manin, Yu. I. (Yurij I.)

Manin, Yuri.

Manin , Yuri I.

Manin, Yuri I., 1936-

Manin, Yuri I. 1937-

Manin, Yuri Ivanovič

Manin Yuri Ivanovic 1937-....

Manin , Yuri Ivanovich

Manin, Yuri Ivanovich 1937-

Manin, Yurii Ivanovich.

Manin Yurii Ivanovich 1937-.....

Manin, Yurij I.

Manin, Yurij I. 1937-

Yuri I. Manin Russian-German mathematician

Yuri I. Manin Russian mathematician

Yuri Manin

Yuri Manin Duits wiskundige

Yuri Manin matemático ruso

Yuri Manin matematico russo

Yuri Manin mathématicien russe

Yuri Manin russischer Mathematiker und Direktor am Max-Planck-Institut für Mathematik in Bonn

Yuri Manin tysk matematikar

Yuri Manin tysk matematiker

Γιούρι Μάνιν

Манин, Ю. И..

Манин, Юрий Иванович

Манин Юрий Иванович 1937-....

Манин, Юрий Иванович российский математик, алгебраический геометр

Юрий Иванович Манин российский математик, алгебраический геометр

Юрій Манін російський математик

يوري مانين رياضياتي روسي

유리 마닌

ユーリ・マニン

Languages