Hull, N. E. H. 1949-
Most widely held works by N. E. H Hull
Roe v. Wade : the abortion rights controversy in American history
by
N. E. H Hull
( Book )
18 editions published between
2001
and 2010 in
English
and held by 2,983 WorldCat member libraries worldwide
Looking back 200 years to the first state laws & forward to a political climate that threatens Roe's future legal status, this book combines a close & accessible analysis of the debates with a broad understanding of what is at stake politically & culturally. Giving due respect to both sides of the conflict, the authors effectively trace and analyze the core debates, examine the case's unique history, clarify the jurisprudence behind the Court's ruling, and gauge its impact on American society. Of special note is their revealing account of how the Court attempted to steer a middle course by rejecting both abortion on demand and the absolute right to life and yet, in the end, wound up igniting a firestorm of protest instead. Unlike other accounts of Roe, this one examines the complete social and legal context of the case. Hull and Hoffer review more than a century of abortion practice (and abuse), common-law views on abortion, nineteenth-century criminalization measures, and the rapid changes in science, public mores, and civil rights that finally brought the issue before the Supreme Court. They also trace abortion law through the twentieth century, reprise the 1965 case of Griswold v. Connecticut, in which the Supreme Court overturned a state law against contraceptives, and reexamine the highly publicized attempts to reverse Roe in Webster v. Reproductive Services (1989) and Casey v. Planned Parenthood (1992)
The Supreme Court : an essential history
by
Peter Charles Hoffer
( Book )
7 editions published between
2007
and 2014 in
English
and held by 1,524 WorldCat member libraries worldwide
For more than two centuries, the U.S. Supreme Court has provided a battleground for nearly every controversial issue in our nation's history. Now a veteran team of talented historians--including the editors of the acclaimed Landmark Law Cases and American Society series--have produced the most readable, astute, and up-to-date single-volume history of this venerated institution, as engaging for general readers as it is rigorous for scholars. The Supreme Court chronicles an institution that dramatically evolved from six men meeting in borrowed quarters to the most closely watched tribunal in the world. Underscoring the close connection between law and politics, the authors highlight essential issues, cases, and decisions within the context of the times in which the decisions were handed down. Deftly combining doctrine and judicial biography with case law, they demonstrate how the justices have shaped the law and how the law that the Court makes has shaped our nation, with an emphasis on how the Court responded--or failed to respond--to the plight of the underdog. Each chapter covers the Court's years under a specific Chief Justice, focusing on cases that are the most reflective of the way the Court saw the law and the world and that had the most impact on the lives of ordinary Americans. Throughout the authors reveal how--in times of war, class strife, or moral revolution--the Court sometimes voiced the conscience of the nation and sometimes seemed to lose its moral compass. Their extensive quotes from the Court's opinions and dissents illuminate its inner workings, as well as the personalities and beliefs of the justices and the often-contentious relationships among them. Fair-minded andsharply insightful, The Supreme Court portrays an institution defined by eloquent and pedestrian decisions and by justices ranging from brilliant and wise to slow-witted and expedient. An epic and essential story, it illuminates the Court's role in our lives and its place in our history
The woman who dared to vote : the trial of Susan B. Anthony
by
N. E. H Hull
( Book )
4 editions published in
2012
in
English
and held by 960 WorldCat member libraries worldwide
Just as the polls opened on November 5, 1872, Susan B. Anthony arrived and filled out her "ticket" for the various candidates. But a poll watcher objected, claiming her action violated the laws of New York and the state constitution. Anthony protested that as a citizen of the United States and the state of New York she was entitled to vote under the Fourteenth Amendment. The poll watchers gave in and allowed Anthony to deposit her ballots. Anthony was arrested, charged with a federal crime, and tried in court. The author here provides the first book-length engagement with the legal dimensions of that narrative and, in the process, illuminates the laws, politics, and personalities at the heart of the trial and its outcome
The abortion rights controversy in America : a legal reader
( Book )
7 editions published in
2004
in
English
and held by 894 WorldCat member libraries worldwide
"Beginning with the introduction of abortion law in the nineteenth century, this reader includes important documents from nearly two hundred years of debate over abortion. These legal briefs, oral arguments, court opinions, newspaper reports, opinion pieces, and contemporary essays are introduced with headnotes that place them in historical context." "This collection brings together the writings of doctors, lawyers, scientists, philosophers, elected officials, judges, and scholars as few other legal readers do, and it is essential reading for those engaged in the ongoing debate about abortion law in the United States."--Jacket
Impeachment in America, 1635-1805
by
Peter Charles Hoffer
( Book )
9 editions published in
1984
in
English
and
Undetermined
and held by 759 WorldCat member libraries worldwide
Roscoe Pound and Karl Llewellyn : searching for an American jurisprudence
by
N. E. H Hull
( Book )
9 editions published between
1997
and 1998 in
English
and held by 508 WorldCat member libraries worldwide
American legal history is traditionally viewed as a succession of discrete schools of thought or landmark court decisions, not as the work of individuals. Such an approach, however, hardly does justice to the lives of two of the foremost teachers and theorists of American jurisprudence. In Roscoe Pound and Karl Llwellyn: Searcbing for an American Jurisprudence, N.E.H. Hull reconstructs the historical, cultural, and intellectual context of the work of Pound and Llewellyn, bringing to light their private and public relationship as well as the diverse sources - from psychology to plant ecology to Icelandic sagas - they separately drew upon in making their contributions to the American legal tradition
The federal courts : an essential history
by
Peter Charles Hoffer
( Book )
4 editions published in
2016
in
English
and held by 192 WorldCat member libraries worldwide
Présentation de l'éditeur : "There are moments in American history when all eyes are focused on a federal court: when its bench speaks for millions of Americans, and when its decision changes the course of history. More often, the story of the federal judiciary is simply a tale of hard work: of finding order in the chaotic system of state and federal law, local custom, and contentious lawyering. The Federal Courts is a story of all of these courts and the judges and justices who served on them, of the case law they made, and of the acts of Congress and the administrative organs that shaped the courts. But, even more importantly, this is a story of the courts' development and their vital part in America's history. Peter Charles Hoffer, Williamjames Hull Hoffer, and N.E.H. Hull's retelling of that history is framed the three key features that shape the federal courts' narrative: the separation of powers; the federal system, in which both the national and state governments are sovereign; and the widest circle: the democratic-republican framework of American self-government. The federal judiciary is not elective and its principal judges serve during good behavior rather than at the pleasure of Congress, the President, or the electorate. But the independence that lifetime tenure theoretically confers did not and does not isolate the judiciary from political currents, partisan quarrels, and public opinion. Many vital political issues came to the federal courts, and the courts' decisions in turn shaped American politics. The federal courts, while the least democratic branch in theory, have proved in some ways and at various times to be the most democratic: open to ordinary people seeking redress, for example. Litigation in the federal courts reflects the changing aspirations and values of America's many peoples. The Federal Courts is an essential account of the branch that provides what Massachusetts Supreme Judicial Court Judge Oliver Wendell Homes Jr. called 'a magic mirror, wherein we see reflected our own lives'."
more
fewer
Audience Level
0

1
Kids
General
Special
Audience level: 0.30 (from 0.20 for Roe v. Wad ... to 0.96 for The romant ...)
Associated Subjects
Abortion--Law and legislation
Anthony, Susan B.--(Susan Brownell),
Capacity and disability
Children
Courts
Courts of last resort
Crime and criminals
Criminal justice, Administration of
Culture and law
Election law
England
Federal government
Female offenders
Guardian and ward
Impeachment
Impeachments
Infanticide
Jurisprudence
Law
Law--Study and teaching
Law teachers
Lawyers
Legal assistance to older people
Legislation
Llewellyn, Karl N.--(Karl Nickerson),
Massachusetts
Massachusetts.--Superior Court
New England
Older people--Legal status, laws, etc
Pound, Roscoe,
Roe, Jane,
Trials
Trials (Abortion)
United States
United States.--Supreme Court
Wade, Henry
Washington (D.C.)
Women--Suffrage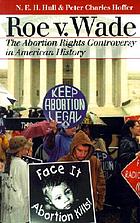 Alternative Names
Hull, N. E.

Hull, Natalie E. 1949-

Hull, Natalie E. H.

Hull, Natalie E. H. 1949-

Hull, Nathalie E. H.

Languages
Covers