McGuire, Thomas G. 1950-
Most widely held works by Thomas G McGuire
Handbook of health economics
by
Mark V Pauly
( Book )
28 editions published between
2000
and 2012 in
English
and held by 742 WorldCat member libraries worldwide
What new theories, evidence, and policies have shaped health economics in the 21st century? Editors Mark Pauly, Thomas McGuire, and Pedro Pita Barros assemble the expertise of leading authorities in this survey of substantive issues. In 16 chapters they cover recent developments in health economics, from medical spending growth to the demand for health care, the markets for pharmaceutical products, the medical workforce, and equity in health and health care. Its global perspective, including an emphasis on low and middle-income countries, will result in the same high citations that made Volume 1 (2000) a foundational text. Presents coherent summaries of major subjects and methodologies, marking important advances and revisions. Serves as a frequently used non-journal reference. Introduces non-economists to the best research in health economics
Measuring adverse selection in managed health care
by
Richard G Frank
( )
17 editions published between
1998
and 1999 in
English
and held by 139 WorldCat member libraries worldwide
Health plans paid by capitation have an incentive to distort the quality of services they offer to attract profitable and to deter unprofitable enrollees. We characterize plans' rationing as imposing a show that the profit maximizing shadow price depends on the dispersion in health costs, how well individuals forecast their health costs, the correlation between use in different illness categories, and the risk adjustment system used for payment. We further show how these factors can be combined in an empirically implementable index that can be used to identify the services that will be most distorted in competition among managed care plans. A simple welfare measure is developed to quantify the distortion caused by selection incentives. We illustrate the application of our ideas with a Medicaid data set, and conduct policy analyses of risk adjustment and other options for dealing with adverse selection
Parity for mental health and substance abuse care under managed care
by
Richard G Frank
( )
14 editions published between
1998
and 1999 in
English
and held by 132 WorldCat member libraries worldwide
Background: Parity in insurance coverage for mental health and substance abuse has been a key goal of mental health and substance abuse care advocates in the United States during most of the past 20 years. The push for parity began during the era of indemnity insurance and fee for service payment when benefit design was the main rationing device in health care. The central economic argument for enacting legislation aimed at regulating the insurance benefit was to address market failure stemming from adverse selection. The case against parity was based on inefficiency related to moral hazard. Empirical analyses provided evidence that ambulatory mental health services were considerably more responsive to the terms of insurance than were ambulatory medical services. Aims: Our goal in this research is to reexamine the economics of parity in the light of recent changes in the delivery of health care in the United States. Specifically managed care has fundamentally altered the way in which health services are rationed. Benefit design is now only one mechanism among many that are used to allocate health care resources and control costs. We examine the implication of these changes for policies aimed at achieving parity in insurance coverage. Method: We develop a theoretical approach to characterizing rationing under managed care. We then analyze the traditional efficiency concerns in insurance, adverse selection and moral hazard in the context of policy aimed at regulating health and mental health benefits under private insurance. Results: We show that since managed care controls and utilization in new ways Parity in benefit design no longer implies equal access to and quality of mental health and substance abuse care. Because costs are controlled by management under managed care and not primarily by out of pocket prices paid by consumers, demand response recedes as an efficiency argument against parity. At the same time parity in benefit design may accomplish less with respect to providing a remedy to problems related to adverse selection
Economics and mental health
by
Richard G Frank
( )
16 editions published between
1981
and 1999 in
English
and held by 130 WorldCat member libraries worldwide
This paper is concerned with the economics of mental health. We argue that mental health economics is like health economics only more so: uncertainty and variation in treatments are greater; the assumption of patient self-interested behavior is more dubious; response to financial incentives such as insurance is exacerbated; the social consequences and external costs of illness are formidable. We elaborate on these statements and consider their implications throughout the chapter. Special characteristics' of mental illness and persons with mental illness are identified and related to observations on institutions paying for and providing mental health services. We show that adverse selection and moral hazard appear to hit mental health markets with special force. We discuss the emergence of new institutions within managed care that address long-standing problems in the sector. Finally, we trace the shifting role of government in this sector of the health economy
Alternative insurance arrangements and the treatment of depression : what are the facts?
by
Ernst R Berndt
( )
15 editions published in
1996
in
English
and held by 119 WorldCat member libraries worldwide
Using insurance claims data from nine large self-insured employers offering 26 alternative health benefit plans, we examine empirically how the composition and utilization for the treatment of depression vary under alternative organizational forms of insurance (indemnity, preferred provider organization networks or PPOs, and mental health carve-outs), and variations in patient cost-sharing (copayments for psychotherapy and for prescription drugs). Although total outpatient mental health/substance abuse (MHSA) expenditures per treated individual do not vary significantly across insurance forms, the depressed outpatient is more likely to receive anti-depressant drug (ADD) medications in PPOs and carve-outs than under indemnity insurance. Those individuals facing higher copayments for psychotherapy are more likely to receive ADD medications. For those receiving ADD treatment, increases in prescription drug copay tend to increase the share of ADD medication costs accounted for by the newest (and more costly) generation of drugs, the selective serotonin reuptake inhibitors
Cost-offsets of new medications for treatment of schizophrenia
by
Richard G Frank
( )
9 editions published in
2006
in
English
and held by 89 WorldCat member libraries worldwide
Broad claims are frequently made that new medications will offset all or part of their costs by reducing other areas of Medicaid spending. In this paper we examine the net impact on spending for new drugs used to treat schizophrenia. We extend research in this area by taking a new approach to identification of spending impacts of new drugs. We specify and estimate models of spending on treatment of schizophrenia using 7 years of Florida Medicaid data. The estimates indicate that use of the new drugs result in net spending increases. This may be due to increased adherence to treatment
Mental health treatment and criminal justice outcomes
by
Richard G Frank
( )
7 editions published in
2010
in
English
and held by 83 WorldCat member libraries worldwide
Are many prisoners in jail or prison because of their mental illness? And if so, is mental health treatment a cost-effective way to reduce crime and lower criminal justice costs? This paper reviews and evaluates the evidence assessing the potential of expansion of mental health services for reducing crime. Mental illness and symptoms of mental illness are highly prevalent among adult and child criminal justice populations. The association between serious mental illness and violence and arrest is particularly strong among individuals who are psychotic and do not adhere to medication. Two empirical studies augment the empirical research base relating mental illness to crime. In a recent community sample of adults, we find higher rates of arrest for those with serious mental illness and with substance abuse. Among youth, even with family fixed effects, antisocial personality scores predict future school problems and arrests. A large body of research tracks mental health and criminal justice outcomes associated with treatments and social policies. Reviews of the cost-effectiveness of treatments for children with behavioral problems, mental health courts, and mandatory outpatient treatment are inconclusive
A primer on the economics of prescription pharmaceutical pricing in health insurance markets
by
Ernst R Berndt
( )
7 editions published in
2011
in
English
and held by 79 WorldCat member libraries worldwide
The pricing of medical products and services in the U.S. is notoriously complex. In health care, supply prices (those received by the manufacturer) are distinct from demand prices (those paid by the patient) due to health insurance. The insurer, in designing the benefit, decides what prices patients pay out-of-pocket for drugs and other products. In this primer we characterize cost and supply conditions in markets for generic and branded drugs, and apply basic tools of microeconomics to describe how an insurer, acting on behalf of its enrollees, would set demand prices for drugs. Importantly, we show how the market structure on the supply side, characterized alternatively by monopoly (unique brands), Bertrand differentiated product markets (therapeutic competition), and competition (generics), influences the insurer's choices about demand prices. This perspective sheds light on the choice of coinsurance versus copayments, the structure of tiered formularies, and developments in the retail market
more
fewer
Audience Level
0

1
Kids
General
Special
Audience level: 0.62 (from 0.57 for Handbook o ... to 0.68 for Measuring ...)
Related Identities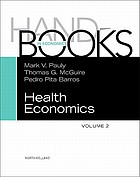 Covers
Alternative Names
MacGuire, Thomas 1950-

MacGuire, Thomas G. 1950-

MacGuire, Thomas Gregory 1950-

MacGuire, Tom 1950-

Mc Guire, Thomas G. 1950-

McGuire, Thomas

McGuire, Thomas 1950-

McGuire, Thomas G.

McGuire, Thomas Gregory 1950-

McGuire, Tom 1950-

Languages