Shūeisha
Most widely held works about Shūeisha
Most widely held works by Shūeisha
DragonBall Z
( Visual )
2 editions published in
2015
in
English
and held by 546 WorldCat member libraries worldwide
The return of Frieza; one of the anime world's greatest villains. Frieza has been resurrected and plans to take his revenge on the Z-Fighters of Earth. Goku and Vegeta must reach new levels of power in order to protect Earth from their vengeful nemesis
Dragon Ball Z
( Visual )
6 editions published between
2006
and 2007 in
Japanese
and
English
and held by 327 WorldCat member libraries worldwide
"Having suffered heavy losses in the battle with the Saiyans, and with Goku still recovering from his injuries, the remaining Z-Fighters must embark on a perilous journey to Planet Namek in search of the Namekian Dragon Balls. Beset on all sides by danger, Gohan, Krillin, and Bulma must fight for their lives as they struggle to keep the Dragon Balls from falling into evil hands."--Container
Dragon Ball Z
( Visual )
5 editions published between
2007
and 2008 in
English
and
Japanese
and held by 294 WorldCat member libraries worldwide
Having returned victorious from their battle with Frieza, the Z-Fighters can at last breathe a collective sigh of relief-- but they won't have long to rest. A new host of villains has appeared, ready to wreak havoc on the Earth-- and Goku, the Z-Fighters' greatest hero is still missing. In the face of these new dangers, a mysterious youth with super Saiyan powers has come bearing a bleak prediction for the future: in just three years' time, an evil greater than any the Z-Fighters have ever faced will emerge to cast a shadow of destruction and despair over the Earth. And if the young Saiyan's prediction is correct, the Z-Fighters will have to train like they have never trained before in order to have any hope against these seemingly unstoppable foes-- the Androids
Dragon Ball Z
by Artist Not Provided
( Visual )
4 editions published between
2007
and 2008 in
English
and
Japanese
and held by 289 WorldCat member libraries worldwide
The battle to decide the fate of the universe begins. On the distant planet Namek, the seven magic Dragon Balls have been brought together and the dragon Porunga summoned. Now, Goku and the Z-fighters are all that stand between the evil Frieza and his wish for immortality. Having survived their encounters with Frieza's dreaded minions, Goku and his friends are now left to contend with the ruthless tyrant himself. Despite their recent victories, however, the Z-fighters are ill prepared to face the terrifying reality of Frieza's power. To defeat this seemingly invincible foe and restore peace to the universe, there is but one hope-- a Super Saiyan must emerge
Death note
( Visual )
1 edition published in
2008
in
Japanese
and held by 278 WorldCat member libraries worldwide
"Meet Light Yagami, a brilliant but bored high school student whose life is changed when he finds the Death Note, a notebook dropped by a rogue Shinigami, or god of death, named Ryuk. When Light discovers that any human whose name is written in the book dies, he vows to use its power to rid the world of evil. But every action has its consequences, and Light soon finds himself in a life or death battle of wits with the mysterious genius detective called L. Humanity itself becomes the battleground to determine what form of justice will prevail"--Container
Dragon Ball Z
( Visual )
3 editions published in
2008
in
Japanese
and held by 260 WorldCat member libraries worldwide
The Z-Fighters gather their forces in an effort to combat the Android menace that has been set loose upon the planet. But they are about to discover that the Androids are the least of their worries. An even greater threat has risen from the shadows-- Dr. Gero's most lethal creation: Cell! Born from the genetic material of the greatest warriors ever to walk the Earth, Cell is Dr. Gero's ultimate weapon, a perfect fighting machine capable of duplicating all of the Z-Fighters' most powerful attacks. Now, after years of waiting, Cell has begun to unleash his terrifying powers, wiping out entire cities as he gathers the energy he needs to fulfill his creator's grand design. The Z-Fighters must find a way to stop this monstrous foe before he completes his quest to absorb the other Androids and achieves his invincible Perfect Form
Dragon Ball Z
( Visual )
3 editions published in
2008
in
Japanese
and
English
and held by 247 WorldCat member libraries worldwide
"Having at last achieved his perfect form, the evil Cell's powers have soared to terrible new heights, overshadowing even the greatest of the Z-fighters. Eager to demonstrate these newfound abilities and prove his superiority, Cell proposed a tournament. The day of reckoning upon them, Goku and the Z-fighters line up to participate in Cell's twisted game, the world's best hope of defeating the monster. But they are not the only ones brave enough to accept the challenge - the reigning World Martial Arts Champion, Mr. satan, has also stepped into the ring!"--Container
Dragonball Z
by Artist Not Provided
( Visual )
3 editions published between
2008
and 2009 in
Japanese
and
English
and held by 246 WorldCat member libraries worldwide
"Seven years of peace have passed since the defeat of the monstrous Cell, and the Z-fighters have enjoyed a return to normal life. Now, the time has come for the Z-fighters to reunite, as the new World Martial Arts Tournament is set to begin. The greatest warriors on Earth have come together for their chance to capture the title of the reigning champion, Mr Satan - but behind the scenes, sinister forces are at work. An evil eye watches the competitors' every move, waiting for the opportune moment to strike."--Container
Dragonball Z
by Artist Not Provided
( Visual )
4 editions published between
2007
and 2009 in
English
and held by 238 WorldCat member libraries worldwide
The forces of good and evil have converged upon the planet Earth, and the fate of the universe hangs in the balance. The evil wizard Babidi has traveled across the galaxy on a quest for revenge, hoping to fulfill his father's thwarted dreams
DragonBall Z
( Visual )
3 editions published in
2009
in
English
and held by 214 WorldCat member libraries worldwide
Majin Buu's spree of terror continues, and his ruthlessness knows no bounds! In his quest to eliminate the remaining Z-Fighters, Buu has cut a path of destruction so utterly complete that it may even be beyond the power of the Dragon Balls to repair ... With their efforts to stop Majin Buu quickly proving futile, the Z-Fighters have but one remaining hope against this seemingly invincible foe--the Fusion Technique!
more
fewer
Audience Level
0

1
Kids
General
Special
Audience level: 0.21 (from 0.17 for DragonBall ... to 0.90 for Pōtorēto ...)
Related Identities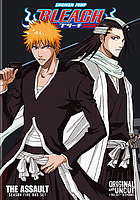 Covers
Alternative Names
Be Bunko Henshubu

be ブンコ ヘンシュウブ

be文庫編集部

Bii Bunko Henshubu

Janpu Komikku Shuppan Henshubu

Kabushiki-gaisha Shūeisha.

Shūei-sha

Shūeisha

Shueisha Company Information.

Shūeisha éditeur japonais

Shūeisha editorial japonesa

Shueisha Inc.

Shūeisha Intānashonaru.

Shueisha Japanese manga, magazines and novels publisher

Shūeisha japanischer Verlag

Shueisha Publishing Co, Ltd.

Shukan Tetsudo Zekkei No Tabi Henshubu

Shuueisha

Šúeiša

شوئيشا

شوئیشا

शुएइशा

শুএইশা

ชูเอชะ

슈에이샤 일본의 출판사

ジャンプ コミック シュッパン ヘンシュウブ

ジャンプコミック出版編集部

シュウエイシャ

シュウカン テツドウ ゼッケイ ノ タビ ヘンシュウブ

ビィ ブンコ ヘンシュウブ

集英社

集英社 日本漫畫,雜誌,小說出版社。

週刊鉄道絶景の旅編集部

秀英舎

Languages