Adkins, Lesley
Most widely held works by Lesley Adkins
Handbook to life in ancient Rome
by
Lesley Adkins
( Book )
27 editions published between
1993
and 2005 in
English
and held by 2,523 WorldCat member libraries worldwide
Both archaeological and historical evidence are represented in this thematically arranged guide to the history of Rome from its beginnings in the 8th century B.C. to the 5th century A.D. The first chapter, "Republic and Empire," gives a chronological overview as well as geographies, a list of emperors, and basic information about government and law. This framework is followed by chapters on the military, daily life, travel and trade, religion, and the economy as well as geography, and language and literature. The articles are summaries with references for further exploration. About 150 black and white illustrations and 4 tables add meaning tot he text. The useful and readable information will answer question for both world history and Latin students and for readers of novels set in the era. Highly recommended for high school collections
Handbook to life in ancient Greece
by
Lesley Adkins
( Book )
19 editions published between
1997
and 2005 in
English
and held by 2,168 WorldCat member libraries worldwide
This excellent resource covers, in broad subject areas, 3,000 years of Greek history, from the Minoan civilization of Crete to the defeat of the Greeks by the Romans in 30 b.c. Gathers information on leaders, the military, economy, industry, commerce, towns, architecture, the Greek language, Greek literature, religion, myths, art, philosophy, science, and everyday life
Jane Austen's England
by
Roy Adkins
( Book )
10 editions published between
2013
and 2014 in
English
and held by 1,014 WorldCat member libraries worldwide
Nearly two centuries after her death, Jane Austen remains the most beloved of novelists in the English language, incomparable in the wit, warmth and insight with which she chronicles the wayward hearts of her unforgettable characters. Her work also offers a vivid depiction of rural life in late Georgian and Regency England, its country balls and ivy-covered vicarages, its social hierarchies and its anxieties about property and income. Yet the milieu Austen depicted is only one aspect of her era. For 29 of her 41 years the country was embroiled in war. Dramatic changes in industry and agriculture were transforming the country's physical and social landscape. This book offers a new view of her world in a wide-ranging and detailed social history of English life in the early nineteenth century, from weddings to childbearing, from education to fashion, from labor to leisure and finally to the rituals of death.--From publisher description
Dictionary of Roman religion
by
Lesley Adkins
( Book )
27 editions published between
1995
and 2001 in
English
and held by 975 WorldCat member libraries worldwide
A who's who of all the Roman gods and those from other cultures that were a part of the Roman empire. Also contains articles on spirits, places, buildings, and religions that existed in the Roman world such as Judaism, Christianity and Druidism
The war for all the oceans : from Nelson at the Nile to Napoleon at Waterloo
by
Roy Adkins
( Book )
14 editions published between
2006
and 2014 in
English
and held by 828 WorldCat member libraries worldwide
An action-packed account of the sea battles of the Napoleonic War, a naval struggle that lasted from 1798 to 1815, beginning with Napoleon's seizing power and ending with the War of 1812. In this vivid and visceral account, the authors draw on eyewitness records to portray not only the battles but also the details of a sailor's life--shipwrecks, press-gangs, prostitutes, spies, and prisoners of war. This epic narrative history will appeal to fans of Patrick O'Brian and C.S. Forester, as well as all readers of military and social history.--From publisher description
Empires of the plain : Henry Rawlinson and the lost languages of Babylon
by
Lesley Adkins
( Book )
17 editions published between
2003
and 2013 in
English
and
Undetermined
and held by 637 WorldCat member libraries worldwide
Chronicles the life of nineteenth-century archaeologist and explorer Henry Rawlinson, describing his ascent of western Iran mountains, where he deciphered ancient carvings that were key to understanding cuneiform scripts and languages
Introduction to the Romans
by
Lesley Adkins
( Book )
19 editions published between
1991
and 2007 in
English
and held by 601 WorldCat member libraries worldwide
The Roman Empire died out nearly 1500 years ago, but unlike other civilizations in the world which are long forgotten and have passed into obscurity, a legacy of the Romans is still with us today. Their language, law, literature, customs, technology, and architectural styles have passed into our own everyday lives. As well as the "invisible" legacy, the Romans left us many buildings and monuments, some ephemeral ruins, others whole cities, which still survive right across the Empire, from Scotland to Syria. We can still wonder at Roman feats of engineering, art, and architecture, from the soaring aqueducts to the exquisitely worked jewelry. This book looks at many fascinating aspects of everyday life for the Romans two centuries ago, in towns, the countryside, and the army -- the clothes people wore, their jewelry, food, religious beliefs, the entertainment they enjoyed, and how they traveled across their vast Empire, to expand and control it. The text is beautifully illustrated with a wealth of evocative and informative pictures, which bring the exciting past alive and put it into its context. - Jacket flap
An introduction to archaeology
by
Lesley Adkins
( Book )
16 editions published between
1989
and 1998 in
English
and
Undetermined
and held by 525 WorldCat member libraries worldwide
Gives a full account of what archaeology is all about
The keys of Egypt : the obsession to decipher Egyptian hieroglyphs
by
Lesley Adkins
( Book )
3 editions published in
2000
in
English
and held by 483 WorldCat member libraries worldwide
The fascinating true story of the race to decipher Egyptian hieroglyphs and of the rediscovery of ancient Egypt-a world that had been closed to the West for centuries
Gibraltar : the greatest siege in British history
by
Roy Adkins
( Book )
8 editions published between
2017
and 2018 in
English
and held by 483 WorldCat member libraries worldwide
"For more than three and a half years, from 1779 to 1783, the tiny territory of Gibraltar was besieged and blockaded, on land and at sea, by the overwhelming forces of Spain and France. It became the longest siege in British history, and the obsession with saving Gibraltar was blamed for the loss of the American colonies in the War of Independence. Located between the Mediterranean and Atlantic, on the very edge of Europe, Gibraltar was a place of varied nationalities, languages, religions, and social classes. During the siege, thousands of soldiers, civilians, and their families withstood terrifying bombardments, starvation, and disease. Very ordinary people lived through extraordinary events, from shipwrecks and naval battles to an attempted invasion of England and a daring sortie out of Gibraltar into Spain. Deadly innovations included red-hot shot, shrapnel shells, and a barrage from immense floating batteries. This is military and social history at its best, a story of soldiers, sailors, and civilians, with royalty and rank and file, workmen and engineers, priests, prisoners of war, spies, and surgeons, all caught up in a struggle for a fortress located on little more than two square miles of awe-inspiring rock. Gibraltar: The Greatest Siege in British History is an epic page-turner, rich in dramatic human detail--a tale of courage, endurance, intrigue, desperation, greed, and humanity. The everyday experiences of all those involved are brought vividly to life with eyewitness accounts and expert research"
more
fewer
Audience Level
0

1
Kids
General
Special
Audience level: 0.31 (from 0.18 for Jane Auste ... to 0.76 for The little ...)
Associated Subjects
Akkadian language
Antiquities
Archaeological illustration
Archaeology
Archaeology and history
Archaeology--Methodology
Armed Forces--Sea life
Assyriologists
Austen, Jane,
Champollion, Jean-François,
Chronology
Civilization
Civilization, Ancient
Cuneiform inscriptions, Akkadian
Egyptian language--Writing, Hieroglyphic
England
Europe
Excavations (Archaeology)
Extinct cities
France.--Marine
Gibraltar
Great Britain
Great Britain.--Royal Navy
Greece
Heads of state
Historic sites
History
Iran
Iraq
Italy--Rome
Literature
Manners and customs
Military operations, Naval
Napoleonic Wars (1800-1815)
Old Persian inscriptions
Old Persian language
Rawlinson, Henry,--Sir,
Religion
Romans
Rome (Empire)
Sailors--Social conditions
Seafaring life
Second Coalition, War of the (1798-1801)
Siege of Gibraltar (1779-1783)
Sieges
Social conditions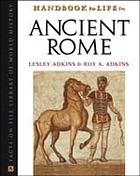 Covers
Alternative Names
Adkins, Lesley

Smith, Lesley 1955-

Адкинс Л.

Адкинс Лесли

앳킨스, 레슬리

アドキンズ, レスリー

レスリー・アドキンズ

Languages