Witte, Ann D.
Overview
| | |
| --- | --- |
| Works: | 73 works in 385 publications in 1 language and 4,473 library holdings |
| Roles: | Author, Other, Editor |
Most widely held works by Ann D Witte
An economic analysis of crime and justice : theory, methods, and applications
by
Peter Schmidt
( Book )
12 editions published between
1984
and 2013 in
English
and held by 467 WorldCat member libraries worldwide
An Economic Analysis of Crime and Justice: Theory, Methods, and Applications presents the applications of economic theory and econometric methods to various problems in criminology. The book is divided into three parts. Part I discusses models of criminal recidivism. The second part tackles the economic model of crime. Part III estimates cost functions for prisons. Specific chapters in the book cover topics on statistical analysis of qualitative outcomes; analysis of two measures of criminal activity: the arrest rate and the conviction rate; and long-run estimate of cost function for a group o
Taxpayer compliance
by
Jeffrey A Roth
( Book )
11 editions published between
1989
and 2016 in
English
and
Undetermined
and held by 415 WorldCat member libraries worldwide
Unintended consequences? : welfare reform and the working poor
by
Ann D Witte
( Book )
13 editions published in
1998
in
English
and held by 133 WorldCat member libraries worldwide
We have used a unique longitudinal database that incorporates information from diverse administrative and research sources to examine the impact of the early stages of welfare reform on poor working families who do not receive cash assistance. Our data are for 2791 working poor families from March 1996 through February 1997. Using a number of different estimation techniques, we find that the impact of the simultaneous October 1996 implementation of welfare reform and a federal minimum wage increase was to lower the earnings of the working poor families in our sample by approximately 6%. We find that increases in funding for Child Care Subsidies associated with welfare reform led to a significant increase in earnings. On net, the increase in Child Care Subsidies and the decrease in earnings because of the October 1996 changes approximately cancel out, with the representative family in our sample experiencing an estimated monthly earnings change of between -$18 and $68, with an earnings gain of $25 being most likely
Effects of information provision in a vertically differentiated market
by
Tasneem Chipty
( Book )
13 editions published in
1998
in
English
and held by 120 WorldCat member libraries worldwide
We study the effects of consumer information on equlibrium market prices and observable product quality in the market for child care. Child care markets offer a unique opportunity to study these effects because of the existence of resource and referral agencies (R & Rs) in some markets. R & Rs provide consumers with information on availability, price, and observable characteristics of care. To understand the effects of information provision in markets like child care, we examine the effects of information provision in a model of vertical differentiation. We show conditions in which increased consumer information reduces price dispersion, maximum price, and average price. With this model we examine empirically the effects of R & Rs on the distribution of child care prices and on the distribution of staff-child ratios. We estimate separate models for the distribution of prices and staff-child ratios for infants, toddlers, preschoolers and school age children because of regulatory and care differences across age groups. We find that R & Rs have economically large and statistically significant effects on the distribution of prices for the care infants and toddlers. Geographic markets with R & Rs have significantly less price dispersion and lower maximum prices. There is also some evidence that markets with R & Rs have lower average prices. Information provision via R & Rs has no significant effects on staff-child ratios. These findings are generally consistent with search theory and support the contention that information provision can intensify price competition
Sampling errors and confidence intervals for order statistics : implementing the Family Support Act
by
William C Horrace
( Book )
12 editions published in
1995
in
English
and held by 118 WorldCat member libraries worldwide
Abstract: The Family Support Act allows states to reimburse child care costs up to the 75th percentile of local market price for child care. States must carry out surveys to estimate these 75th percentiles. This estimation problem raises two major statistical issues: (1) picking a sample design that will allow one to estimate the percentiles cheaply, efficiently and equitably; and (2) assessing the sampling variability of the estimates obtained. For Massa- chusetts, we developed a sampling design that equalized the standard errors of the estimated percentiles across 65 distinct local markets. This design was chosen because state administrators felt public day care providers and child advocates would find it equitable, thus limiting costly appeals. Estimation of standard errors for the sample 75th percentiles requires estimation of the density of the population at the 75th percentile. We implement and compare a number of parametric and nonparametric methods of density estimation. A kernel estimator provides the most reasonable estimates. On the basis of the mean integrated squared error criterion we selected the Epanechnikov kernel and the Sheather-Jones automatic bandwidth selection procedure. Because some of our sample sizes were too small to rely on asymptotics, we also constructed nonparametric confidence intervals using the hypergeometric distrition. For most of our samples, these confidence intervals were similar to those based on the asymptotic standard errors. Substantively we find wide variation in the price of child care, depending on the child's age, type of care and geographic location. For full-time care, the 75th percentiles ranged from $242 per week for infants in child care centers in Boston to $85 per week for family day care in western Massachusetts
Economic effects of quality regulations in the daycare industry
by
Tasneem Chipty
( Book )
12 editions published in
1994
in
English
and held by 114 WorldCat member libraries worldwide
We estimate reduced form models to discern the effect of state regulation of the quality of center and family day care. Specifically, we consider the effects of the number of mandated inspections, limits on group size and staff/child ratio, and staff training requirements on equilibrium price and hours of care and the quality of care as measured by the actual staff/child ratio. The specification of the reduced form model is derived from an eight equation market model for wages and work hours, type of child care chosen, price and hours of care and a set of hedonic equations for the characteristics of care. The results indicate strongly that child care regulations do affect equilibrium price, hours of care, and staff/child ratios. Child care regulations are binding. In equilibrium, only regulations regarding staff training appear to have consistently desirable effects. Such regulations decrease equilibrium price and hours of care and increase the staff/child ratio for both centers and family day care. Regulations of group size and the staff/child ratio have significant effects, but the welfare implications of the effects are more ambiguous. Tax deductions and subsidies for child care have similarly ambiguous welfare effects. For example, households that take a tax deduction for child care pay higher prices for care, consume more hours of care and consume higher quality day care
An empirical investigation of firms' responses to minimum standards regulations
by
Tasneem Chipty
( Book )
13 editions published between
1997
and 1998 in
English
and held by 110 WorldCat member libraries worldwide
We study firms' responses to minimum standards and other forms of regulatory intervention on both the probability of exit and the distribution of observable product quality, using firm level data for a nationally representative sample of markets. Our empirical work is motivated by the literature on quality and price competition in the presence of minimum standards. We find that minimum standards increase the probability that firms exit certain markets. Moreover, we find that exit can cause both the average and the maximum quality observed in the market to decline. This perverse regulatory effect occurs when excessively high standards cause high quality firms to exit. When minimum standards do not lead to exit, minimum standards can increase the average and maximum quality of products in the market. Such standards can not only force low quality firms to raise their quality, but may cause high quality firms to increase quality, presumably in an attempt to alleviate price competition and differentiate themselves from their now higher quality rivals
Take-up rates and trade offs after the age of entitlement : some thoughts and empirical evidence for child care subsidies
by
Ann D Witte
( Book )
13 editions published in
2002
in
English
and held by 104 WorldCat member libraries worldwide
In this paper we develop a model of an eligible family's decision to take or not to take child care subsidies. This decision depends on the net benefits the family expects to derive from the subsidies over their expected duration. We contend that such a demand-side model for the take-up of child care subsidies and use of the term 'take-up' rate are only appropriate for programs that guarantee services to all eligible applicants. After welfare reform, most states do not offer such guarantees. For states that do not guarantee subsidies, the proportion of the eligible population that receives subsidies is better called a service rate than a take-up rate. Modeling service rates requires consideration of both governments' decisions (the supply side) and families' decisions (the demand side) regarding child care subsidies. We survey the general literature on take-up rates for social welfare programs and review existing estimates of the take-up rates and service rates for child care subsidy programs in various states. Using administrative data and survey data for states that guarantee subsidies for all eligible families, we estimate the family-level take-up rate for child care subsidies to be around 40% in early 2000. For states that do not guarantee subsidies, service rates range from 14% in Minnesota to 50% in Massachusetts. Finally, we suggest indicators to assess the trade offs that governments are making when designing and funding their child care subsidy programs. We use the percent of federally eligible families that receive child care subsidies and public expenditures per subsidized child to discern the relative importance that states place on using child care subsidies (1) to facilitate parental work and (2) to prepare its future work force by improving services to low-income children. For Rhode Island, we find increasing emphasis on the latter between 1996 and 2000. We also find that the Illinois subsidized child care program places relatively more emphasis on parental work facilitation, wh
more
fewer
Audience Level
0

1
Kids
General
Special
Audience level: 0.56 (from 0.35 for Beating th ... to 0.72 for Economic e ...)
Related Identities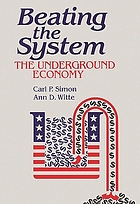 Alternative Names
Dryden Wiite, Anne 1942-

Dryden Witte, Ann 1942-

Witte, Ann.

Witte, Ann Dryden.

Witte, Ann Dryden 1942-

Languages
Covers