Riggio, Thomas P.
Most widely held works by Thomas P Riggio
Dreiser's Russian diary
by
Theodore Dreiser
( )
11 editions published between
1996
and 2015 in
English
and held by 1,727 WorldCat member libraries worldwide
Theodore Dreiser's Russian Diary is an extended record of the American writer's travels throughout the Soviet Union in 1927-28. Dreiser was initially invited to Moscow for a week-long observance of the tenth anniversary of the October Revolution. He asked, and was granted, permission to make an extended tour of the country.This previously unpublished diary is a firsthand record of life in the USSR during the 1920s as seen by a leading American cultural figure. It is a valuable primary source, surely among the last from this period of modern history
American diaries, 1902-1926
by
Theodore Dreiser
( Book )
15 editions published between
1982
and 2015 in
English
and
Undetermined
and held by 1,210 WorldCat member libraries worldwide
Dreiser's careful preservation of his papers bears new fruit with the publication of his personal diaries for the years 1902-26. This volume presents all seven of Dreiser's hitherto unpublished American diaries, the intermittent journals he kept during the most productive years of his literary career. Together they constitute a revealing self-portrait as well as a valuable commentary on the American scene during the first quarter of the twentieth century. They offer reflections on turn-of-the-century Philadelphia, the American South and Mid-West, Greenwich Village of the nineteen-teens, and Hollywood of the twenties. The diaries begin in 1902, when Dreiser was at a low point after the "suppression" of Sister Carrie, and continue until 1926, when he was enjoying the greatest success of his career with An American Tragedy. This publication constitutes in its entirety a new source for biographical and critical study. This is particularly true of the diaries covering Dreiser's experience in Philadelphia, Greenwich Village, and with Helen Richardson-all of which were not available to previous biographers. The present Introduction by Professor Riggio is the first biographical narrative to make use of these materials. Future biographers will now be able to speak with more assurance of Dreiser's whereabouts, the people he knew, what he was reading, which writings were in progress, and of his fascinating private affairs in general. In addition, these diaries will be of interest to students of Dreiser's literary art, as they reveal subtle aspects of how Dreiser viewed the external world and transmuted it in his daily creative efforts
Letters to women : new letters
by
Theodore Dreiser
( )
15 editions published between
1900
and 2009 in
English
and held by 1,011 WorldCat member libraries worldwide
"Theodore Dreiser led a long and controversial life, almost always pursuing some serious question and not rarely pursuing women. This collection, the second volume of Dreiser correspondence to be published by the University of Illinois Press, gathers previously unpublished letters Dreiser wrote to women between 1893 and 1945, many of them showing personal feelings Dreiser revealed nowhere else." "Here he both preens and mocks himself, natters and scolds, relates his jaunts with Mencken and his skirmishes with editors and publishers. He admits his worries, bemoans his longings, and self-consciously embarks on love letters that are unafraid to smolder and flame. To one reader he sends "Kisses, Kisses, Kisses, for your sweety mouth" and urges his needy requests; "Write me a love-letter Honey girl." Alongside such amorous play, he often expressed his deepest feelings on philosophical, religious, and social issues that characterize his public writing." "Chronologically arranged and meticulously edited by Thomas P. Riggio, these letters reveal how wide and deep Dreiser's needs were. He writes to Margaret Johnson, "You are beautiful & full of fine physical & mental strength & lust. Don't waste the next ten years." While living with Helen Richardson in California he wrote to Kirah Markham in New York, inquiring what she would do for him if he moved back. The volume also includes letters from his courtship of Sarah White." "Dreiser often discussed his writing in his letters to women friends, telling them what he wanted to do, where he thought he succeeded and failed, and seeking approval or criticism. Depending on his mood, he could call writing "a silly business. Artificial anthracite" or approvingly quote Shelley on the artist as the "unacknowledged legislator of the world." These letters are by turns seductive, candid, coy, and informative, and they provide an intimate view of a master writer who knew exactly what he was after."--BOOK JACKET
Dearest Wilding : a memoir : with love letters from Theodore Dreiser
by
Yvette Szekely Eastman
( Book )
8 editions published between
1995
and 2015 in
English
and held by 613 WorldCat member libraries worldwide
A candid and intimate chapter in the life of a modern woman, Yvette Eastman's vivid narrative also contributes richly to the life story of Theodore Dreiser. Dearest Wilding: A Memoir records the journey that took Yvette Szekely from an upper-middle-class scholar's home in Budapest to the intellectual and artistic centers of urban America in the 1920s and 1930s.In 1929 sixteen-year-old Yvette Szekely met Dreiser, who was fifty-eight at the time, and within a year he became her lover. Dreiser remained central to her life—as lover, father figure, and mentor—until his death in 1945. Her portrait of Dreiser, who is by no means idealized, is of a complex man—often troubled, suspicious, and jealous, but also caring and supportive.The book is much more than an account of a sixteen-year relationship, however. It describes Eastman's attempt to understand her bond with Dreiser, forcing her back to her childhood, to memories of her distinguished but distant father who remained in Hungary, and to the early experiences that made the aging Dreiser so important to her life. In an afterword, the author thoughtfully reflects on the patterns of love and loss that form part of her past.Dearest Wilding is a valuable primary source in literary history and among the last documents from this era. One of the most important figures in the memoir is Max Eastman, whose early relationship with Yvette Szekely resulted in marriage years later.As perhaps the last reminiscence of Dreiser and his circle that will ever appear, Dearest Wilding: A Memoir promises rewarding reading
An American tragedy
by
Theodore Dreiser
( Book )
4 editions published in
2003
in
English
and held by 19 WorldCat member libraries worldwide
This novel tracks the process by which an ordinary young man is capable of committing a ruthless murder, and the further process by which social and political forces come into play after his arrest. In Clyde Griffiths, the impoverished, restless offspring of a family of street preachers, we see a portrait of a man whose circumstances and dreams of self-betterment conspire to pull him toward an act of unforgivable violence
The "genius"
by
Theodore Dreiser
( Book )
1 edition published in
2008
in
English
and held by 17 WorldCat member libraries worldwide
Dreiser's semi-autobiographical novel about a young man's unhappy marriage, adulterous relationships, and struggle to retain his artistic integrity
Writings of Theodore Dreiser
( Visual )
2 editions published between
2001
and 2005 in
English
and held by 11 WorldCat member libraries worldwide
A trio of scholars and historians examine the history of the Progressive Era, the publishing industry and social reform through the writings of Theodore Dreiser
more
fewer
Audience Level
0

1
Kids
General
Special
Audience level: 0.28 (from 0.17 for Dreiser's ... to 0.97 for New letter ...)
Related Identities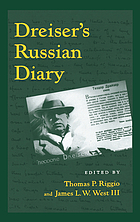 Covers
Languages