AlSayyad, Nezar
Most widely held works by Nezar AlSayyad
Cairo : histories of a city
by
Nezar AlSayyad
( Book )
15 editions published between
2011
and 2013 in
English
and held by 620 WorldCat member libraries worldwide
"Details the shifts in Cairo's built environment through stories of important figures who marked the cityscape with their personal ambitions and their political ideologies"--Jacket
Cinematic urbanism : a history of the modern from reel to real
by
Nezar AlSayyad
( Book )
15 editions published between
2006
and 2009 in
English
and held by 353 WorldCat member libraries worldwide
Cinematic Urbanism presents an urban history of modernity and postmodernity through the lens of cinema while arguing that urbanism cannot be understood outside the space of the celluloid city. Nezar AlSayyad traces the dissolution of the boundary between real and reel through time and space via a series of films that represent different modernities. He contrasts the "rational" European city of early twentieth-century industrial modernity as portrayed by Berlin: Symphony of a Big City (1927) with its American counterpart in Modern Times (1936). He illustrates the different forms of small town life and an urbanizing modernity across the Atlantic as exemplified by Cinema Paradiso (1989) and It's a Wonderful Life (1946). Using Metropolis (1927) and Brazil (1985), he shows how utopian ideals harbour within them their dystopian realities, while Jacques Tati's nostalgia for tradition in Mon Oncle (1958) and Playtime (1967) reveals a cynical modernity and a rebelling against its idealism
Hybrid urbanism : on the identity discourse and the built environment
by
Nezar AlSayyad
( Book )
8 editions published in
2001
in
English
and held by 297 WorldCat member libraries worldwide
Despite strong forces toward globalization, much of late 20th century urbanism demonstrates a movement toward cultural differentiation. Such factors as ethnicity and religious and cultural heritages have led to the concept of hybridity as a shaper of identity. Challenging the common assumption that hybrid peoples create hybrid places and hybrid places house hybrid people, this book suggests that hybrid environments do not always accommodate pluralistic tendencies or multicultural practices. In contrast to the standard position that hybrid space results from the merger of two cultures, the book
The end of tradition?
by
Nezar AlSayyad
( Book )
13 editions published between
2003
and 2013 in
English
and held by 263 WorldCat member libraries worldwide
Rooted in real-world observations, this book questions the concept of tradition. In his introduction, Nezar AlSayyad discusses the meanings of the word 'tradition' and the current debates about the 'end of tradition'. Thereafter the book is divided into three parts
Making Cairo medieval
( Book )
8 editions published in
2005
in
English
and held by 228 WorldCat member libraries worldwide
During the nineteenth century, Cairo witnessed one of its most dramatic periods of transformation. Well on its way to becoming a modern and cosmopolitan city, by the end of the century, a 'medieval' Cairo had somehow come into being. While many Europeans in the nineteenth century viewed Cairo as a fundamentally dual city-physically and psychically split between East/West and modern/medieval-the contributors to the provocative collection demonstrate that, in fact, this process of inscription was the result of restoration practices, museology, and tourism initiated by colonial occupiers. The fir
The fundamentalist city? : religiosity and the remaking of urban space
by
Nezar AlSayyad
( Book )
11 editions published between
2010
and 2011 in
English
and held by 216 WorldCat member libraries worldwide
The relationship between urbanism and fundamentalism is a very complex one. This book explores how the dynamics of different forms of religious fundamentalisms are produced, represented, and practiced in the city. It attempts to establish a relationship between two important phenomena: the historic transition of the majority of the world's population from a rural to an urban existence; and the robust resurgence of religion as a major force in the shaping of contemporary life in many parts of the world. Employing a transnational interrogation anchored in specific georgraphic regions, the contributors to this volume explore the intell ectual and practical challenges posed by fundamentalist groups, movements, and organization. They focus on how certain ultra religious practices of Christianity, Hinduism, Islam, and Judaism have contributed to the remaking of global urban space. Their work suggests that it is a grave oversimplification to view religious orthodoxies or doctrines as the main cause of urban terrorism or violence. Instead they argue that such phenomena should be understood as a particular manifestation of modernity's struggles. AlSayyad and Massoumi's book provides fascinating reading for those interested in religion and the city, with thought provoking pieces from experts in anthropology, geography, sociology, religious studies, and urban studies. --Book Jacket
Traditions : the "real", the hyper, and the virtual in the built environment
by
Nezar AlSayyad
( Book )
5 editions published in
2014
in
English
and held by 132 WorldCat member libraries worldwide
"Traditions: the 'Real', the Hyper, and the Virtual in the Built Environment is a continuation of Nezar AlSayyad's engagement with the subject of tradition in the built environment. In it he attempts to unsettle the belief that tradition is simply a product of history and transmission. Without dismissing the parallels between history and tradition, he argues that normative discourses that conceive of tradition as a place-based, temporally situated concept, as a static authoritative legacy of a past, and as a heritage owned by certain groups of people can no longer be sustained in the present moment of globalization. Instead he calls for an approach that recognizes how the main qualities of tradition are transient, fleeting, and contingent. While using the built environment as the primary lens of investigation, other approaches for the study of tradition, with origins in geography, history, sociology, or anthropology, are more actively deployed in this book. AlSayyad offers a recasting of the epistemology of tradition as fundamentally spatial, thus providing a much-needed theoretical rudder for the emerging debates. Rather than analyzing tradition as a reaction to modernity or as its antithetical other, he examines those discursive and spatial terrains where tradition collides and colludes with modernity. AlSayyad argues that built traditional environments have been studied until recently as 'authentic' environments that represent 'real' everyday practices. But, as his research illustrates, their consumption at a mass scale, especially in the arena of tourism and mass media, has often elevated them to hyper-environments whose connection to 'real' places results in fundamentally 'dis-placed' and disembodied experience. More recently, the portrayal of traditional environments in both the virtual realm and heritage discourses has resulted in new articulations of tradition that could not be imagined just a few decades ago. AlSayyad interrogates the meanings and practices of tradition in the twenty-first century by looking at these three distinct categories of the built environment: the 'real', the hyper, and the virtual"--
more
fewer
Audience Level
0

1
Kids
General
Special
Audience level: 0.40 (from 0.02 for Hybrid urb ... to 0.76 for Streets of ...)
Related Identities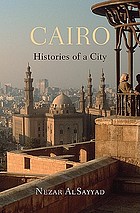 Alternative Names
Al-Sayyad, Nezar

Al Sayyad, Nezar 1955-

<<al->>Sayyad, Nizar

Al Sayyas, Nezar.

AlSayyad, Nezar

Nezar al-Sayyad.

Nezar AlSayyad.

Nezar AlSayyad Professor of Architecture, Planning, Urban Design and History

Nizā̄r al-Sayyid

NizŻar al-Sayyid.

Ṣayyād, Nazār 1955-

Sayyad, Nezar al.

Sayyad, Nezar al 1955-

Ṣayyād, Nizār aṣ-

Sayyid, Nizā̄r

Sayyid, NizŻar.

صياد، نزار

Languages
Covers