Lawrence, Robert Z. 1949-
Most widely held works about Robert Z Lawrence
Most widely held works by Robert Z Lawrence
Case studies in US trade negotiation
by
Charan Devereaux
( )
24 editions published in
2006
in
English
and held by 2,913 WorldCat member libraries worldwide
Volume 1 of this series presents five cases on trade negotiations that have had important effects on trade policy rulemaking, and an analytic framework for evaluating these negotiations. Volume 2 presents six case studies on important trade disputes
Blue-collar blues : is trade to blame for rising US income inequality?
by
Robert Z Lawrence
( )
13 editions published in
2008
in
English
and held by 1,918 WorldCat member libraries worldwide
"International trade accounts for only a small share of growing income inequality and labor-market displacement in the United States. Lawrence deconstructs the gap in real blue-collar wages and labor productivity growth between 1981 and 2006 and estimates how much higher these wages might have been had income growth been distributed proportionately and how much of the gap is due to measurement and technical factors. While increased trade with developing countries may have played some part in causing greater inequality in the 1980s, surprisingly, over the past decade the impact of such trade on inequality has been relatively small. Rising income inequality and slow real wage growth since 2000 reflect strong profit growth and dramatic income gains for the top 1 percent of wage earners, a development that is more closely related to asset-market performance and technological and institutional innovations than to conventional trade in goods and services. The minor role of trade suggests that any policy that focuses narrowly on trade to deal with wage inequality and job loss is likely to be ineffective. Instead, policymakers should (a) use the tax system to improve income distribution and (b) implement adjustment policies to deal more generally with worker and community dislocation."--BOOK JACKET
Has globalization gone far enough? : the costs of fragmented markets
by
Scott C Bradford
( )
23 editions published between
2002
and 2004 in
English
and held by 1,837 WorldCat member libraries worldwide
Has globalization gone far enough? This study uses the underlying data from Purchasing Power Parity Surveys to estimate the potential benefits from fully integrating goods markets among major OECD countries. These data are particularly useful because every effort has been made to ensure that they are comparable. Input-output tables are used to eliminate distribution margins from final goods prices and thereby provide estimates of ex-factory prices. Price differentials are taken as measures of barriers, and the welfare effects of eliminating these barriers is estimated in a general equilibrium model. The study also provides some insights into the relative openness of individual OECD countries to the world economy, and the degree to which Europe has become a single market
Crimes & punishments? : retaliation under the WTO
by
Robert Z Lawrence
( )
13 editions published in
2003
in
English
and held by 1,331 WorldCat member libraries worldwide
One of the unique aspects of the WTO as an international organization is that it authorizes members to retaliate against violations by raising tariffs. These authorizations have become increasingly common and increasingly controversial. In this analysis of the retaliation system, Robert Lawrence considers the guiding principles that govern responses to WTO violations, examines how these principles are implemented in practice, and considers options for reform
Regionalism, multilateralism, and deeper integration
by
Robert Z Lawrence
( )
13 editions published between
1955
and 1996 in
English
and
Spanish
and held by 1,255 WorldCat member libraries worldwide
Over the past decade, international economic liberalization has been pursued through both multilateral and regional arrangements. In the Uruguay Round, more than one hundred governments pledged their commitment to greater open trade in goods and services, and established new rules under the enforcement of the World Trade Organization. At the same time, however, many regional arrangements have been negotiated - including the European Union and the North American Free Trade Agreement. Nonetheless, controversy still rages about these arrangements. Are regional arrangements stumbling blocks or, in fact, building blocks for a more integrated and successful international economy? In this book, part of the Brookings Integrating National Economies series, Robert Z. Lawrence addresses this question and explains both sides of the raging debate
A vision for the world economy : openness, diversity, and cohesion
by
Robert Z Lawrence
( )
12 editions published between
1995
and 1996 in
English
and held by 1,232 WorldCat member libraries worldwide
Although the lowering of barriers on goods and investments since World War II has contributed to unprecedented growth and prosperity, recent developments are forcing nations to look beyond the reduction of at-the-border trade barriers. The authors explore the strengths and weaknesses of alternative ways of dealing with these developments and consider a new model of international governance. They offer a blueprint for a world of clubs in which the nation remains a fundamental political unit but joins with other nations in pursuing common objectives. They contend that these clubs - functional, regional, and global - are necessary for a world of deeper integration
A US-Middle East trade agreement : a circle of opportunity?
by
Robert Z Lawrence
( )
9 editions published in
2006
in
English
and held by 1,230 WorldCat member libraries worldwide
Would a free trade agreement (FTA) between the nations of the Middle East and the United States be beneficial to both sides? Robert Lawrence provides an analysis that incorporates both economic and political considerations. He documents the scope for enhancing the trade linkages, domestic governance and regional trade of Arab countries. He evaluates the US strategy in negotiating bilateral agreements and reviews in considerable detail the specific agreements that have been negotiated so far and the challenges still to meet if a single overarching arrangement is to be implemented. Lawrence also compares the US approach with the parallel initiative being undertaken by the European Union
Building bridges : an Egypt-U.S. free trade agreement
( )
6 editions published between
1998
and 2017 in
English
and held by 1,087 WorldCat member libraries worldwide
This book offers U.S. and Egyptian policymakers answers to such pertinent questions as: What form should an FTA agreement take? Should it concentrate on border barriers or cover other aspects such as investments and services? What are the likely implications for both countries? And how will such an agreement affect the rest of the region? Its conclusions will be relevant to policymakers elsewhere in their pursuit of similar regional trade agreements
North American free trade : assessing the impact
( Book )
12 editions published in
1992
in
English
and held by 1,054 WorldCat member libraries worldwide
The proposed North American Free Trade Agreement (NAFTA) represents a historic change in relations among Canada, Mexico, and the United States. The effect of the agreement on the three economies has generated controversy and some degree of alarm within each country. In this book, noted trade and development experts review the available literature on the effects of NAFTA on the three member countries and the world trading system. They evaluate how NAFTA will affect areas such as economic growth, employment, income distribution, industry, and agriculture in Canada, Mexico, and the United States, and consider the significance the trade agreement holds for the rest of the world. Drusilla K. Brown begins the discussion by providing an overview and comparison of the general results from recent studies. Raul Hinojosa-Ojeda and Sherman Robinson explore in greater detail the potential effects of NAFTA on wages and employment in Mexico and the United States. Sidney Weintraub reviews industry-specific effects of NAFTA, while Tim Josling explores how the trade agreement specifically will affect agriculture. Robert A. Pastor looks at the noneconomic issues of NAFTA, in particular, the environment, the social agenda, and human rights and democracy. Finally, Carlos Alberto Primo Braga considers the implications of NAFTA on the rest of the world. Following each of these chapters, international scholars assess the alternatives and provide recommendations for future research
more
fewer
Audience Level
0

1
Kids
General
Special
Audience level: 0.20 (from 0.01 for A US-Middl ... to 0.48 for Barriers t ...)
Related Identities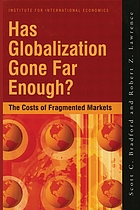 Covers
Alternative Names
Lawrence, R. Z. 1949-

Lawrence, Robert 1949-

Lawrence Robert Z.

Lawrence, Robert Zachary 1949-

Robert Z. Lawrence Amerikaans econoom

Robert Z. Lawrence economist

Robert Z. Lawrence economista estadounidense

Robert Z. Lawrence economista estauxunidense

로렌스, R. Z. 1949-

로렌스, 로버트 1949-

로렌스, 로버트 재커리 1949-

Languages