Chen, Hongyi 1957-
Most widely held works about Hongyi Chen
more
fewer
Most widely held works by Hongyi Chen
Human rights in Asia : a comparative legal study of twelve Asian jurisdictions, France and the USA
by
R. P Peerenboom
( Book )
18 editions published between
2005
and 2006 in
English
and held by 455 WorldCat member libraries worldwide
"This book considers how human rights are viewed and implemented in Asia. It covers not just civil and political rights, but also social and economic rights, and cultural rights. It discusses the problems arising from the fact that ideas of human rights have evolved in Western liberal democracies, and how far such values are compatible with Asian values, and applicable in Asian contexts. Chapters on France and the USA provide a benchmark on how human rights have emerged, and how they are applied and implemented in a civil law and a common law jurisdiction. These are then followed by twelve chapters on the major countries of East Asia, and India, each of which follows a common template to consider the context of the legal system in each country, black letter law, legal discussions and debates, and key current issues concerning human rights in each jurisdiction." -- Publisher's description
An introduction to the legal system of the People's Republic of China
by
Albert Hung-yee Chen
( Book )
34 editions published between
1992
and 2018 in
English
and held by 425 WorldCat member libraries worldwide
Le site d'éditeur LexisNexis indique : "The first edition of this book, which appeared in 1992, was one of the first books in the English language on the Chinese legal system written from a comparative jurisprudential perspective. This fourth edition now provides an up-to-date account of this system's history, constitutional structure, sources of law, major legal institutions (such as the courts, the procuratorates, the legal profession and the Ministry of Justice), as well as the basic concepts and principles of procedural and substantive law."
Administrative law and governance in Asia : comparative perspectives
by
Tom Ginsburg
( Book )
13 editions published between
2008
and 2009 in
English
and held by 211 WorldCat member libraries worldwide
This book examines administrative law in Asia, exploring the profound changes in the legal regimes of many Asian states that have taken place in recent years. Political democratization in some countries, economic change more broadly and the forces of globalization have put pressure on the developmental state model, wherein bureaucrats governed in a kind of managed capitalism and public-private partnerships were central. In their stead, a more market-oriented regulatory state model seems to be emerging in many jurisdictions, with emphases on transparency, publicity, and constrained discretion. This book analyses the causes and consequences of this shift from a socio-legal perspective, showing clearly how decisions about the scope of administrative law and judicial review have an important effect on the shape and style of government regulation. Taking a comparative approach, individual chapters trace the key developments in the legal regimes of major states across Asia, including China, Japan, Korea, Malaysia, Taiwan, Hong Kong, Indonesia, Singapore, the Philippines, Thailand and Vietnam. They demonstrate that, in many cases, Asian states have shifted away from traditional systems in which judges were limited in terms of their influence over social and economic policy, towards regulatory models of the state involving a greater role for judges and law-like processes. The book also considers whether judiciaries are capable of performing the tasks they are being given, and assesses the profound consequences the judicialization of governance is starting to have on state policy-making in Asia
Constitutionalism in Asia in the early twenty-first century
by
Hongyi Chen
( Book )
12 editions published between
2014
and 2016 in
English
and
Spanish
and held by 198 WorldCat member libraries worldwide
"Examining developments in the first decade of the twenty-first century, this authoritative collection of essays studies the evolving practice of constitutional law and constitutionalism in Asia. It provides a comprehensive overview of the diverse constitutional issues and developments in sixteen East, Southeast and South Asian countries. It also discusses the types of constitutionalism that exist and the general trends in constitutional developments whilst offering comparative, historical and analytical perspectives on Asian constitutionalism. Written by leading scholars in the field, this book will be of great interest to students and scholars alike"--
Legal reforms in China and Vietnam : a comparison of Asian communist regimes
by
John Gillespie
( Book )
12 editions published between
2010
and 2016 in
English
and held by 182 WorldCat member libraries worldwide
Although the adoption of market reforms has been a key factor leading to China's recent economic growth, China continues to be governed by a communist party and has a socialist-influenced legal system. Vietnam, starting later, also with a socialist-influenced legal system, has followed a similar reform path, and other countries too are now looking towards China and Vietnam as models for development. This book provides a comprehensive, comparative assessment of legal developments in China and Vietnam, examining similarities and differences, and raising important questions such as: Is there a distinctive Chinese model, and/or a more general East Asian Model? If so, can it be flexibly applied to social and economic conditions in different countries? If it cannot be applied to a culturally and politically similar country like Vietnam, is the model transportable elsewhere in the world? Combining interpretive methods with structural traditions, the book provides a nuanced account of legal reforms in China and Vietnam, highlighting the factors likely to promote, change or resist the spread of the Chinese model
Hong Kong in transition
( Book )
5 editions published in
1986
in
English
and held by 122 WorldCat member libraries worldwide
Constitutional courts in Asia : a comparative perspective
by
Hongyi Chen
( )
8 editions published in
2018
in
English
and held by 106 WorldCat member libraries worldwide
The founding of a constitutional court is often an indication of a chosen path of constitutionalism and democracy. It is no coincidence that most of the constitutional courts in East and Southeast Asia were established at the same time as the transition of the countries concerned from authoritarianism to liberal constitutional democracy. This book is the first to provide systematic narratives and analysis of Asian experiences of constitutional courts and related developments, and to introduce comparative, historical and theoretical perspectives on these experiences, as well as debates on the relevant issues in countries that do not as yet have constitutional courts. This volume makes a significant contribution to the systematic and comparative study of constitutional courts, constitutional adjudication and constitutional developments in East and Southeast Asia and beyond
Public law in East Asia
by
AlbertH. Y Chen
( )
12 editions published between
2013
and 2017 in
English
and held by 87 WorldCat member libraries worldwide
"Public Law in East Asia is a collection of the leading English-language articles on constitutional and administrative law in the Asian region, written by many of the leading scholars from this area. The region has its own distinct legal and political traditions, and its systems of government have facilitated dynamic economic growth, but the role of public law has not been well understood. Covering a wide range of jurisdictions in a single volume, this collection provides insights into the ways in which institutions of Western origin have been integrated into Asian political and legal cultures, producing new syntheses."--Provided by publisher
Xing fa ru men
by
Hongyi Chen
( Book )
14 editions published between
1972
and 2007 in
Chinese
and held by 45 WorldCat member libraries worldwide
more
fewer
Audience Level
0

1
Kids
General
Special
Audience level: 0.68 (from 0.52 for Human righ ... to 0.92 for Xiao fang ...)
Related Identities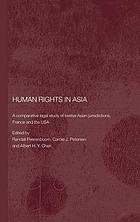 Covers
Alternative Names
Albert Chen Hung-yee

Albert Chen legal scholar from Hong Kong

Chan, Albert 1957-

Chen 1957- Hongyi

Chen 1957- Hung-yee

Chen 1957- Hung-yee Albert

Chen, Albert.

Chen, Albert 1957-

Chen, Albert H.

Chen, Albert H. 1957-

Chen, Albert H.Y.

Chen, Albert H.Y. 1957-

Chen, Albert Hongyi

Chen, Albert Hung-yee.

Chen Albert Hung-yee 1957-....

Chen, Albert HY 1957-

Chen, H. (1957- )

Chen, Hongyi

Chen, Hongyi, 1957-

Ch'en, Hung-i.

Chʿen, Hung-i, 1957-

Chen, Hung-yee, 1957-

Chen, Hung-yee Albert, 1957-

Hongyi Chen

Альберт Чэнь

陳宏一

陳宏易

陳宏毅 1957-

陳弘毅 1957-

陳弘毅 香港法律學者

陈鸿仪

Languages